The ScreenCloud Live News app makes it easy to stream live news feeds directly to your digital signage screens. Share feeds from news sources such as Sky News, Al Jazeera and more, in real-time to your TV monitors. This makes it easy to keep your office, lobby, store or coffee shop customers on top of the latest headlines and world events. 
With the ScreenCloud Lives News app you can:
Choose between 9 live news channels
Stream the latest headlines in real-time directly to your screens 
Keep your employees or customers up to date with the latest world events
Here's how it works:
1. Select and install ScreenCloud's Live News app
1.1. Get started by clicking here and selecting "Get App". This will prompt you to either log into your existing ScreenCloud account, or sign up for our 14-day free trial in order to use the Live News app and other available apps within our App Store.
1.2. Once you've logged in, you can select "Add this app" from the top right-hand corner.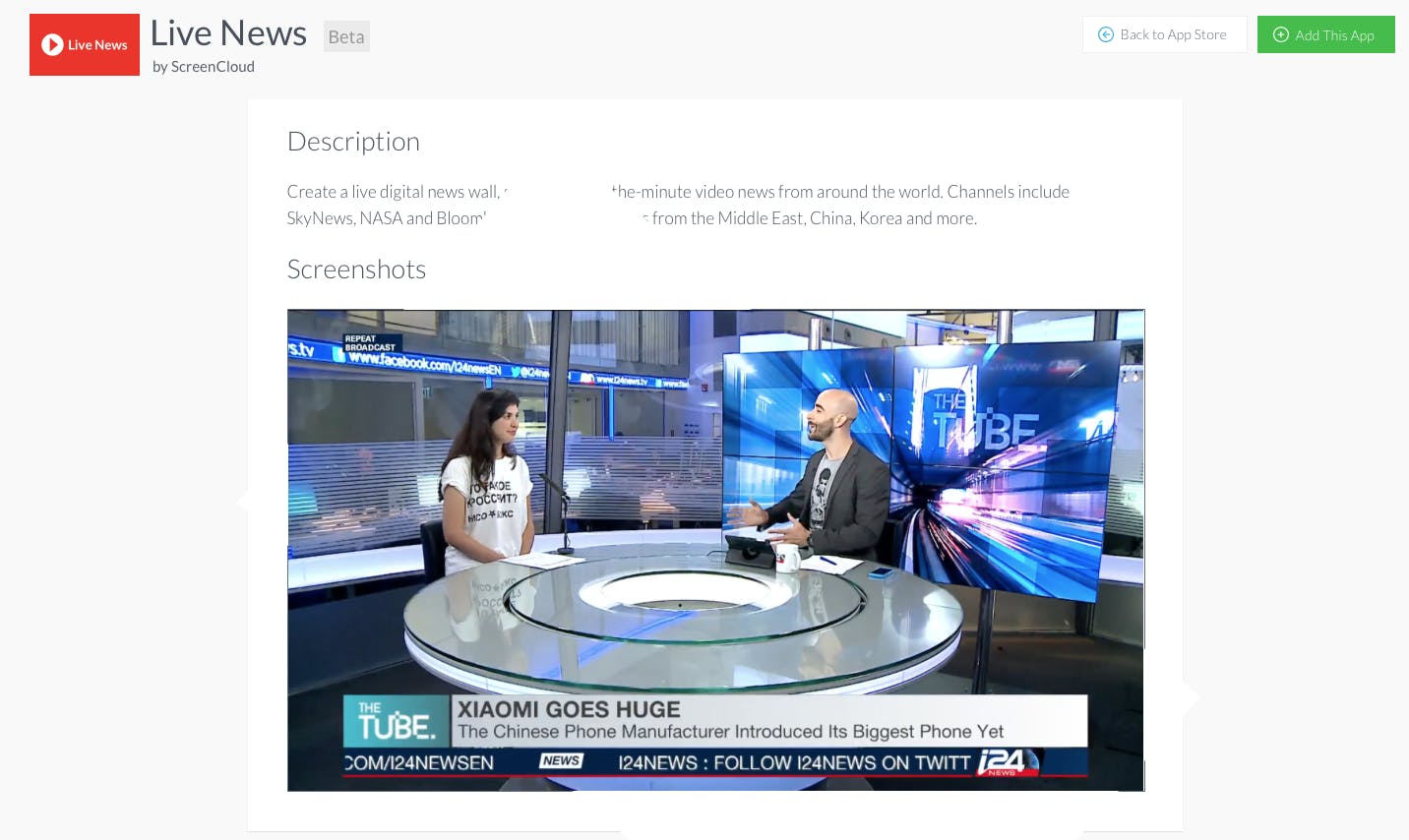 2. Choose your live news source
Once you have selected 'add app' you'll see a dropdown that offers you a series of live news feeds including: 
Sky News (UK/International)
Al Jazeera (Middle East - English)
France 24 (French)
KBS World (Korean)
Euronews (viewable in EU only)
i24 News (Israel)
Al Arabiya (Middle East - Arabic)
Channels Television (West Africa)
NASA (Space)
Please note, depending on your geographic location and internet service provider (ISP) restrictions, some of the live feeds may not work based on this. If you have any questions in regards to this, please email support@screencloud.com with both your location and the name of the channel that isn't working for you. Our team can help look into this further.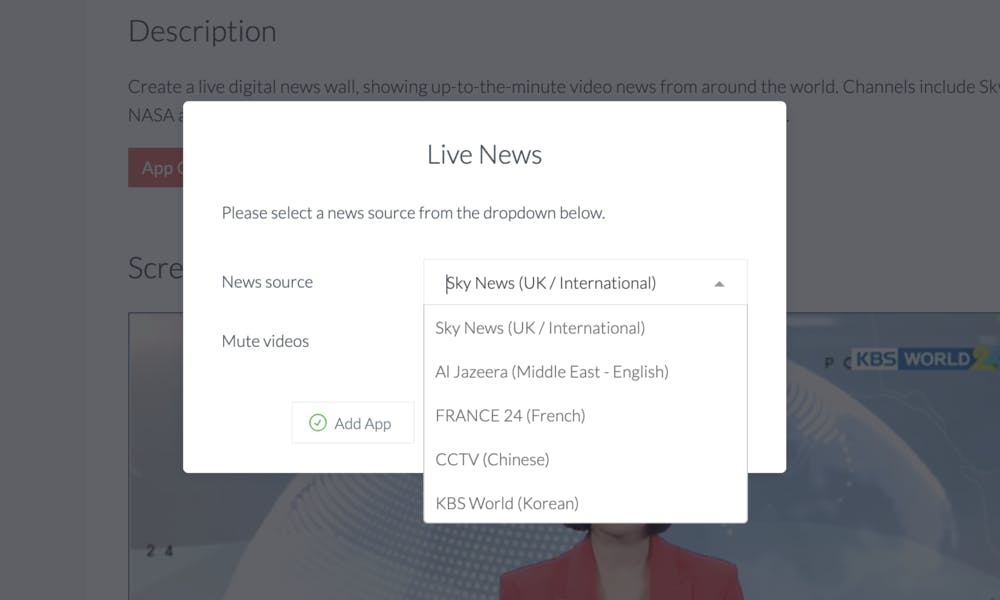 3. Preview your results
Once you've chosen and added your Live News source, preview it to ensure the feed and language is correct for your audience.  
Click 'Preview App' and a small popup will play the Live News feed you have added.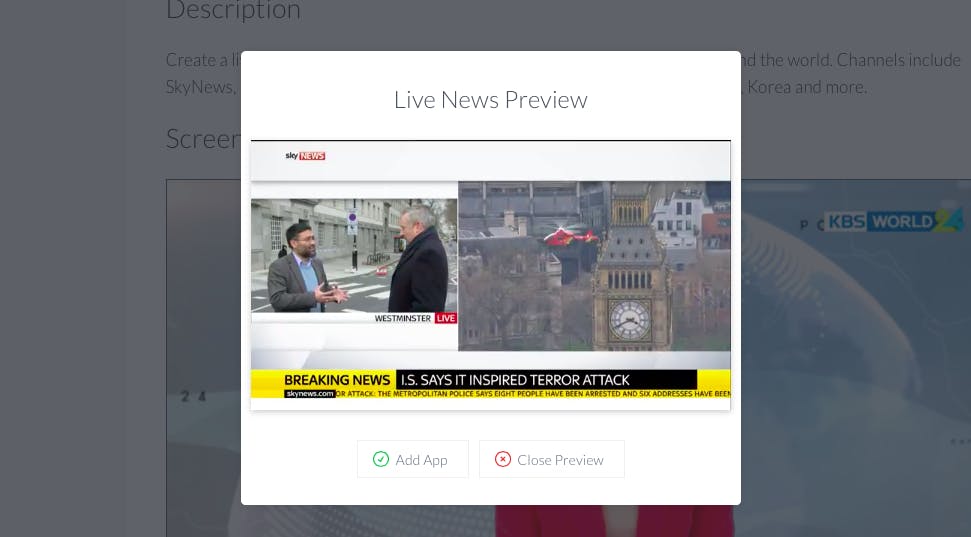 4. Add the Live News app to a playlist
Once you're happy with your news source, you can add it to one of your digital signage playlists.
Select 'Add App' and choose a name for the news source, for example, 'Sky - UK for office'. This will help you to spot it later if you're adding more than one news feed to your playlist.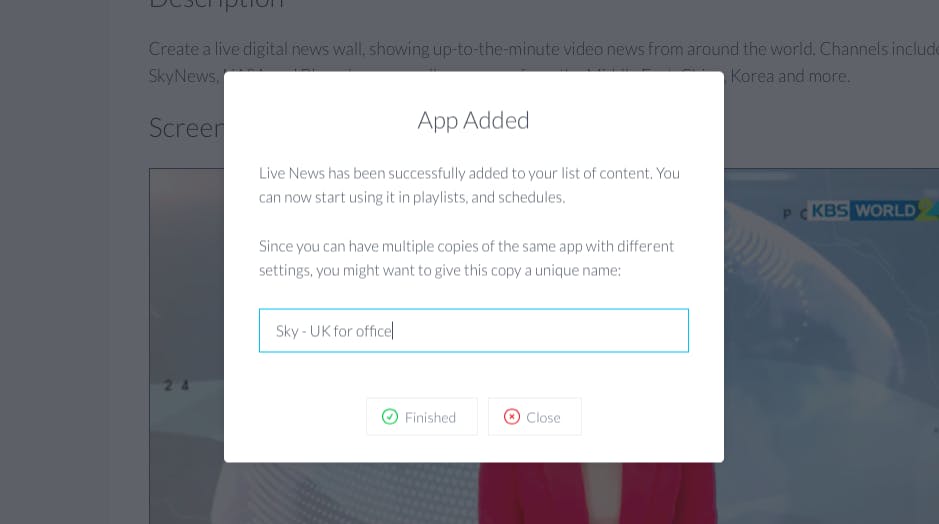 Next, go to 'Playlists' and drag and drop your news feed from the app selection bar on the right-hand side to the playlist of your choosing.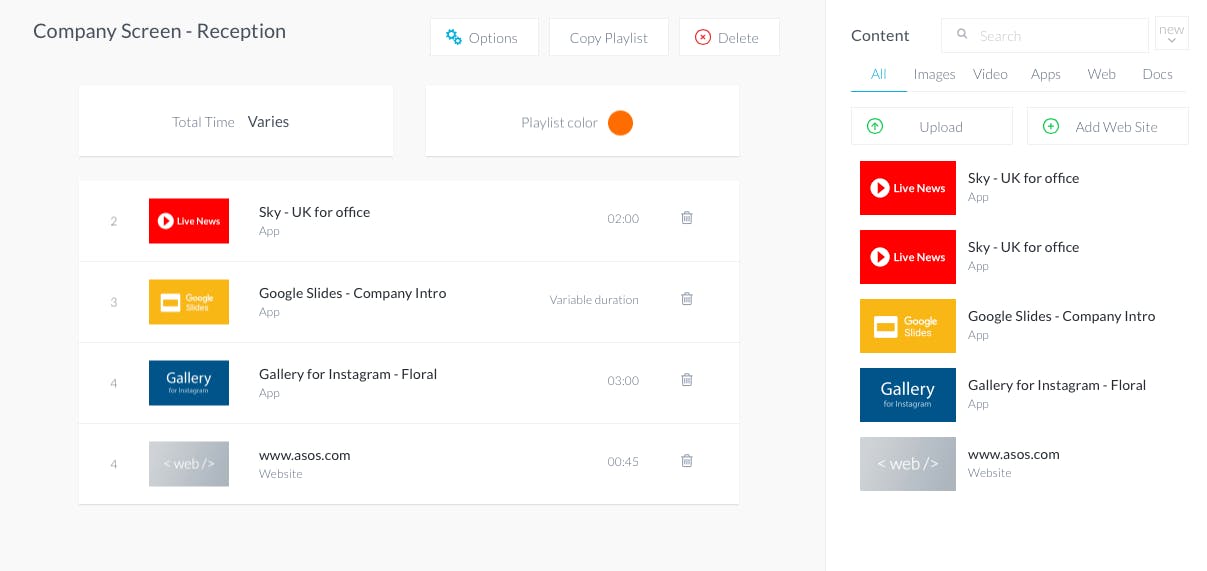 Once added to your playlist you will also see the option to set the duration (shown as 2.00 in the image above). This will determine how long the total news feed plays for within the playlist. 
Frequently asked questions:
Will Live News continue to work if I go offline?
No, Live News is a live stream of video news from the internet so it needs a reliable internet connection at all times.
How long is the cache of Live News - is this played in real-time?
The Live Newsfeed is not cached as it plays in real-time. 
Can I use Live Newsfeed as part of a zoned digital signage display?
Yes, when setting up a zoned display you will see the option to 'Add App'. Any news feeds you have created will be found on this list. However please note, you will not be able to play a live news feed alongside another source of moving content such as a YouTube video. 
How long will the Live News feed play for?
This is determined by the duration you have set within the playlist. 
For further questions please contact support@screen.cloud with details.