ScreenCloud's Fox News app lets you display the latest updates, headline news, and information from Fox News to your digital signage screens. With the Fox News app, the content is updated automatically, giving you the ability to easily share weather updates, news, blog posts, and more with a stream of the latest content.
With the ScreenCloud Fox News app you can:
Select from fourteen different types of headline news
Custom brand your app display
Control the timing of posts to show on screen
Here's how it works:
1. Select and install ScreenCloud's Fox News App
1.1. Get started by clicking here and selecting "Get App". This will prompt you to either log into your existing ScreenCloud account, or sign up for our 14-day free trial in order to use the Fox News app and other available apps within our App Store.
1.2. Once you've logged in, you can select "Add this app" from the top right-hand corner.

2. Select your Fox News app settings
Next, customize your Fox News app settings: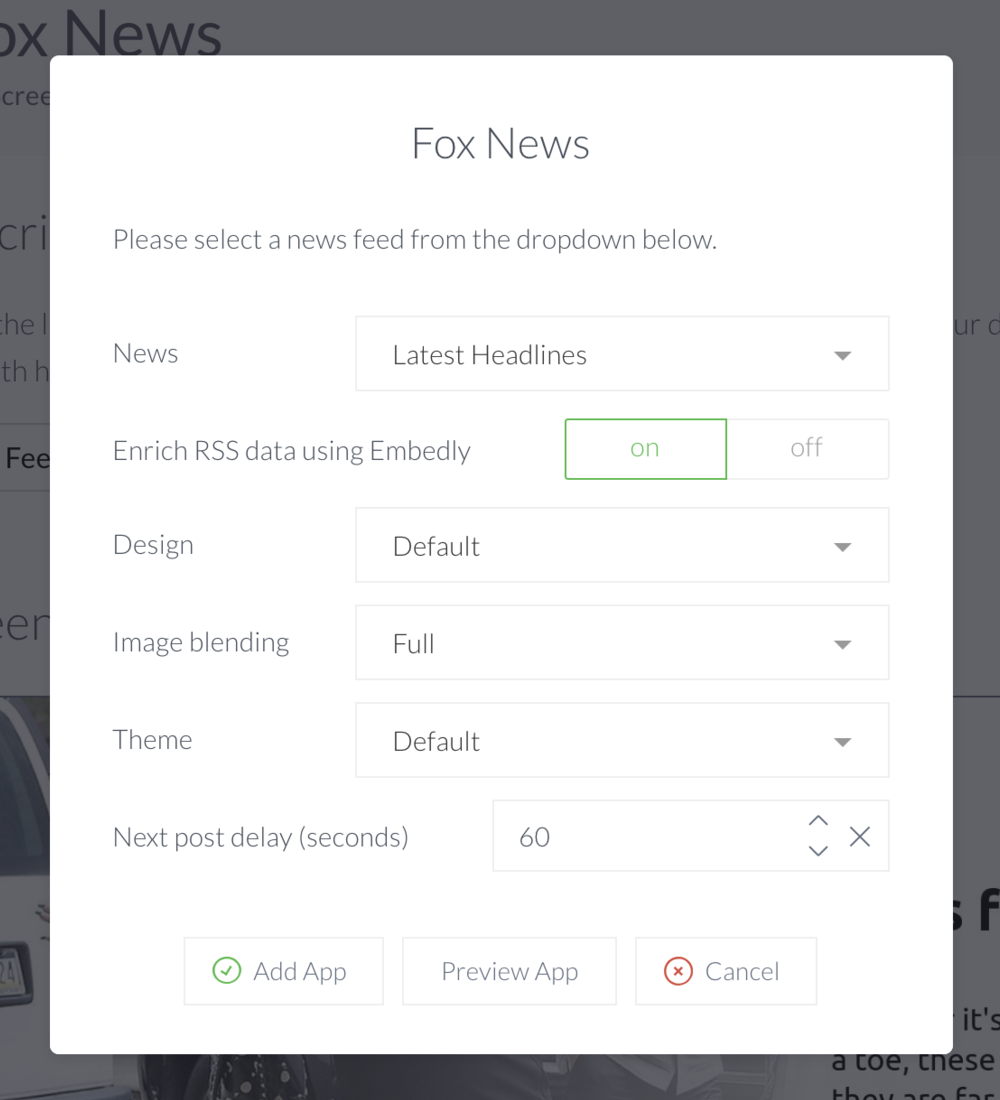 i) News: choose from a selection of fourteen feeds, including:
Latest headlines
Most popular
Entertainment
Health
Lifestyle
Opinion
Politics
Science
Sports
Tech
Travel
U.S.
Video
World News
ii) Enrich RSS data using Embedly: this gives you the option to enhance your updates with other images or media items available
iii) Design: here you have the default option which is our latest design (as shown below) or the original option which is the previous RSS app design: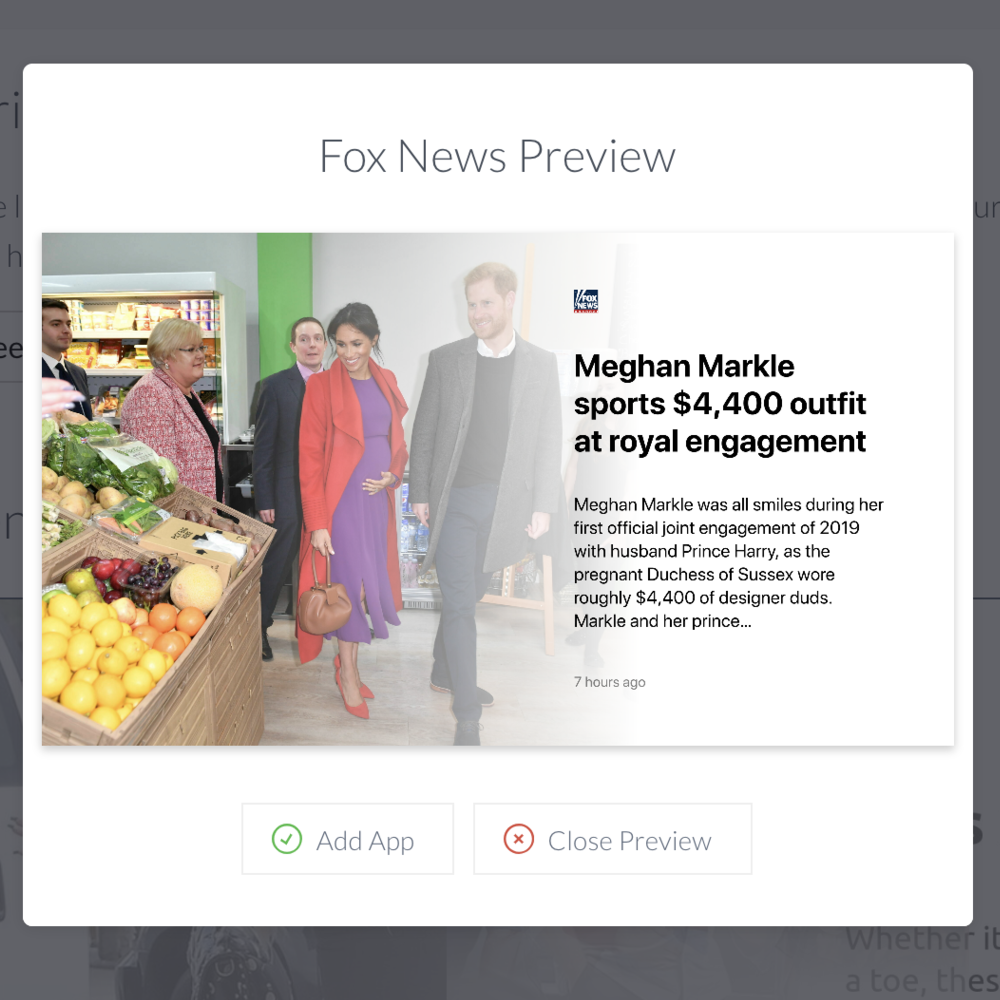 iv) Image Blending: full, medium or none. This is how much you would like the headline and image to blend in your news display.
v) Theme: this is where you can select a theme to display the headlines in a specific color or your brand guidelines.
vi) Next post delay (seconds): this is how long you want to show each piece of news for.
3. Preview your Fox News app
3.1. To preview your Fox News app, select "Preview App". This will open a new window where you can see what your Fox News app will look like on screen.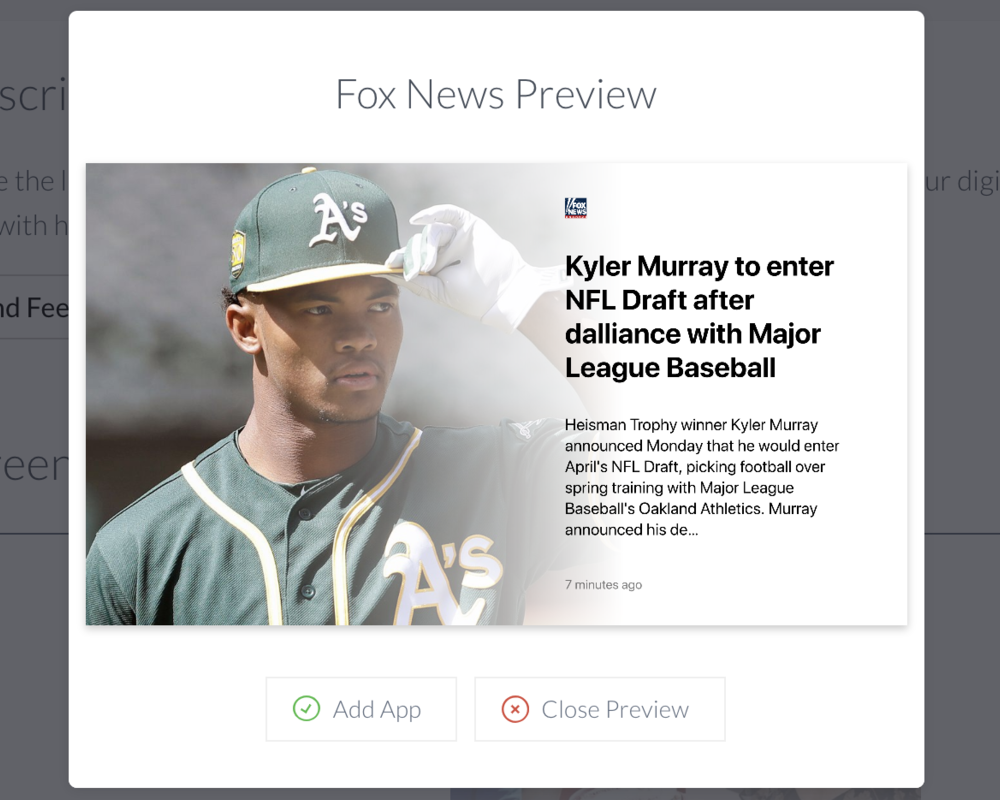 3.2. If you need to make any changes click "Close Preview". Once you've made any further changes, click "Save Changes" and return to open the preview.
4. Add Fox News app to your playlist
4.1. Once you're happy with your settings, click "Add App" and give your Fox News app a name. This will help you to spot it later in your content library, particularly if you're planning to use more than one Fox News app within your playlist.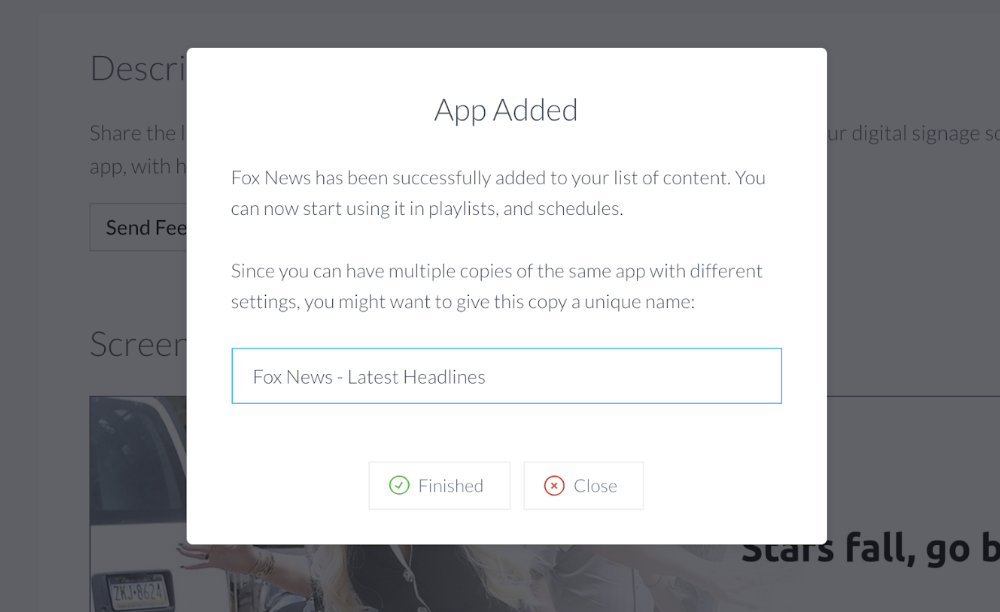 4.2. Select "Finished" and your Fox News app will now be listed within your Content Library.
Please note, If you want to edit your Fox News app at any time, you can simply hover over the app in the content library and choose "Edit This App".
4.3. Next, select the playlist you wish to add this to and drag and drop the Fox News app from the right-hand side to the playlist of your choosing.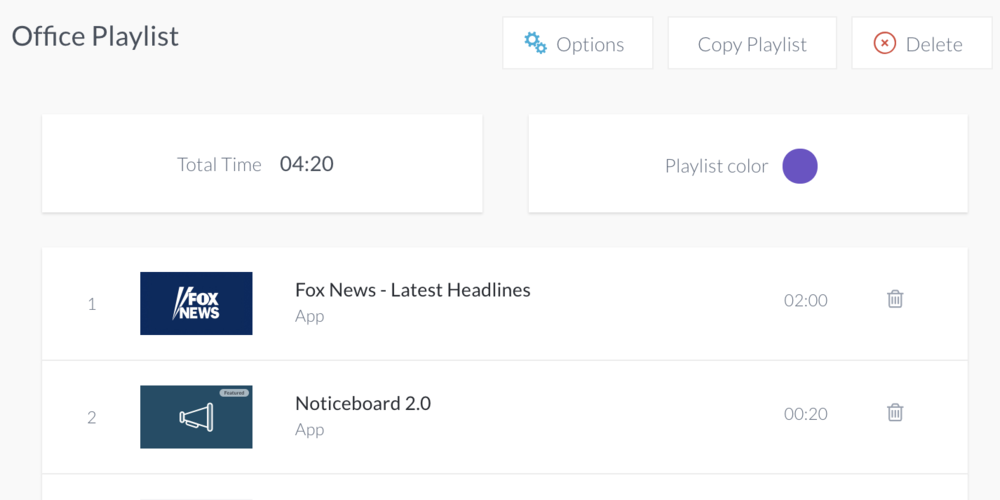 4.4. Here, you can also change the duration that your Fox News app is shown for, currently set as 2:00 for two minutes.
Frequently asked questions:
Can I use the Fox News app as part of a zoned digital signage display?
Yes, when setting up a zoned display you will see the option to "Add App".
What is the refresh rate of the Fox News app?
The Fox News app data will refresh every 30 minutes.
The Fox News title and/or content becomes truncated in the middle of a word, how can I fix this?
Currently, this is a feature of the app as there's only limited space to display content on screen. It will display a maximum of 75 characters for a title and 200 characters for the main text in any zone layout.
Can I display multiple news criteria at the same time?
Currently, the app can only use one criteria per instance. You can add multiple instances of the app to display different headline news, or use multi-zone layouts to show various updates at the same time to your screens.  
For further questions, please contact support@screen.cloud with details.