Wondering how to get your restaurant menu up onto your TV screen? If you're limited on design resource or just confused about how you get your restaurant menu onto your TV screen, we're here to help.
In this guide we'll cover:
How to create a menu board design easily
How to put your menu board design onto the TV screen in your restaurant or café
How to schedule different menu boards for different restaurant sittings
Let's get started.
You probably already have printed restaurant menus and they work pretty well. But now you want to put digital menus up onto the TV screens in your restaurant.
There are many benefits.
Digital restaurant boards allow you to change content as simply as entering a new product, or deleting an old one. They also allow you to schedule content for different times of day, or for different audiences. This means you save on paper print outs and your customers get to see their menu of choice throughout the entire experience, not just when they first enter. Hello upsells.
Here's how to create your own restaurant TV menus.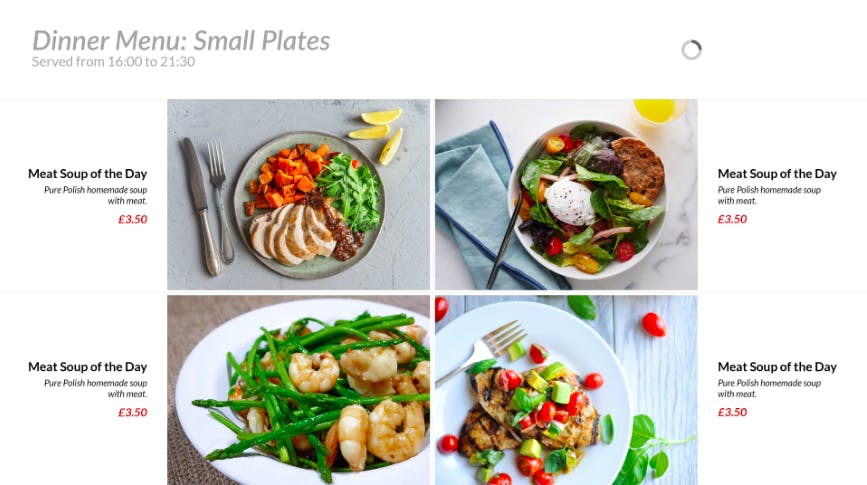 Your own design software
If you want to design a menu from scratch (or mimic your printed menu design) you can use a design tool such as Photoshop, Indesign or Canva. Follow these digital signage design rules to ensure the menu is the right size and dimensions for digital signage screens. Then, export the file as a PDF, jpeg or png and upload to ScreenCloud (our easy digital signage software tool) using the file uploader.
Digital menu board software
If you don't want to use a design tool, or you don't have design skills, you can use ScreenCloud's Digital Menu Board software to create your restaurant menu easily.
The benefit of using our Digital Menu Board app is that it already contains templates for laying out your digital menu board. It's also already connected to ScreenCloud (which lets you control your content on screen). So that when you need to change a product, you simply enter ScreenCloud, edit your template and the information changes on screen. In short, the app designs your information in the best format and layout for your screens and allows you to edit it anytime you like, from anywhere.
Within Menu app you can also brand your menus to your restaurant colors so everything stays on brand.
Find out how to use the Digital Menu Board app with this guide.
Digital menu board templates
If you're designing from scratch, the best place to start when creating a digital menu board is the template. Whether you have a design team or not, digital menu board templates come in handy as they help you discover the spacing and format which works best on screen.
If you're a bit of a design-whiz and want to create your own displays from scratch, a few free tool options you could use are Adobe Illustrator using the free trial, Inkscape or even Powerpoint, Keynote or Google Slides.
Check out this guide for lots of tips on how to design digital menu boards and examples of restauranteurs who are doing this well.
DSMENU App - 199 restaurant templates
DSMenu allows you to create and manage a menu board directly from the cloud. With a ton of different menu board designs to choose from such as "grill", "fast food", "pizza", "burger", "beverages", "festivals", "snacks" and "offers" to name but a few! The DSMENU user guide takes you through how to get set up in a few easy steps.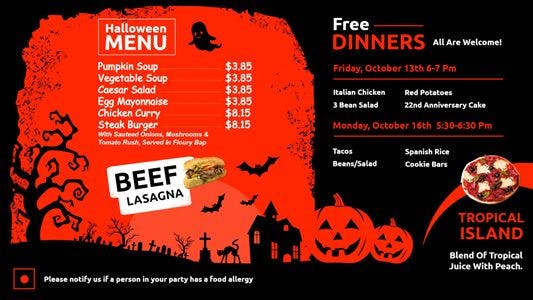 Firstly, you pick your menu board template (up to 199 to choose from), or decide to start from scratch. The menu boards are fully customizable, allowing you to add your own menu items, change colors and upload images.
Once happy with your masterpiece you can download it as a PNG or JPEG file, or grab your unique URL. Load this into ScreenCloud and you're ready to begin showing great digital menu boards on to your screens.
We also have a 10% discount code just for ScreenCloud customers - enter SCREENDS10 to get 10% off your menu designs.
Once you have your menu and your screen, you need an easy way to connect the two.
1. Create a smart TV
If you have a smart TV (an Android TV or one that's connected to the internet), simply search in the screen's App Store for "ScreenCloud". Download the app (which may look a little like the below) then head to screencloud.com/getstarted on your PC or laptop and set up a free trial or log in to your ScreenCloud account.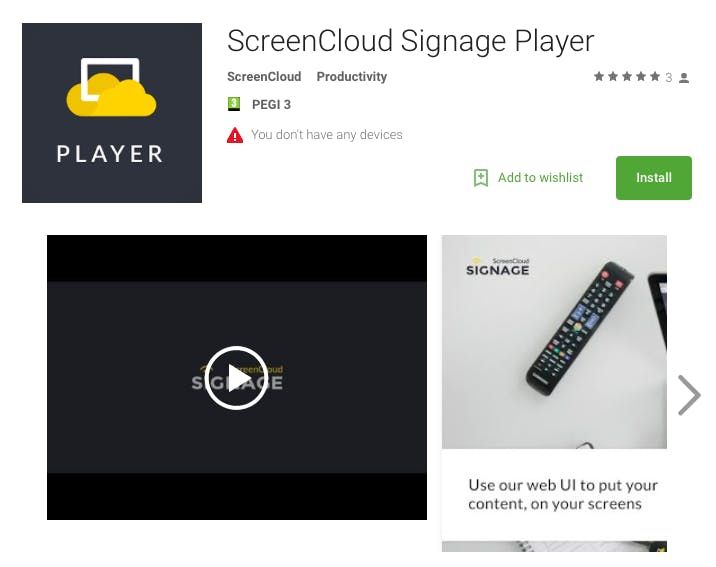 If you don't have a smart TV, all you need to invest in is a cheap media device, like an Amazon Fire TV Stick (around $40) and plug it into the HDMI port on the back of your TV. Once it's connected, you can use the same process to download the ScreenCloud app and get your menu onto your TV screen. You can find out which media device is best for your restaurant's screens by using our Hardware Selector Tool.
2. Pair your restaurant screen to ScreenCloud
Next, in signage head to "Screens" and select "Add Screen". Enter the pairing screen you see on your TV and create a name for your screen, for example "Restaurant floor".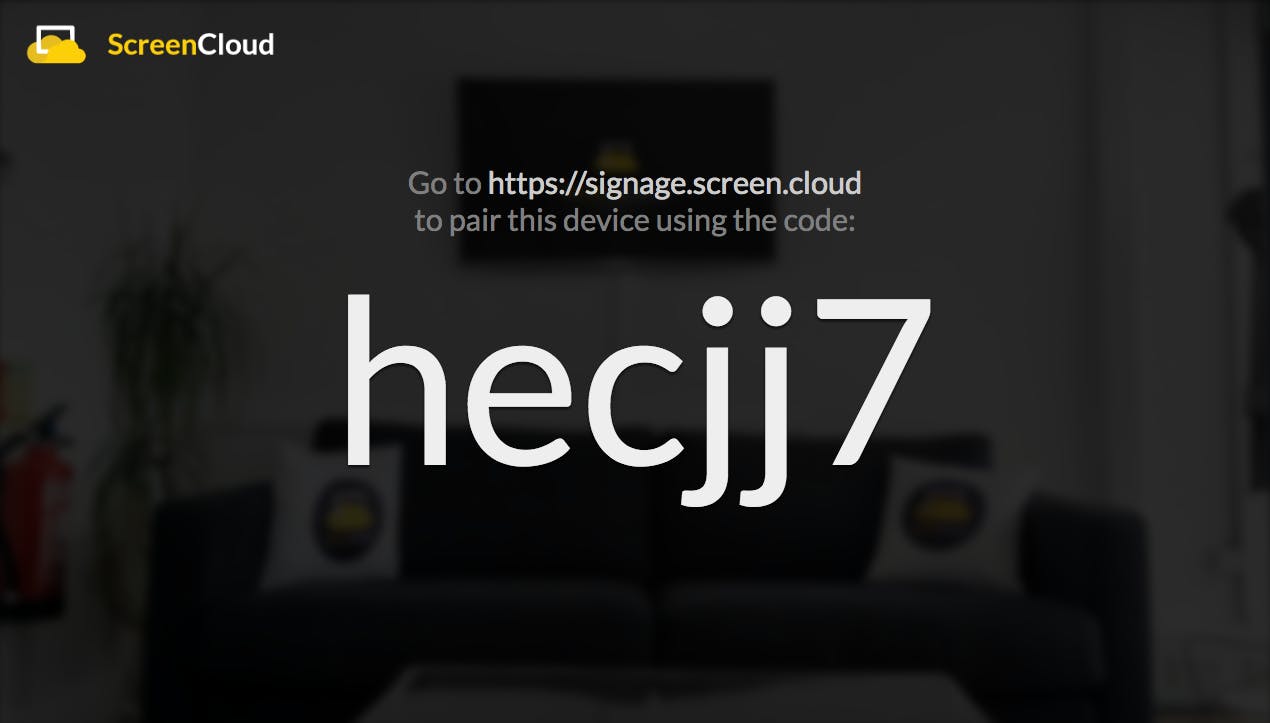 3. Upload or create your restaurant menu
Once your screens are paired you can add your digital menus. If you have designed these elsewhere, choose "upload" from the top right-hand corner and you'll see a box that looks like this: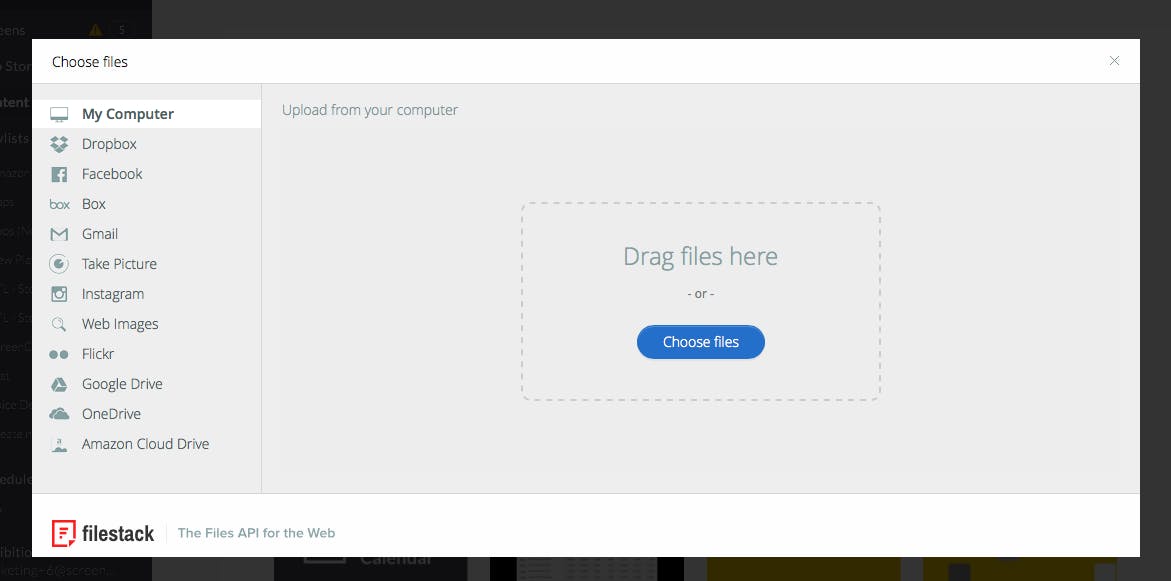 Now you can upload your files from wherever they're saved - your computer, Dropbox, Google Drive, OneDrive and so on. ScreenCloud supports the majority of file types including jpeg, gif, png, and svg, PDFs and Office/iWorks formats to make uploading your content easier.
If you're using the Digital Menu Board app follow this guide to get started.
Anytime you need to make a change, or you update your restaurant menu, simply re-upload an image, or change the entry in Menu Board app, and it'll change on screen.
This is the same process for one restaurant or 100. If you upload an image gallery you can easily set it to show in just one restaurant, or in 10. You can also set it to only play on specific screens within the same restaurant, or to only play for certain amounts of time. This makes it really, really easy to manage all of your restaurant TV screens from one system.
Once you have created your restaurant menus they'll be present in your Content Library within ScreenCloud.

For example, if you had three menus for your restaurant's breakfast slot such as a coffee menu, a food menu and a takeaway menu, you may wish to add these to your breakfast playlist and set each to play for 20 seconds.
Our awesome restaurant customer Mamuśka! is an example of this done really well, where each menu is designed to attract a specific audience at a specific time of day.
Mamuśka! split their target audience into three groups and two different time slots. Breakfast diners (builders, local office workers) are shown different content to evening diners (local residents, destination diners). Those eating during the week are shown different advertisements to those eating at the weekend (sports, special drinks offers).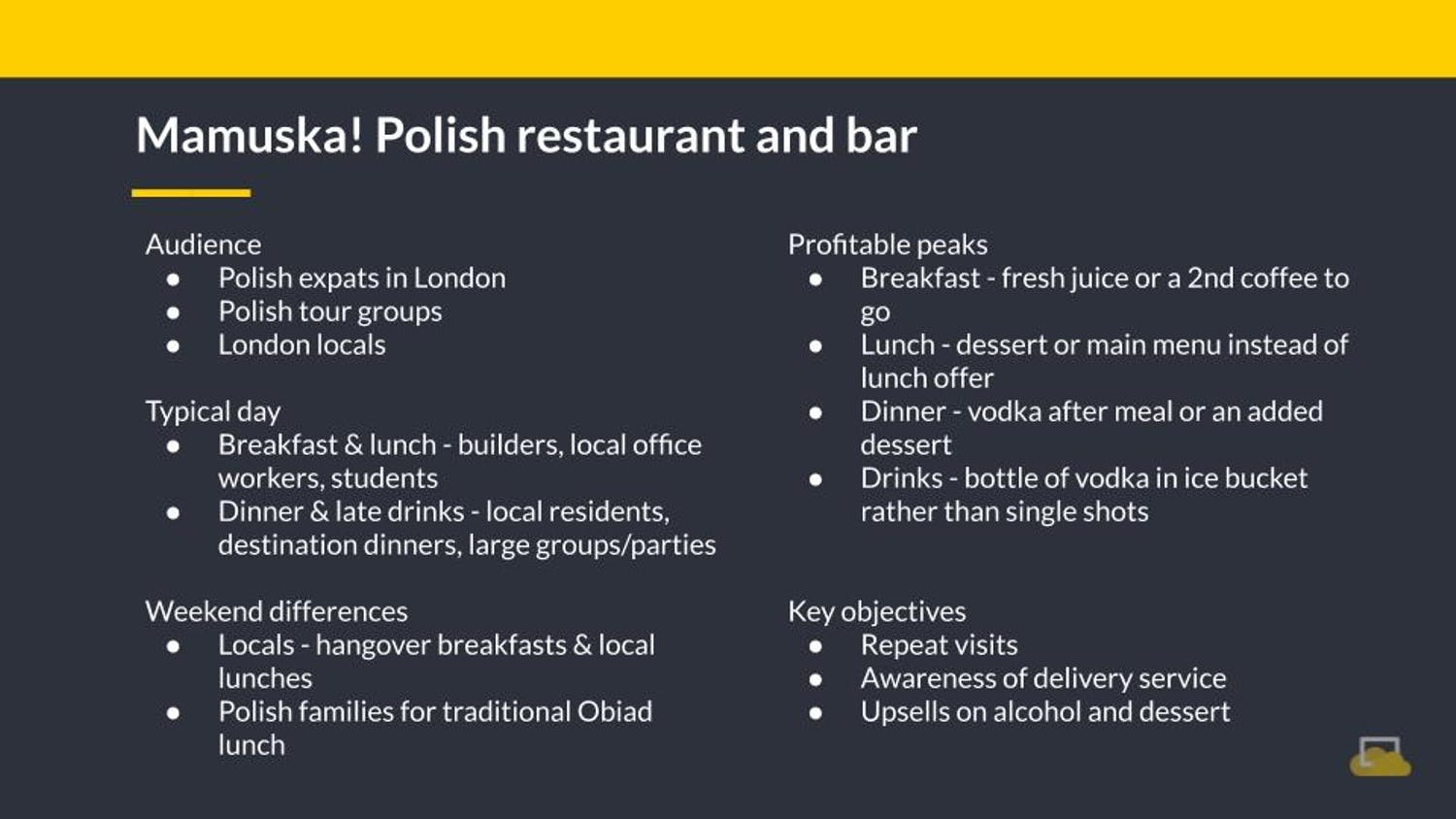 When you know your audience, it's easy to tailor your restaurant digital menus to fit.
You can also schedule ambient content to play in between menus. This might mean sharing your Instagram feed, a photo gallery or a competition within your playlist, so that the menus share screen with other pieces of marketing and promotional material.
Once you have added all of the content to your playlist, click Schedules from the sidebar and "Create new schedule".
Drag your cursor over the slot you wish to schedule content for. For example, for breakfast content you may drag the cursor from 6am - 10.30am on Monday. Select the "+" sign and select your breakfast playlist, then click Save.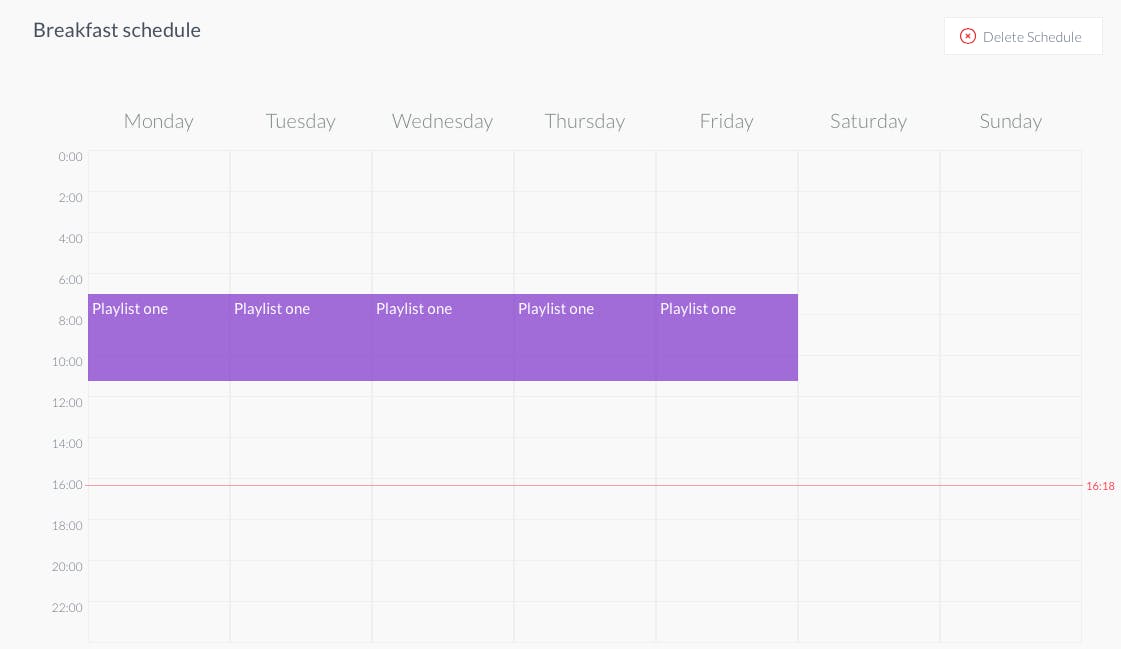 You can then repeat this across each day, or on certain days. For example, if your restaurant has a different breakfast menu at the weekend as it does to weekdays, you could select this through scheduling different playlists for Monday-Friday and Saturday-Sunday.
Putting your digital menus onto your restaurant TV screen: simple!
Hopefully you are now well versed in adding digital menu boards to your restaurant TV screen and changing them easily.
Get set up today with a free 14-day trial at screencloud.com/getstarted.