The ScreenCloud OneDrive Gallery app makes it easy to connect your OneDrive account to your digital screens. Easily share folders of images and videos that update as new content is added.
This gives you the opportunity to create digital media galleries without needing to upload your content individually, and you won't need to redo galleries as new content becomes available. When you update your OneDrive folder, the new media will automatically be added to your digital screen. This allows you to share any media you'd like within an office, restaurant, store, or reception and ensures your galleries update automatically every five minutes.
With the ScreenCloud OneDrive Gallery app you can:
Connect to OneDrive and share folders
Choose the timing of your content and whether you want to play in order, or shuffle
Customize your background and image transition
Here's how it works:
1. Select and install ScreenCloud's OneDrive Gallery app
1.1. Get started by clicking here and selecting "Get App". This will prompt you to either log into your existing ScreenCloud account, or sign up for our 14-day free trial in order to use the OneDrive Gallery app and other available apps within our App Store.
1.2. Once you've logged in, you can select "Add this app" from the top right-hand corner.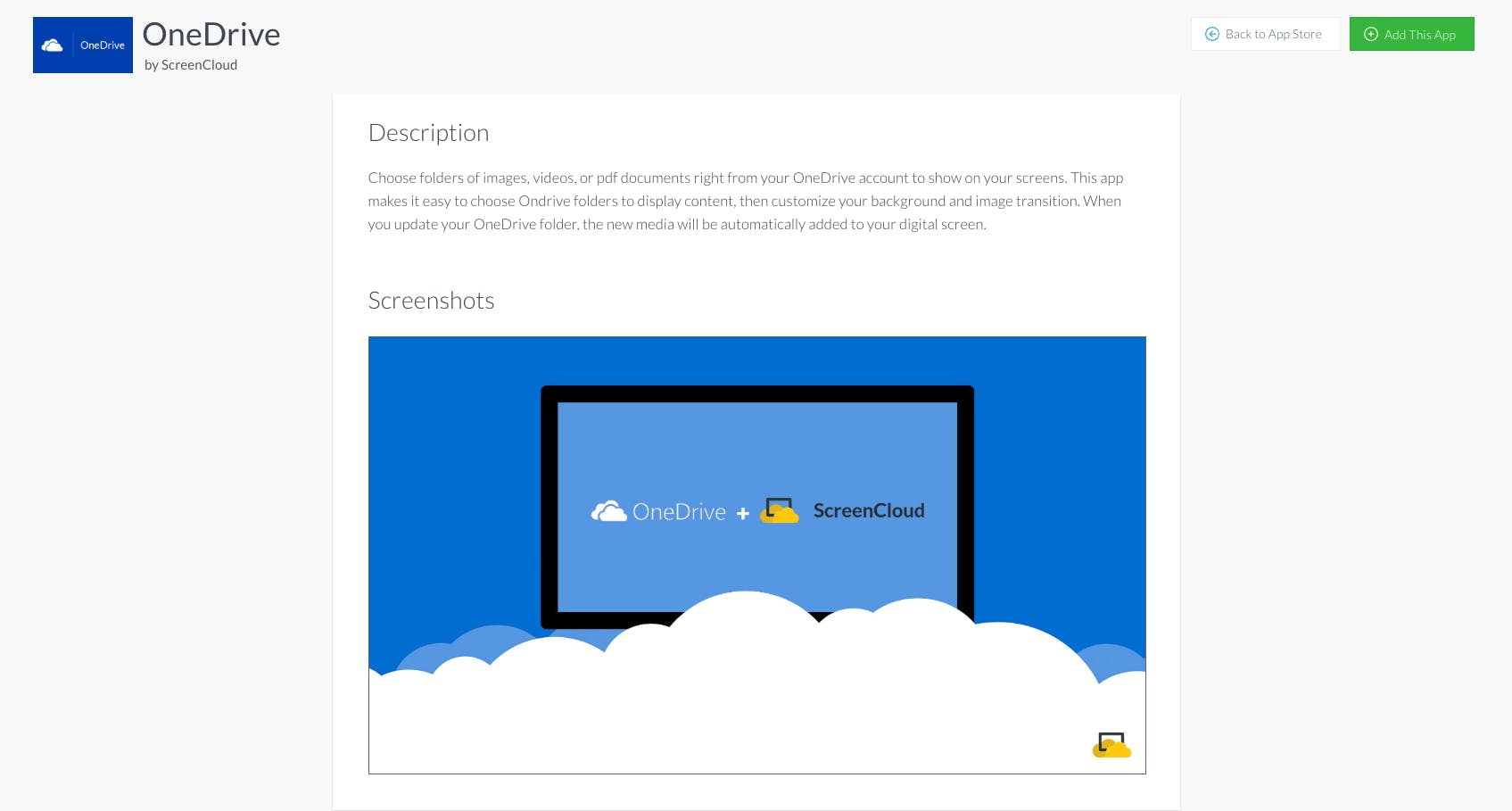 2. Log in to OneDrive
2.1. Next, select "Configure" to log into your OneDrive account.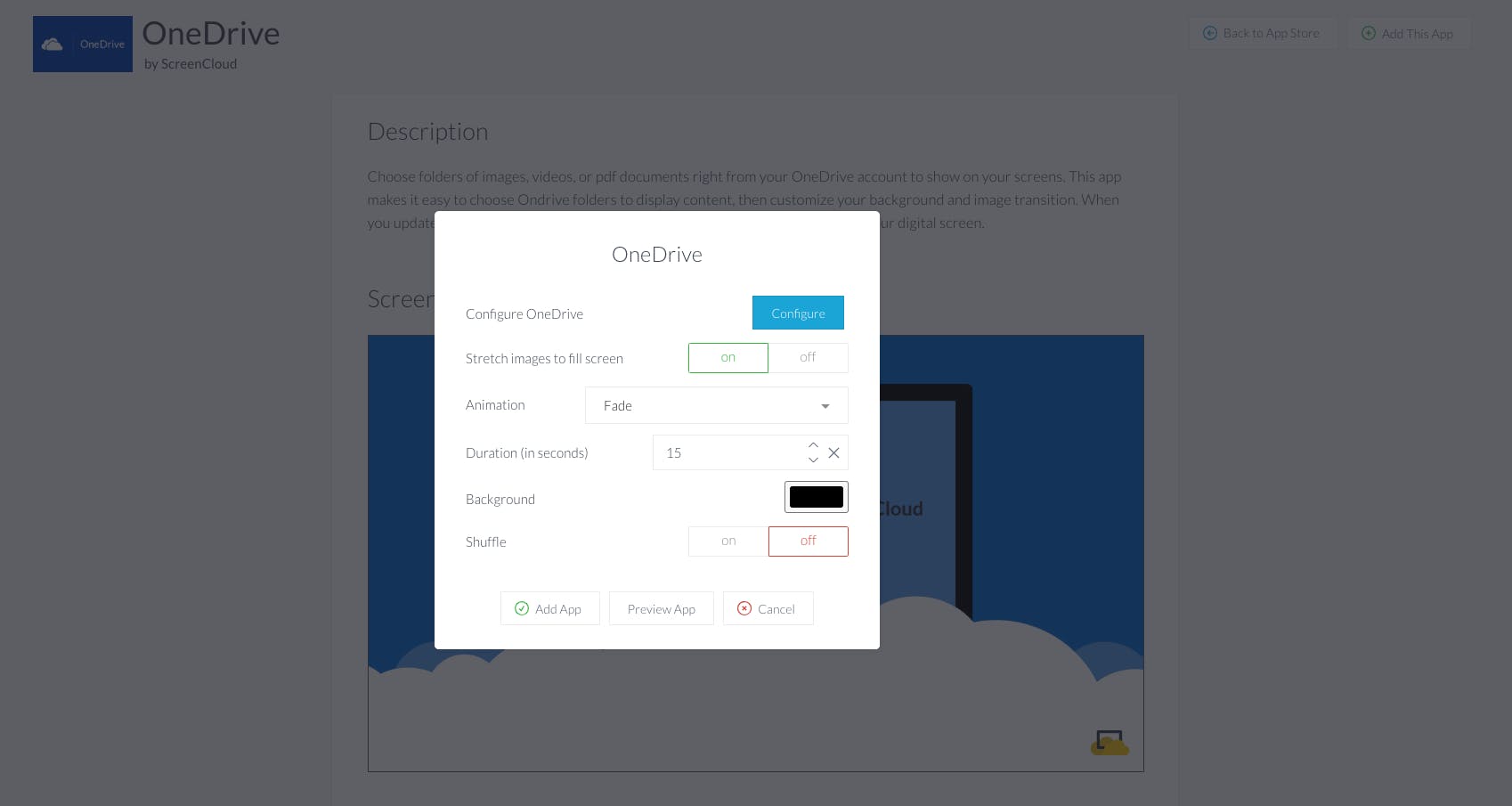 2.2. Select "sign in" to give ScreenCloud permission to access your OneDrive account and folders. Then log into your OneDrive account.
3. Choose your folder to show
3.1. Once you've allowed access to your OneDrive account, you'll see a list of folders. To choose a subfolder, click on each folder's name until you reach the selected folder.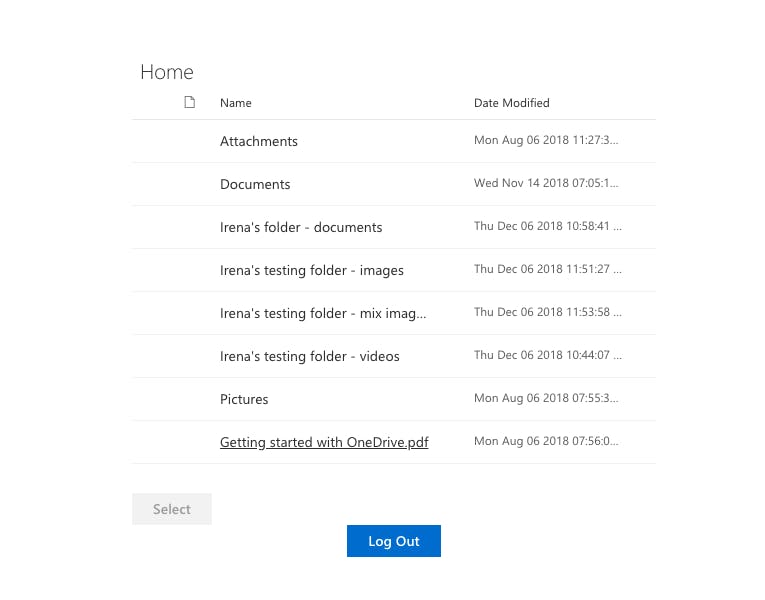 3.2. Press "select" to confirm your folder choice and you'll be brought back to ScreenCloud where you will see a check-mark confirming that your OneDrive folder is synced.

4. Select your OneDrive app settings
Next, customize your OneDrive app settings: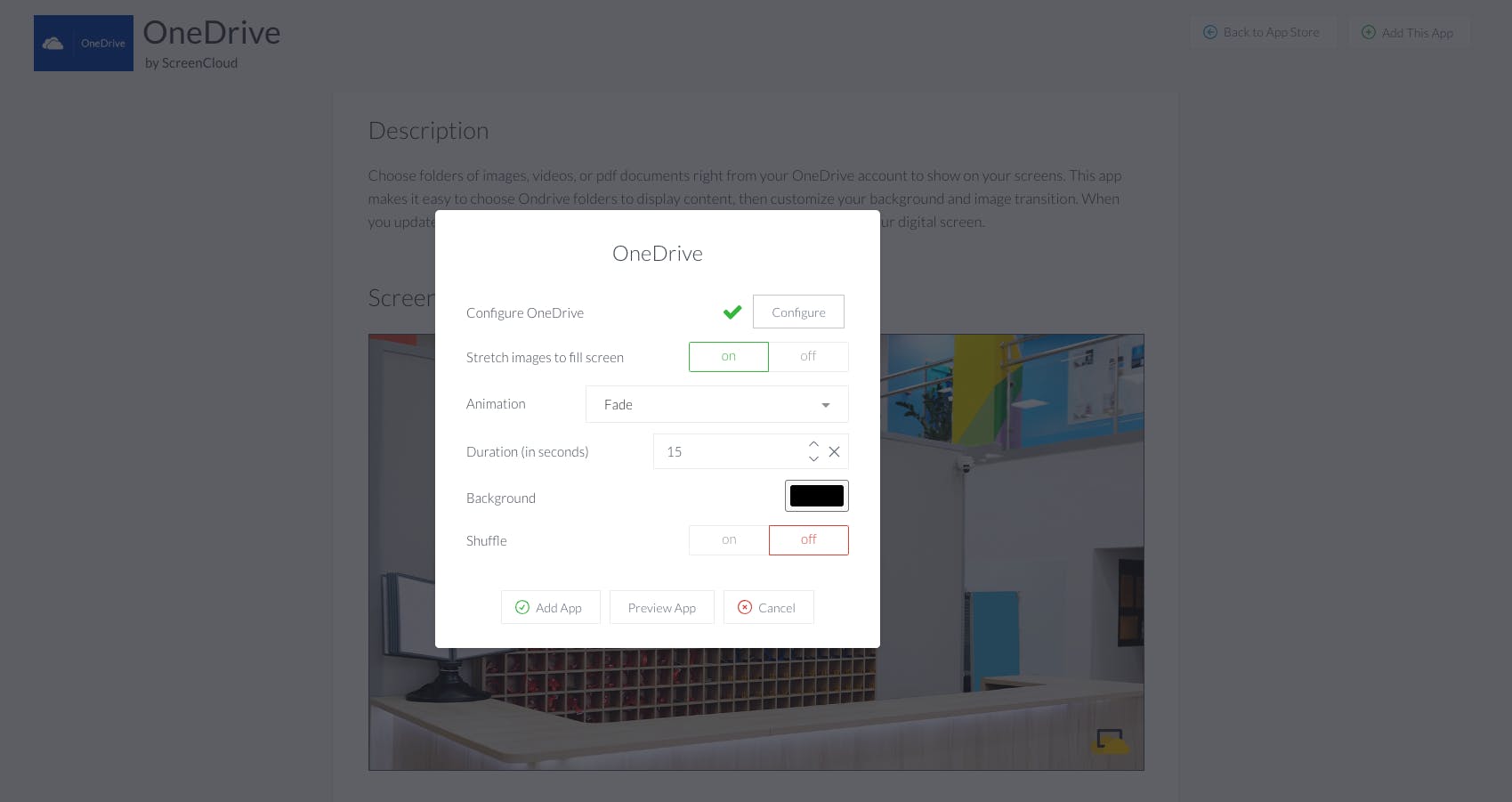 i) Stretch images to fill screen: Selecting this makes your image fill full screen.
ii) Animation: Select between multiple transition effects available for your media.
iii) Duration (in seconds): Control how long a piece of content shows on screen before displaying the next one in your folder.
iv) Background: Customize the background color of your app.
v) Shuffle: Choose to shuffle images randomly.
5. Preview your OneDrive Gallery app
5.1. To preview your OneDrive Gallery, select "Preview App". This will open a new window where you can see what your OneDrive Gallery will look like on screen.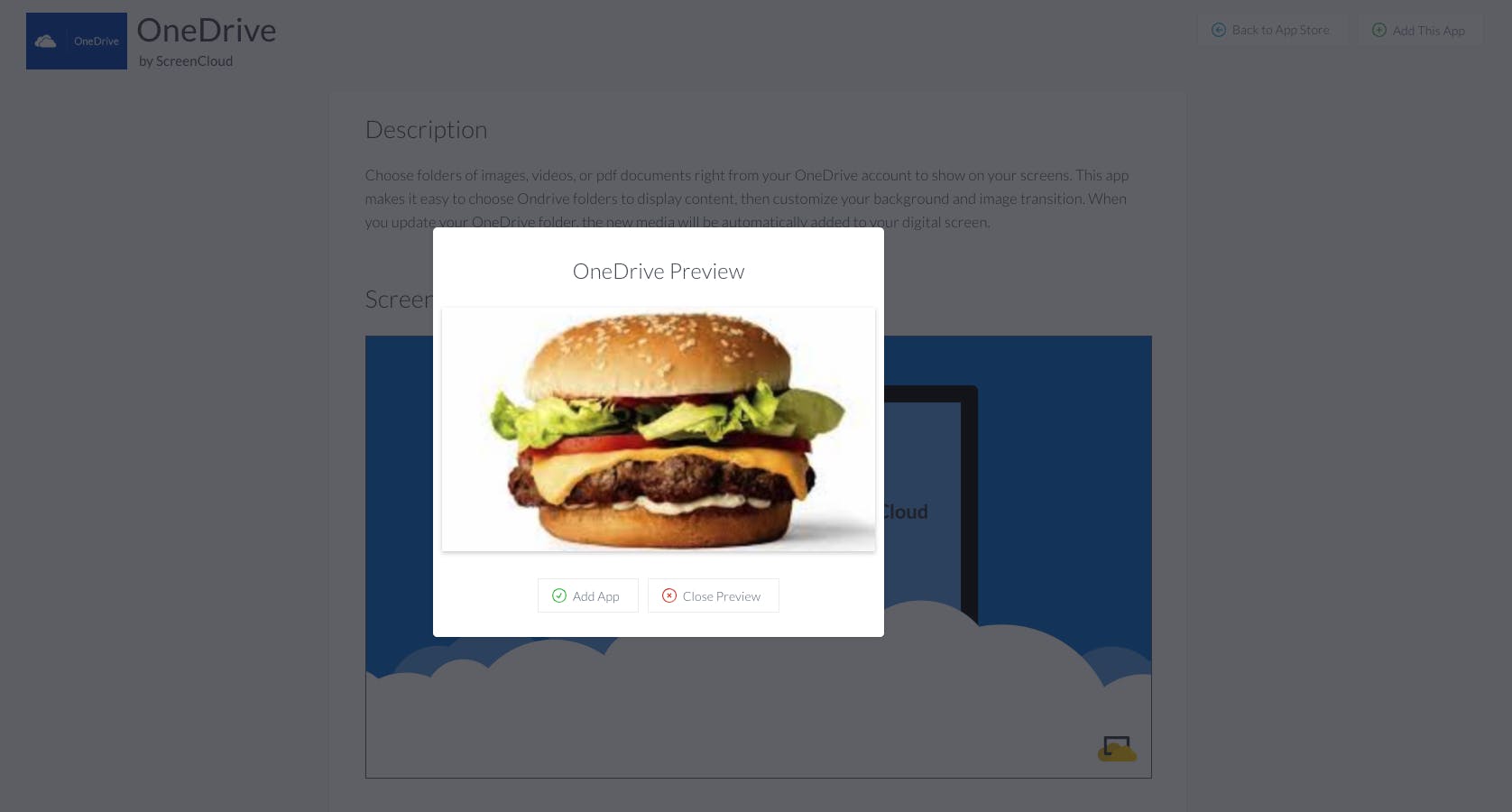 5.2. If you need to select a new folder, click "Close Preview" and press on "Configure" to access your OneDrive folders. Once you've made any further changes, click "Save Changes" and return to open the preview.
6. Add OneDrive Gallery app to your playlist
6.1. Once you're happy with your settings, click "Add App" and give your OneDrive Gallery app a name. This will help you to spot it later in your content library, particularly if you're planning to use more than one OneDrive Gallery app within your playlist.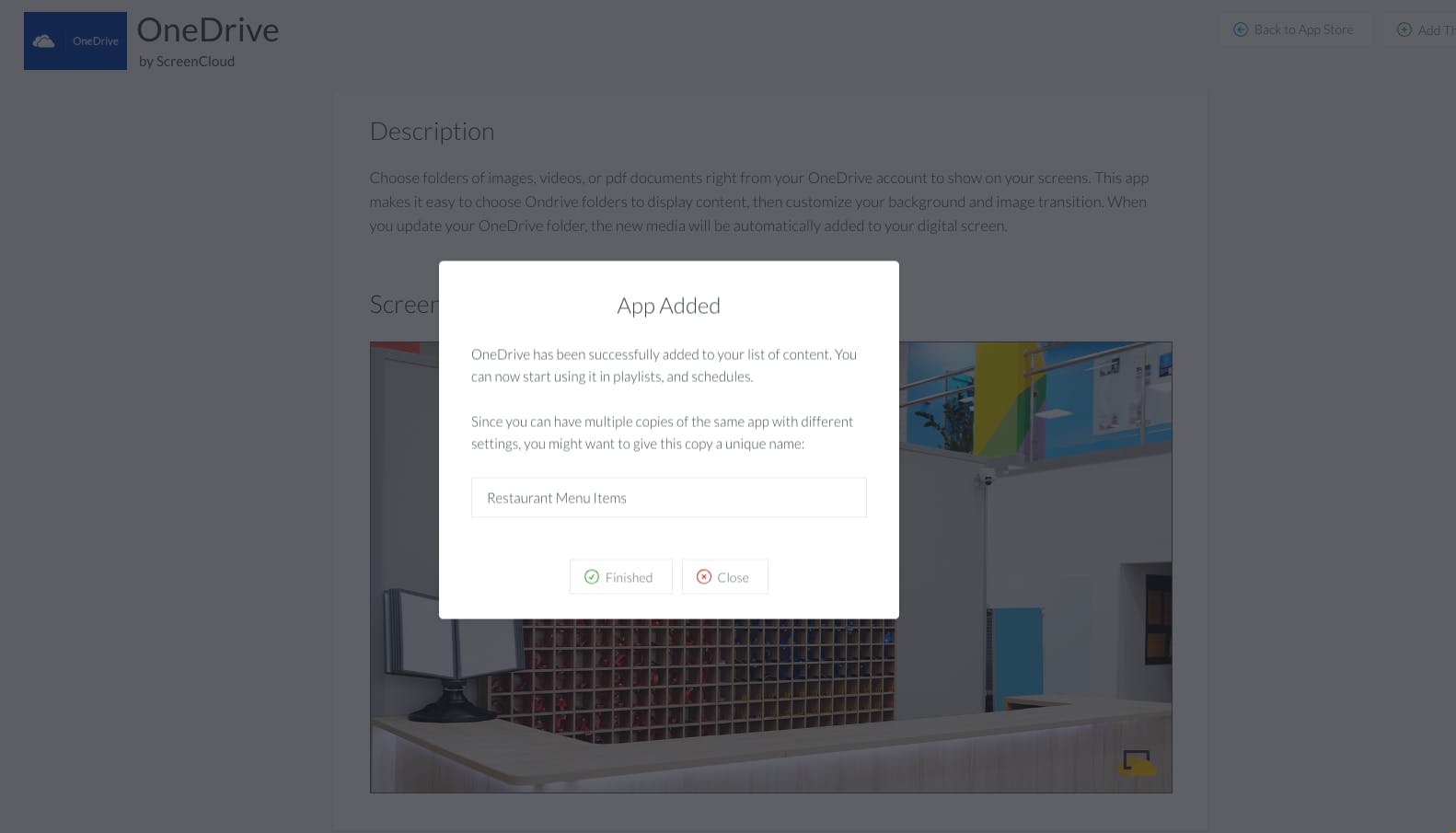 6.2. Select "Finished" and your OneDrive Gallery app will now be listed within your Content Library.
Please Note, If you want to edit your OneDrive Gallery app at any time, you can simply hover over the app in the content library and choose "Edit This App".

6.3. Next, select the playlist you wish to add this to and drag and drop the OneDrive Gallery app from the right-hand side to the playlist of your choosing.

6.4. Here, you can also change the duration that your OneDrive Gallery is shown for, currently set as 2:00 for two minutes.
Frequently asked questions:
How long will the OneDrive Gallery app show for?
The OneDrive Gallery app will show for a predetermined amount of time depending on the content from your chosen folder and how long a duration you've set for each piece of content. For example, if there are 10 images in the selected folder and each image is set to show for 6 seconds, you will have a one-minute feed.
This can be edited by going to the app settings and changing the time duration.
Can I select multiple folders to display content?
With each instance of the app you can only choose one folder, however you can add as many OneDrive apps as you like. We recommend combining media into one folder, or adding as many instances of the app as you'd like to show different folders.
How often does OneDrive Gallery app look for new content?
OneDrive Gallery app looks for new content every five minutes.
What file types does the app support?
For images, the app mostly supports jpeg, png, and most common video formats. The app runs by supporting file types that your ScreenCloud device/browser supports. For example, if you're using a Chromebit device which runs on ChromeOS, it would depend on what files Chrome supports for playback on their browser in which .tiff files would not be supported but a .jpeg would display on screen.
For further questions, please contact support@screen.cloud with details.