The Instagram app from ScreenCloud allows you to create a live scrolling wall of Instagram posts and videos that engage your audience. Choose your account to show and create a visual canvas of your best work, insights and updates. 
Through the ScreenCloud Instagram app you can create a small or large digital signage screen wall that shares beautiful images from the sources that matter, updating in real time. Whether this is for your office, store or a one-off event. 
With the ScreenCloud Instagram app you can:
Create a live scrolling image wall of your Instagram posts and videos
Choose a light or dark theme for your display
Please note, as of December 2018, Instagram updated its API which means that all Instagram apps only allow you to display your own account via login. If you have setup a Gallery for Instagram feed for someone else's account, or a hashtag, this will no longer show posts. We apologize for this restricted ability. Our team is looking into an alternative to make this function usable again as soon as possible.
Here's how it works:
1. Install Instagram in your ScreenCloud account
1.1. Get started by clicking here and selecting "Get App". This will prompt you to either log into your existing ScreenCloud account, or sign up for our 14-day free trial in order to use the Instagram Gallery app and other available apps within our App Store.
1.2. Once you've logged in, you can select "Add this app" from the top right-hand corner.
2. Log in to Instagram 
Next, select 'login' and authorize the app through Instagram. This will allow you to pull through a feed of live, scrolling results to your digital signage social media wall. 
3. Choose the Instagram content you wish to show
Once you have logged in you will see the settings panel below. Here you will need to set up your Instagram app:
i) Your account: set up your own Instagram account to show across your displays. Log into your Instagram and enter your account handle in the setup panel. For example, entering '@screencloud' will show posts from our ScreenCloud Instagram account in chronological order.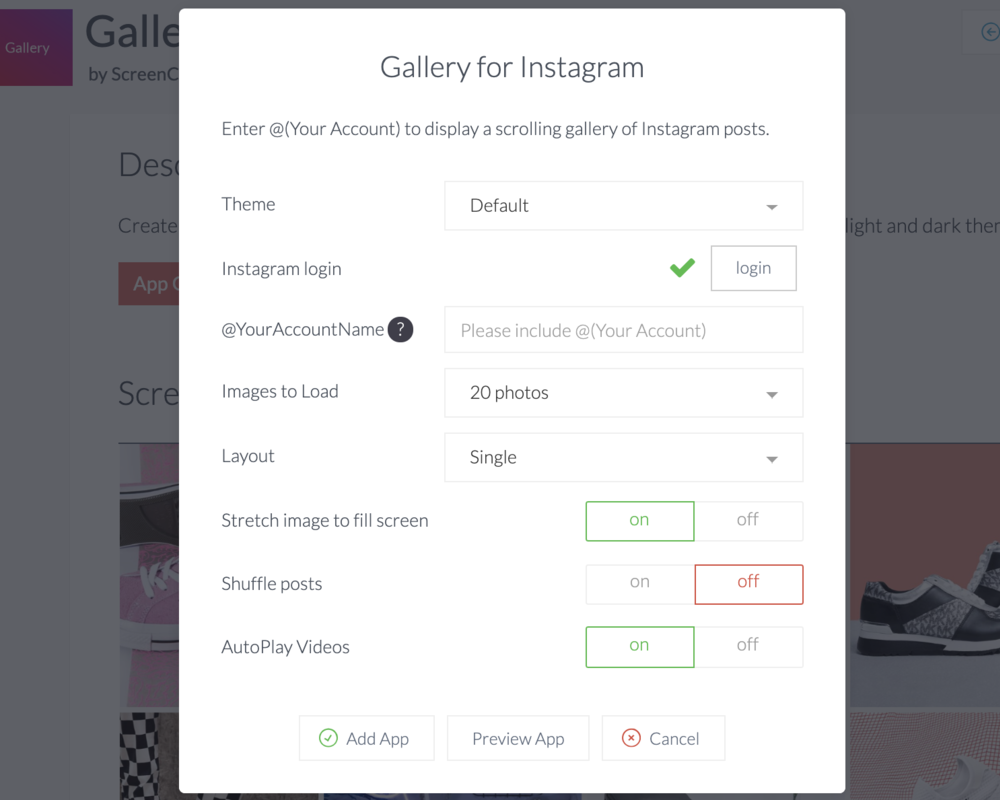 ii) Layout: "Single" will show one Instagram post at a time as shown below. Please note, "Single" and "Single Card" layouts are the only display options that support videos.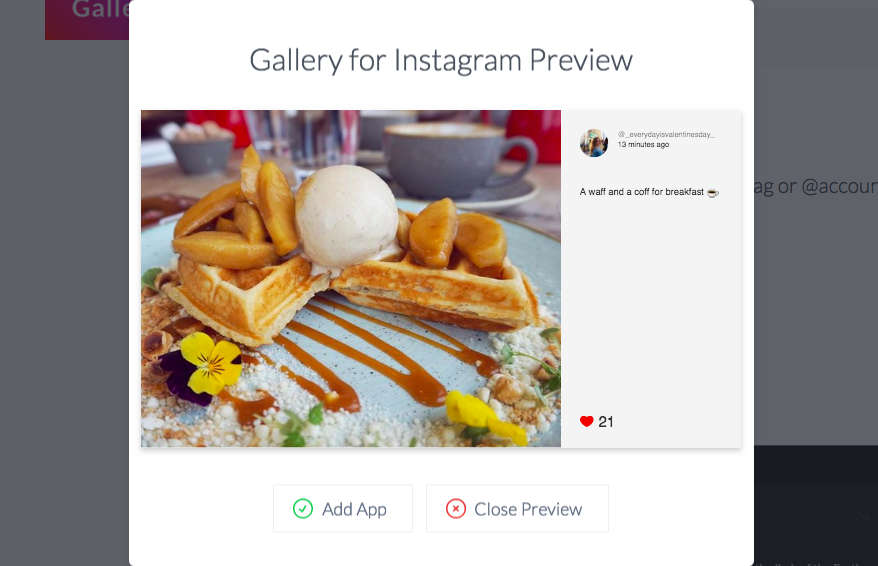 Whereas "Grid" will show multiple images: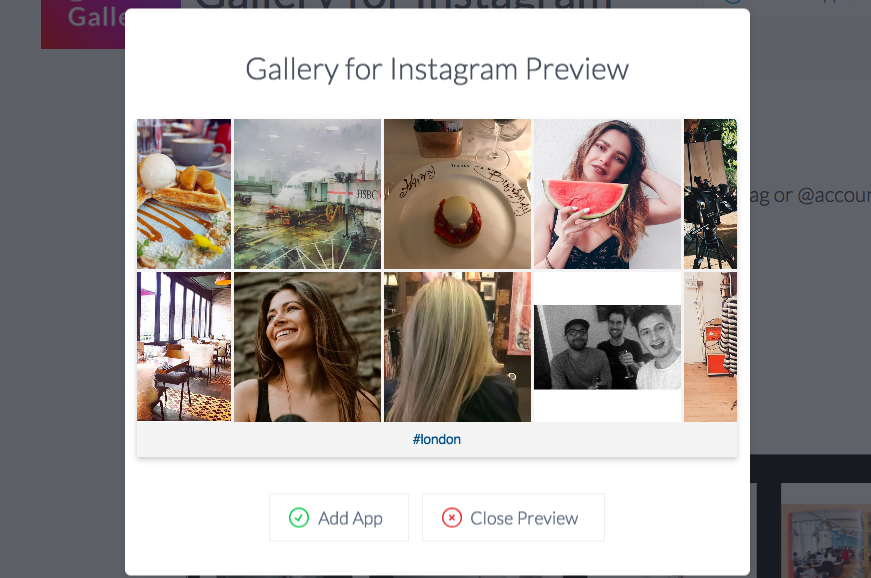 iii) Choose the number of images to load: if you are using the Grid layout this will determine how many images are shown at one time. 
iv) Theme: here you can select a theme color for your Instagram display. This can include the default, light or dark theme or one that you have created yourself. To create a custom theme, check out our guide on how to use the App Theme Editor. Once you've set up a custom theme you will see this in the theme dropdown within the Instagram app settings. This allows you to brand the app with your company colors, as shown below: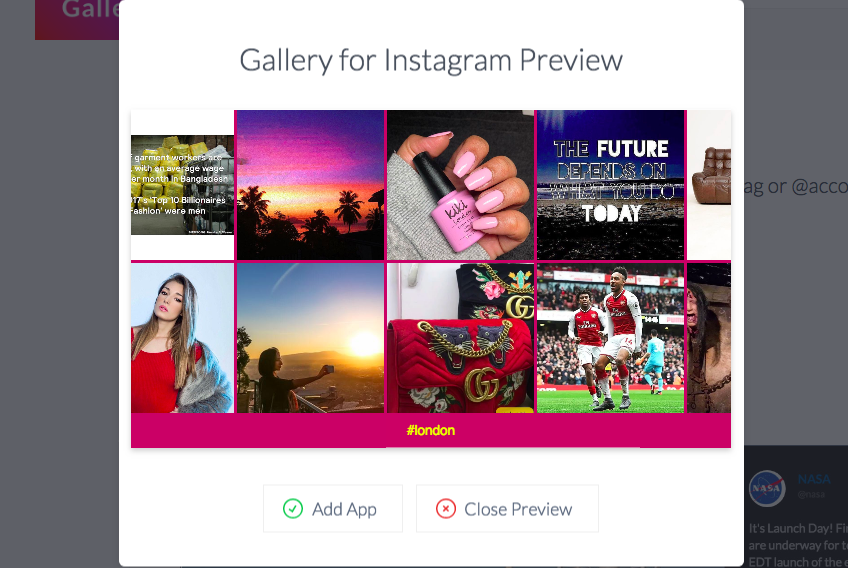 v) AutoPlay Videos: switch this on or off to control if you'd like your videos to play when they appear on your digital screens.
4. Preview your results
Once you've connected your account it's a great idea to check your results. You can do this by hitting 'Preview App'. This gives you a pop up where you can view what your Instagram scrolling gallery would look like when live on a screen. This also helps with that all important moderation.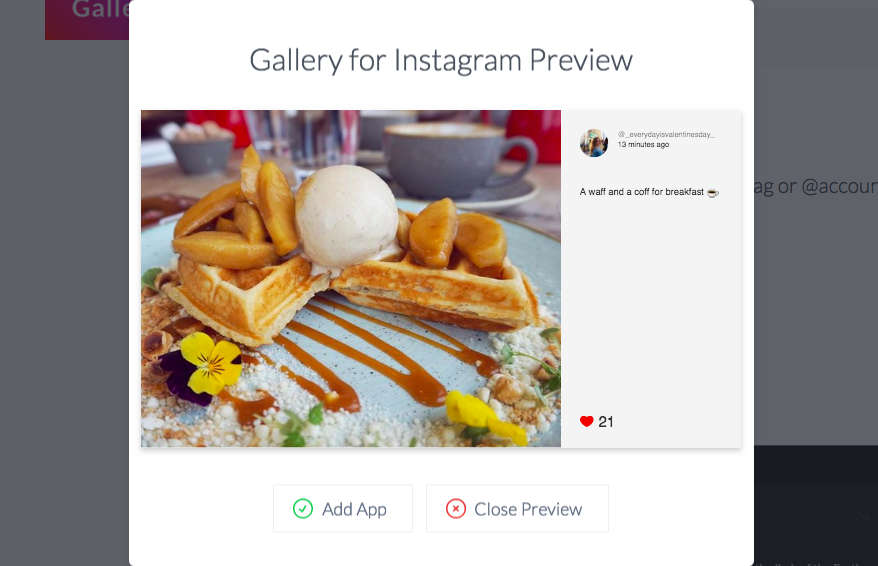 5. Add your Instagram feed to your digital signage display
Once you're happy with how your Instagram live feed looks and feels you can add it to a playlist to feed content to your screen. 
Click 'Add App' and give a name to your Instagram feed. This will help you decipher the difference between different feeds you've set up at a later date, which is super useful if you're looking to add more than one. We've called this one 'Our Instagram feed'.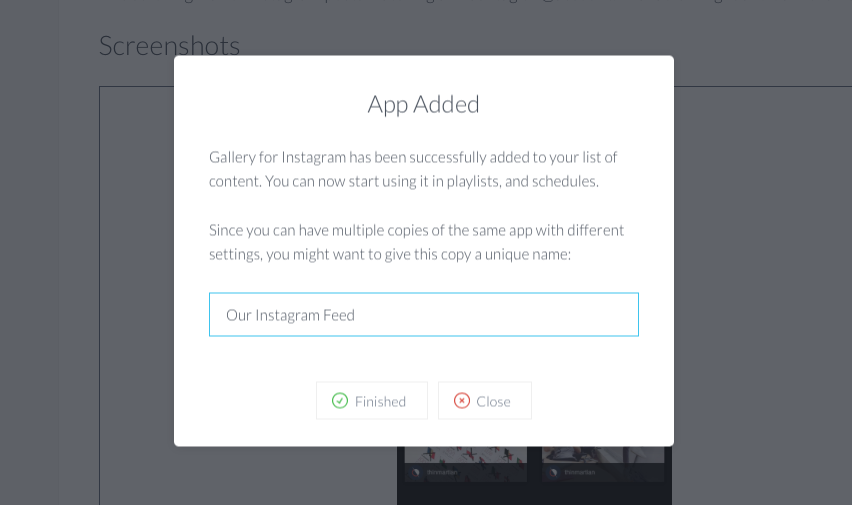 Now navigate to 'Playlists' and either add your Instagram feed to an existing playlist, or start a new one. You can also edit when the Instagram feed plays by dragging and dropping it anywhere in the playlist. Then set how long you wish it to show for and that's it! A beautiful stream of Instagram images utilized in your digital signage display to catch attention in any physical location.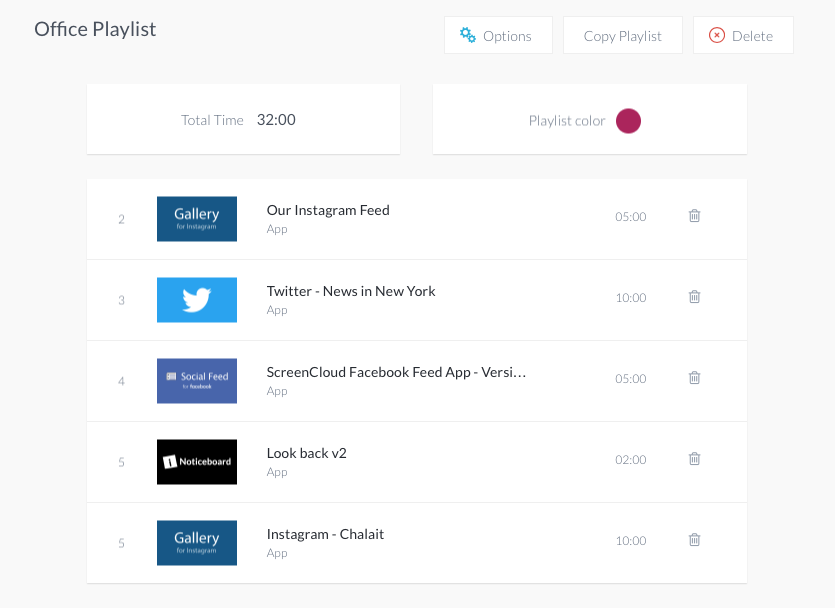 Frequently asked questions:
Can I display the Instagram app in portrait?
Yes the Instagram app can be used within a portrait or landscape display.
Can I use the Instagram app as part of a zoned digital signage display?
Yes, when setting up a zoned display you will see the option to 'Add App'. Any Instagram feeds you have setup will be found in this list. 
How are the results ordered?
The images will be shown chronologically once your Instagram account is connected.  
How long is each post shown for?
The wall is a live scrolling feed. You can view the timing of this when previewing the app before adding it to a playlist.
What happens when the end of the feed is reached?
Once all of the posts have shown on the live scrolling wall, the posts begin to show again from the beginning. There is no break or obvious sign to the viewer, the results seamlessly flip back to the start of the feed. 
Why do I have to log in through Instagram before my results can be shown?
In order to show a feed from Instagram on a digital signage wall you have to log in and prove that you are a user. 
Why are my videos not displaying on screen or auto-playing?
Your Instagram videos only display using either the single or single card display option. If you're using the "grid" option, this will not be able to display or play your Instagram videos. Additionally, if your videos are not auto-playing you can switch this on in your Instagram app settings.
For further questions, please contact support@screencloud.com.