The ScreenCloud Page Likes for Facebook app takes your Facebook page data such as page handle and number of likes and adds it to your digital screens. This makes it easy for your customers to find you online and to increase engagement with your Facebook page.
With the ScreenCloud Page Likes for Facebook app you can:
Connect any Facebook business page
Generate a QR code to take viewers direct to your Facebook page
Customize the look and feel of your Facebook page details
Here's how it works:
1. Select and install ScreenCloud's Page Likes for Facebook app
To begin, follow this link and select "Install this app" in the bottom right-hand corner. This will log you in to your ScreenCloud account, or prompt you to set up our free trial in order to use the Facebook Page Likes app and others within our App Store.
Once logged in, select "Add this app" from the top right-hand corner.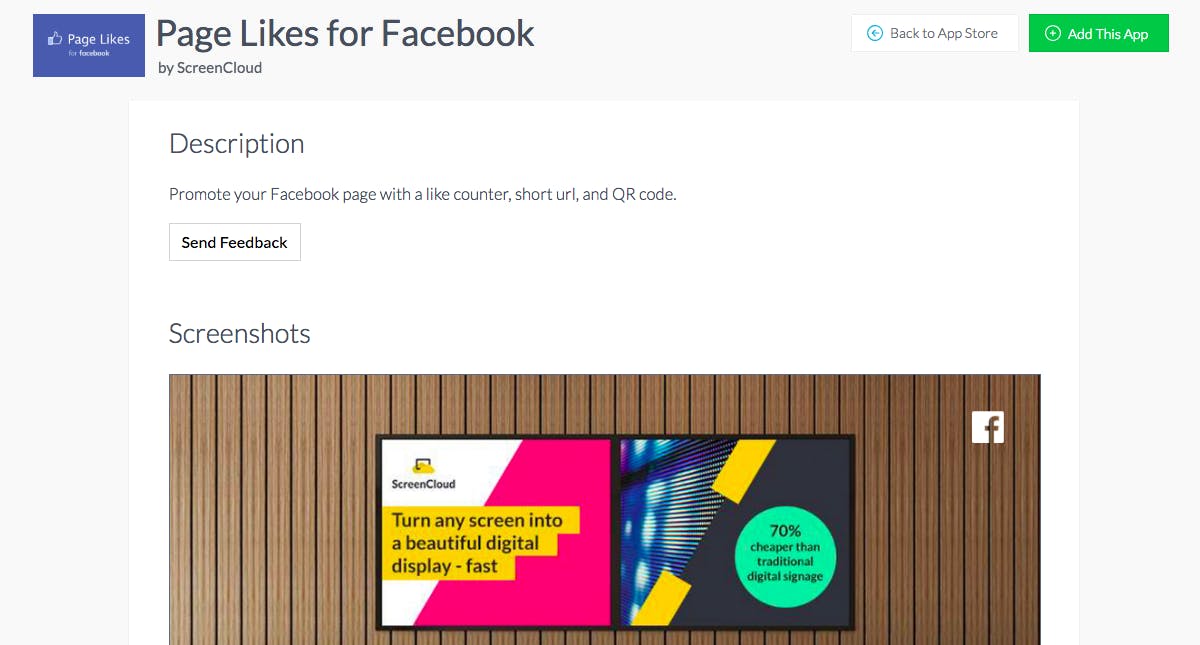 2. Link your business page
Next, select "login" to open the Facebook login page. Confirm you would like ScreenCloud to access your Facebook account (we'll never make any changes).
Once logged in, you will see your business page, or a list of business pages if you manage more than one.
Select the appropriate business page to return to the ScreenCloud App Store. When you see the green check mark next to "login" you have successfully linked your business page.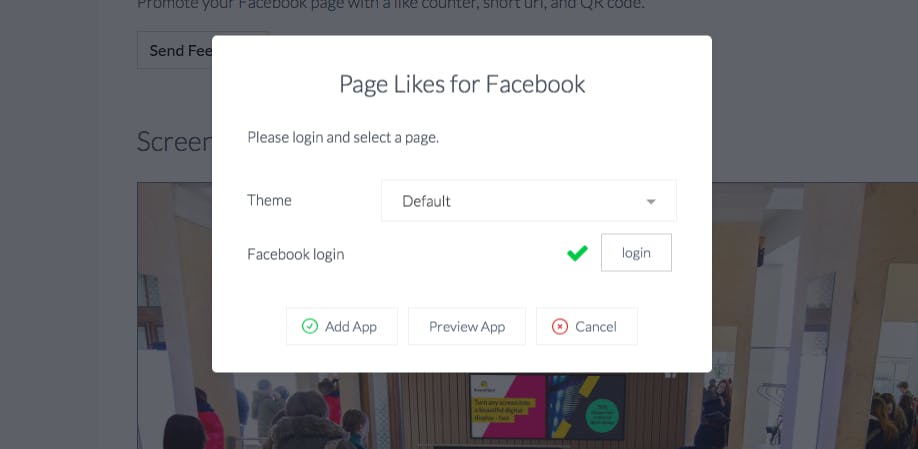 3. Choose your theme
With Page Likes for Facebook app you can choose which theme to use to display the app on your digital screens.
The preset options include the default of "light" theme: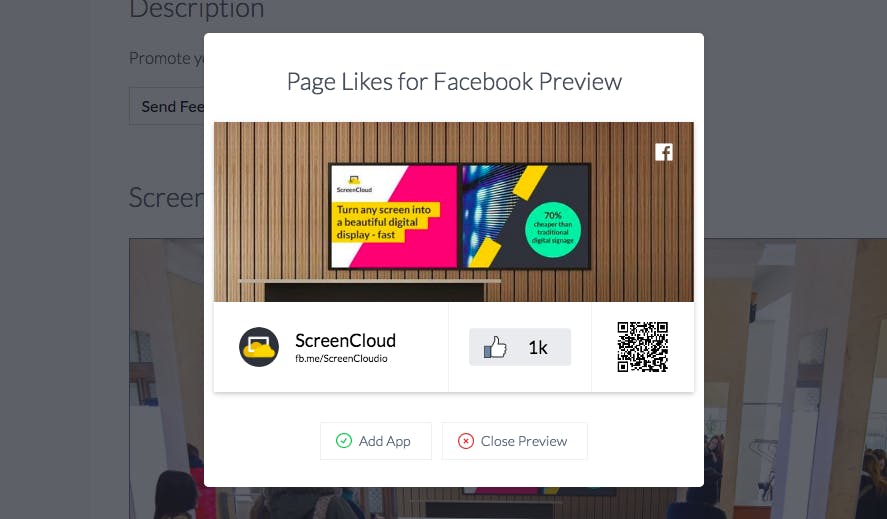 A dark theme: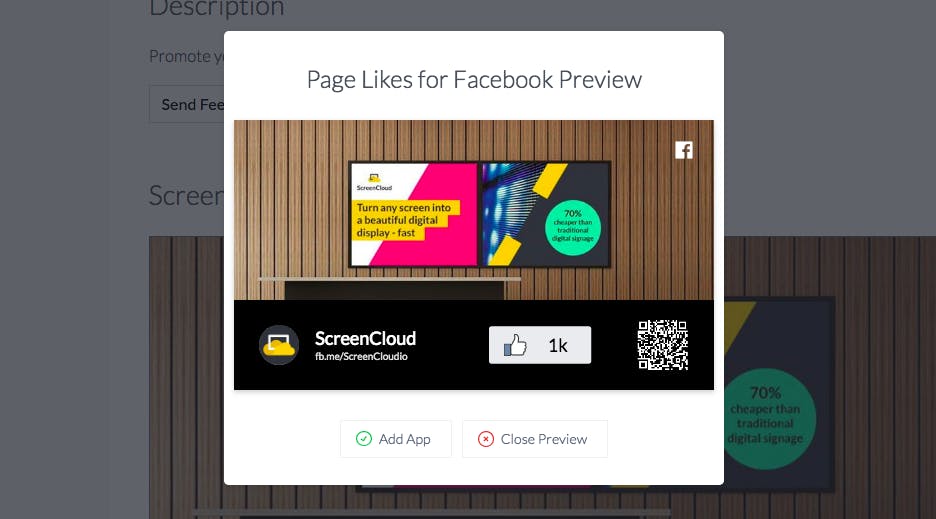 A custom theme made up of your company branding or chosen colors: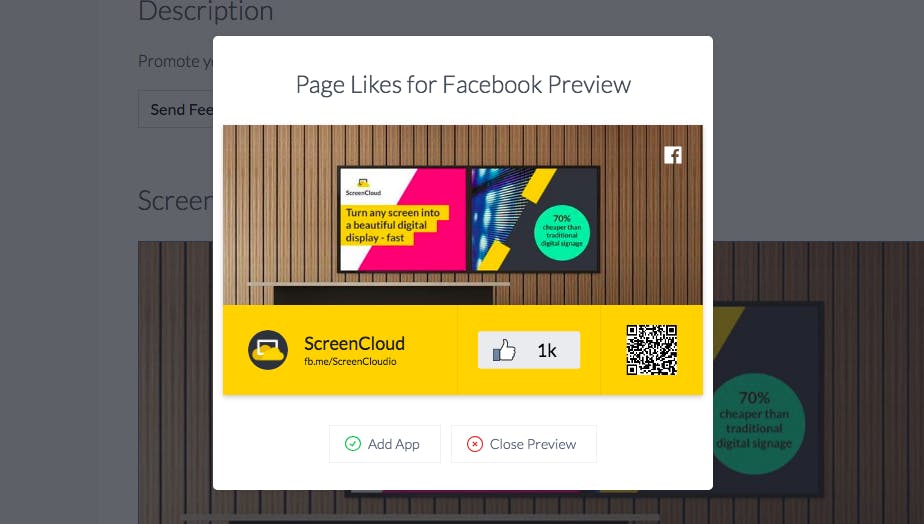 To create a custom theme check out our guide on how to use the App Theme Editor. Once you have set up a custom theme you will see this in the theme dropdown within the Page Likes for Facebook app.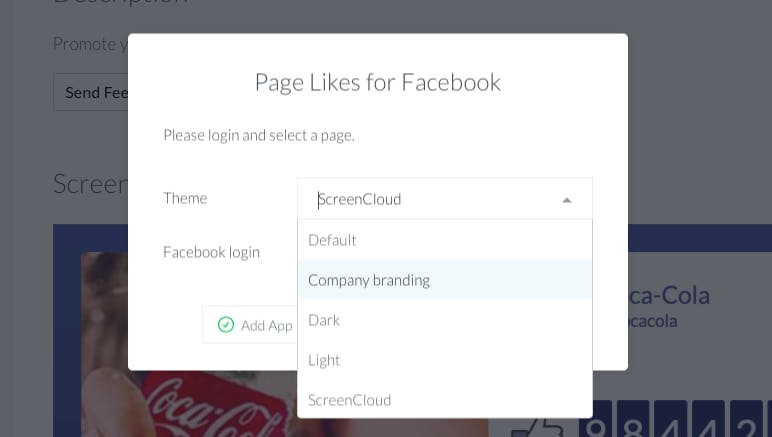 4. Preview your results
Once you have chosen your theme, you'll have the opportunity to preview what the Page Likes counter will look like before it gets added to a playlist.
Click "Preview App" and a small pop-up will show what your selected theme and Facebook page will look like.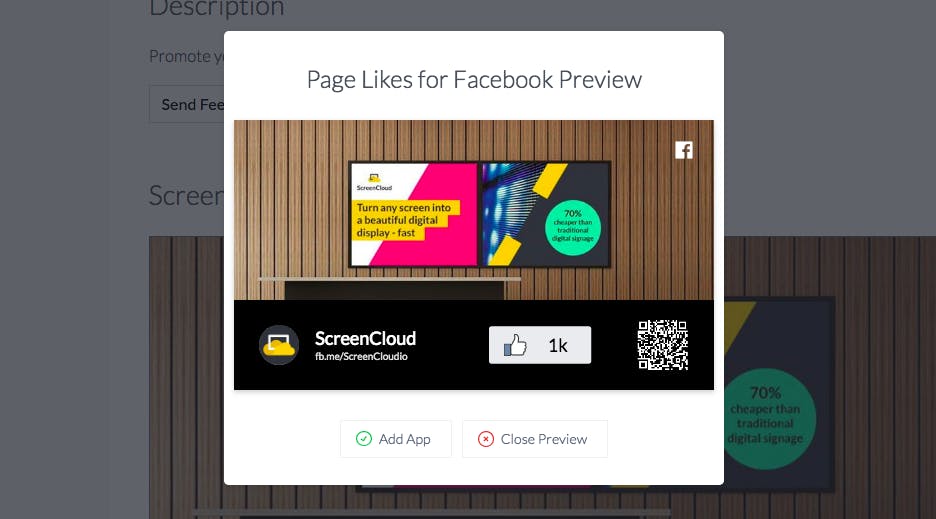 5. Add Facebook Page Likes app to a playlist
Once you're happy with your Facebook Page Likes app you can add this to a playlist.
Select "Add App" and choose a name for it (for example, "Facebook Page - Office"). This will help you to spot it later if you're adding more than one to your content library.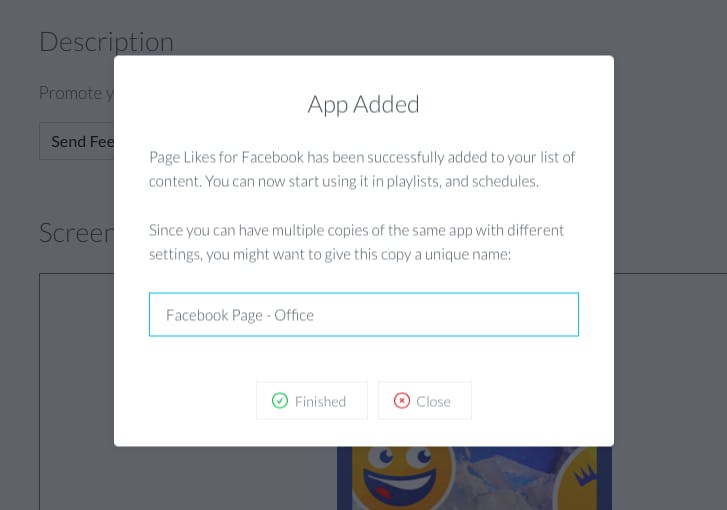 Next, go to "Playlists" and drag and drop this from the app selection bar on the right-hand side to the playlist of your choosing.
To change how long you want to show the Page counter for, you can change the time duration in your playlist (currently set as 1.00 for one minute).
Frequently asked questions:
How long will the Page Likes for Facebook app show for?
The app will show for the duration you have set within the playlist. This can be edited from the Playlists section.
How often does the app update with new likes?
Every 1-minute the Page Likes for Facebook app checks for, and updates, new likes.
For further questions, please contact support@screen.cloud with details.