Hands up who's got a tablet? Okay, maybe you're firmly in the iPad camp, but if not then an Android tablet is a great and affordable way to get your digital fix. With the Google Play Store and the Amazon AppStore available on nearly all android devices, tablets have become big rivals for the traditional Apple iPad. 
Tablets can be picked up from as little as a few hundred dollars yet still have App Store features and a realm of possibility. In theory, most people and businesses could afford a tablet, which is what makes it a great device for creating digital signs around your work, store or school.
Android Tablets and digital signage
Imagine you're a new shop owner or have finally set up your dream restaurant. Perhaps you don't have the budget for a full-scale, wall-to-wall screen display. But a tablet? Sure, no problem. For a few hundred bucks you employ a sleek looking tablet device, perhaps the Amazon Fire or the Samsung Galaxy. Now wouldn't it be great if you could fix it up as a digital sign? 
Rather than using static images or a display that you have to open manually, you could set up a pre-planned, pre-created playlist and schedule. Designing content that plays on different times of the day, tailored campaigns and different messaging for different audiences. Digital menu boards which adjust to what's in the kitchen and advertising content that's tailored to in store sales. All on a beautiful, small device that fits perfectly on the palm of the hand. 
Suddenly your Android Tablet becomes your small business' new best friend. 
ScreenCloud and Android Signage
Our ScreenCloud Signage app allows you to turn your Android tablet into a beautiful digital sign. Bringing in powerful apps such as RSS feeds, social media displays and presentations, all with one thing in common: simplicity. 
We believe that digital signage should be easy - whether it's used for a fixed tablet at your bar counter, within a live presentation or on your booth at an event. 
Here are some of the tablets out there that can easily be turned into a digital signage display using ScreenCloud:
Samsung Galaxy Tab
Amazon Fire HD
Asus Google Nexus
Cube iWork 10 
Lenovo Yoga Tab
ACER Iconia
Sony Xperia tablet 
Basically any tablet that runs the Android mobile operating system, giving access to the Google Play Store or Amazon AppStore will allow you to download ScreenCloud and gain a nifty digital signage platform with it. This doesn't stop at tablets either - any Android device including Android tablets, phones and Android TV can use the same ScreenCloud player to show rich and dynamic content displays. 
ScreenCloud is available on the Google Play Store, the Amazon AppStore and the Chrome Web Store. 
Here's how to set up your Android Tablet as a digital sign
1. Connect your Android device
Load up your Android tablet and connect it to Wi-Fi (unfortunately, ScreenCloud doesn't currently support streaming over your mobile phone data plan but keep an eye out for this in the future!)
2. Download the ScreenCloud app
Open up the App Store on your Android device and download the ScreenCloud Signage Player app for Android.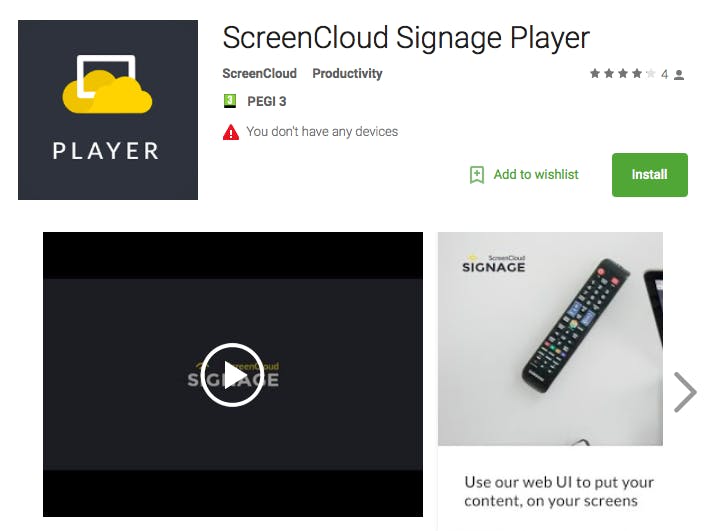 3. Pair your Android device and ScreenCloud
Launch the app on your Android tablet and make a note of the pairing code that comes up. This is what you'll use to connect your Android device with your ScreenCloud Signage account.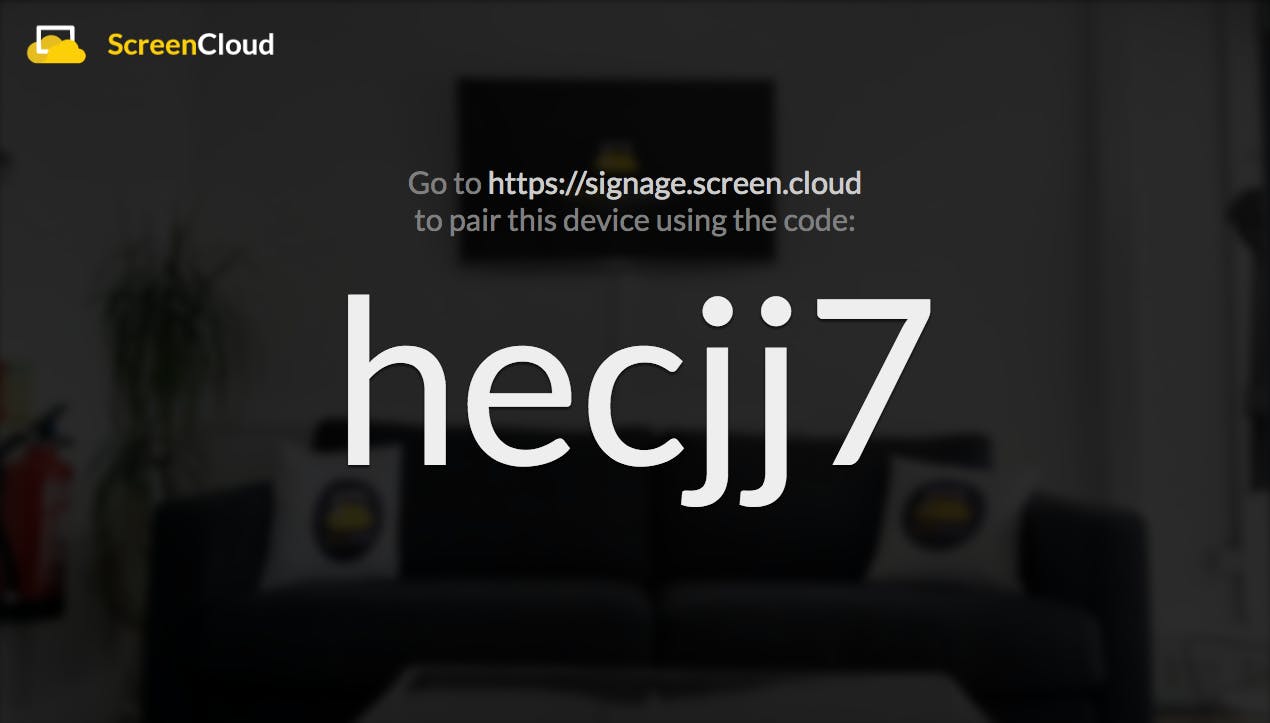 4. Lock your Android tablet to only show ScreenCloud
If you're using your Android in a public place, or even if you just want to ensure no one can interfere with what's playing, you may want to lock it to only show ScreenCloud. 
If your device is using Android 5.0 you can use a feature called Screen Pinning to ensure the tablet is locked to a specific application. Here is a guide for Screen Pinning in Android 5.0.
If you're using an Android 6.0 device or higher, you'll want to follow this guide instead. 
As well as Screen Pinning you could also consider mounting your Android tablets using a fixed holder, to ensure that they can't be removed or moved from the wall. You could use a tablet mount like those from Bouncepad, or buy a built in, all-in-one kiosk or mounted solution. 
5. Set up your ScreenCloud signage account
Once you have your pairing code you're ready to go to screen.cloud/signage on your laptop or PC and sign up for a free trial. If you already have a ScreenCloud account you can log in now.
Once you're in, click the 'add screen' box. This is where you'll enter the pairing code to connect your Android device and the account where you'll manage your content.
Once this has been entered that's it! You're synced up and able to control your Android TV, tablet or phone from your laptop.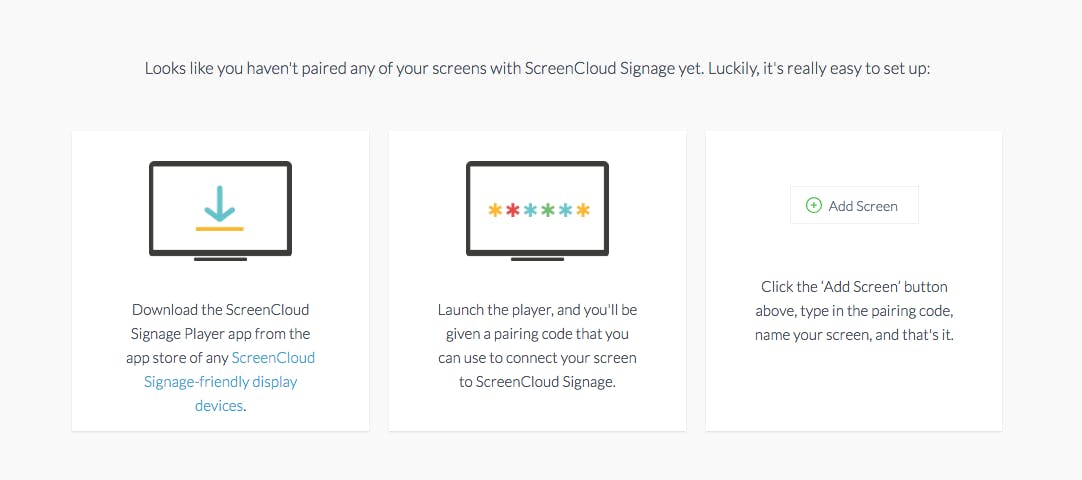 6. Add content
Next is the fun part! Deciding what to show on your Android device. Here you have a selection of choices.
As well as uploading files such as images, PDFs, video files and HTML content, our App Store allows you to choose from a selection of apps that makes getting content onto screens easy.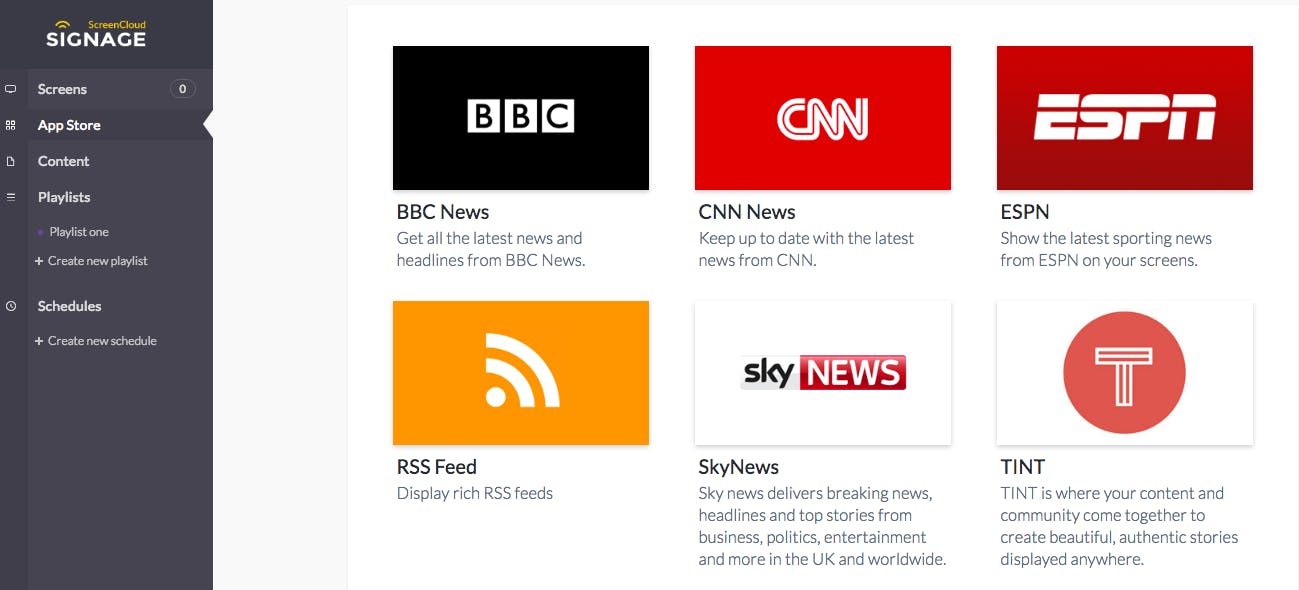 Here are some of the options available:
Social media feeds
Use your Android tablet to showcase social media feeds such as Twitter and YouTube. From customer tweets through to video playlists, social media apps are a great way to schedule content for down time or to promote conversation during an event or pop-up. ScreenCloud has also partnered with social media dashboard tool TINT, allowing you to create a social media Android display that's made up of user-generated content from channels such as Facebook, Twitter and Instagram.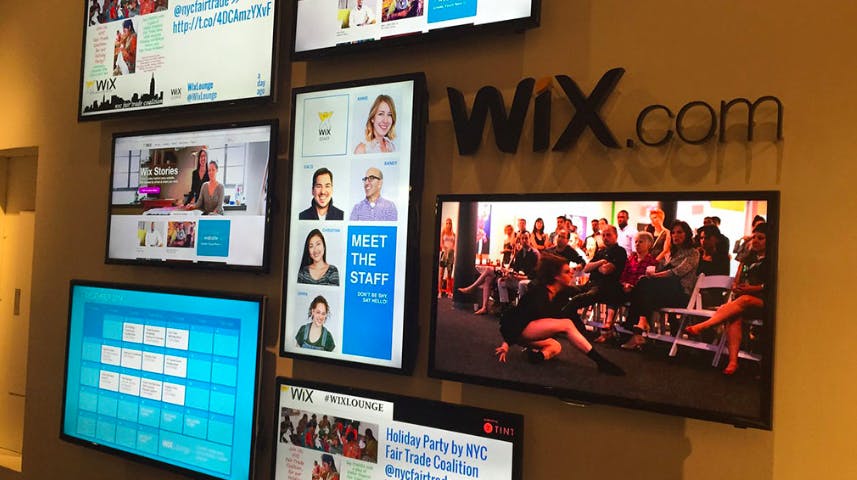 News displays
Serve up live news feeds to your customer using our spread of news apps. Take your pick from CNN, Sky and ESPN feeds and syndicate the latest headlines direct to your Android device. This is a great way to entice customers to stay and browse in a store, drink coffee or just grab a glance at the headlines while they're waiting in line.
RSS
RSS feeds allow you to handpick your content sources and create one, easy to read, stream of articles, headlines and thought-pieces. Use the ScreenCloud RSS app to turn your Android tablet into a reading device for industry headlines, news and even your own blogposts.
7. Schedule and play
Once you've hand-selected your content it's time to set up your playlists and schedules. With drag and drop you can order your content however you wish and time it accordingly. Perhaps you show a social media dashboard for the first two hours of the day, followed by news at lunchtime and special offers and advertising showreels in the afternoon.
Once you have a playlist that's working for your business, you can set it up into a schedule. Highlight the areas you wish to cover (Monday-Sunday, any time of day from dawn to midnight) and select the playlist to play at that time.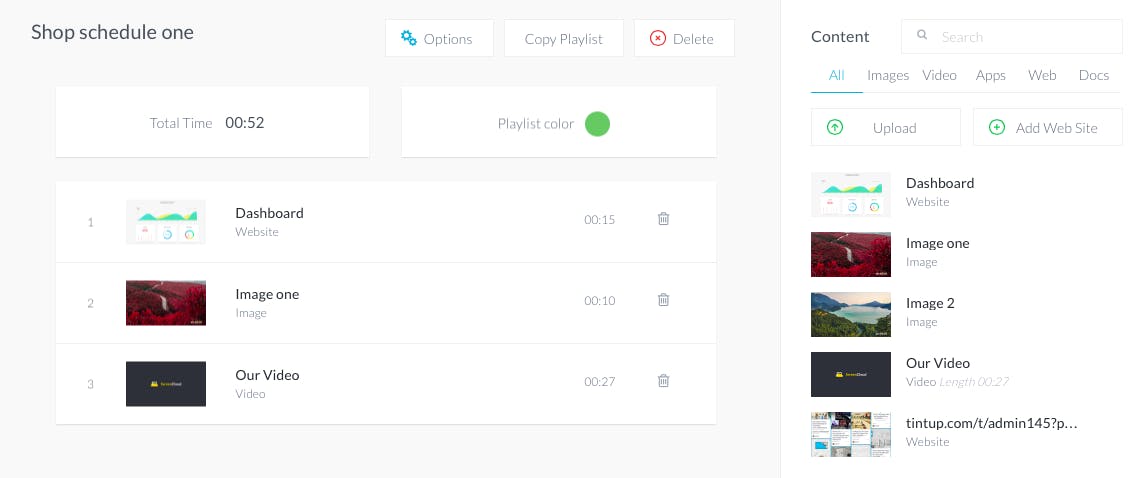 It really is that easy. Select your content, set up a playlist and drop it into your schedule. Before you know it, you're powering up your Android device as a powerful sales tool and digital sign, designed to promote your business.
Ready to get started? Grab your Android device and let's go!