PLEASE NOTE: Google have recently made a change which will mean that new Chrome OS devices will not support stand-alone kiosk mode. If you require kiosk mode, you will need a Chrome Device Management (CDM) license. Without this, you will not see the option to use kiosk mode on your device. If you need a CDM license you can purchase this through our partner Promevo.
We've previously spoken about the Google Chromecast and how easy it is to set up, yet how limited some of its features can be (and at around $40 you certainly don't want to be wasting your money). A good alternative is the Amazon Fire TV Stick which as we've mentioned previously, is around $5 more but supports the use of apps which allow you to run anything from social media to digital signage, RSS and news feeds. But what if you're looking to use or purchase a Google Chromebit to power up your digital signage displays? If you aren't one for technical setups, then the Chromebit could be your best option as a 'plug and play' solution.
Here, we discuss the pros and cons and how to get your digital signage up and running using your screen, a Chromebit and ScreenCloud's powerful range of apps.
Google Chromebit and digital signage
If your screen has an HDMI port (and let's face it, most of them do) then you can use the Google Chromebit. The Chromebit starts at around $85 and is effectively a mini computer that allows you to run Chrome OS on a screen or anything else you plug it into.
It's a small device (weighing 75grams) that plugs into the HDMI port and gives you access to the Chrome Web Store where you can download apps such as ScreenCloud.
The Chromebit is great for setting up digital signage as it truly is a 'plug and play' solution. This makes it incredibly easy for you to set up a digital signage project without any IT or technical support required.
Here are some of the other pros and cons of using a Google Chromebit for digital signage:
Benefits of using the Chromebit with ScreenCloud
Plug and play - the Chromebit couldn't be more simple to set up! Simply plug it into an HDMI port, download the ScreenCloud app and you can begin showing content within minutes.
One-off cost (when used with ScreenCloud) - for some applications to run on the Chromebit, you need to purchase the Chrome Device Management Console that can cost anything from $24 per year, up to a one-off $150 fee. Luckily, you can use ScreenCloud manually by setting it up via the kiosk mode therefore allowing you to skip any additional device management costs.
Uninterrupted content - having had the Chromebit running for weeks on end in our studio, we can vouch for its ability to keep content running uninterrupted. It has good heat dissipation even when running video content so you can set your screens up, then leave them to it! Basically, just what you want from a digital signage solution.
Disadvantages of the Chromebit
One USB port - the Chromebit has only one USB port, so in order to get set up, format screens and download your digital signage apps, you'll need to work out a way to connect a keyboard and mouse. The easiest is probably through a bluetooth enabled keyboard and mouse, but if you don't have these you can use USB extenders and regular versions. (If you're looking for more of an understanding in how the Chromebit works, we recommend this technical deep-dive into the Chromebit from Sixteen Nine.)
Expense - at $85 a device it's not the cheapest option on the market compared to the Amazon Fire TV Stick or even the Google Chromecast, but it does have longevity and is one of the most robust player options we've come across.
Setting up your Chromebit for digital signage with ScreenCloud
Here we talk you through getting your Chromebit set up for running digital signage with ScreenCloud.
1. Plug in your Chromebit and connect to Wi-Fi
Once you've connected to Wi-Fi on-screen, you have two options for installing ScreenCloud onto your Chromebit:
Go to Step 2.a to download ScreenCloud in kiosk mode (recommended for Chromebits being used solely for digital signage)
Go to Step 2.b to download ScreenCloud as a Chrome browser extensions (recommended for testing ScreenCloud on your Chromebit before turning on kiosk mode)
2.a Choose kiosk mode
PLEASE NOTE: Google have recently made a change which will mean that new Chrome OS devices will not support stand-alone kiosk mode. If you require kiosk mode, you will need a Chrome Device Management (CDM) license. Without this, you will not see the option to use kiosk mode on your device. If you need a CDM license you can purchase this through our partner Promevo.
If your Chromebit device has been used before please wipe the device before you get started. Here's a handy guide on how to do that.
Turn on your screen and run through the configuration steps until you reach the Google login screen. Before you log in, use the keyboard shortcut Ctrl+Alt+K which will allow you to enable Kiosk Mode.
Now log in using your Google account and open Chrome. Once Chrome is open, enter chrome://extensions into the address bar.
From this screen, turn on Developer Mode. This is needed to manage kiosk apps and work locally without using remote management tools.
Open Manage Kiosk Applications and add ScreenCloud's Chrome Player app id which is: efdahhfldoeikfglgolhibmdidbnpneo
Once you have added the app, click to enable auto start. Leave "Permanently keep device is kiosk mode" unchecked.
Close the Kiosk apps dialog and sign out of the device. You should now get asked for permission for ScreenCloud to auto-start, click "Allow".
Once you click allow, the device will restart and load ScreenCloud in kiosk mode. (Quick tip: to exit kiosk mode and return to desktop usage restart the device and use the shortcut Ctrl+Alt+s after the splash screen).
For instructions on how to setup Kiosk mode on a managed device see this link.
2.b Choose Chrome Web Store
Open up the Chrome Browser on your Chromebit and download the ScreenCloud extension from the Chrome Web Store.
3. Pair up ScreenCloud with your device
Once the ScreenCloud app has loaded, you'll see a pairing code that looks a little like the below. Once you have this, open https://signage.screen.cloud/ on your laptop or PC and sign up for a ScreenCloud account.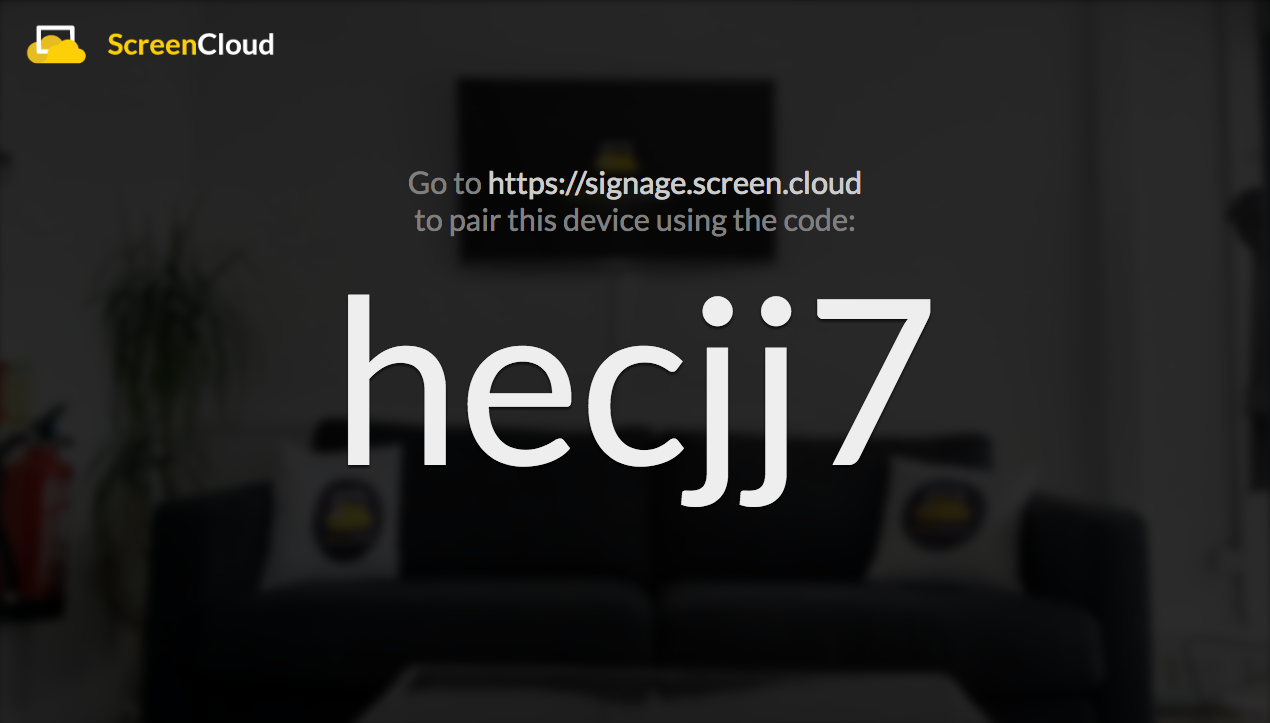 4. Add your screen
Once you've signed up, you can choose 'add screen' from the screen below. Enter your pairing code from the previous step and that's it! You're now running content on your screen from your PC or laptop. At this point you can head home to manage your content, check in to a bar or basically go anywhere in the world with your laptop and you'll still be able to manage what's shown on screen.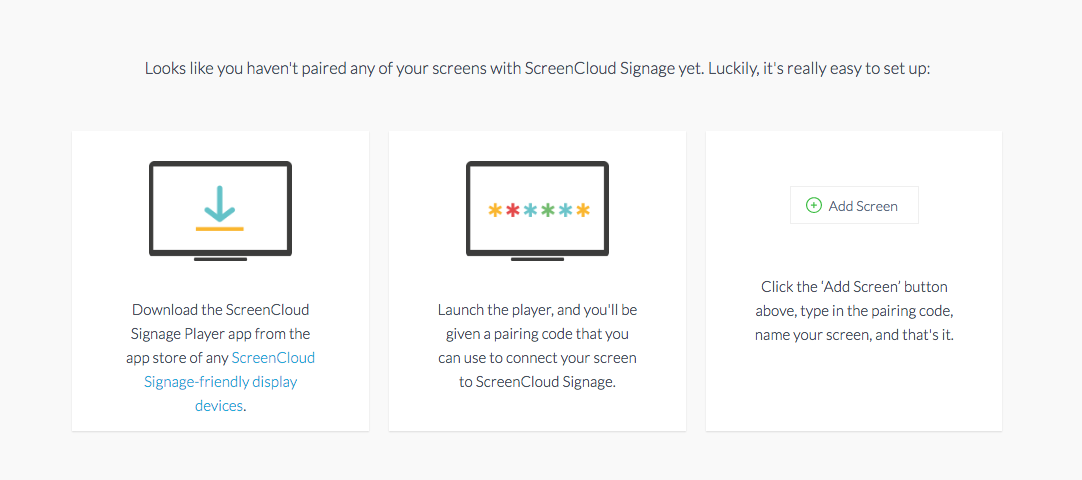 5. Content time
Now you're in control of what's showing on your screen you can start adding images, videos, presentations and webpages and incorporating apps such as social media feeds, RSS and news feeds.
Once you've added your content of choice, you can then organise it all using the playlist and scheduling tools. Drag and drop different forms of content into one easy-to-assemble playlist and then choose when you want it to show.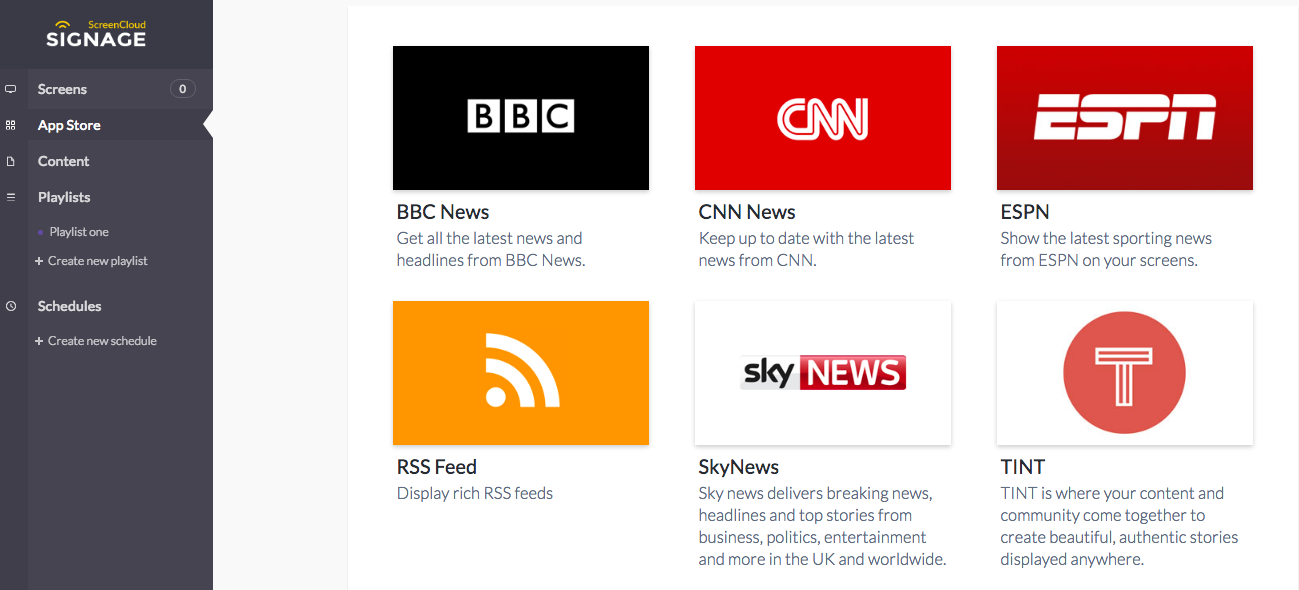 In conclusion, the Chromebit is a powerful little signage stick that easily allows you to manage digital signage content (when paired with an app such as ScreenCloud of course).
Bonus point: this is exactly the same for all Chrome devices - so Chromebit, Chromebox and Chromebook all work in the same way so it's easy to get setup across multiple screens and devices.
Sound good? Awesome - sign up for a free trial at ScreenCloud Signage today to give it a whirl!