What does the future of workspaces look like? Are they high tech, efficient and flexible or venturing into the clinical, devoid of connection? It doesn't have to be the latter. The future is connected, informed, modern and adaptable. Recent times have demonstrated how vital these fundamentals are to create a smart workplace.
Most trend reports looking at the workplace of the future focus on the way we work. The autonomy that Gen-X'ers will bring in, the start up feel to even global organizations and a hierarchy that will no longer exist. But we're interested in what the actual physical workplace of the future will look like. What's going on in the bricks and mortar and how technology is changing this.
More importantly, how this will affect people. We've probably all worked in great offices and we've all worked in ones that are just a little sucky. It can have a huge affect on morale and productivity. It can also have an effect on the company brand itself.
Here are some of the trends we see emerging in the connected workspace of the future. 
Redefining the physical workplace
The traditional workplace is about to become a whole lot smarter. We've already looked at affordable ways offices can make their environment smarter using IoT-led devices. It seems standard that the workplace of the future will leverage smart, connected technology that will improve building performance. Just like our homes and our cars, our offices are about to get a serious case of the smarts. 
Some of the ways the physical work space will change to facilitate the future could include:
Smart lighting and heating, based on employee movement and use of space
A network that tracks power use and uses algorithms to improve efficiency
Meeting rooms that run schedules and distribute employees for optimal use of space
An open floor plan, where everyone sits together
More tracking of employees - whether that's for health, safety or performance reasons
*Meeting rooms, phones booths and the like should all have online booking systems too, whether this we a centralised calendar function or customised software to ensure thorough cleaning is also performed.
In short, we see the physical workspace of the future becoming smarter through the use of IoT-enabled devices and smarter systems. We see AI having some effect - robots making coffee anyone? We see the space becoming much more fluid - if you've ever worked in a co-working space you'll already have seen a glimpse of this. We see workspace-based intelligence that will have a huge effect on how much power we use and how sustainable our spaces are.
The workplace of the 80s was all about cramming people in and the autonomy of what they could do day in, day out. The workplace of say, 2020, will be all about how the environment can better facilitate ultimate productivity while being a nice place to work and spend time.
Better communication, facilitated with screens
If there's one thing we're sure about, it's that technology will be an enabler of communication and mobility wherever work happens. 

One futuristic office already utilizing digital technology, at R/GA London. 
We see digital screens as a huge part of this. Right now, digital signage is used in offices to show company presentations, sales figures and marketing content. In the future, these screens will be more tailored and personalized (think of how Spotify nails your Discover Weekly playlist based on your listening habits - there's no reason why this thinking can't transpire to your digital screens). 
The screens will also facilitate conversation and communication.
At ScreenCloud, Slack is probably our prime tool of communication. It runs the pulse of our company, segmented by area which keeps each thread relevant to the people working in it.
We've already developed an app that allows you to send your Slack threads to your digital screens. If it's information that's of interest, it makes sense to throw it up where everyone can see it. 
As we read in a Wired article recently:
"10 years from now, nobody will communicate through a hierarchy unless absolutely necessary. Instead, they will take a message right to the recipient or broadcast it to everyone."
We see digital screens as being one of the core vehicles of this 'broadcast' method, leading to an inclusive, transparent company culture.
When screens are embedded in the walls of every workplace, better communication will be right under our noses. 
Spaces that work for their inhabitants
As well as work spaces that perform better for the sake of the company, they'll also need to work better for the employees. 
One attribute Gen-X'ers are expected to covet is workplaces that are active, transit-friendly, and walkable. Here's a scenario that's already here. TransitScreen is an app which pinpoints the travel options around you and creates a board of real time information based on what's going on outside. It tells you your train times, metros, tubes, buses and taxis. It also tells you about carshare options, bike shares and anything else that may be relevant in the local area.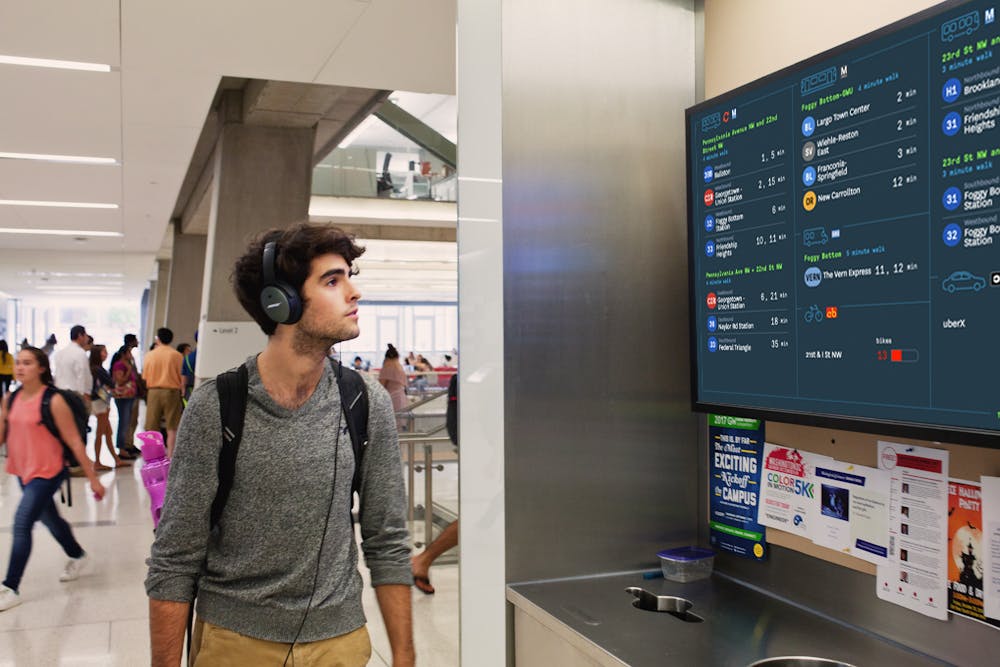 This gives the employee much more freedom to choose a method of transport to suit their needs. It allows them to leave when they need to, see when there might be a delay to their journey and adapt their plans to suit. 
This is one example of how technology can create a space that works harder for its inhabitants - a definite demand we'll see in job interviews of the future. 
The workplaces of the future don't just need to facilitate fixed tenants either. The workplace of the future is fluid and may have multiple uses outside of traditional office hours. The shared environment of a workplace will mean that it could turn from an office in the day, to party venue, event space or pop-up dining venue in the evening.
Others, will monitor health information. As one PwC report suggests, the future of the workplace is one that goes beyond the bounds of 'work time' and connects every area of an employee's life:
"Sensors check their location, performance and health. The monitoring may even stretch into their private lives in an extension of today's drug tests."
Real time data on building performance and the movement of inhabitants will also be in high demand. Allowing the building to work at maximum output and be automated for higher success, lower costs and reduced energy usage. 
Technology embedded yet seamless
The future of the workspace is one where the tech is present but not obvious. Beacons (small, tiny sensors that communicate with other devices), ambient screens which fade away into the walls when not in use and lighting sensors which are finely attuned to body heat are all a part of this. 
You don't want technology screaming in your face as soon as you open the door. You want to achieve the 'that's cool' effect, when an employee or visitor realizes how something could work better for them.
Case in point: R/GA London employs a beacon-led system which allows new employees to familiarize themselves with their surroundings using a mobile app. The app gives off information on specific spaces, art on the walls and feature pieces. 
Think how much easier this would make the onboarding process for new employees.
If you embed technology at every level, yet make it seamless, you place the power in the hands of the employees. 
This is also as simple as adding screens outside rooms that allow you to check-in, rebook spaces and move to more appropriate areas as and when needed. Usually, you arrive at a room, see that it's full and have to do a walk around the office (guests in tow) to see which space is free. 
Embedded technology, meeting room digital signage, mobile apps; they all remove this process by keeping an eye on the building space for you. 
A final note
When you think about it, it seems crazy that we've worked for so long in physical workspaces that are essentially just shells for us to put ur stuff in. Traditional office spaces don't work very hard for us at all. We have little data on how we're using the space and what we can do to be more efficient, in terms of space, energy, mobility and cost. 
The workplace of the future will be a fully connected space, where the technology is so embedded we forget it exists at all.