The ScreenCloud Zendesk Reports app makes it easy to visualize your Zendesk reporting data as a dashboard and add this to your digital screens. Pulling in data such as the number of new tickets, number of tickets solved by agent and number of tickets by channel. This allows you to see, at a glance, everything going on with your customers and the customer service department looking after them.
With the ScreenCloud Zendesk Reports app you can:
Connect any Zendesk account
Create an instant dashboard for a range of customer service management stats
Customize your Zendesk dashboard with a light or dark theme
Please note this app is still in early development. We would love to hear your feedback, which you can send in to us here using the "Send feedback" button.
Here's how it works:
1. Select and install ScreenCloud's Zendesk Reports app
To begin, follow this link and select "Get App" in the left-hand corner. This will log you in to your ScreenCloud account, or prompt you to set up our free trial in order to use the Zendesk Reports app and others within our App Store.
Once logged in, select "Add this app" from the top right-hand corner.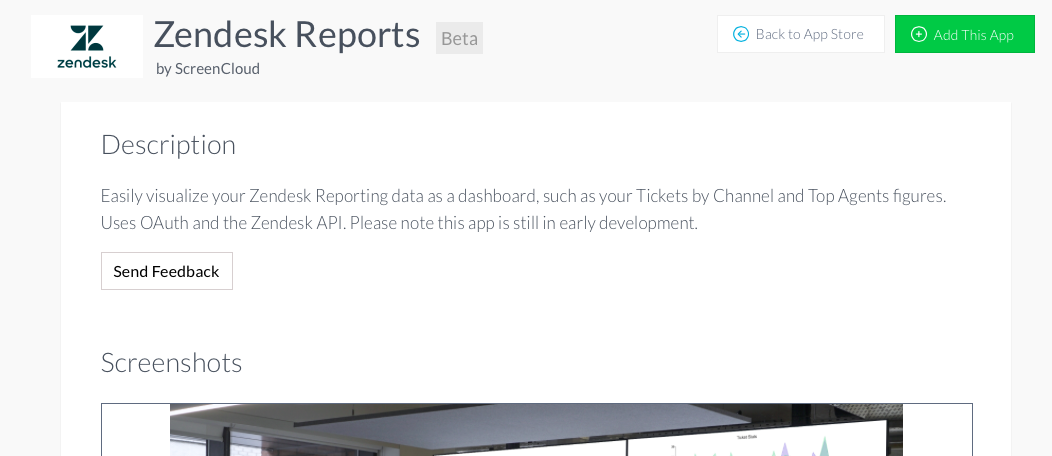 2. Log in to your Zendesk company profile
Select "login" to authenticate your Zendesk company account. Here, you will see a box asking for your Zendesk subdomain. Once you have entered this, you will need to log into Zendesk.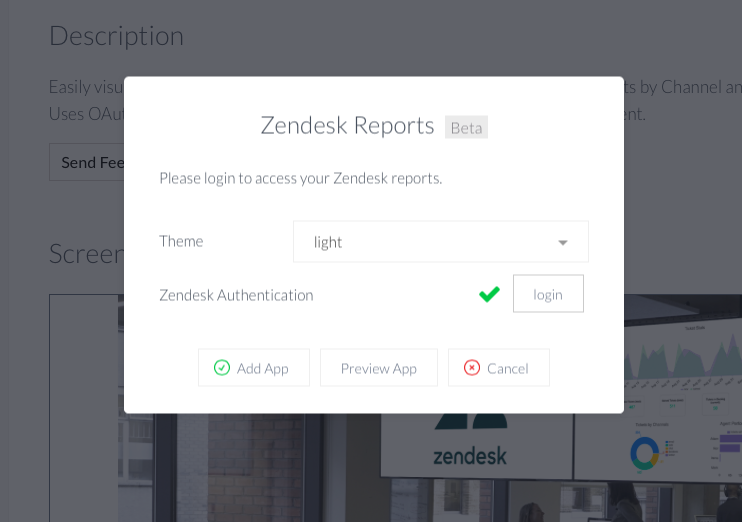 Once you are successfully logged in, you will see the green check mark next to the login button.
3. Choose your theme
The ScreenCloud Zendesk Reports app pulls all of your data into a ready-made dashboard so you don't have to design a thing.
The app will show the below reporting data:
No. of new tickets
No. of solved tickets
No. of tickets in backlog
First reply time
Tickets by channel (web, email, social etc.)
Agent performance (by team member)
You can also choose whether to show the Zendesk Reports dashboard in a light, dark, or custom theme:
Light theme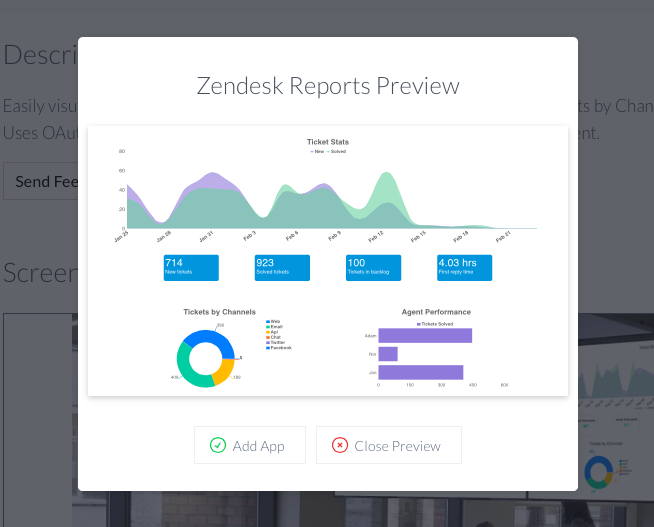 Dark theme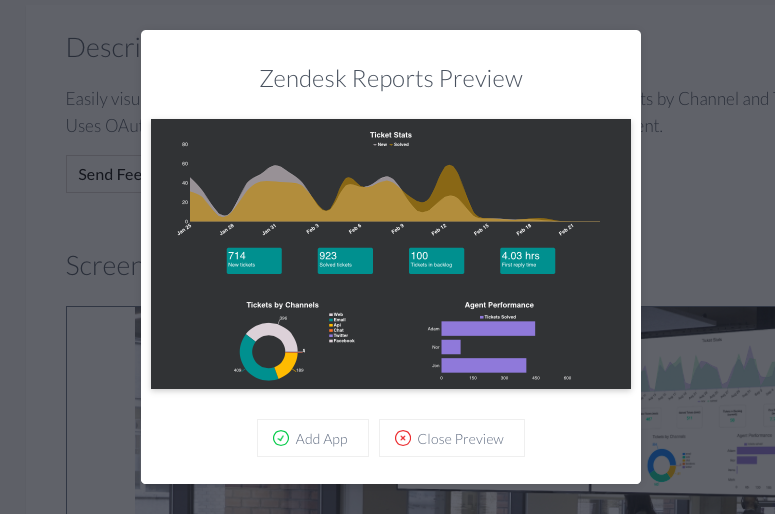 Custom theme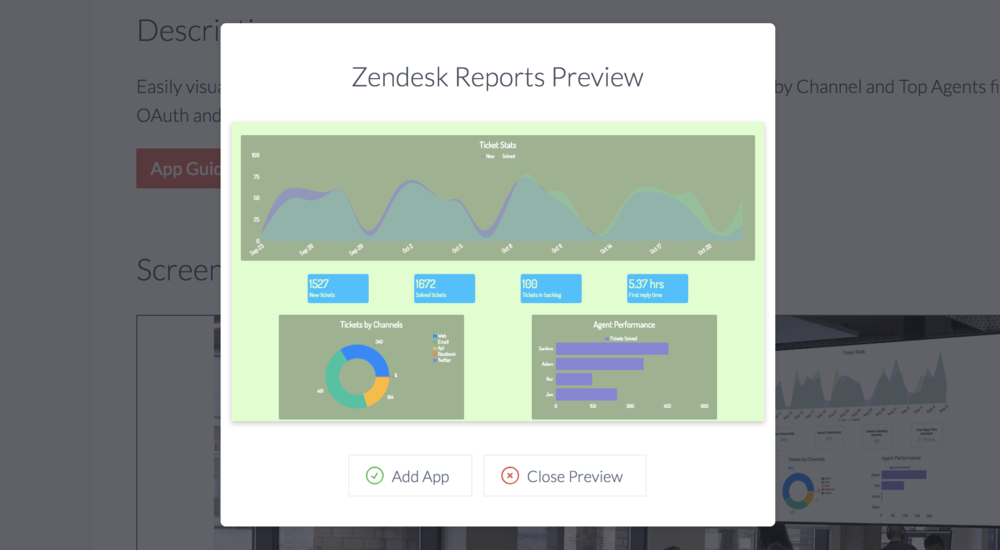 4. Preview your results
Once you have chosen your Zendesk Report app settings, you have the opportunity to preview it before it gets added to a playlist.
Click "Preview App" and a small pop-up will show the reports as they will look on your digital screen.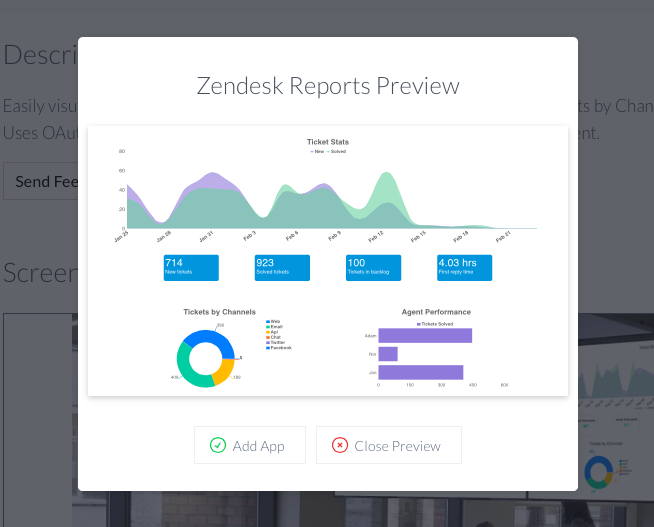 5. Add Zendesk Reports app to a playlist
Once you're happy with your reports format you can add it to a playlist.
Select "Add App" and choose a name for your reviews (for example, "Zendesk - Customer service").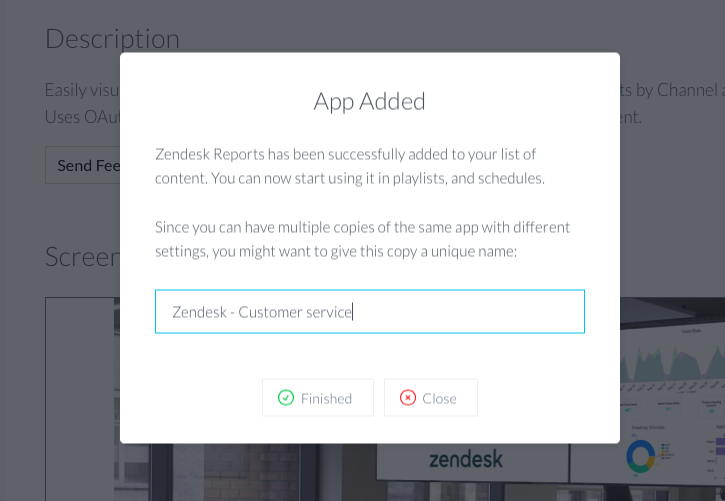 Next, go to "Playlists" and drag and drop the app from the selection bar on the right-hand side to the playlist of your choosing.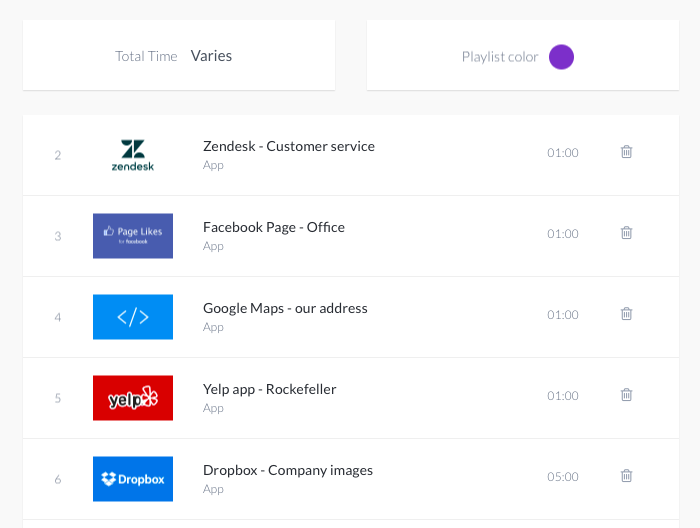 To change how long you want to show the Zendesk Reports dashboard for, you can change the time duration in your playlist (currently set as 1.00 for one minute).
Frequently asked questions:
How long will the Zendesk Reports app show for?
The Zendesk Reports app will stay on screen for the time duration you have set within your playlist.
How often does the Zendesk Reports app look for new data?
Zendesk Reports app updates automatically every 30 minutes.
For further questions, please contact support@screen.cloud with details.