The ScreenCloud Yelp app makes it easy to review and share your latest Yelp reviews and add them to your digital screens. Simply add your Yelp page URL to the ScreenCloud Yelp app, choose which star ratings to show and you could be sharing customer reviews in seconds. This allows you to impress existing customers and encourage new ones to get involved and share their feedback to your online Yelp page.
With the ScreenCloud Yelp app you can:
Connect any Yelp page using its URL
Choose which star ratings to show
Share reviews in landscape or portrait screen formats
Here's how it works:
1. Select and install ScreenCloud's Yelp app
1.1. Get started by clicking here and selecting "Get App". This will prompt you to either log into your existing ScreenCloud account, or sign up for our 14-day free trial in order to use the Yelp app and other available apps within our App Store.
1.2. Once you're logged in, you can select 'Add this app' from the top right-hand corner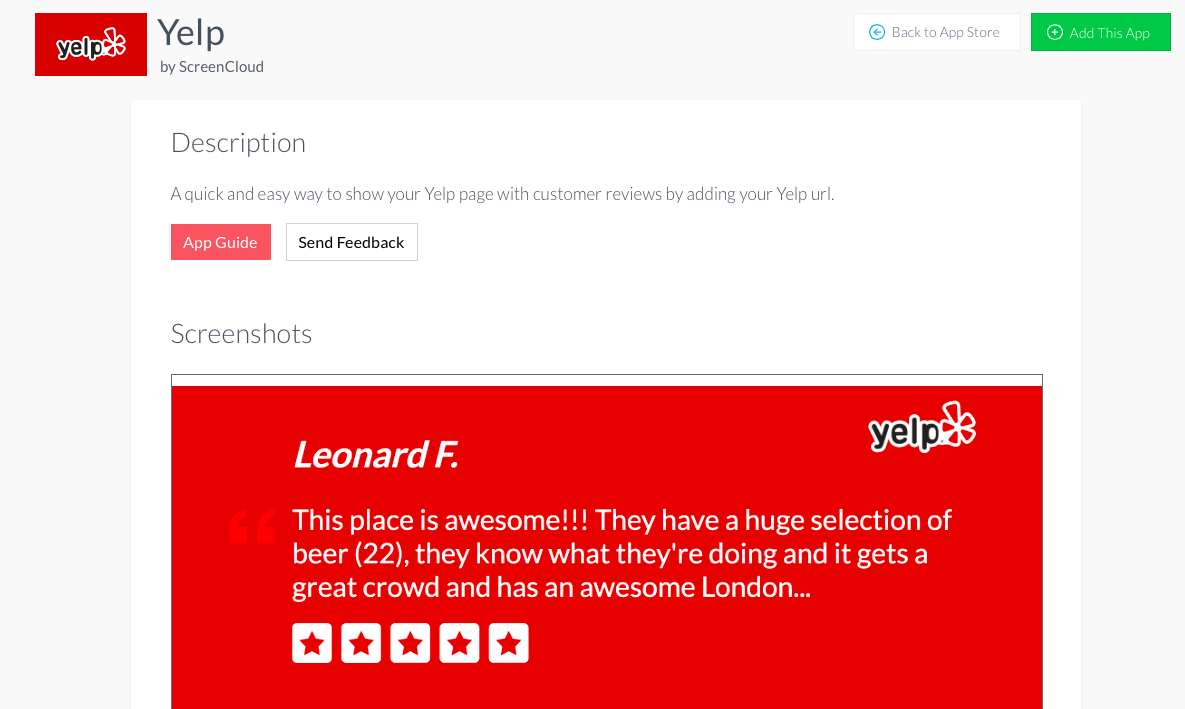 2. Add your Yelp URL
2.1. Find the page you want to show on Yelp and copy the URL address.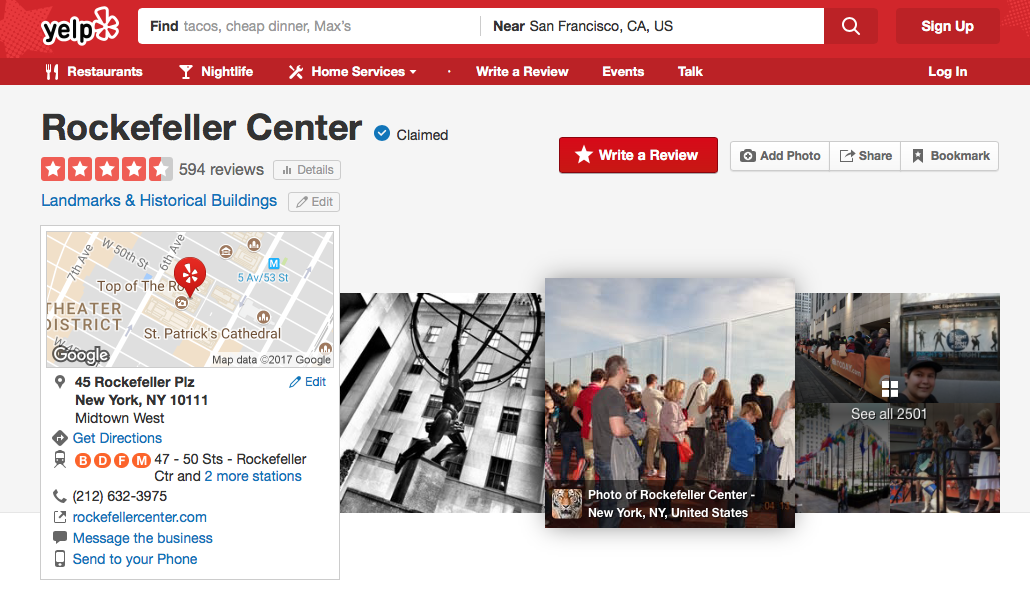 2.2. Then paste this into the URL box.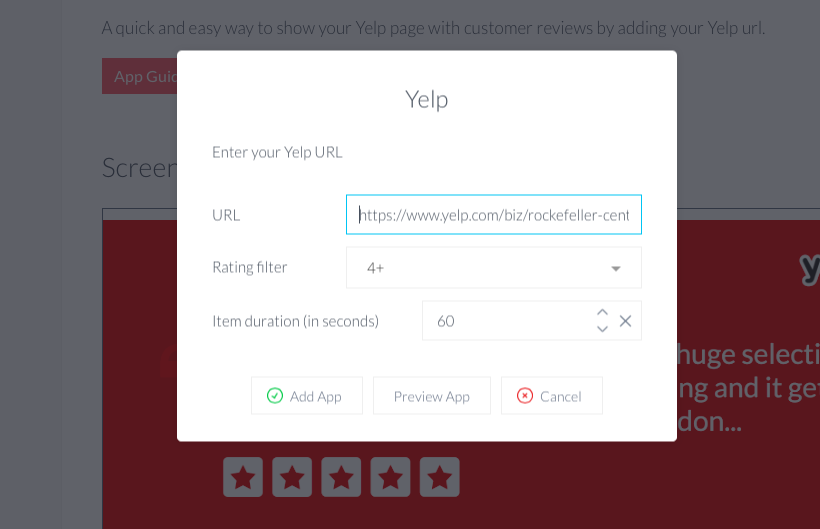 3. Choose your settings
Next, you can choose whether to show all of your Yelp reviews or only the ones with a specific star rating by selecting this from the dropdown.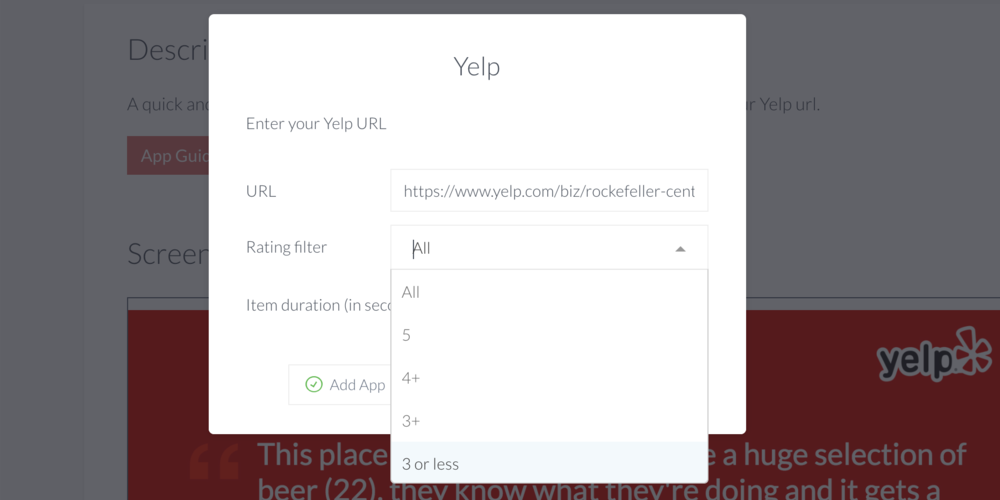 The ScreenCloud Yelp app already creates the format of images, text and ratings so you don't have to design a thing.
4. Preview your results
Once you have chosen your Yelp app settings, you have the opportunity to preview things before it gets added to a playlist. This helps you to determine that the correct reviews are showing on screen.
Click "Preview App" and a small pop-up will show the reviews as they will look on your digital screen.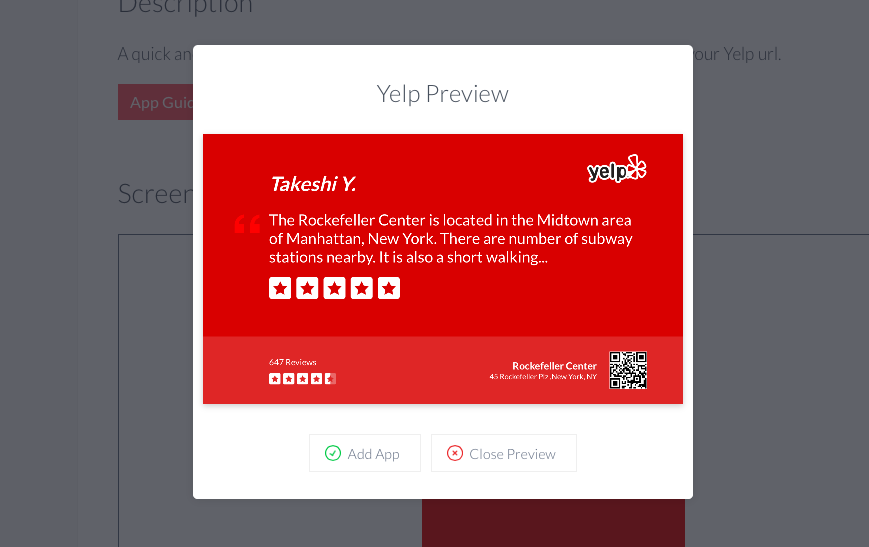 5. Add Yelp reviews to a playlist
Once you're happy with your Yelp reviews, you can add them to one of your digital signage playlists.
5.1. Select "Add App" and choose a name for your reviews (for example, "Yelp app - Rockefeller"). This will help you to spot it later if you're adding more than one set of reviews to your feed.

5.2. Next, go to "Playlists" and drag and drop your Yelp app from the app selection bar on the right-hand side to the playlist of your choosing.
To change how long you want to show reviews for, you can change the time duration in your playlist (currently set as 1.00 for one minute).
Frequently asked questions:
How long will the Yelp app show for?
The Yelp app will continue to show reviews for the time duration you have set within your playlist. Each review is shown for 20 seconds.
How are the reviews chosen?
Yelp app shows reviews in reverse chronological order, with the newest review shown first. The reviews shown are based on the star rating you have chosen when setting the app up.
How often does Yelp app look for new reviews?
Yelp app looks for new data each day.

For further questions, please contact support@screen.cloud with details.