The ScreenCloud Vimeo app makes it easy to stream videos from Vimeo to your digital screens. Select videos by channel, user, album or page and easily add them to your playlists and schedules with ScreenCloud. This allows you to play rich video content that your audience can watch while eating, drinking, waiting or working in your office, bar, restaurant or school.
With the ScreenCloud Vimeo app you can:
Play a live stream on any video that's published publicly on Vimeo
Add a Vimeo video, album, channel, or user page.
Choose the duration of playback for your videos
Here's how it works:
1. Select and install ScreenCloud's Vimeo app
1.1. Get started by clicking here and select "Install this app" in the left-hand corner. This will log you in to your ScreenCloud account, or prompt you to set up our free trial in order to use the Vimeo app and others within our App Store.
1.2. Once logged in, select "Add this app" from the top right-hand corner.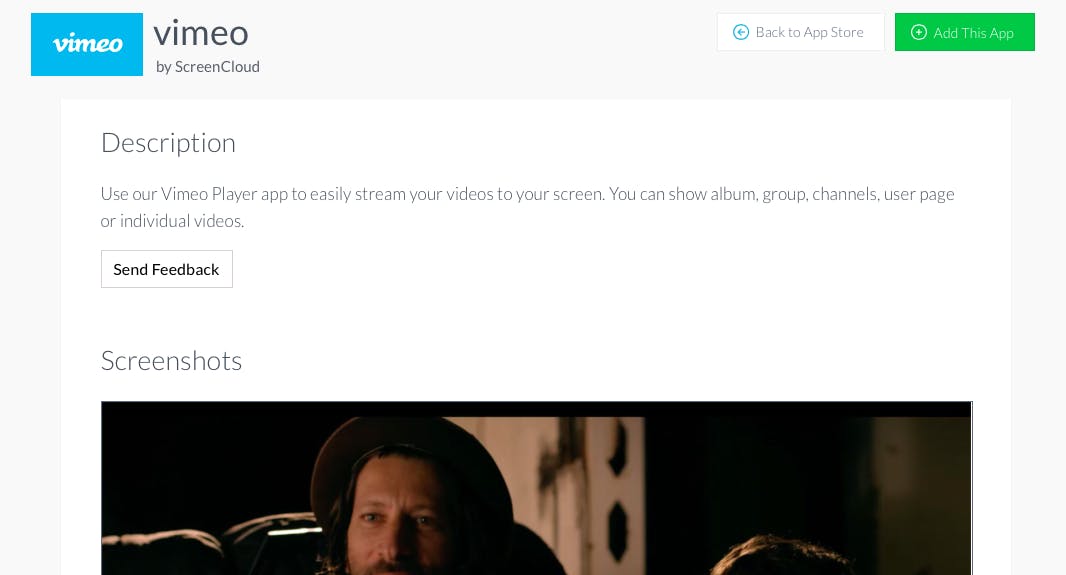 2. Copy your Vimeo URL
2.1. Next you will need to find the URL from the Vimeo channel, album, group, user page or individual video that you wish to share.
2.2. To share an individual video, click on the share icon and copy the link that is shown: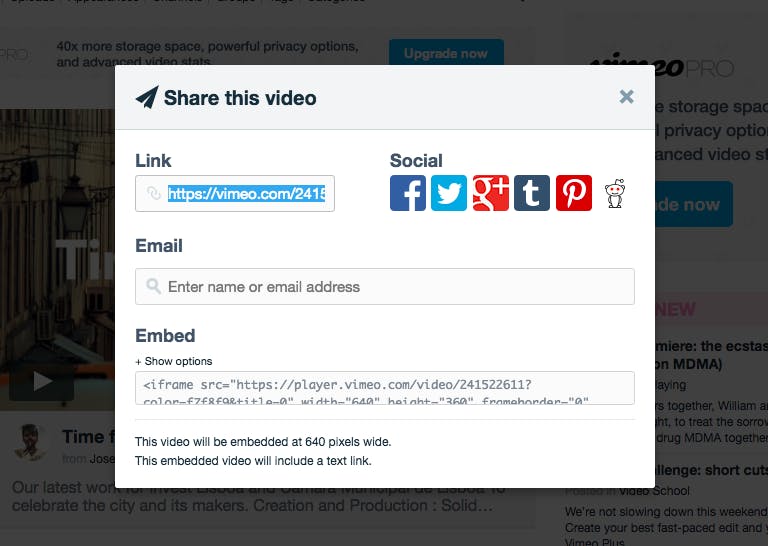 2.3. If you want to share a channel, or album, simply open the channel or album and use the same "Share" link to obtain the URL.
2.4. Paste this link into the "Videos to play (Vimeo URL)" box.
3. Choose your video settings
Once you have your Vimeo link you can choose your settings. If there are many videos in the channel or user page you want to share, you can set a maximum number to play.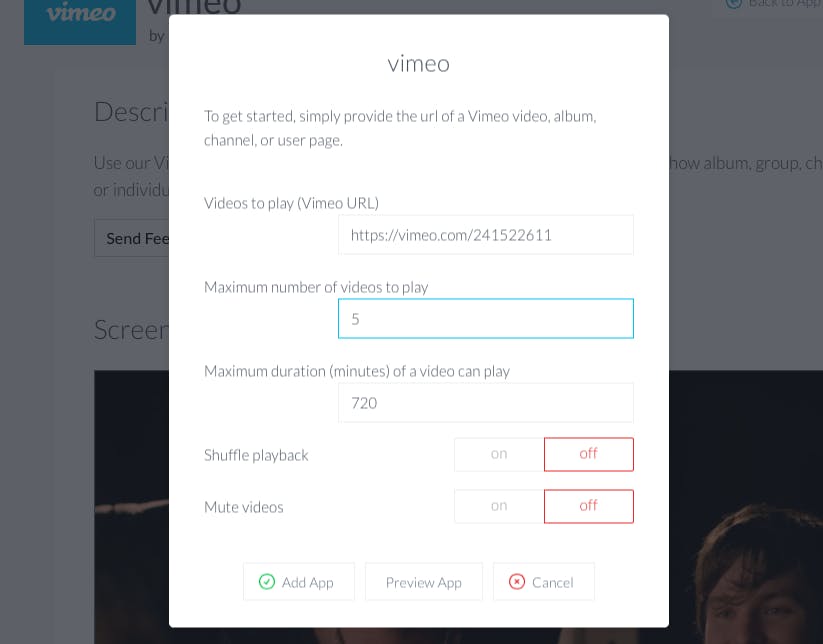 If you would rather the videos only play for a certain duration, you can also add a maximum video duration that the app will play for.
Then select whether to shuffle play videos within a channel or group and whether to mute videos or play them with sound.
4. Preview your results
Once you have chosen your Vimeo video settings, you can preview the app before it gets added to a playlist.
4.1. Click "Preview App" and a small pop-up will show the videos in action as they will look on your digital screens.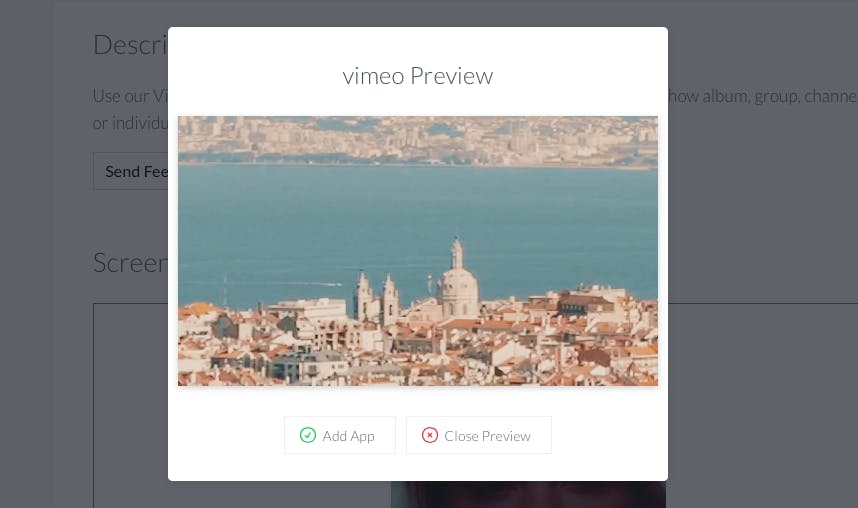 5. Add Vimeo app to a playlist
Once you're happy with your videos you can add them to a playlist.
5.1. Select "Add App" and choose a name for this particular video or channel (for example, "Vimeo - Staff Picks Channel").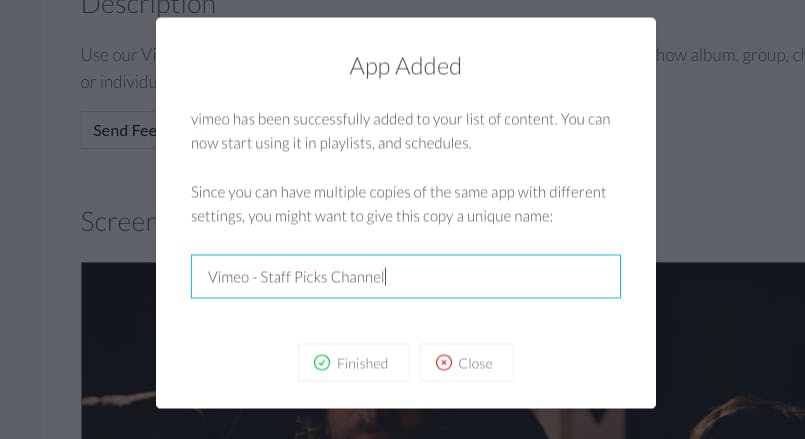 5.2. Next, go to "Playlists" and drag and drop the app from the selection bar on the right-hand side to the playlist of your choosing.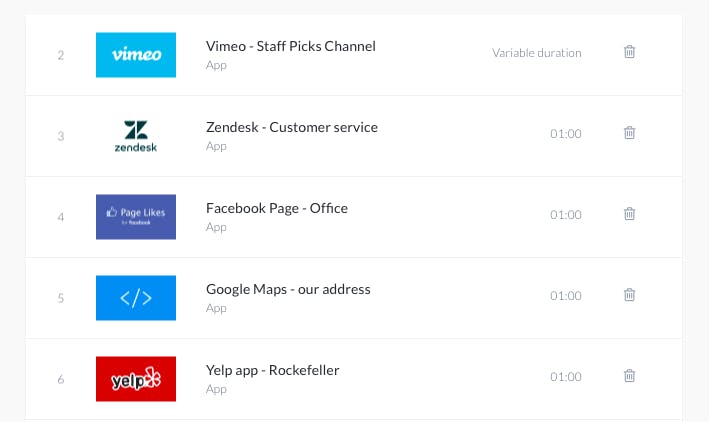 You will see that the duration of the Vimeo app within your playlist is set to "Variable duration". This is because the number and duration of videos is determined by your chosen settings when you add the app.
Frequently asked questions:
Can I use Vimeo app offline?
No, the Vimeo app needs an internet connection to allow it to live stream the videos from Vimeo.
Can I use Vimeo in landscape or portrait?
Yes, the Vimeo app supports both landscape and portrait modes.
My video is not playing on a loop, how can I fix this?
Please note, in order to get your video to loop while using it for digital signage - please add the code &loop=1 at the end of your URL. For example, the URL would read "https://vimeo.com/191084739&loop=1", which will make this loop when being used by itself or in a playlist.
For further questions, please contact support@screen.cloud with details.