The ScreenCloud Twitter Search app makes it easy to create a Twitter wall of live tweets based on a specific search term, such as a phrase, user, handle or hashtag. Share tweets that are relevant to your audience, find specific mentions and build a live Twitter wall for your restaurant, office, lobby, event or coffee shop. 
With the ScreenCloud Twitter Search app you can:
Use Boolean search operators to choose one or multiple account users, hashtags, verified filters and more
Exclude retweets and replies from your search results
Employ a safe filter as well as advanced settings to show video content and images
Please note, we also have the Twitter Timeline app, which allows you to show your own mentions, home feed or favorites timeline. 
Here's how it works:
1. Select and install ScreenCloud's Twitter Search app
Get started by clicking here and select "Get App" from the left-hand corner. This will either log you in to your ScreenCloud account or prompt you to set up our free trial in order to use the Twitter Search app and others within our App Store.  
Once logged in, select "Add this app" from the top right-hand corner.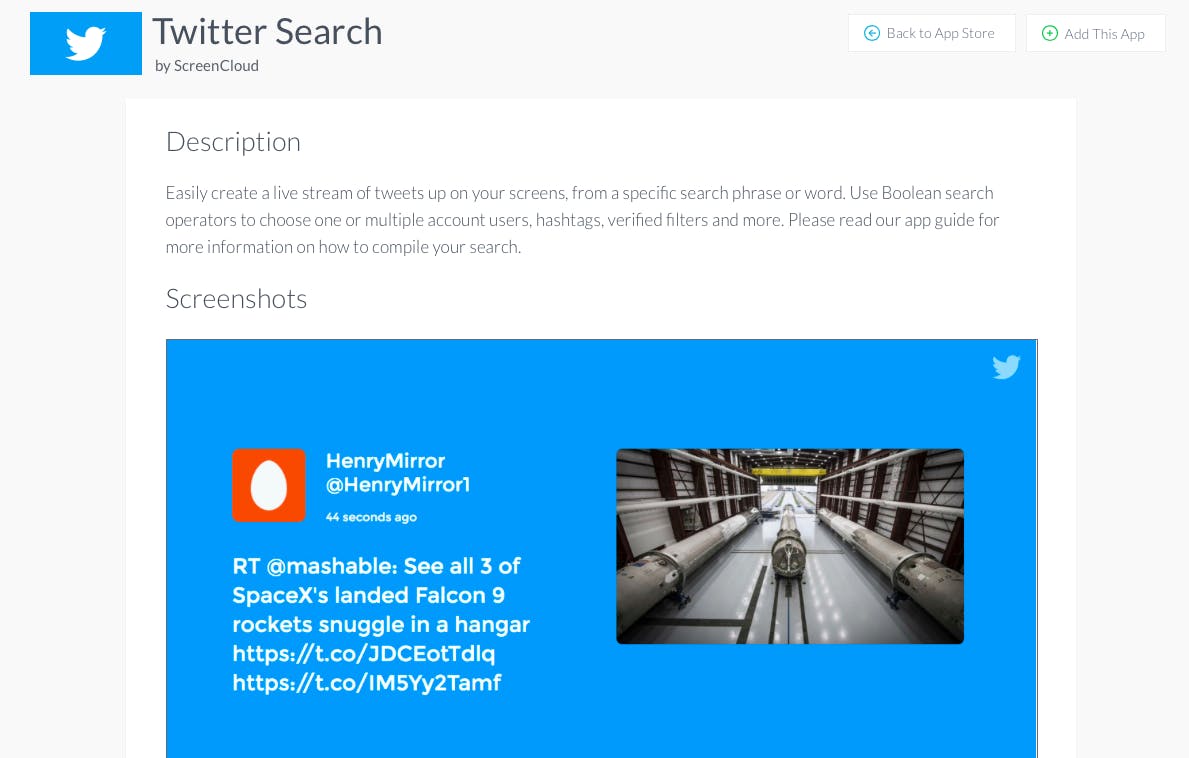 Once you have selected "add app," you will see a settings panel that looks like the below.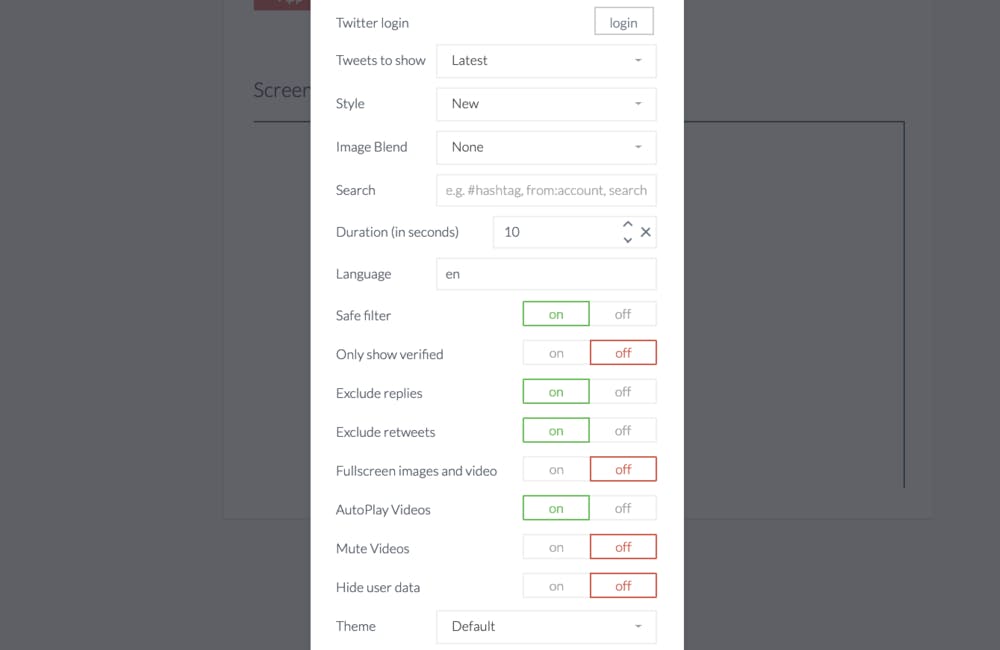 In order for the app to be able to retrieve your Twitter results, you will need to log in. Click "Login" and Twitter's API will ask you to authorize access from ScreenCloud to your Twitter account. Once you have approved this, you'll see a green check mark next to "Twitter login."
3. Create your search terms
To decide what to show in your Twitter feed, you will need to enter a search in the box that says "Search." The app uses Boolean search operators; you can enter a single keyword or hashtag as well as phrases, search for results (such as one word OR another), and exclude specific users, mentions or keywords from your results. 
Here are some of the advanced search operators to be aware of and the results they will show.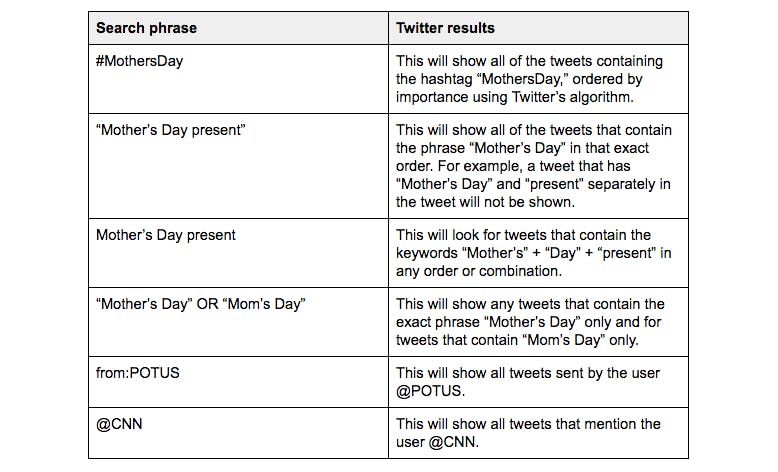 As well as determining what to search for, you can also use exclusions to remove tweets that contain specific keywords. Examples include: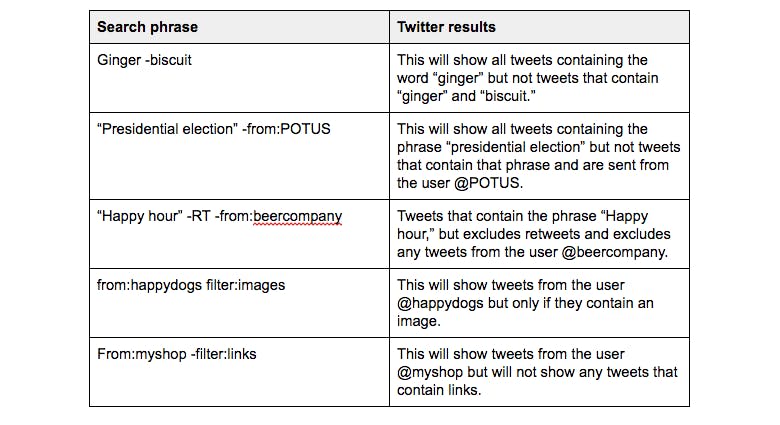 Once you have set up your search, you can preview the tweets on show in step 5 to ensure that the results match what you are looking for. 
4. Select your settings
Once you have added your search term, set the duration you would like each tweet to show for and the language you would like to search in. Next, you can toggle between the below settings:
i) Tweets to show: Display the most latest or popular tweets, or both. Please note, the app can only load fifteen tweets and Twitter's service automatically determines the "popular" or "latest" content to display. For example, there might not be popular or latest tweets available for a specific search term you're using. If there are no "popular" or "latest" tweet updates relating to this search term within the past 7 days, the app will be unable to load tweets for it.
ii) Style: select between two styles for how you'd like the tweets to appear on screen.
iii) Image blend: select the blending affect for images that appear in tweets (e.g. transparency).
iv) Language: set the abbreviation for the language you'd like to use for the app. For example, using "en" would make tweets appear in English "es" would make tweets appear in Spanish. You can learn more Twitter's supported language codes by clicking here.
v) Safe filter on/off
vi) Verified filter on/off (this relates to accounts with the blue check mark which have been verified by Twitter as legitimate sources of interest)
vii) Exclude replies on/off
viii) Exclude retweets on/off
Fullscreen images and videos on/off
ix) Autoplay videos on/off
x) Mute videos on/off
xi) Hide user data (helps maintain privacy when displaying tweeted content for digital signage, it will hide user data related to tweets posted from accounts used in the search)
5. Preview your results
Once you've chosen your Twitter search filters, preview the feed to ensure that the tweets are appropriate for your audience. 
Click "Preview App," and a small popup will display the Twitter search results for the keywords you have specified.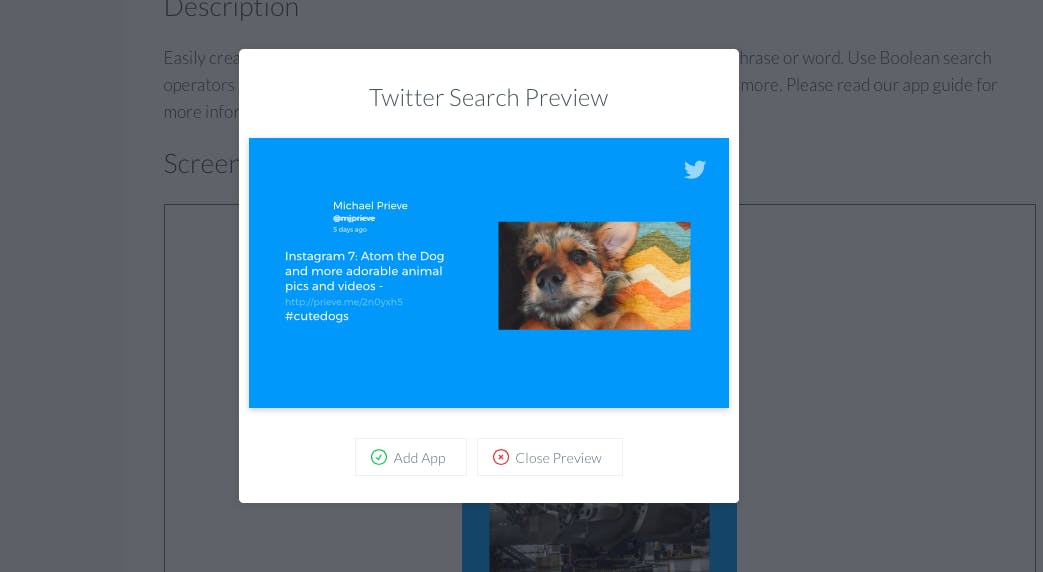 Once you're happy with your Twitter results, you can add the app to one of your digital signage playlists.
Select "Add App" and choose a name for the Twitter feed (e.g., "Twitter Search - cute dogs"). This will help you to spot it later if you're adding more than one Twitter Search feed to your playlist.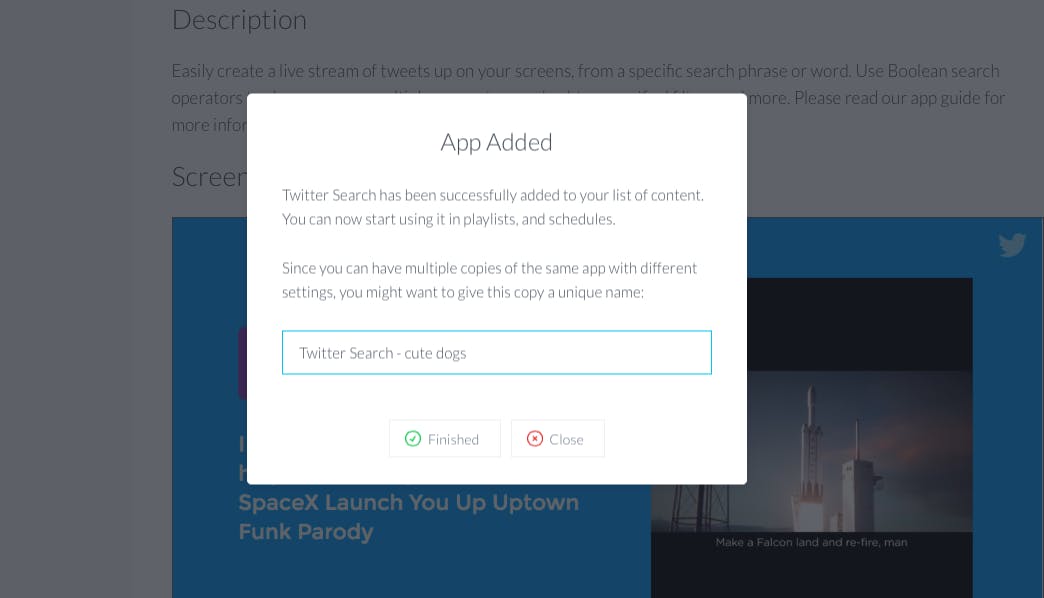 Next, go to "Playlists" and drag and drop your Twitter Search app from the app selection bar on the right-hand side to the playlist of your choosing.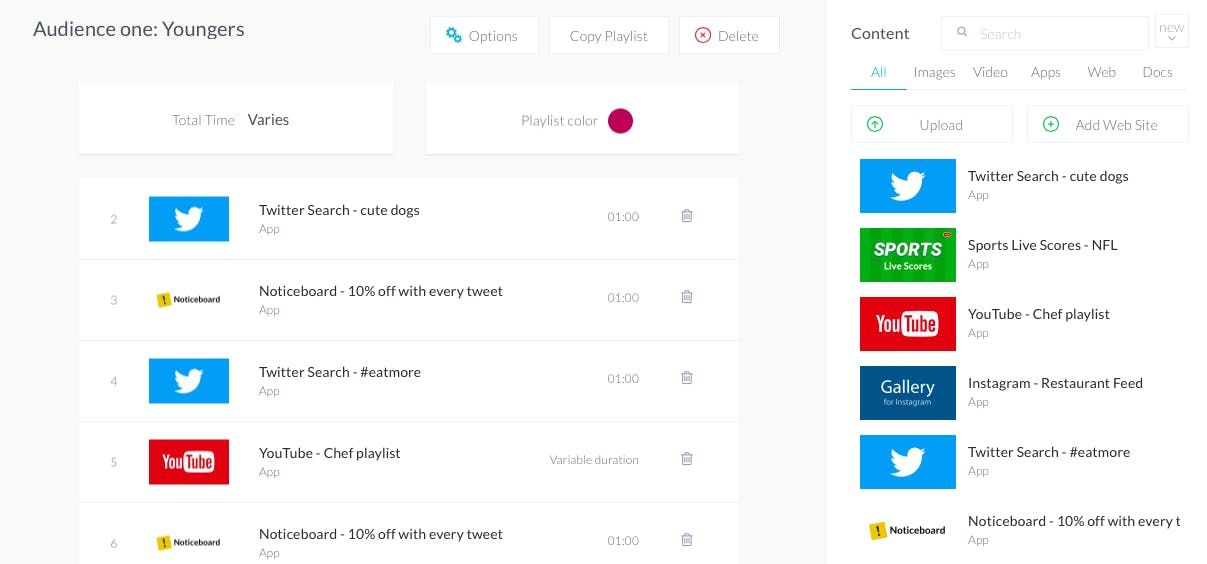 Once added to your playlist, you will also see an option to set the duration (shown as 1.00 in the image above). This will determine how long the Twitter search results feed is allowed to play within your playlist. 
Frequently asked questions:
Will Twitter Search continue to work if I go offline?
Twitter Search will continue to show the latest results up until the point when the app has gone offline. 
Can I use Twitter Search app as part of a zoned digital signage display?
Yes. When setting up a zoned display, you will see the option to "Add Playlist." Any Twitter Search feeds within a playlist will be played in this feed. 
How long will the Twitter Search app play?
This is determined by the duration you have set within the playlist. 
For further questions, please contactsupport@screencloud.comwith details.