The ScreenCloud Stocks app makes it easy to share the latest stock prices direct to your digital screens, powered by real time information from IEX Cloud. This allows you to show the latest stock prices on your digital screens in an office, reception, school or business environment.
With the ScreenCloud Stocks app you can:
Choose multiple different stock options from companies such as American Airlines, Cisco and Starbucks.
Receive new stock information in real time.
Choose a theme for your display, or create your own with custom colors and branding.
Here's how it works:
1. Select and install ScreenCloud's Stocks app
1.1. Get started by clicking here and selecting "Get App". This will prompt you to either log into your existing ScreenCloud account, or sign up for our 14-day free trial in order to use the OneDrive Gallery app and other available apps within our App Store.
1.2. Once you've logged in, you can select "Add this app" from the top right-hand corner.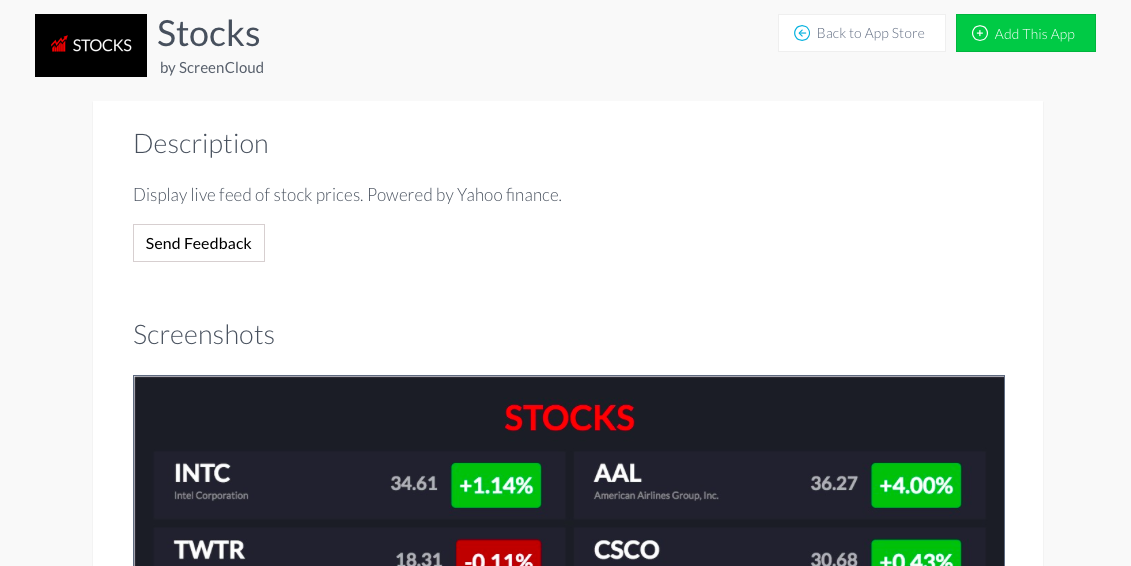 2. Choose your Stocks to show
Next you will need to determine which stocks you wish to show and find their Stock tickers (the acronym used for that company) in order to display them on your screen. There are plenty of online sources which list the tickers for popular US stocks, or you can use https://iextrading.com/.
Please note, all of our data for the app is provided by IEX cloud (https://iexcloud.io).
Once you have a list of all of the stocks you'd like to show you can add these in, using a comma between each acronym.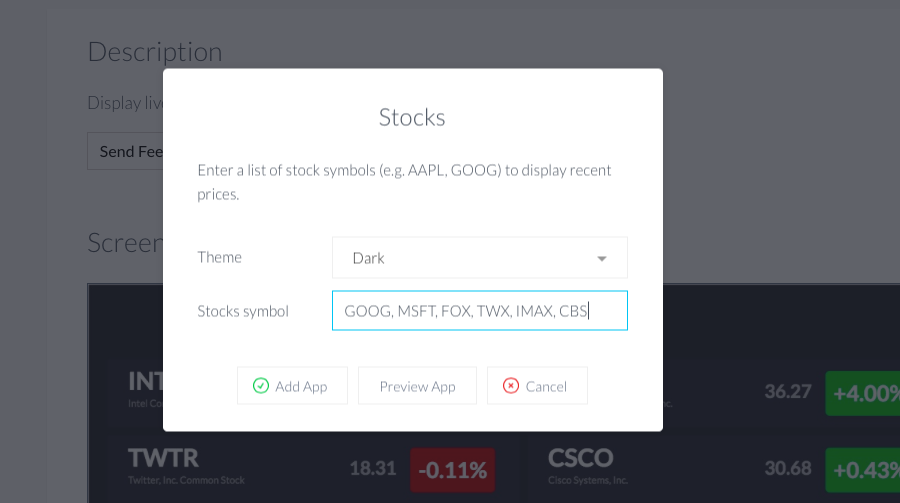 3. Choose your theme
Once you have your chosen Stocks, you can choose whether to show the app in one of our standard themes, or to create your own custom branding.
If you want to use a preset theme, use the dropdown to select either:
i) Dark/Default theme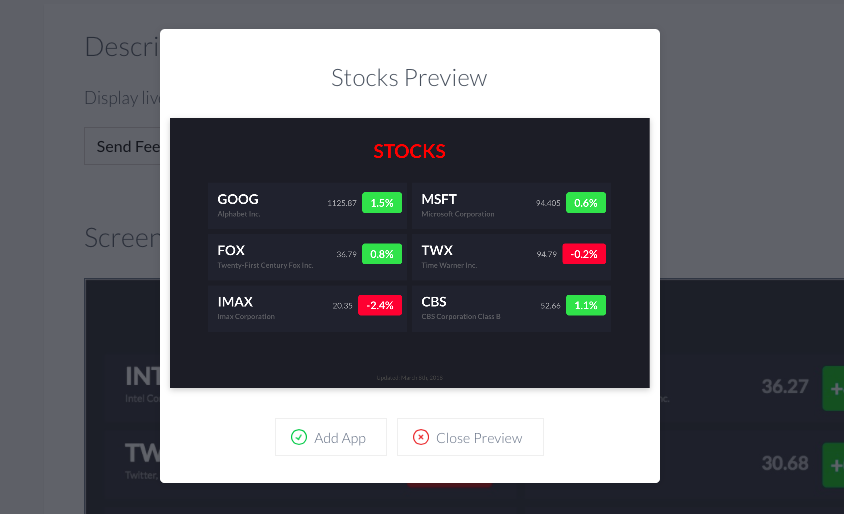 ii) Light theme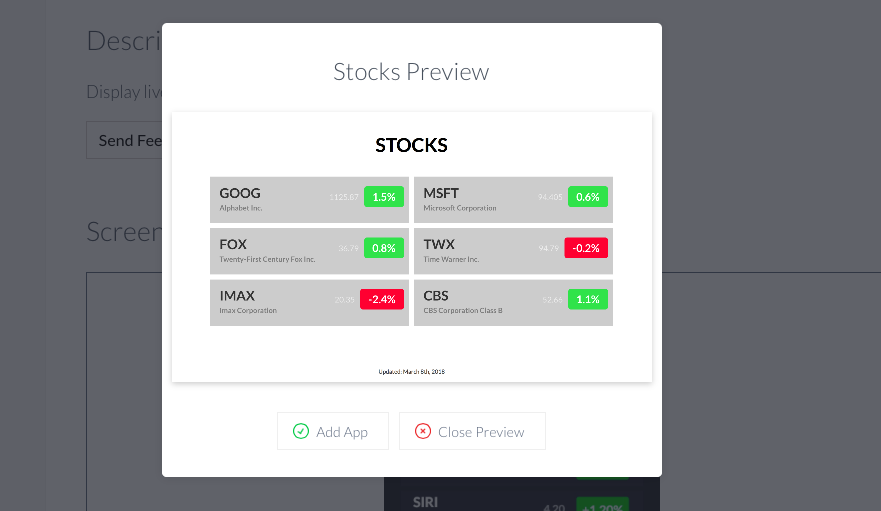 You can also customize the Stocks app with your brand colors. To do this, use our App Theme Editor to create your own custom theme.
Once created, you will see this appear in the dropdown: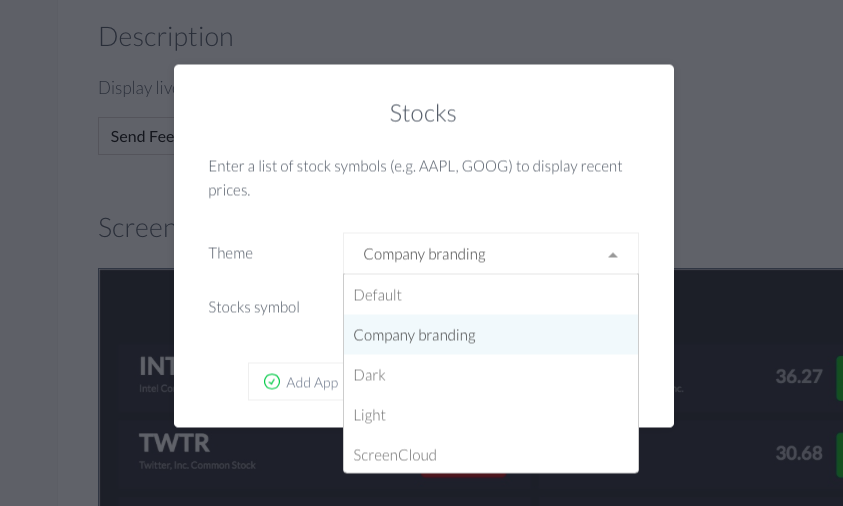 4. Preview your results
4.1.To preview your Stocks app, select "Preview App". This will open a new window where you can see what your Stocks app will look like on screen.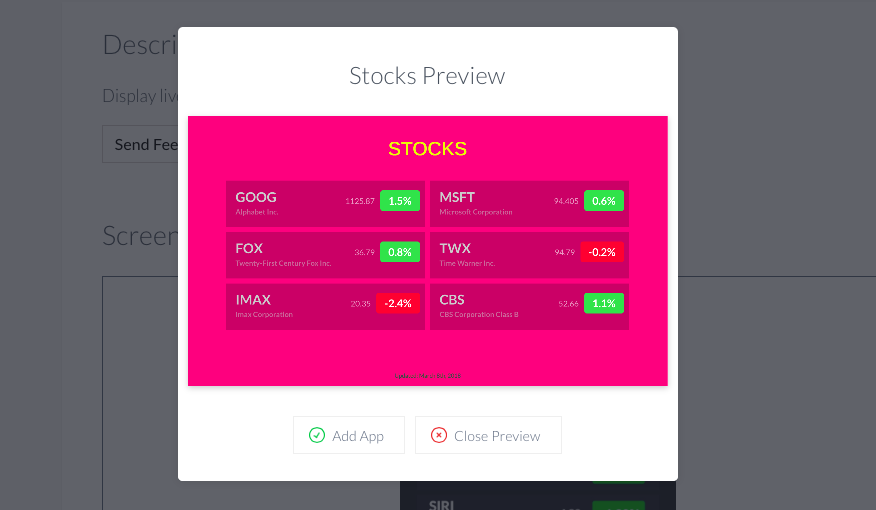 4.2. If you need to select a new folder, click "Close Preview" and press on "Configure" to access your Stocks app settings. Once you've made any further changes, click "Save Changes" and return to open the preview.
5. Add Stocks app to a playlist
5.1.Once you're happy with your settings, click "Add App" and give your Stocks app a name. This will help you to spot it later in your content library, particularly if you're planning to use more than one Stocks app within your playlist.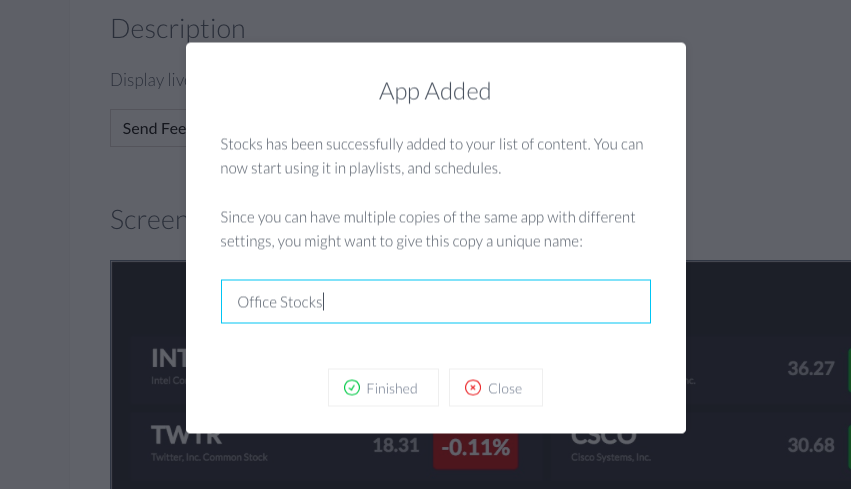 5.2. Select "Finished" and your Stocks app will now be listed within your Content Library.
Please Note, If you want to edit your Stocks app at any time, you can simply hover over the app in the content library and choose "Edit This App".
5.3.Next, select the playlist you wish to add this to and drag and drop the Stocks app from the right-hand side to the playlist of your choosing.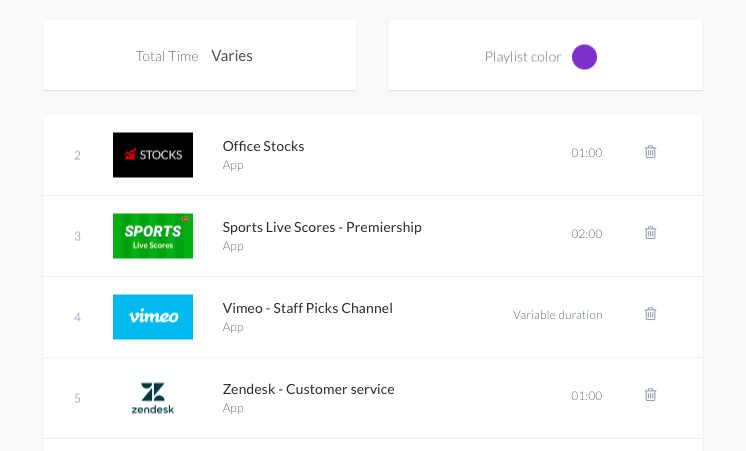 5.4. You can change how long you wish to show the Stocks app display for by changing the time within the duration (currently set to 1.00 for one-minute).
Frequently asked questions:
Can I use Stocks app offline?
Yes, you can use Stocks app offline but you will not be able to receive the latest Stocks data.
Can I use Stocks app in landscape or portrait?
Yes, Stocks app supports both landscape and portrait mode.
How often does Stocks app receive new data?
Stocks app looks for updated stock information every seven minutes.
For further questions, please contact support@screencloud.com with details.