ScreenCloud's RSS Feed app allows you to show the latest updates, news and information from any RSS feed; be it from the New York Times, NASA, or your own. This is one of the easiest ways to share blogposts, weather updates, news, company news and more from your digital signage screens. 
With RSS feeds, the content is updated automatically so once set up that's it! A steady stream of the latest content for your screens to share. 
With the ScreenCloud RSS Feed app you can:
Add any RSS feed URL
Custom brand your feed display
Add multiple RSS feeds to your display by repeating steps 1-4 
Here's how it works:
1. Select and install the ScreenCloud RSS Feed app
1.1. Get started on using the app by clicking here and selecting "Get App". This option will prompt you to either log into your existing ScreenCloud Membership, or sign up for our 14-day free trial in order to use the RSS Feed app and other available apps within our App Store.
1.2. Once logged in select 'Add this app' from the top right hand corner.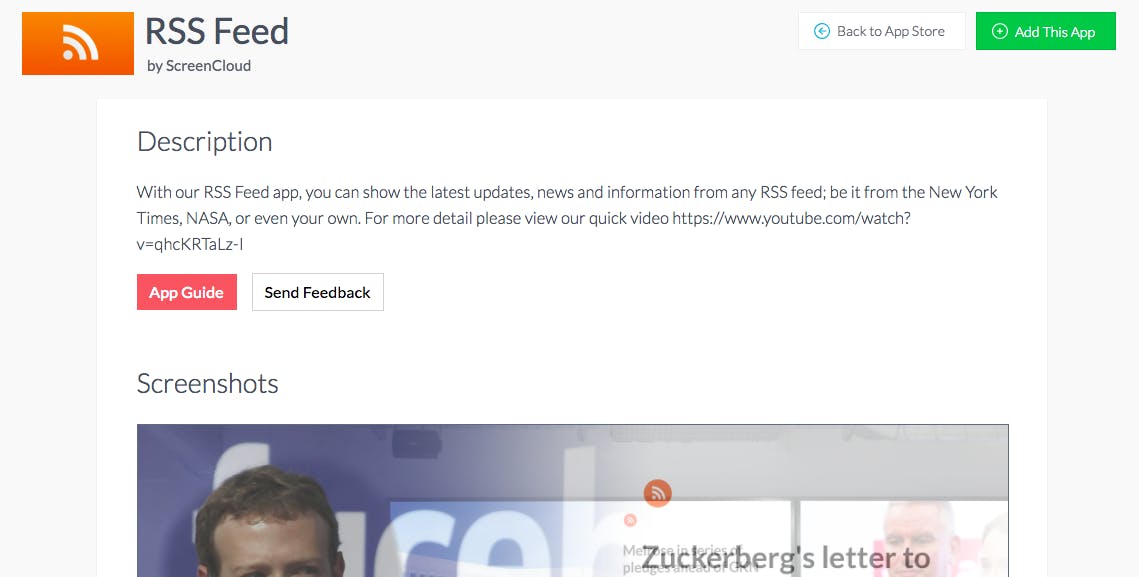 2.1. On opening the app, you'll see the below screen asking you to add your RSS feed URL. If you have the URL of the RSS feed you wish to show you can copy and paste it in here.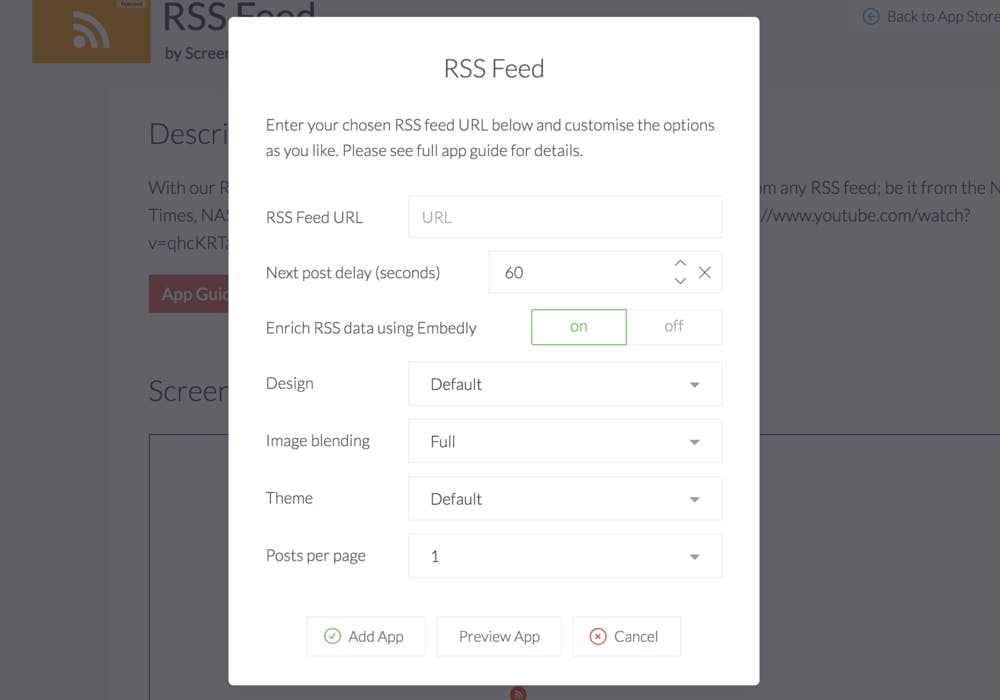 2.2. If you aren't sure how to get the RSS feed URL of your chosen blog, website or news feed try the steps below:
Open the blog or website of your choice
On the webpage, right click and select 'Show page source'
Click 'ctrl + F' or 'command + F' depending on whether you are using Windows or Mac
Type in 'RSS' and hit enter
This should take you directly to, or highlight, the RSS feed URL of that page which you can copy and paste into the ScreenCloud RSS Feed. For example, you would use https://techcrunch.com/comments/feed from the source code you've found as pictured below.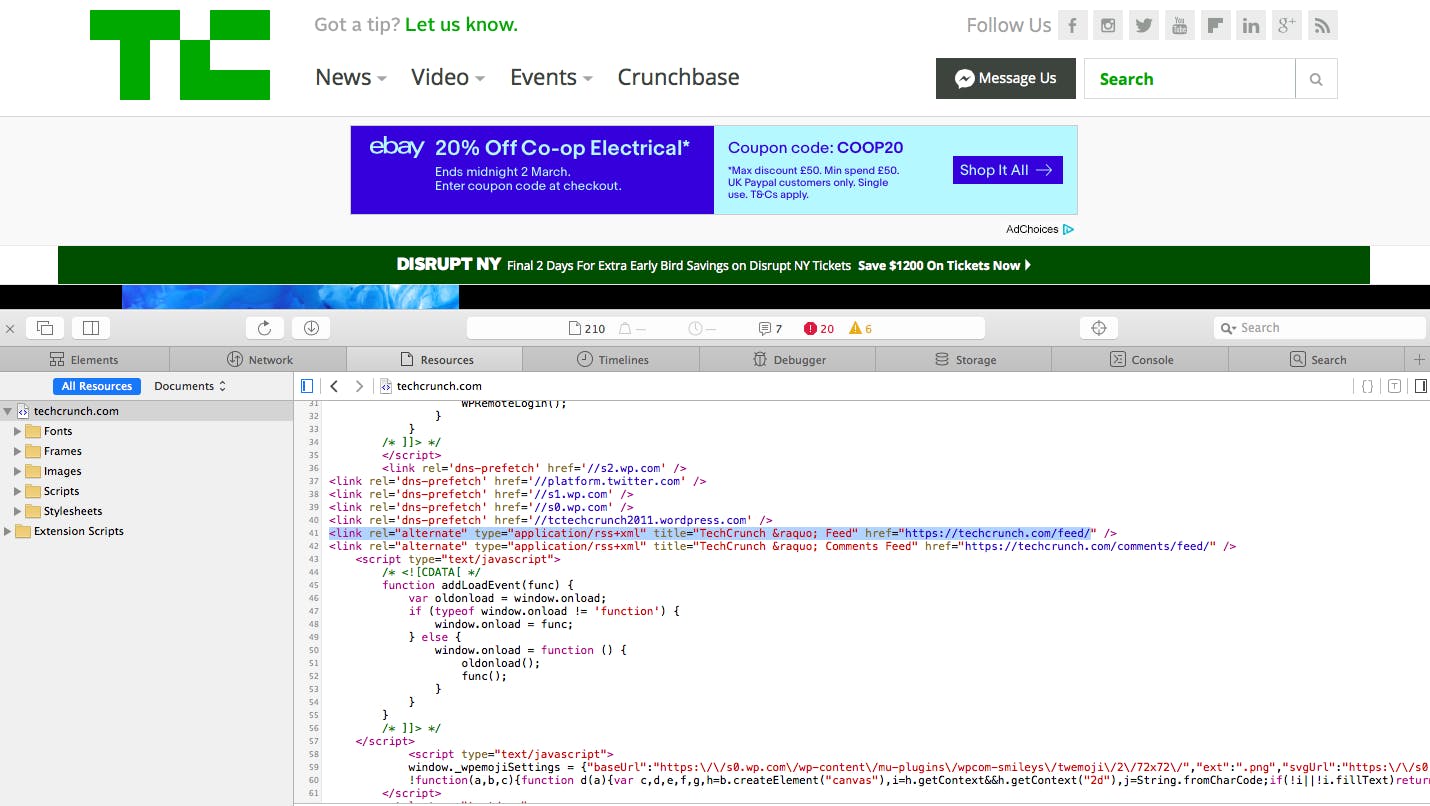 The RSS feed of the popular news site TechCrunch. 
2.3. As well as setting the time duration for each post you will also see the option to 'Enrich RSS data using Embedly'. Turning this on will help your RSS feed to return a larger set of attributes where available, such as multiple images, caching and other rich RSS content sources. 
3. Choose your settings
In the settings panel you will need to choose your settings for the below options:
Next post delay (seconds) - this is how long you want to show each piece of news for
Enrich RSS data using Embedly - this gives you the option to enhance your updates with other images or media items available
Design - here you have the default option which is our latest design (as shown below) or the original option which is the previous RSS app design.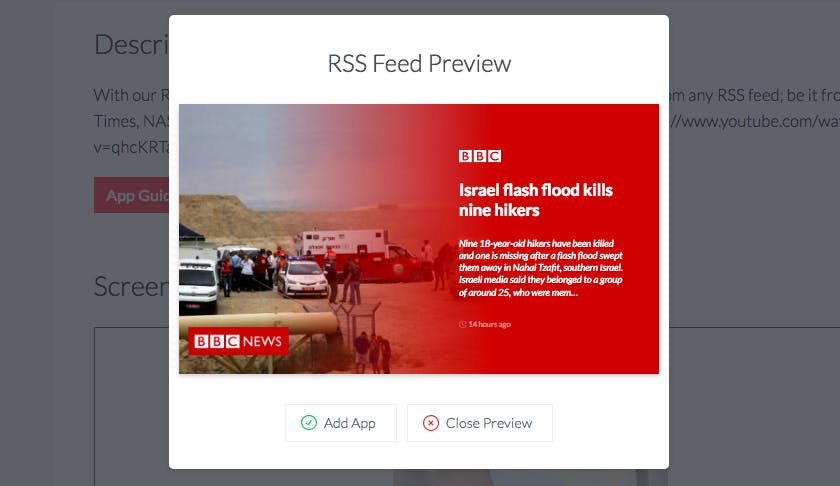 Image blending - full, medium or none. This is how much you would like the headline and image to blend in your news display.
Theme - this is where you can select a theme to display the headlines in a specific color or your brand guidelines.
Posts per page - you can select up to three posts per page to show side-by-side together on screen.
Creating a theme
You can create a completely custom theme using any colors you like. For example: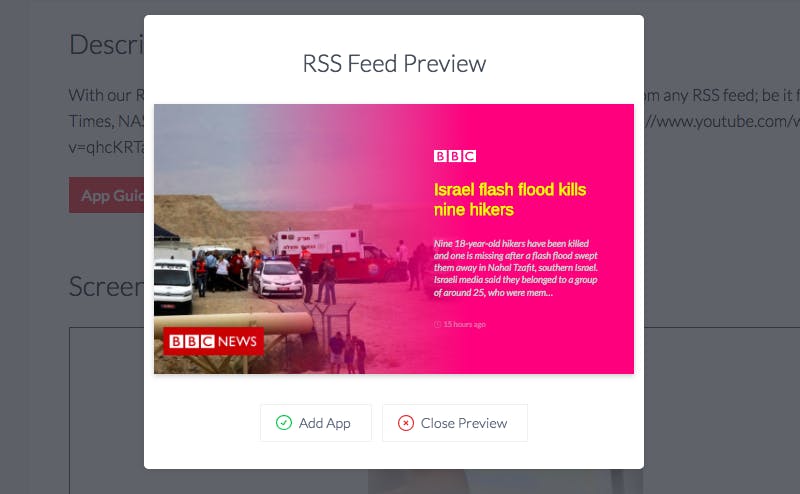 To create a custom theme, check out our guide on how to use the App Theme Editor. Once you've set up a custom theme you will see this in the theme dropdown box within the RSS Feed settings.
4. Preview your results
Once you've added your RSS URL you get to check out your feed before it gets added to a playlist. 
Click 'Preview App' and a small popup will display the RSS feed of your choosing, played for the duration you have set.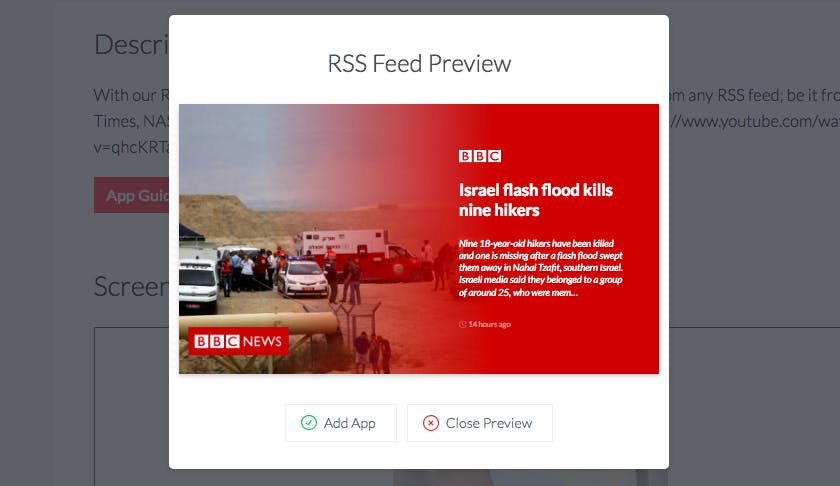 Once you're happy with your RSS feed you can add it to one of your digital signage playlists.
5.1. Select 'Add App' and choose a name for that particular RSS feed, for example 'RSS - TechCrunch'. This will help you to differentiate between feeds later on if you decide to use more than one within your digital signage display.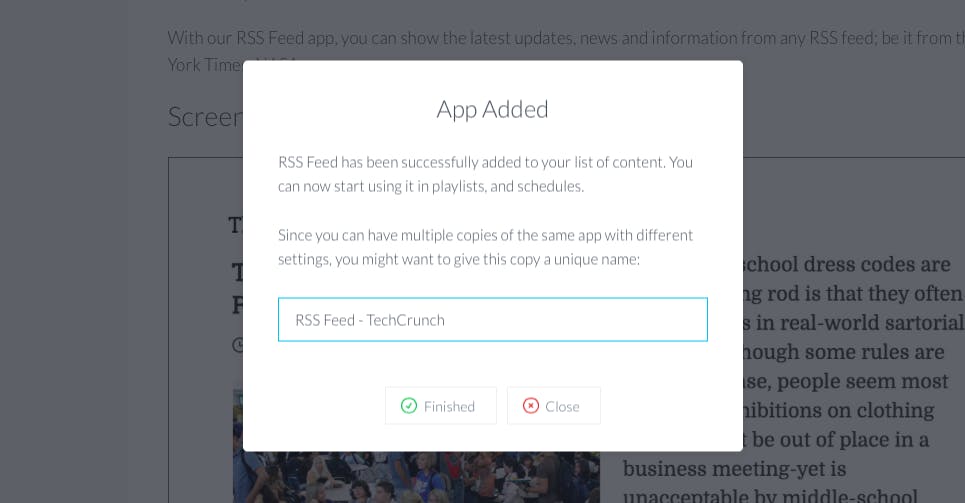 5.2. Next, go to 'Playlists' and drag and drop your RSS app from the app selection bar on the right-hand side into the playlist of your choosing.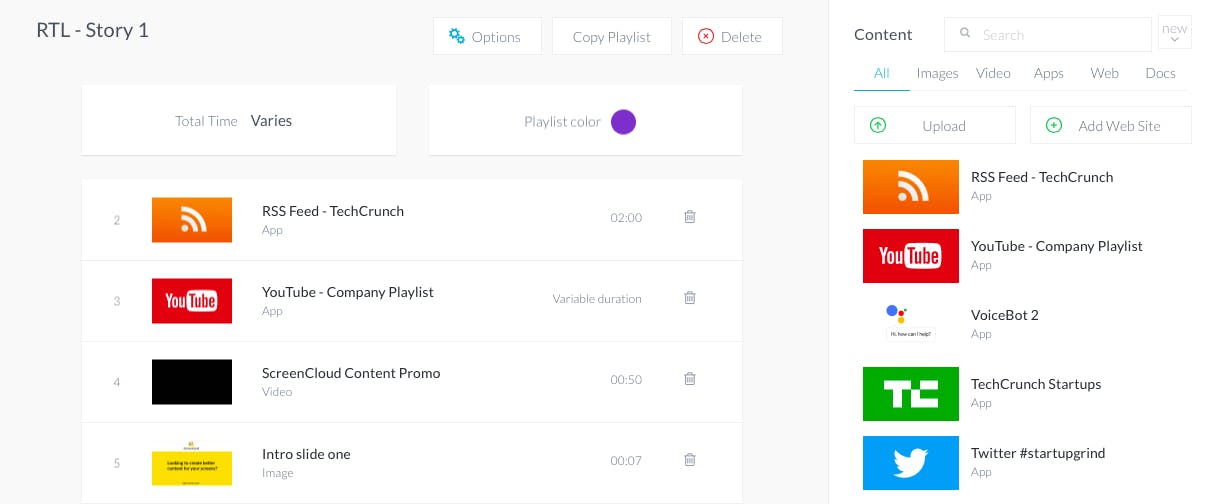 Once it has been added to your playlist you can change the time duration to select how long the RSS feed will show in its entirety. Here, you may want to coordinate with how long each story or blogpost is shown for. 
For example if you want to show the top ten stories on the RSS feed and you have set them to play for 60 seconds each, you may want to set the total time duration to 6 minutes so that they all play for the same duration. 
You can also move where the RSS feed plays within the playlist by using the same drag and drop motion. 
Frequently asked questions:
What is the maximum number of posts the RSS feed can pull in?
Currently, the limit is the top 20 posts maximum that will display for digital signage.
I can't find the RSS feed for the blog or site I want to show
It is the job of the blog or website owner to create the RSS feed URL. If none can be found, you may wish to reach out to the website or blog directly and double check if there is a RSS available. 
Can I use the RSS feed as part of a zoned digital signage display?
Yes, when setting up a zoned display you will see the option to 'Add App'. Any RSS feeds you have setup will be found in this list. 
How long is the RSS app shown for?
The RSS app is shown for the duration set within the playlist. Each piece of content within the RSS feed is shown for the time set when the RSS feed was first added. This can be edited by going to 'Content Library' and hovering over the RSS feed where the option 'Edit this app' will appear. 
Does RSS Feed work offline?
The cache of the RSS feed data is 30 minutes. 
My RSS feed title and/or content becomes truncated in the middle of a word, how can I fix this?
Currently, this is a feature of the app as there's only limited space to display content on screen. It will display a maximum of 75 characters for a title and 200 characters for the main text in any zone layout.
For further questions, please contact support@screen.cloud with details.