Thanks to the popularity of our original Noticeboard app and how much our users love to be able to create signs and notices so easily, we're pleased to announce Noticeboard 2.0.
Noticeboard 2.0 is the new and improved way to create a Noticeboard for any screen with a wider range of design options to help you customize every little detail. Improvements include:
Advanced formatting. Add text with options to add bullet points, make text bold and other styles.
Dynamic resizing. No matter how much (or how little) text you add, we'll ensure it looks perfect on your screen.
New and improved themes. Choose one of our special Noticeboard 2.0 themes or create your own.
Icons & backgrounds. Use one of our popular icons or create your own.
Here's how it works:
1. Select and install ScreenCloud's Noticeboard 2.0 app
You can get started on using the app by clicking here and selecting "Get App". This option will prompt you to either log into your existing ScreenCloud Membership, or sign up for our 14-day free trial in order to use the Noticeboard 2.0 app and other available apps within our App Store.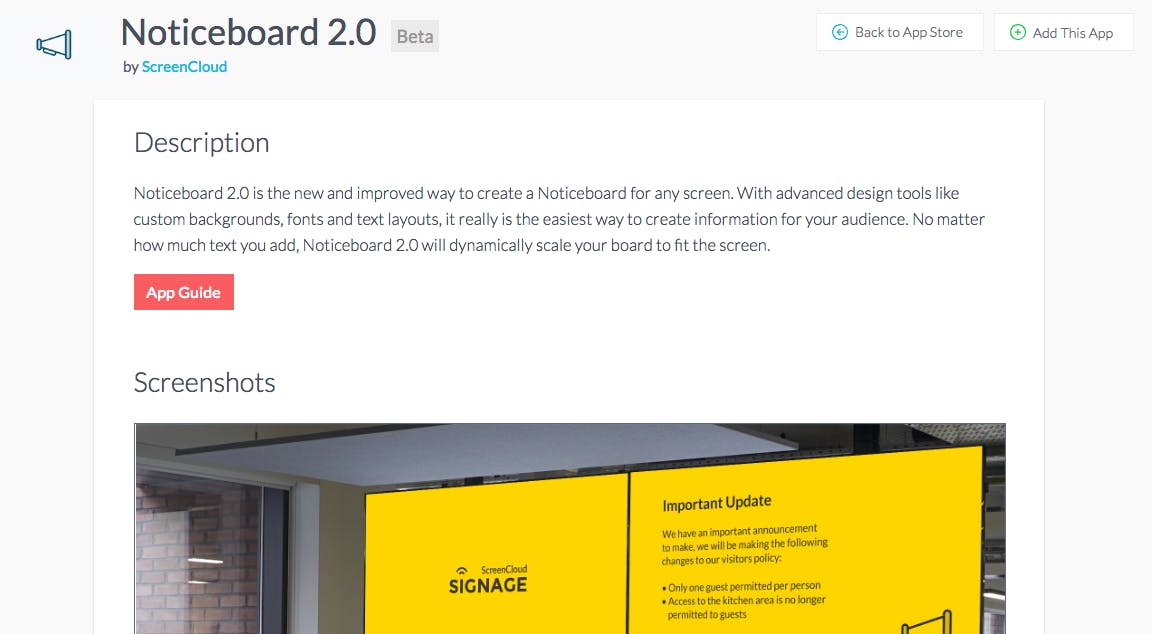 2. Create your noticeboard
Select "Configure" to open the Noticeboard design panel to begin creating your noticeboard. This will open in a new tab.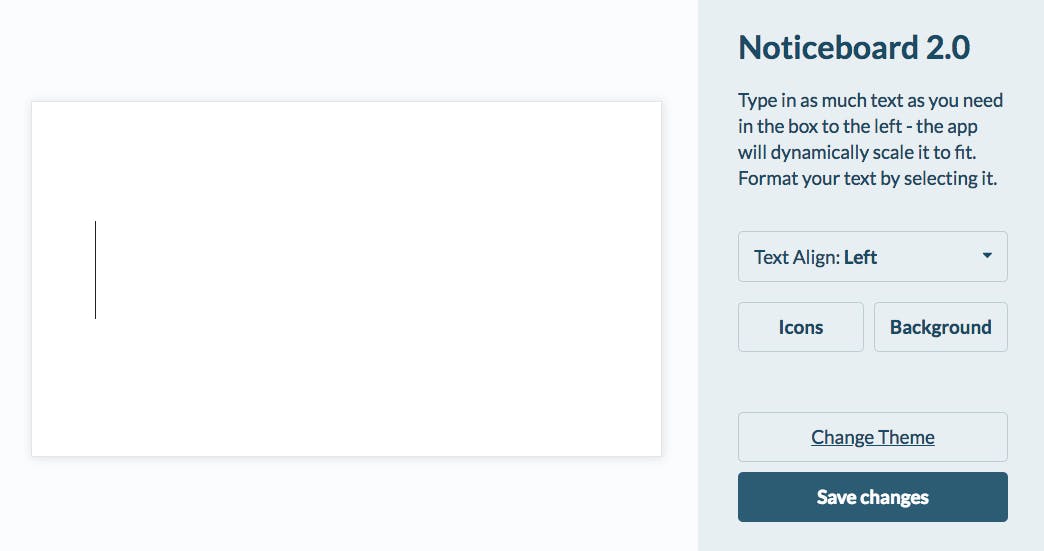 Here, you can begin to create your noticeboard.
i) Add and edit text
Start to add your text by writing it in the box shown. Remember - you can add as much or as little as you like and the app will dynamically scale it to ensure it fits perfectly on your screen.
If you want to edit your text, for example to add a heading or bullet points, simply highlight the text and the editing panel will appear.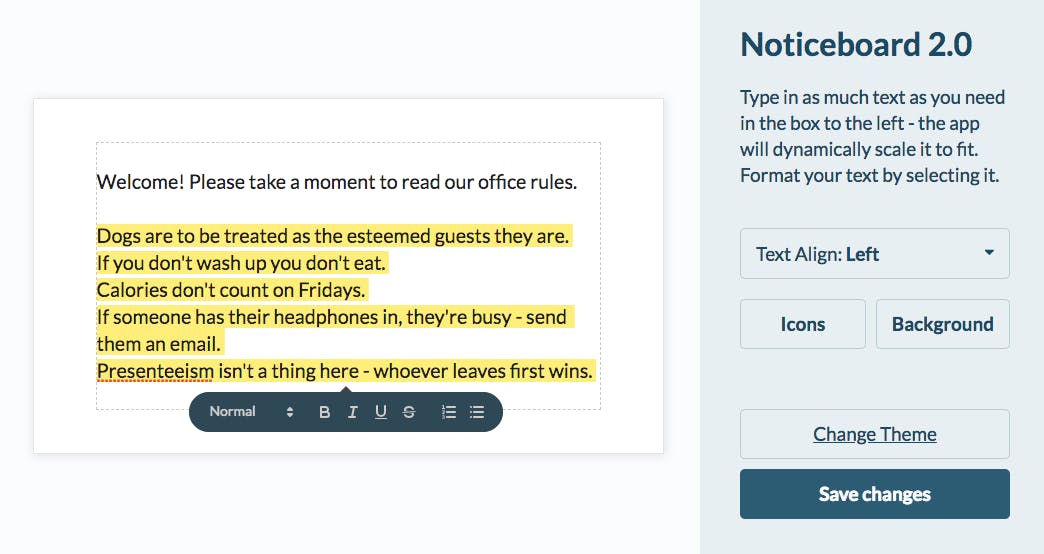 ii) Add an icon
If it suits your idea, you can easily add an icon to your display. Select "Icons" and you'll see the selection of icons that we've carefully created to make your noticeboard look awesome. You can also select "Upload icon" to use your own image.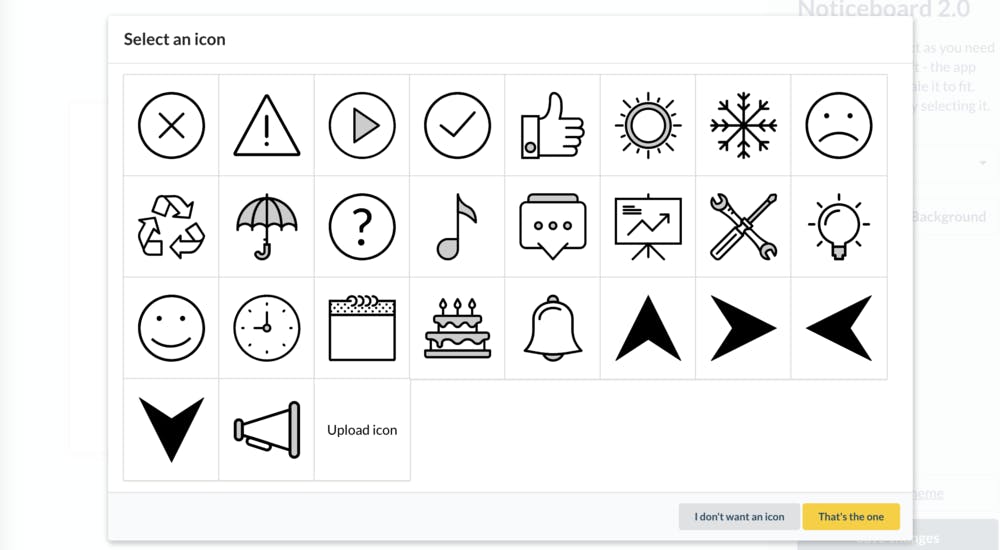 If your text is set to "Center" align, this logo will appear at the top of the notice: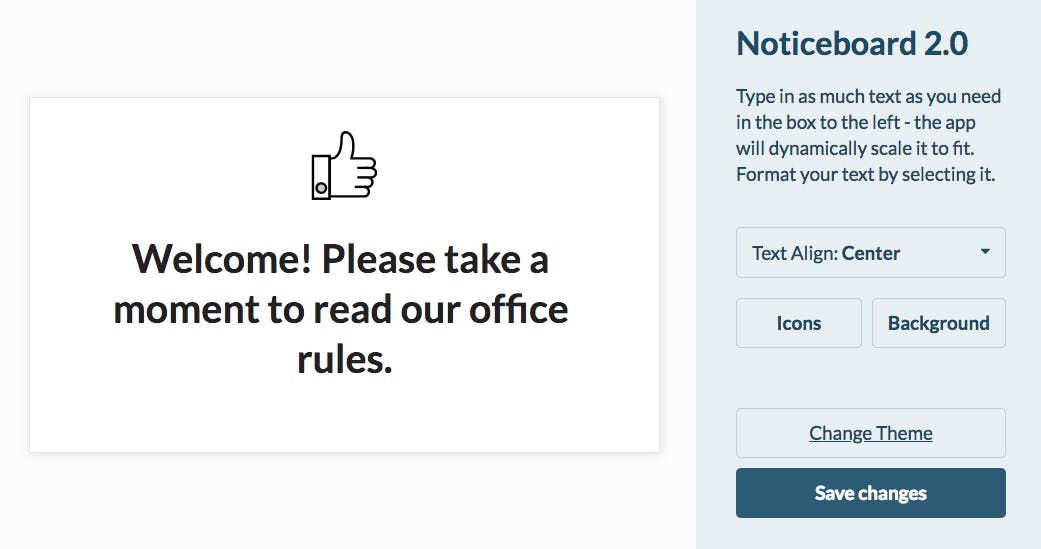 Whereas if your text is set to "Left" align, it'll appear in the bottom right-hand corner (this is because our expert design team tell us the board looks more balanced that way).
It's important to note, if you have a lot of text on screen there might not be enough room to fit an icon. Therefore if you are keen to include one, you may want to consider splitting your text across a few different notice boards (you can create as many different ones as you want by the way, it's free).
iii) Change your theme
When it comes to theming your display, there are a few key options to consider.
Add a background
Adding a background is great if you have a photo or pattern that you're keen to have on your display. When you upload a background you'll see that we've made a couple of design decisions to help your display to look as good as possible. You can turn these off using the sliders but we recommend keeping them on, so that your audience can easily read the text you want them to see.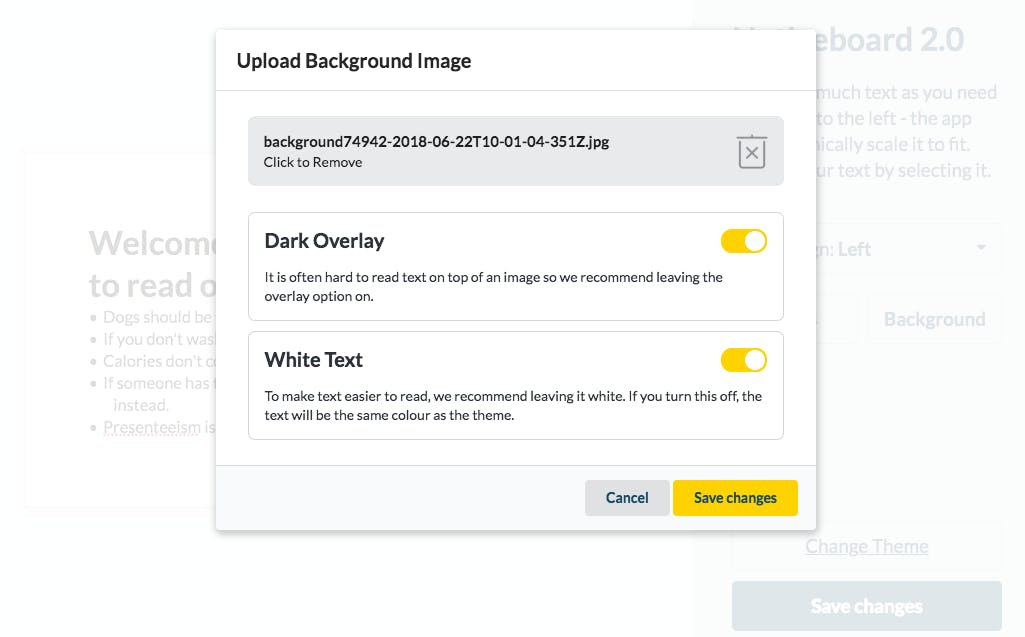 When you choose a background image (and allow us to darken the image slightly and keep your text white) your display will look a little something like this: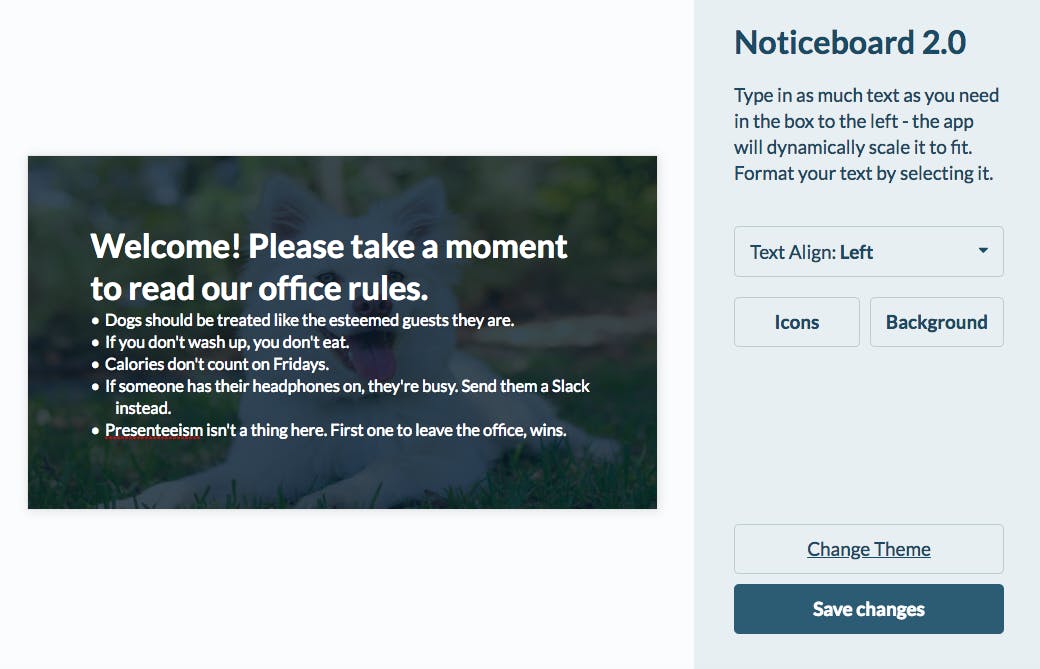 If you turn off the text color setting, your text will revert to the color you have selected in your theme.
Choose a theme
A theme is great if you want your noticeboard to have a certain effect, for example to look like a blackboard or a lightbox.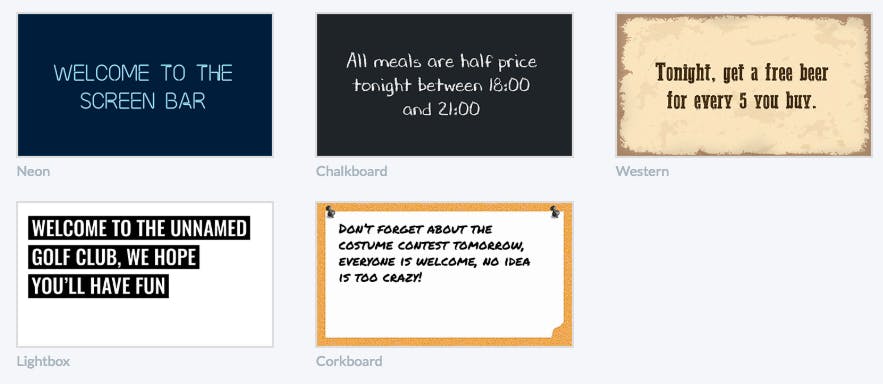 If you select one of our given themes (as shown above) we'll customize your text, background and color themes to match.
Create a custom theme
If you don't want to use a background image and aren't fond of the themes offered, you can also create your own. This allows you to select a background color, a text color, a link color and particular fonts for your headings and body text.
To create a custom theme, check out our guide on how to use the App Theme Editor. Once you've set up a custom theme you will see this in the theme dropdown box within the Noticeboard 2.0 app settings.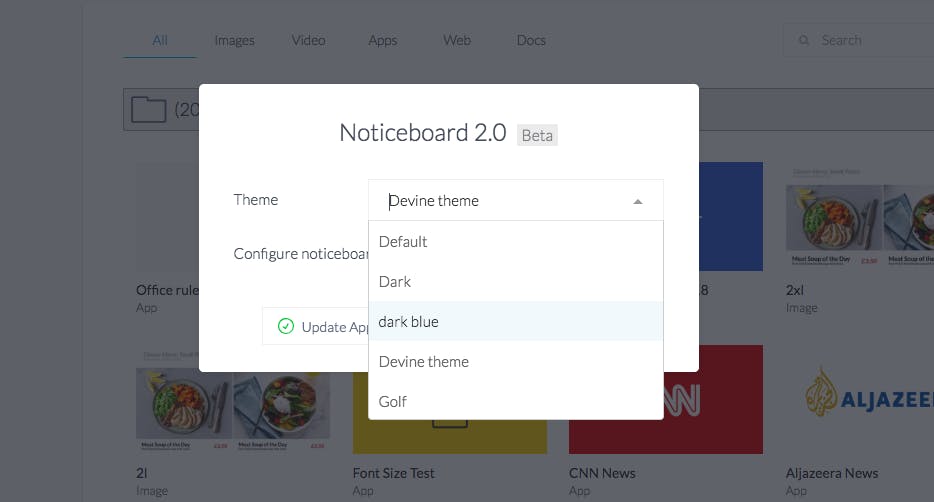 3. Preview your noticeboard
3.1. Once you have finished editing your noticeboard it's important you select "Save Changes" to return to the preview panel. Once you have saved your noticeboard you will see a green checkmark next to "Configure".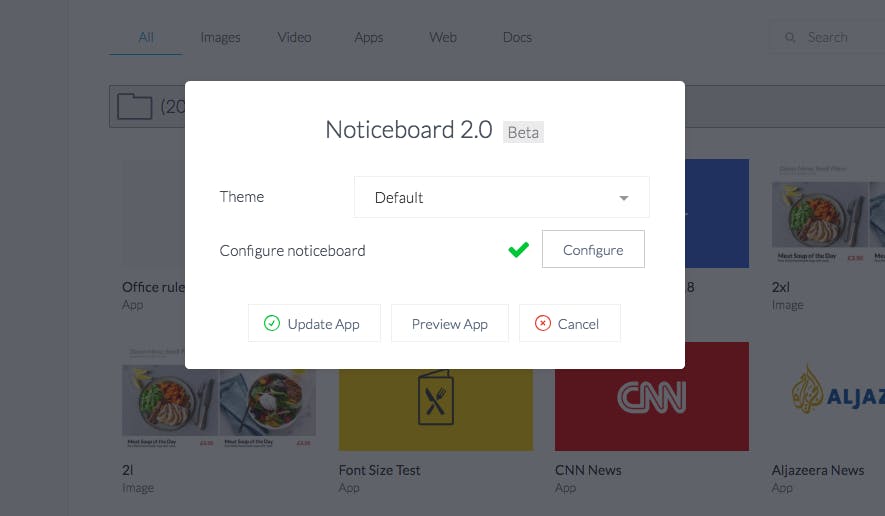 3.2. To preview your noticeboard select "Preview App". This will open a new window where you can see what your noticeboard would look like on screen.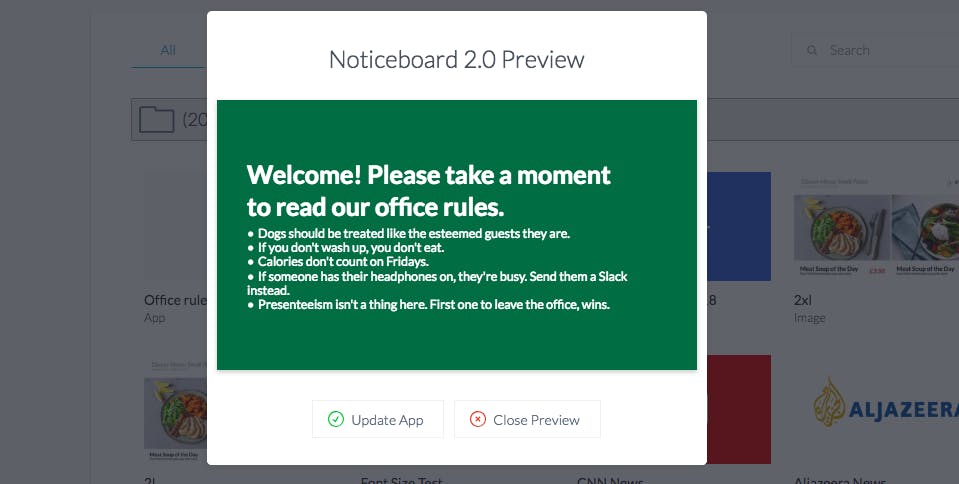 3.3. If you need to make any changes click "Close Preview" then "Configure" to reopen the Noticeboard 2.0 builder tool. Once you have made any further changes, click "Save Changes" and return to open the preview.
4. Add Noticeboard 2.0 app to your playlist
4.1. Once you are happy with your noticeboard click "Add App" and give your noticeboard a name. This will help you to spot it later in your content library, particularly if you are planning to use more than one noticeboard within your playlist.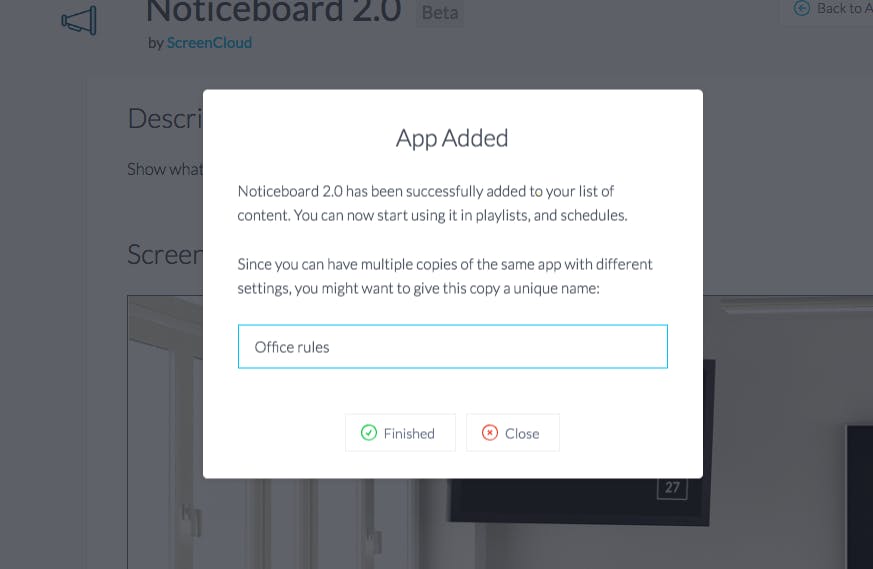 4.2. Select "Finished" and your noticeboard will now be listed within your Content Library.
4.3. Next, select the playlist you wish to add this to and drag and drop the noticeboard from the right-hand side to the playlist of your choosing.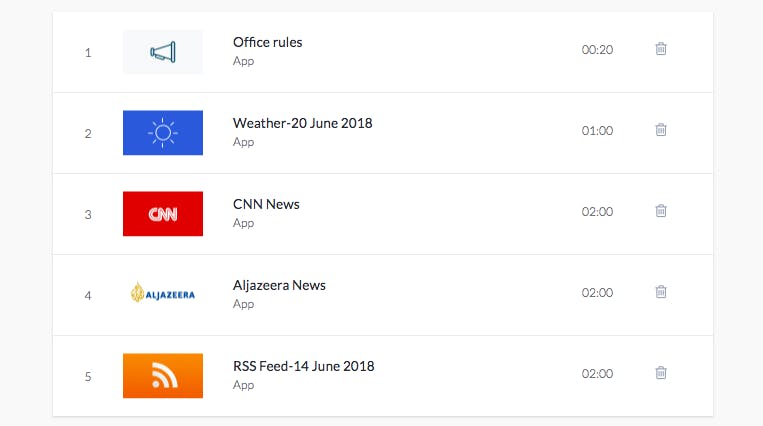 4.4. If you want to edit your noticeboard at any time, you can simply hover over your noticeboard in the content library and choose "Edit This App".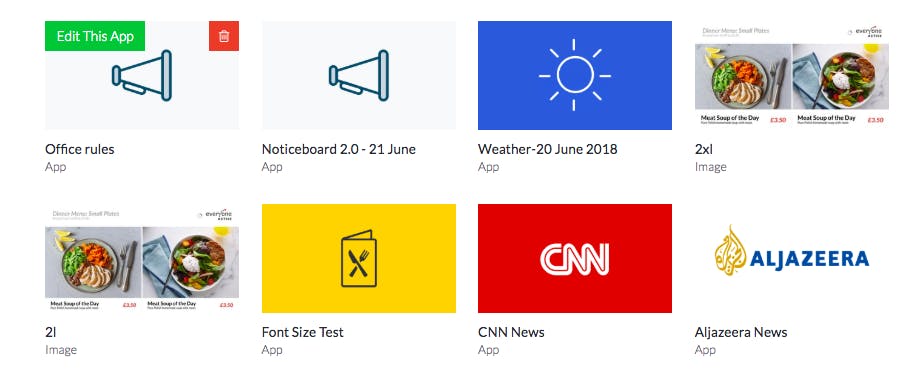 4.5. Here, you can also change the duration that your noticeboard is shown for, currently set as 0:20 for twenty seconds.
Frequently asked questions:
I'm using Noticeboard 2.0 in the ticker-tape area, but it is not scrolling
If your text is not long enough, the app will automatically keep your text static (i.e. still) in the ticker-tape area. For example, if you've configured the app to read "Good Morning" it would appear as displayed below with the weather app used in the main zone area: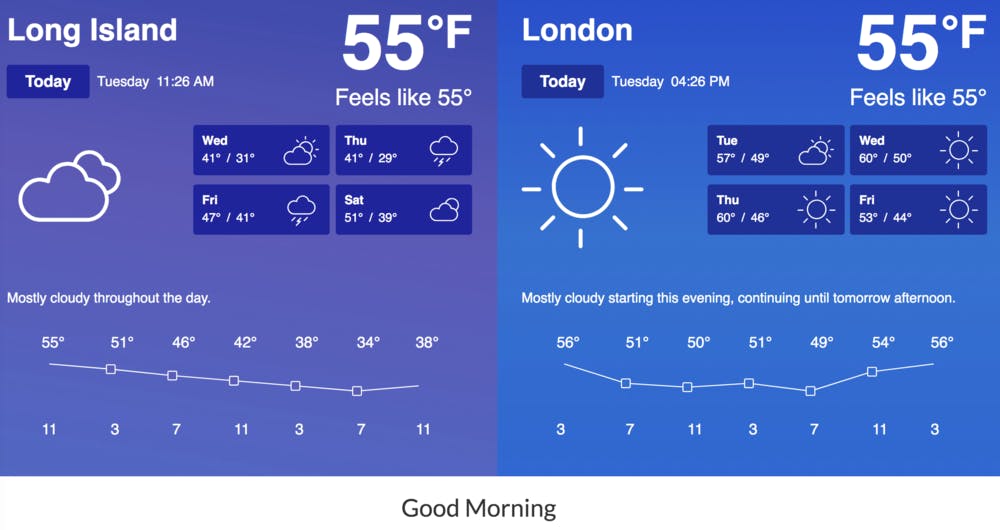 For further questions, please contact support@screen.cloud with details.