The ScreenCloud Google Traffic app makes it easy to share the latest traffic information, as it happens, to your digital screens. This allows everyone from your employees to visitors and customers to see live traffic conditions, including accidents or congestions, in your area.
With the ScreenCloud Google Traffic, app you can:
Search any location to show live traffic information
Choose a bird's-eye or zoomed-in view of traffic
Choose from a light or dark theme
Please note: From Monday July 16th, Google is changing how it charges businesses using its mapping software. Unfortunately, this will mean that ScreenCloud customers will need to obtain their own Google Map API key and add that information to the Google Traffic app, to avoid seeing errors on the screens. See the step by step guide here. Once you have obtained your API key, you can set up the Google Traffic app following the guide below.
Here's how it works:
1. Select and install ScreenCloud's Google Traffic app
1.1. Get started by clicking here and selecting "Get App". This will prompt you to either log into your existing ScreenCloud account, or sign up for our 14-day free trial in order to use the Google Traffic app and other available apps within our App Store.
1.2. Once you've logged in, you can select "Add this app" from the top right-hand corner.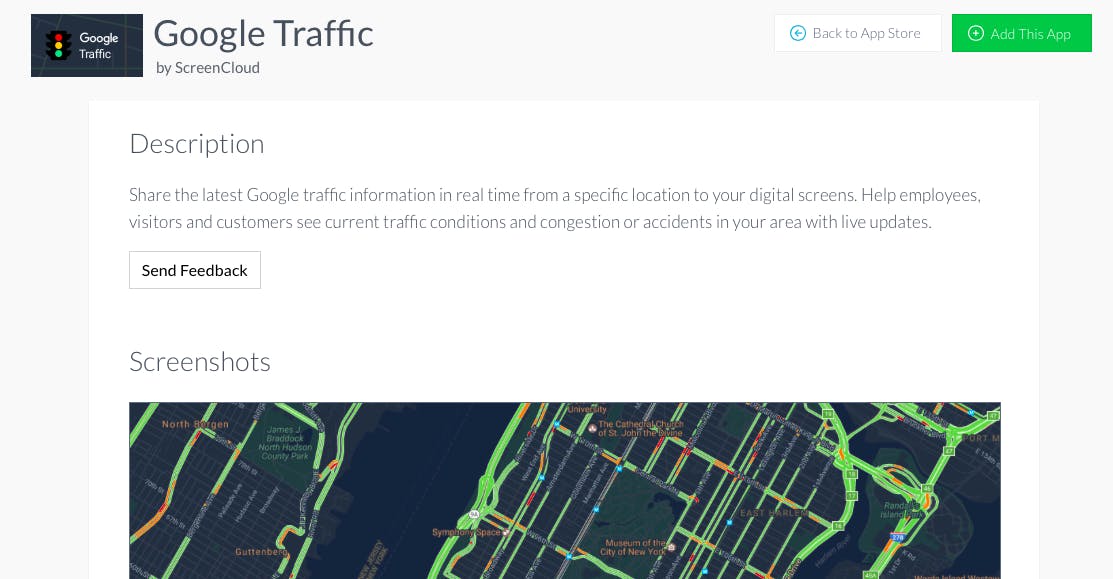 2. Choose which location to show
2.1. Next, you will need to determine which location you wish to show traffic information for.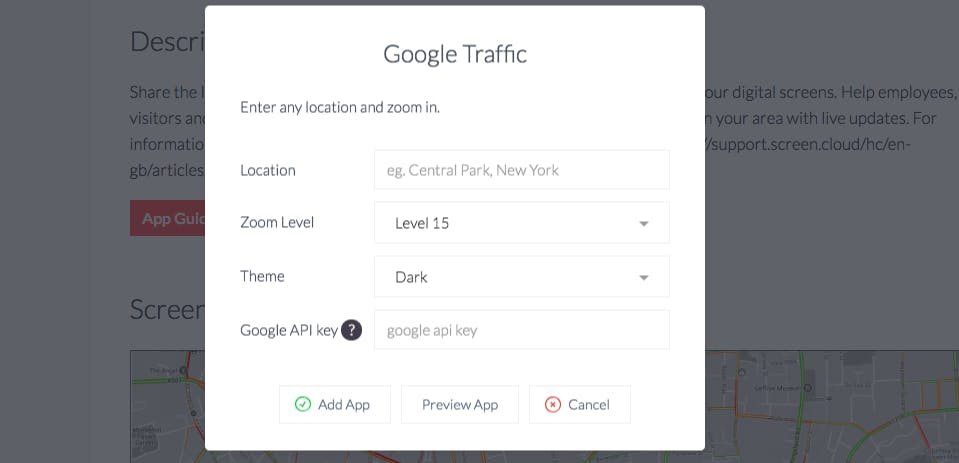 2.2. Here you can add a street, county, region, state, or country. If you are unsure whether your area can be found, type it in at maps.google.com first and review the result.
2.3. You can also choose how far to zoom in to your chosen location by changing the zoom level. The higher the level, the more zoomed-in your view will be.
2.4. You will also need to add your Google API key. View this guide to learn how to access your API key.
3. Choose your theme
Google Traffic app can be used in two key themes:
Dark theme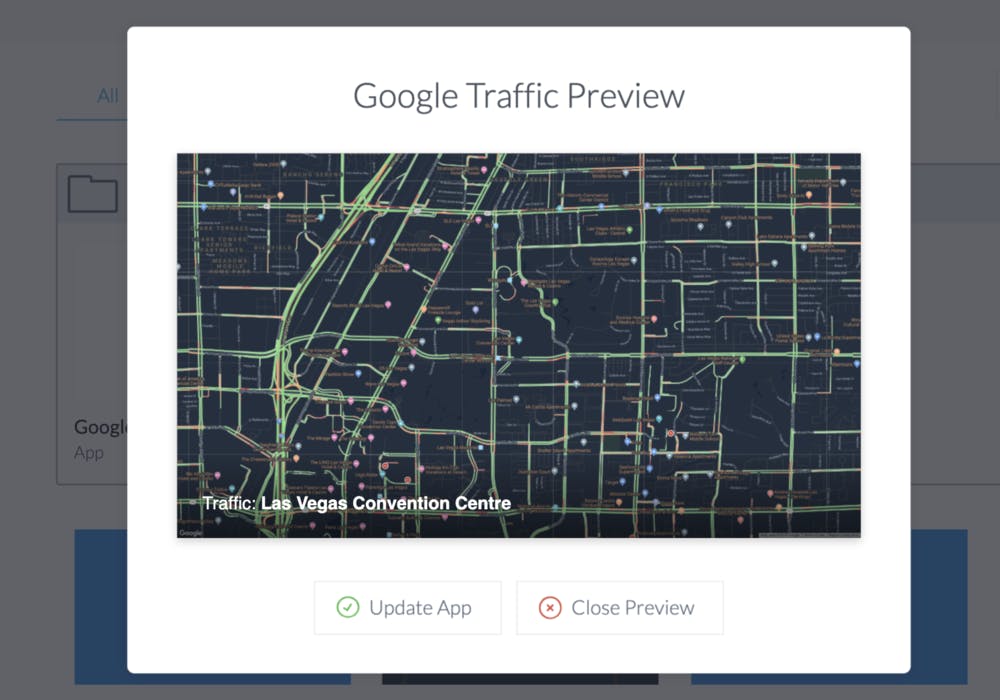 Light theme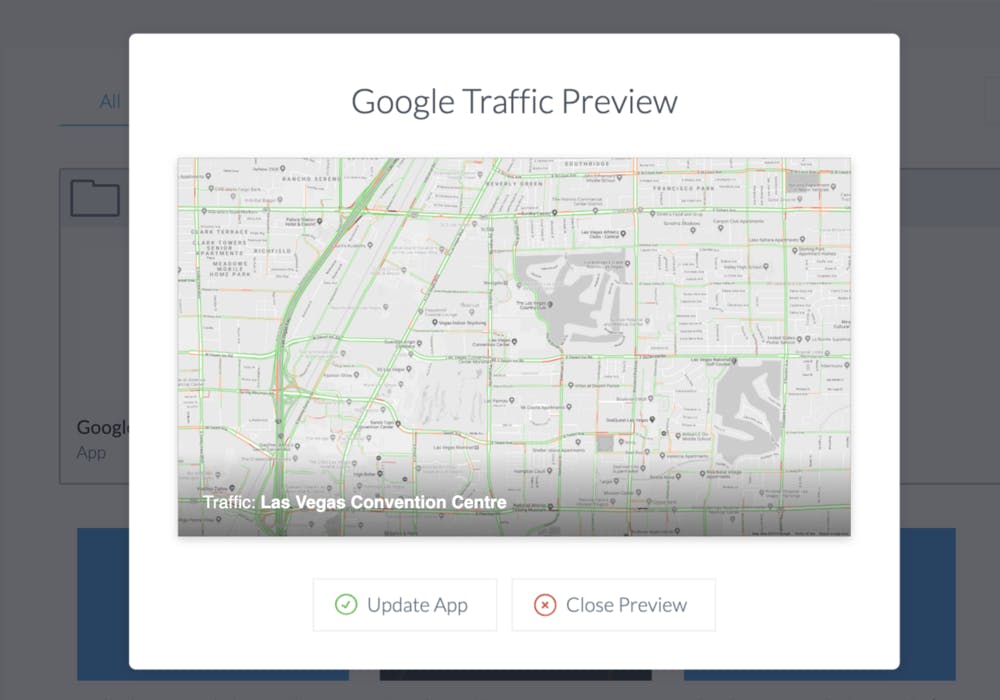 4. Preview your results
To check you are happy with your location, click "Preview App" and a small pop-up will show you what your map selection will look like.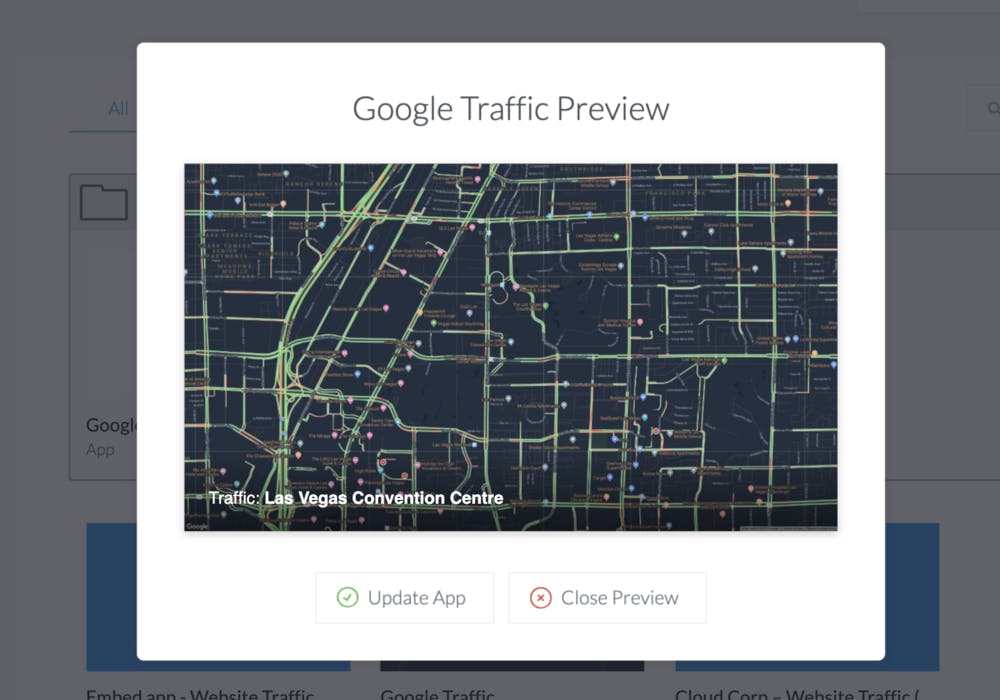 To make any further changes to the location or view level, you can simply click "Close Preview."
If you are happy with your map, click "Add App."
5. Add Google Traffic app to a playlist
Once you have chosen to "Add App," you can give your traffic display a name. This will make it easy to find if you use more than one Google Traffic app in your content library.
Next, go to "Playlists" and drag and drop the app from the selection bar on the right-hand side to the playlist of your choosing.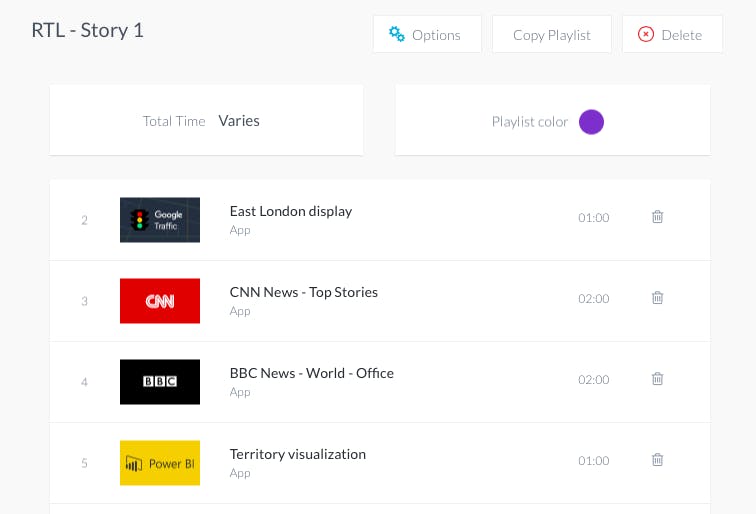 You can change how long you wish to display the map by changing the duration (currently set at 1:00 for one minute).
Frequently asked questions:
Can I use Google Traffic app offline?
Yes, you can use Google Traffic app offline, but you may not see the very latest traffic data.
Can I use Google Traffic app in landscape or portrait?
Yes. Google Traffic app supports both landscape and portrait mode.
How often does Google Traffic app update with the latest traffic conditions?
Traffic information is refreshed frequently and at Google's request. This means that traffic conditions will be shown as close to real-time as you would see in Google Maps itself.
Google Traffic app won't display the right time, how can I fix this?
Currently, this is a known limitation with the internal clock on the Traffic app if it is being used by itself. While our development team is working towards an alternative resolution for this, you can currently keep the clock time updated by using the Traffic app in a playlist with at least one other app. This will force the clock time to auto-update.
For further questions, please contact support@screen.cloud with details.