The ScreenCloud Google Slides app makes it easy to build presentations online that can be published to your digital signage screens. Create a presentation, send it live then add the URL to the ScreenCloud Google Slides app. This allows you to share and review presentations from your TV monitor using easy digital signage software.  
With the ScreenCloud Google Slides app you can:
Publish any Google Slides presentation to your screen
Set the duration per slide in seconds and the total duration to show
Make live updates, which filter through automatically to your screen
Here's how it works:
1. Select and install ScreenCloud's Google Slides app
To begin, follow this link and select 'Install this app' in the bottom right hand corner. This will log you in to your ScreenCloud account, or prompt you to set up our free trial in order to use the Google Slides app and others within our App Store. 
Once logged in select 'Add this app' from the top right hand corner.
2. Create and share your presentation 
Create your presentation in Google Slides. Once you are happy with this, you'll need to change the settings in order to make the slides viewable from your ScreenCloud account.
You can do this by following these steps:
Open the presentation in Google Slides
In the top right click "SHARE"
Click "Get shareable link"
Change the dropdown to "Anyone with the link can view"
Copy this link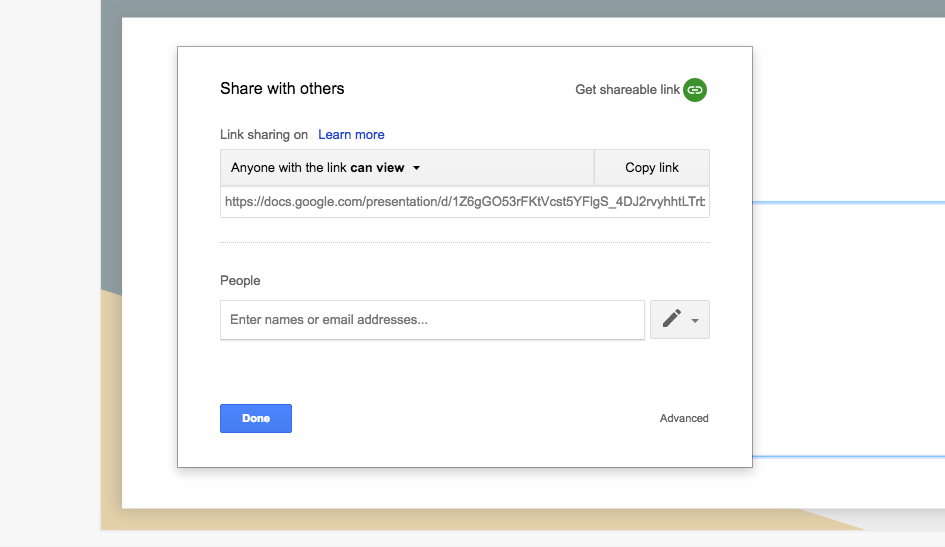 If you prefer you can also select File > Publish to the web and use that URL to add the slides to your ScreenCloud device.
3. Setup your Google Slides app
Now you have your URL, you can add it to the Google Slides app in the field labelled 'Presentation URL'. 
You will also see the option Auto advance every seconds. By entering a number of seconds (e.g. 15, 30 or 60) you can choose how long you want each slide within your presentation to show for. 
4. Preview your results
Once you've added your Google Slides presentation you have the opportunity to preview it before it gets added to a playlist. This helps you to determine the timing and positioning of your slides.
Click 'Preview App' and a small popup will play the presentation you have added.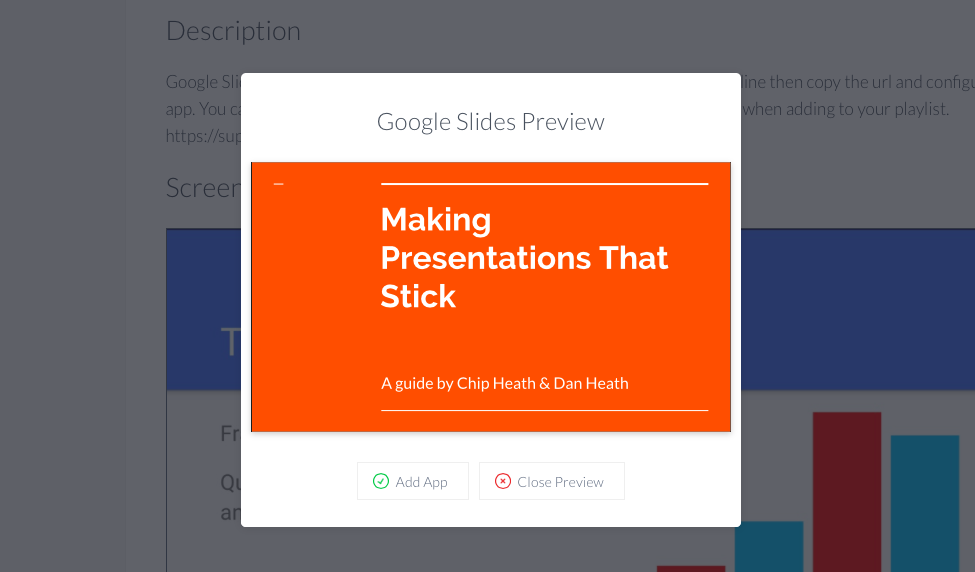 5. Add the Google Slides app to a playlist
Once you're happy with your presentation, you can add it to one of your digital signage playlists.
Select 'Add App' and choose a name for your presentation, for example 'Google Slides - Company Intro'. This will help you to spot it later if you're adding more than one presentation to your feed.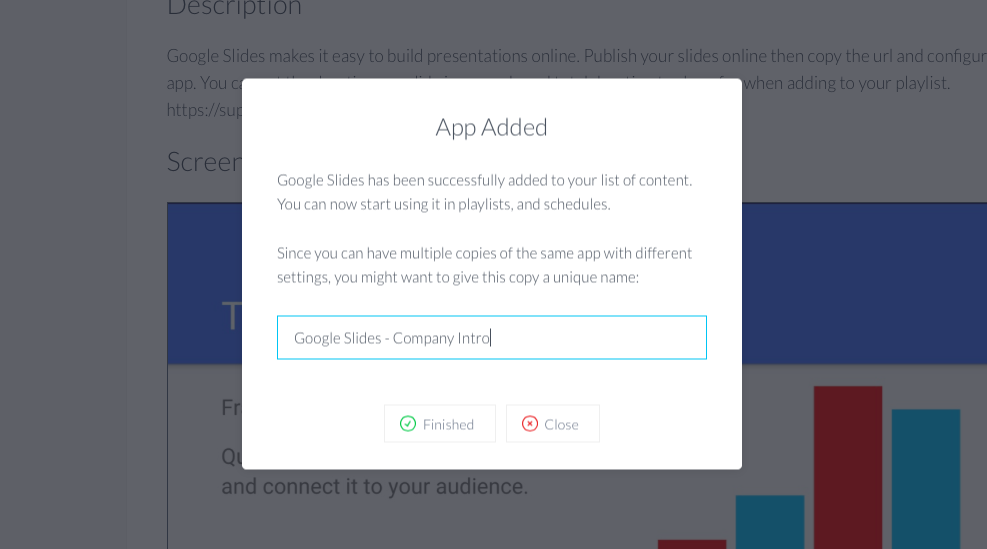 Next, go to 'Playlists' and drag and drop your presentation from the app selection bar on the right-hand side to the playlist of your choosing. 

Frequently asked questions:
My presentation won't show
Please ensure that your presentation is either published to the web or your sharing settings are set as "Anyone with the link can view". Also ensure you have copied the given sharing link to your ScreenCloud Google Slides App (rather than just the link shown in the browser).
Can I use a Google Slides presentation as part of a zoned digital signage display?
Yes, when setting up a zoned display you will see the option to 'Add App'. Any presentations you have created will be found in this list. 
How long will the presentation play for?
Each presentation will play until all of the slides have been shown. The duration of each slide can be selected and edited during setup or by selecting 'edit this app' in the Content Library and changing the amount of seconds listed under 'Auto advance every seconds'. 
Can I skip a slide from the presentation?
This is not currently supported but is something we will look to implement in the future. 
How often does the app refresh? 
The app will check for updates when all of the slides have been played through. However, if there is only one slide in use it will update every five minutes. 
The slides aren't filling up the entire screen (black border above/below slides). Any ideas why?
If you are using a zoned display you will need to change the size of the sides in order for them to render correctly. It is possible to change the size of the slides if you go to File > Page setup and click 'Custom'. Then you need to enter the correct values for the specific zone of the display. You can view the correct dimensions by zoning in on the diagram below ( e.g. 1382 x 961 pixels for the main zone in a three-part zoned display).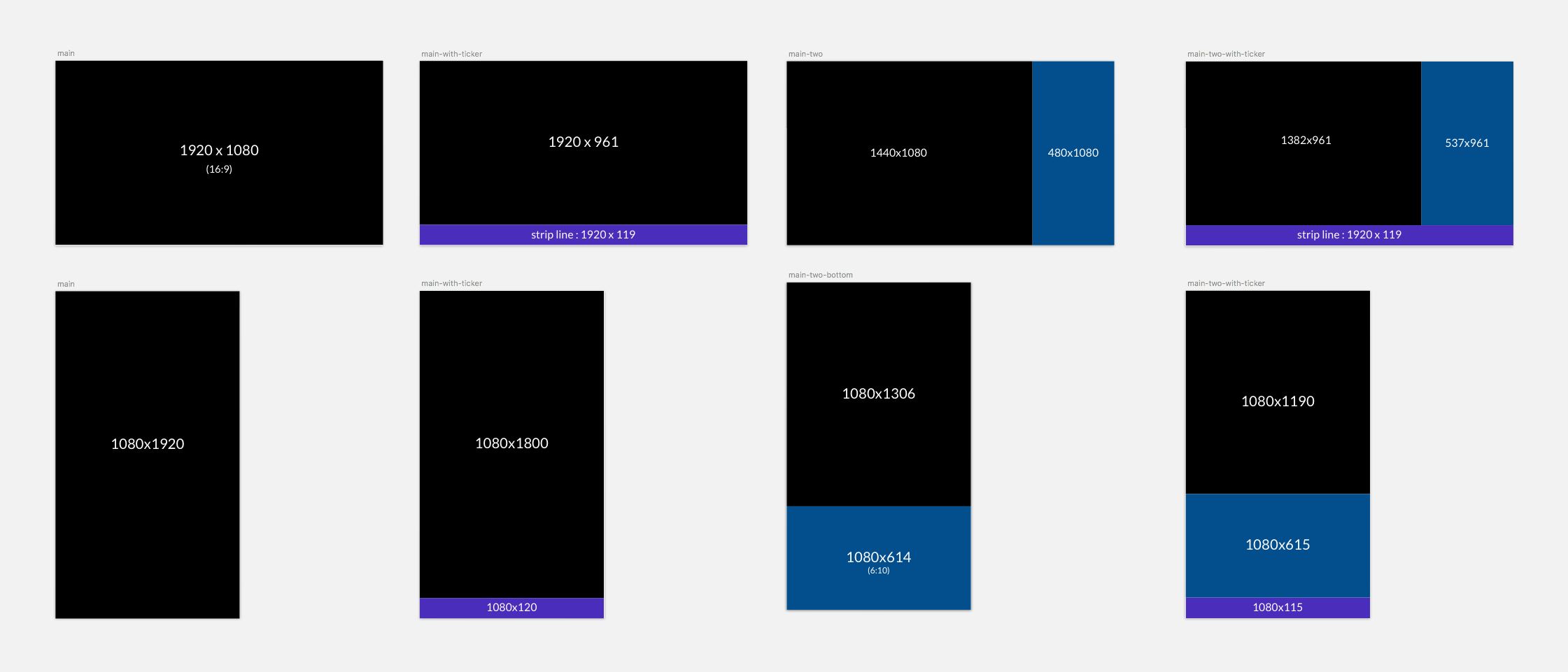 For further questions please contact support@screen.cloud with details.