The ScreenCloud GeckoBoard app makes it easy to take business dashboards created in Geckoboard and add them to your office screens. Allowing you to share key business metrics and KPIs on the screens where everyone see them, so the important stuff stays front of mind, every day.
With the ScreenCloud Geckoboard app you can:
Create a customized dashboard of your business metrics
Choose a variety of widgets to build your dashboard and integrations
Share your dashboard in portrait or landscape format
Here's how it works:
1. Select and install ScreenCloud's Geckoboard app
To begin, follow this link and select "Install this app" in the bottom right-hand corner. This will log you in to your ScreenCloud account, or prompt you to set up our free trial in order to use the Geckoboard app and others within our App Store.
Once logged in, select "Add this app" from the top right-hand corner.
2. Create your Geckoboard dashboard
Next, you will need to visit https://www.geckoboard.com in order to create your business dashboard. There's even a free trial to help you get started if you don't already have an account. Within Geckoboard you can easily create a dashboard that monitors all of your key company KPIs.
For example, you can easily connect to Google Analytics to create a dashboard of information on how visitors are using your website. Simply click "Add Widget" or click on any of the widgets within your dashboard to add a new data source.

Pick your data from a huge variety of integrations such as Buffer, Google Adwords, Salesforce, Intercom, Klout and more.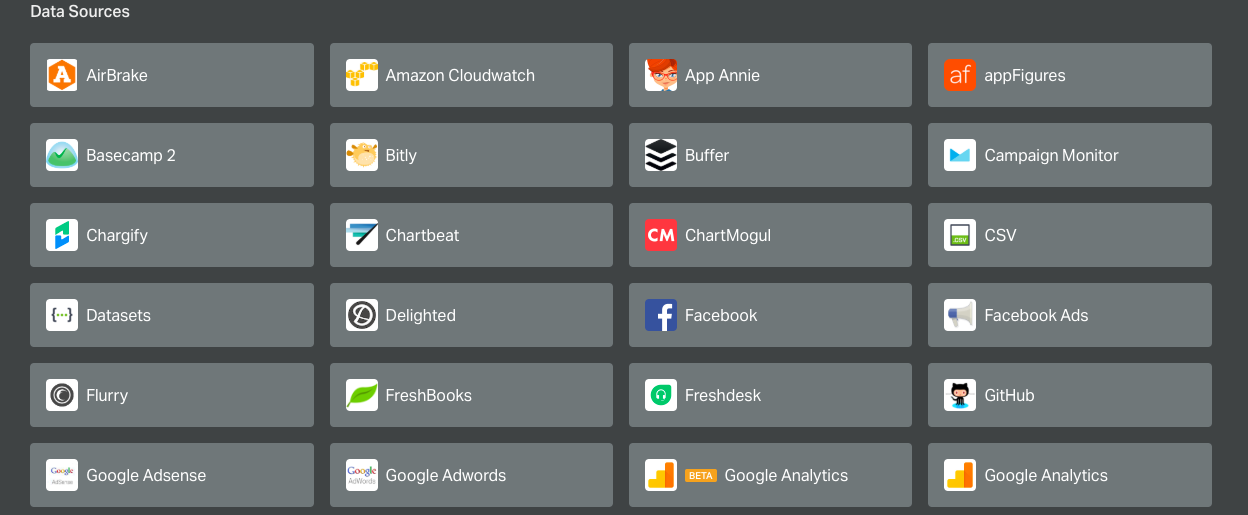 When you are happy with your dashboard, click "Share" and "Create share link".
Copy the link that is shown and add it to the Geckoboard app in the field where it says "Dashboard link".
3. Preview your results
To check you are happy with how your dashboard will look on screen, click "Preview App".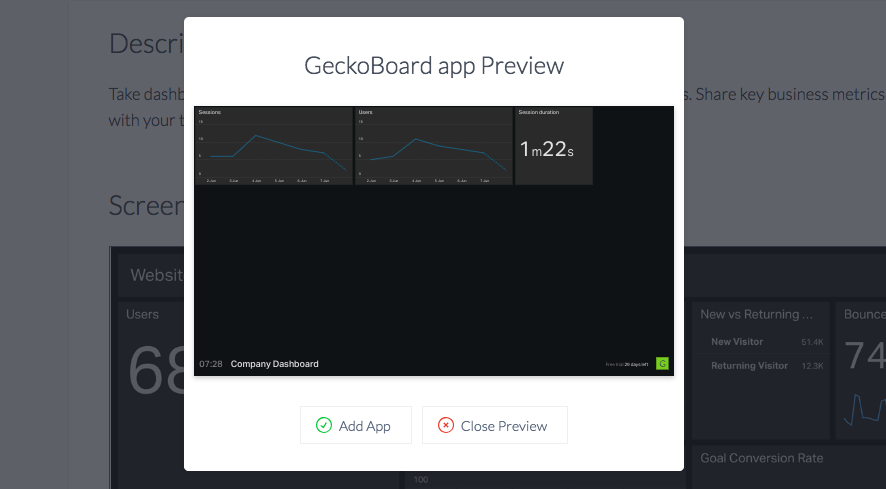 If you're happy with how your dashboard looks you can click "Add App" to give your Geckoboard dashboard a name so that you can easily find it in your Content Library later on.
4. Add Geckoboard app to a playlist
Once you have saved your dashboard, go to "Playlists" and drag and drop the app from the selection bar on the right-hand side, to the playlist of your choosing.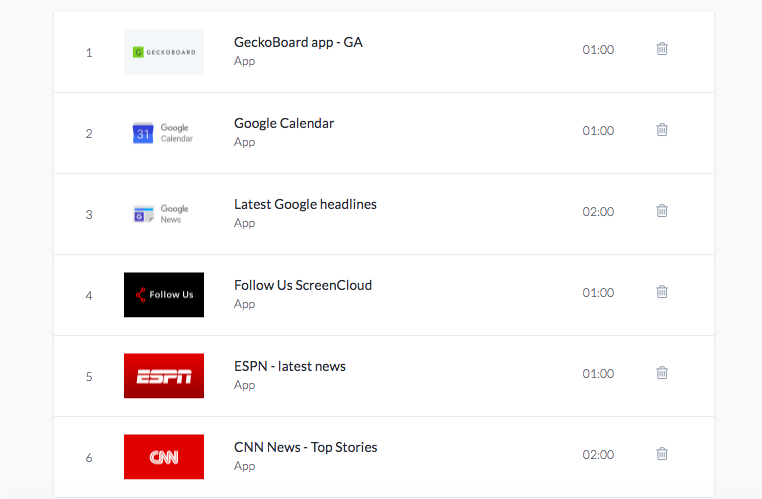 Frequently asked questions:
How often does Geckoboard app look for new information?
Geckoboard app looks for updates regularly from your Geckoboard profile.
Can I use my Geckoboard app in portrait mode?
Yes, Geckoboard app is compatible with both portrait and landscape screens.
For further questions, please contact support@screen.cloud with details.