When you hear the word digital signage, you probably think of massive billboards displaying the same content over and over again. This is definitely a major segment of the digital signage industry, but there are a lot of other use cases as well that require smaller, more interactive displays.

Enter signboards. Starting anywhere from 10 inch display,s up to much larger ones, these multifunctional displays serve multiple purposes, not just displaying advertisements, but also being used for information kiosks, meeting room booking software, interactive touch displays and more. IAdea is a good example of a company creating a wide range of signboards which can suit multiple use cases and deliver information and experiences in a dynamic way. 
In this article, we will take a look at how IAdea signboards can help you reach your digital signage goals and how to set up IAdea signboards with ScreenCloud.
What are IAdea Signboards And What Do They Do?
The key benefit of digital signboards are their all-in-one nature and additional features. Normally, a standard digital signage package would include a display, media player, security locks and more. But with digital signboards this is all included, resulting in a more affordable and complete system.
The performance gap between signboards and traditional signage displays has significantly shrunk as signboards are becoming more capable of completing the same task at a lower price. Although signboards cannot compete with full-sized displays they are a good option for small to medium display needs and also offer their own unique qualities such as interactivity and providing information when you need it, which can help customers gain more interest in your business. 
IAdea is a key hardware provider of digital signboards. Since entering the market in 2000, IAdea has developed a new line of affordable signboards that are carefully engineered for maximum performance. Designed to fit any application, these digital signboards can be used for use cases from retail to corporate offices, and kiosks, to point of purchase. 
So How Do Commercial Signboards Differ from Consumer Tablets? 
But you may be thinking, why not just use a regular Android tablet, or even an iPad? Consumer tablets share many of the same qualities as digital signboards, like their all-in-one nature and affordable price.
While consumer tablets are good for use cases where you need to use your all-in-one display device for more than just digital signage or have some specific needs like a higher resolution display, in general consumer tablets are not designed to withstand grueling conditions or long term use. This is where digital signboards excel, with signboards from IAdea designed for 24/7 operation and with the features that you would want from a digital signage system like a wide range of port and mount options and even LED lights on some evices. IAdea's XDS series also comes in a wide range of sizes, with the standard option coming in 10 inch to 22 inch configurations, but also in very wide configurations for certain retail applications. 
It's worth noting operating system here as well and how that plays a role. Digital signboards run on a range of operating systems from Chrome OS to Android, with IAdea's XDS series running on Android. But not all operating systems are equal. When you compare IAdea's custom version of Android compared to Android on consumer tablets, you'll find that it's much more locked down and ready for uninterrupted use. Kiosk mode, which essentially locks away access to the rest of the device and only allows the user to use one application, is built in on the IAdea signboards, which is very useful if you're using a screen in a public area like a front desk or elevator.
Also in the event that if there is a power failure, the device will auto launch the app again without any need for human interaction. This is a big improvement over many Android tablets where it's very difficult to keep users from exiting the app, going to the home screen or accessing the notification bar, and which also don't always support auto-restart in the case of power failure.
IAdea's Remote Device Management Features
Another key factor to note about IAdea devices is that IAdea provides a very solid remote device management platform, called IAdeaCare. The system allows you to monitor, track, and solve issues with your IAdea devices remotely and it comes included with the duration of your IAdea device warranty, with options for extending your warranty or buying IAdeaCare licenses also available.
Remote device management features aren't anything new to the digital signage industry, but good solutions like IAdeaCare are more rare when it comes to Android devices. This an area where IAdea's custom version of Android does well, with system level integrations that make for a better experience than with other consumer grade Android devices. 
IAdea Signboards For Meeting Room Management
Another area where IAdea excels is when being used for meeting room management. IAdea signboards come with LED side lights, used to display the availability of meeting rooms, which can be integrated with meeting room management systems as they are programmable. For example, we are currently working to integrate our Meeting Room Scheduling Software app with IAdea devices so that the LED side lights can match the availability of your meeting room, and also show digital signage at the same time.
Besides the LED side lights, IAdea signboards also come with built in NFC & RFID features, allowing for the authentication of IDs, which can be useful for other use cases like allowing access only to specific personal ID cards.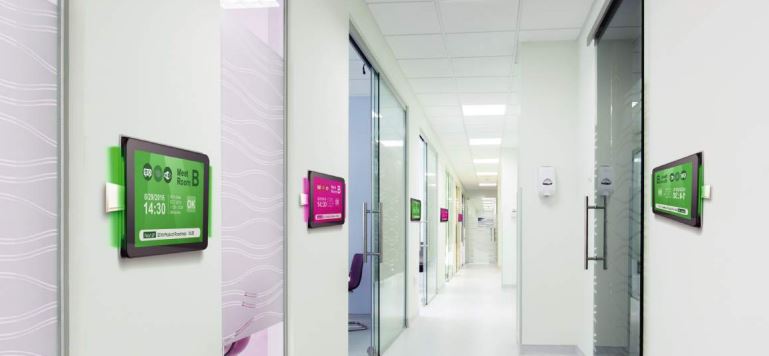 Image credit: IAdea
How Businesses Are Using IAdea Signboards For Digital Signage
Besides some of these areas where IAdea signboards stand out, there are alot of other use cases and industries where they can have an impact. Here are some examples of how businesses are using IAdea signboards for digital signage.
In retail, besides standard digital signage uses, IAdea's wide signboards, which are perfect for shelf-edge advertising, can be a good fit compared to other options. They are also useful for interactive catalogue displays, by-product advertising and kiosks. For corporate communications, besides the meeting room management example we've already talked about, signboards are also great for wayfinding solutions (check out ScreenCloud's Building Directory app), corporate messaging and displaying data dashboards. In the F&B industry, signboards can be used to display menu boards (check out ScreenCloud's Digital Menu Board app), close range advertising and entertainment content.
We could go on, but we think you get the idea. Signboards are very versatile and can be used in a wide variety of use cases, and with IAdea, you're getting options for just about every scenario.
Choosing an IAdea Signboard to suit your needs
Here's a list of IAdea's range of signboards. There are a few additional models available from what is shown below, but this gives a good idea of what the manufacturer provides. To see all their available models, check out their website.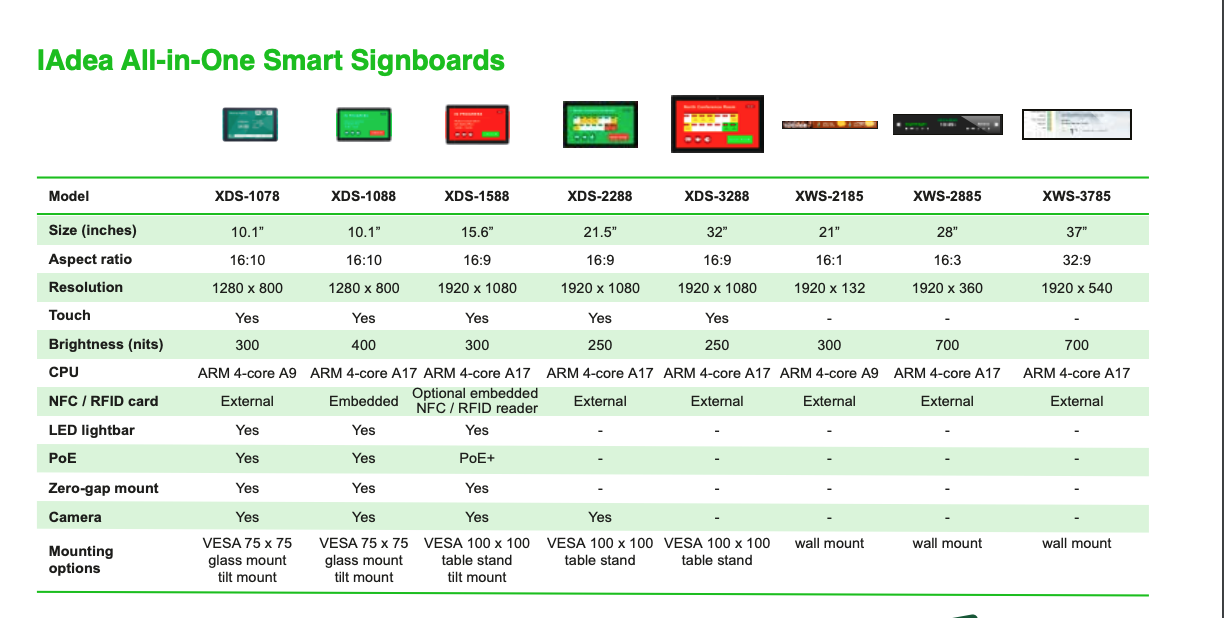 How To Set Up Your IAdea Signboard With ScreenCloud 
Setting up your IAdea signboard involves more steps than on a consumer tablet, but it's still pretty straightforward. Read our full guide here for a more in-depth look at setting up your device and key settings. For the purpose of this article though, we'll show you the main part of the setup process.
Once you've got your IAdea signboard up and running and have set up the basic system settings, it's time to install the ScreenCloud Android player on your device.
There are three different approaches to install the ScreenCloud Android player on your IAdea device. Either you can download the file from our ScreenCloud release page here, or side load the app onto the device using an SD card or USB stick.
Part 1: System Set up 
1.1. Inset the power cord, the device should boot up immediately 
1.2. After the device boots up, you should see the Basic Settings page. Using a mouse or the touch feature, click on Advanced Settings and configure your internet settings either through a wireless LAN or ethernet cable
Part 2: Installation Using the ScreenCloud Release Page
2.1. To install ScreenCloud, enter Desktop Mode to find your local browser.
2.2. To enter Desktop Mode, first click Advanced Settings, then using a mouse or touch capability, tap three times in the bottom right corner of the screen like so. This is the same process across all IAdea devices.
*** It is important to note that you can only enter Desktop Mode from this screen below ***
Image Link - https://drive.google.com/open?id=1G-ONHeAzwGxow0vO1rbJ4rjbICtFLk96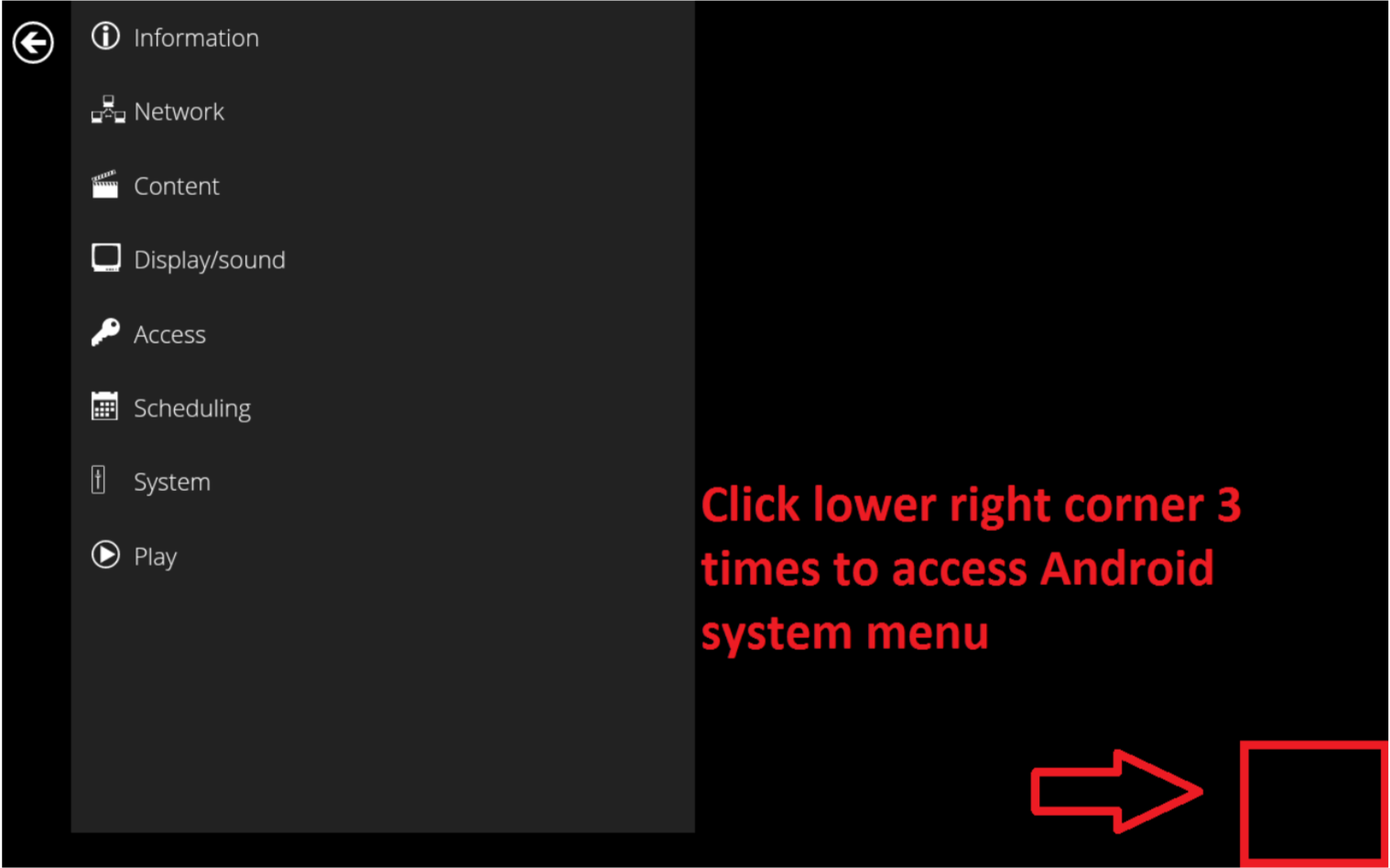 2.3. By tapping the screen three times, it will bring you to Desktop Mode.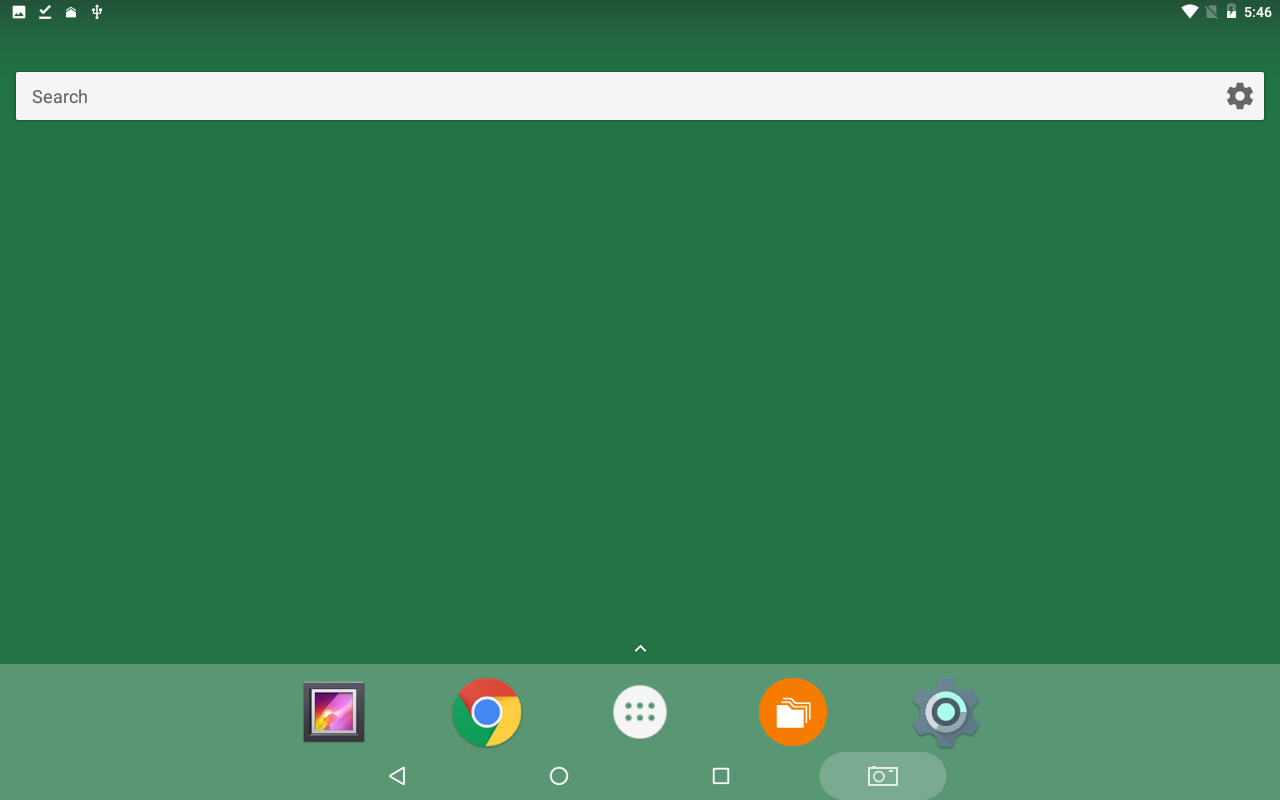 2.4. Click on your Chrome Browser on the status bar, and enter the URL https://release.screen.cloud as seen below.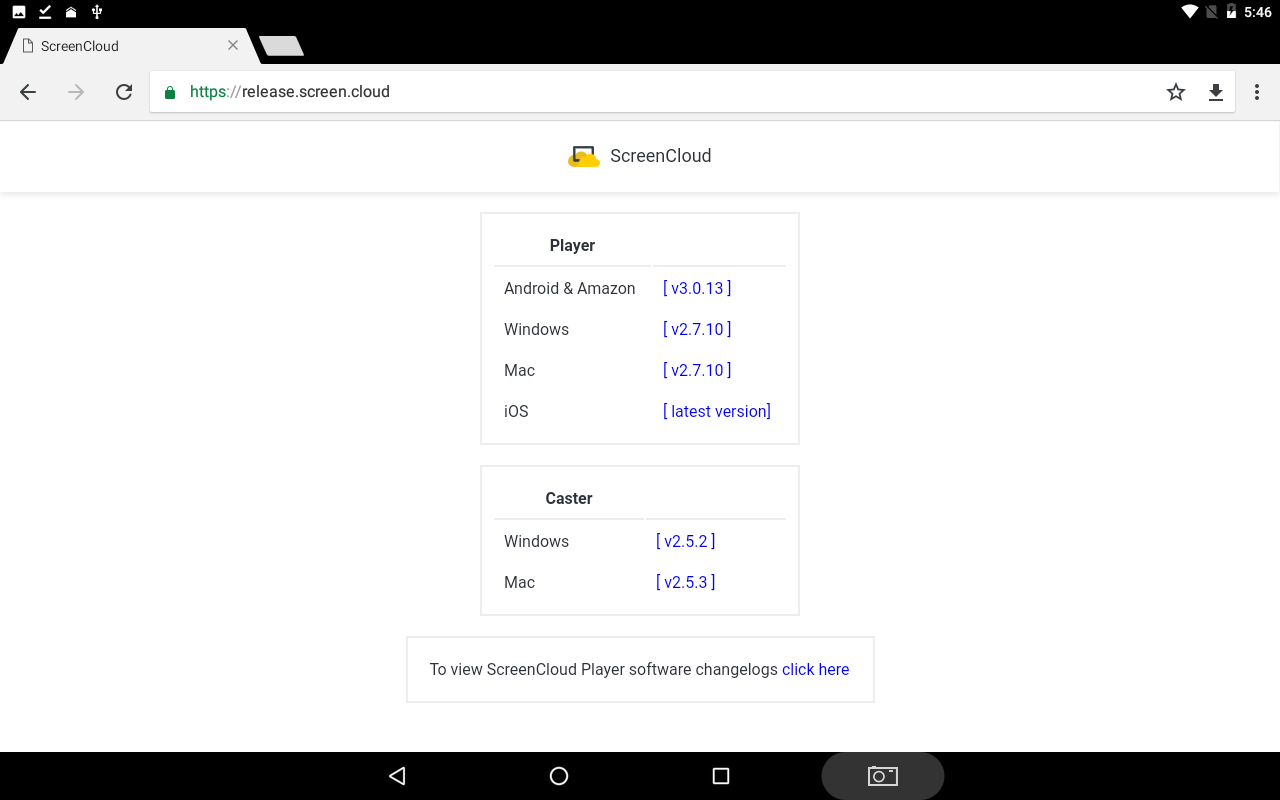 2.5. Select and download the Android version. After enabling the download, locate recent downloads by swiping down the top-left corner of the screen, click on it and follow the steps to install it.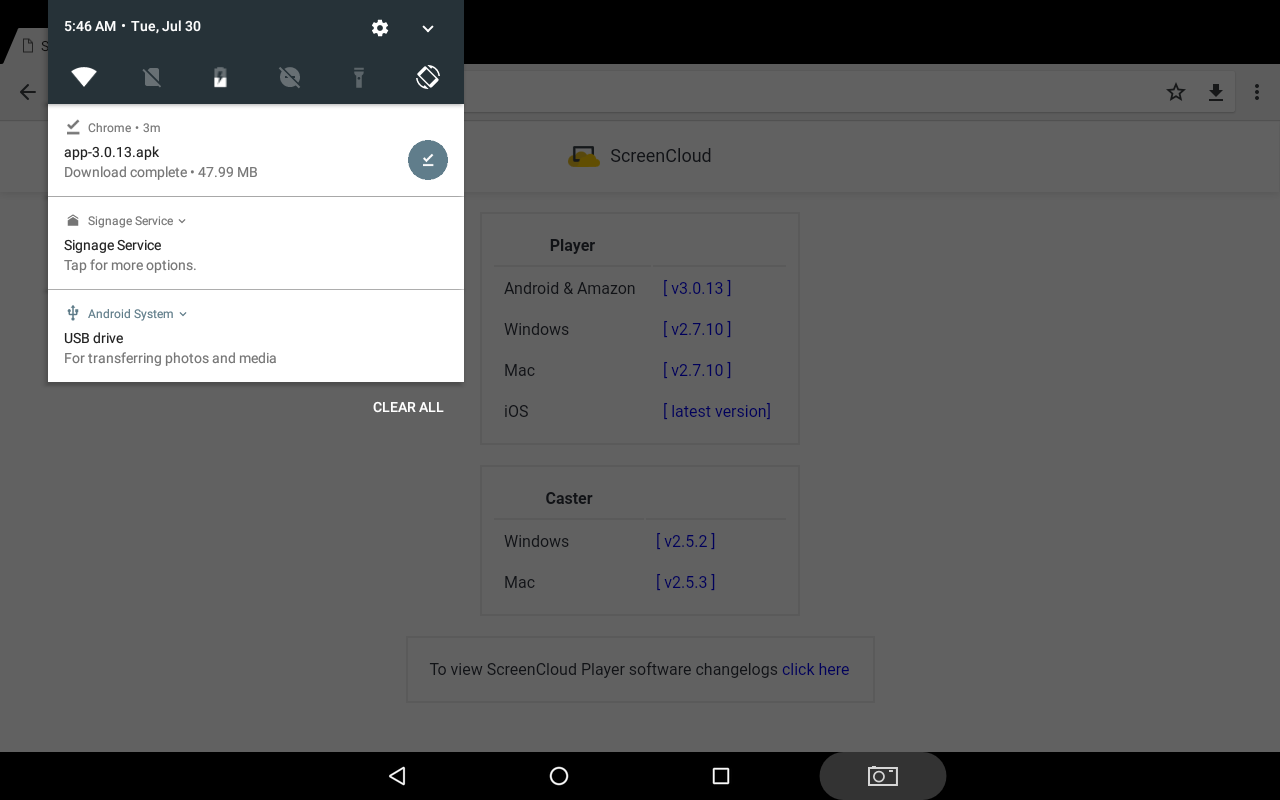 Caution! A new device may disable the ability to download unknown sources. If this is the case Enter Desktop Mode > Settings > Security > Enable Unknown Sources.
Part 3: USB or SD Card Installation 
3.1. To install the ScreenCloud Android player via USB or SD card, on your PC, download the latest version of the app from ScreenCloud Studio's release page here https://release.screen.cloud and copy the APK file to a USB stick or SD card.
3.2. Next insert the USB stick or SD card in the the designated slot in the back of the IAdea device. Note, the USB stick must be fully fitted into the slot for the tablet to recognize it's there.
3.3. Start the installation process by entering desktop mode > find File Manager.
3.4 After entering File Manager, in order to access your USB or SD card, you must switch the access point from internal storage, to SD storage as seen below: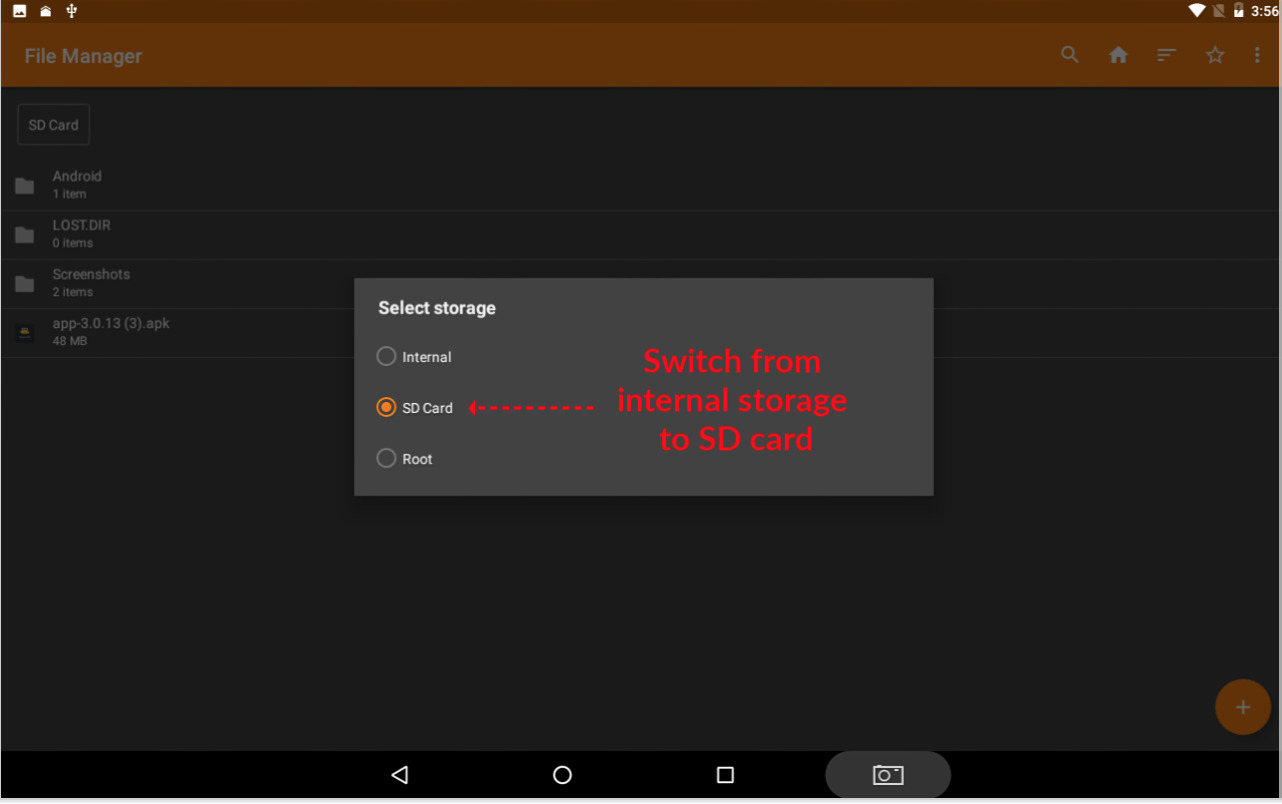 3.5. Install.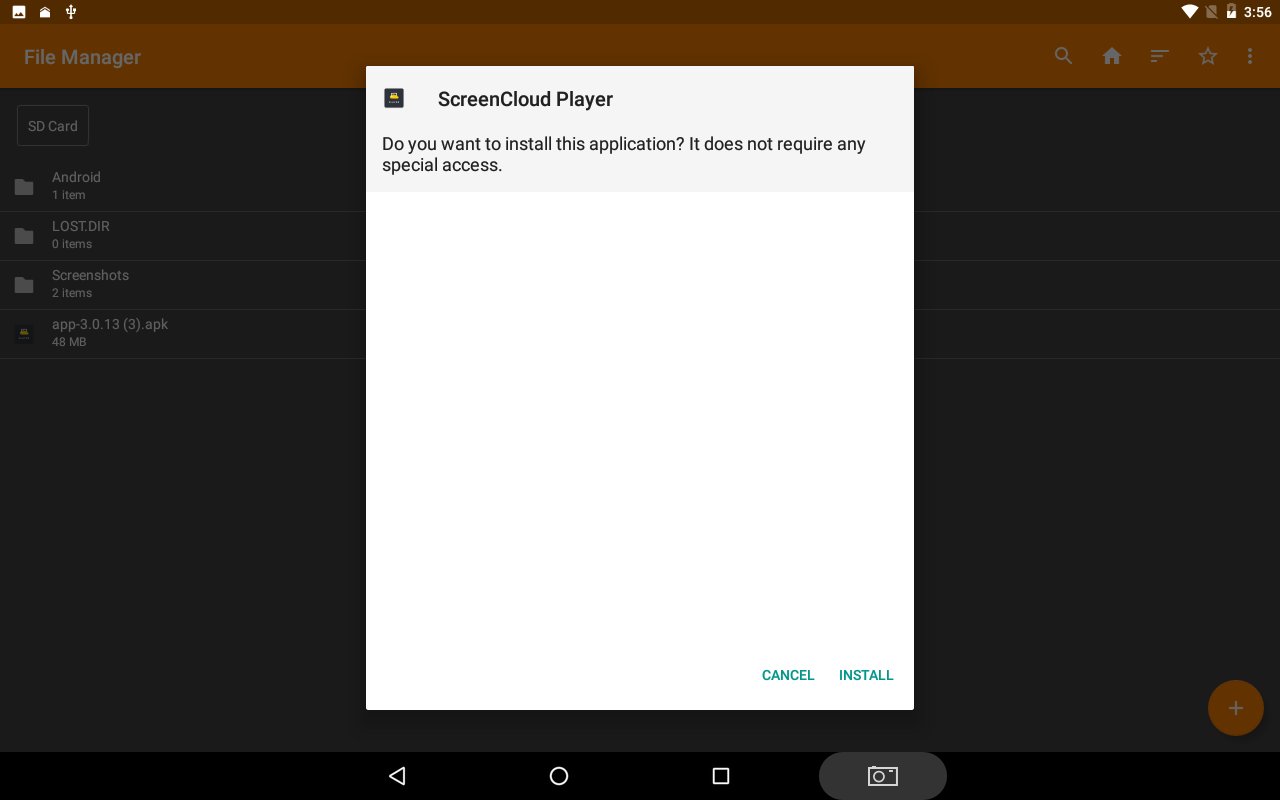 How To Launch ScreenCloud and Pair Your Screen 
1. Pair up ScreenCloud with your IAdea Signboard
As soon as the ScreenCloud player has downloaded, the app will open and you'll see a pairing code like the one below. Once you have this, open https://signage.screen.cloud on your laptop or PC and sign up for a ScreenCloud account.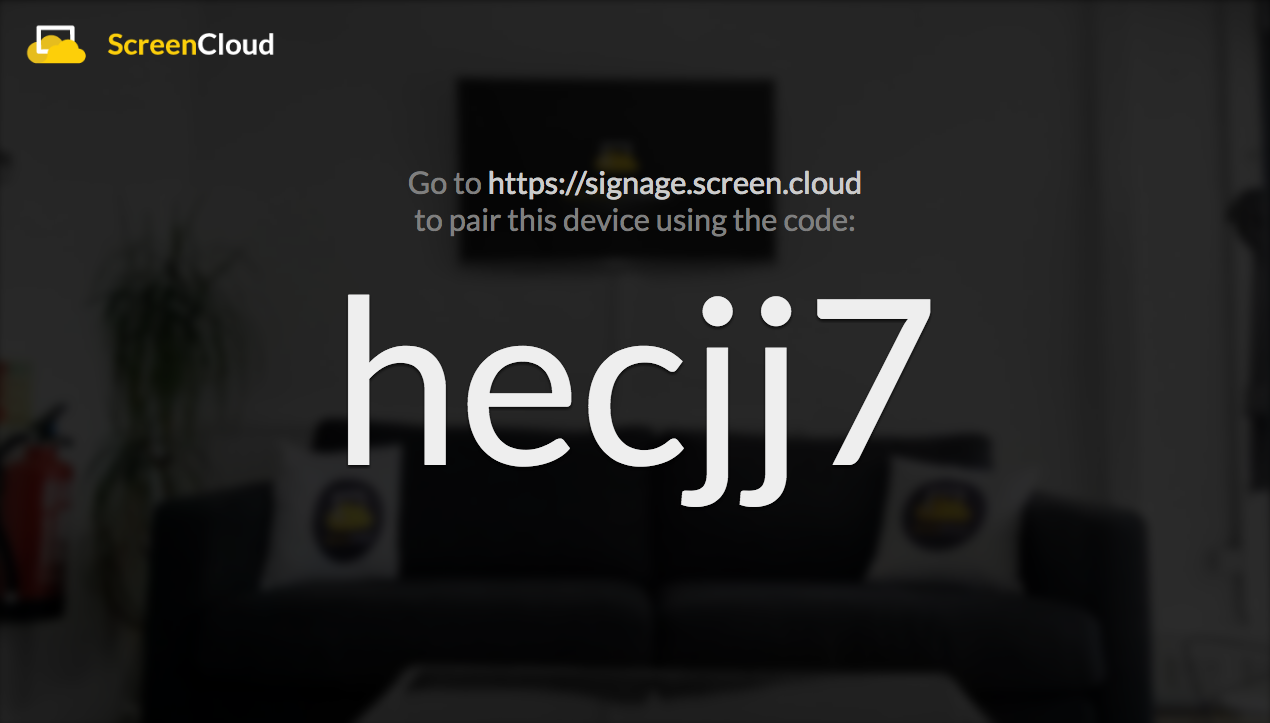 2. Add your screen
Once you've signed up, you can choose 'add screen' from the screen below. Enter your pairing code from the previous step and that's it! You're now running content on your screen powered by your IAdea signboard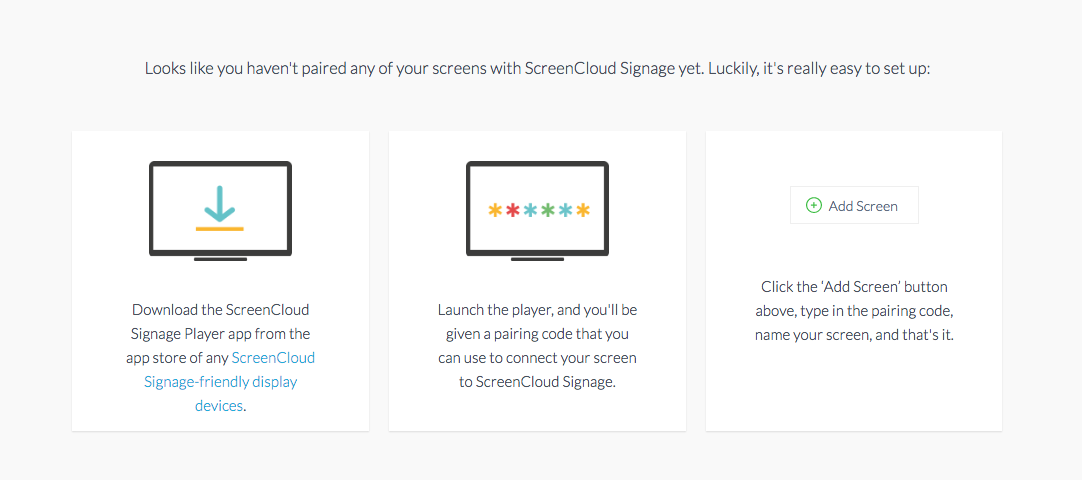 3. Choose your content
Now you're in control of what's showing on screen you can begin adding existing content such as images, videos, presentations and webpages or incorporating apps from the ScreenCloud App Store such as meeting room management, building directories, or even a little news.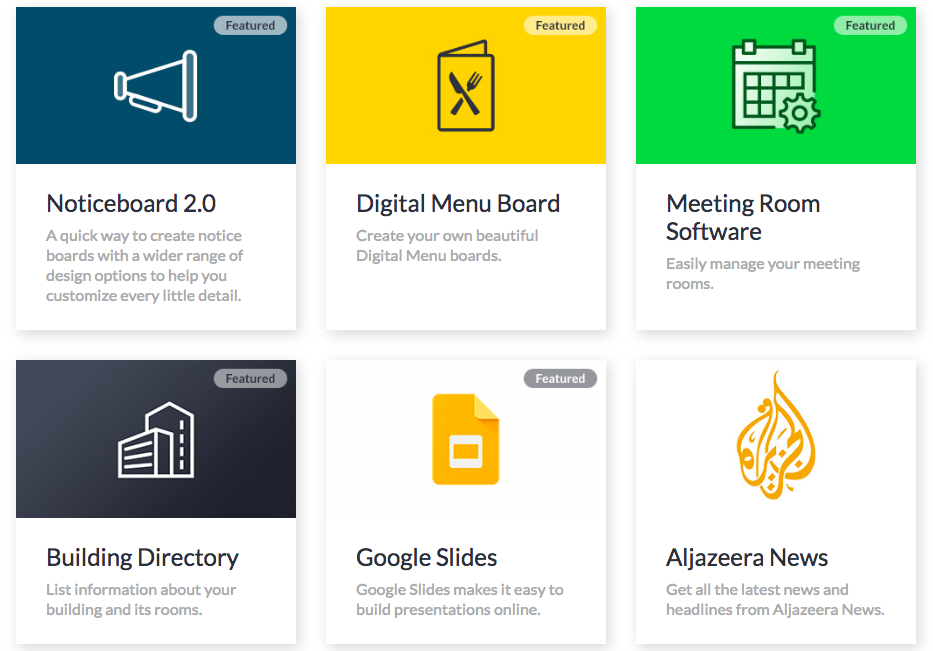 4. Create playlists and schedules
Once you've added your content of choice, you can then organise it all using the playlist and scheduling tools. Drag and drop different forms of content into one easy-to-assemble playlist and then choose when you want it to show.

There are more key settings worth looking at like IAdea's AppStart and Fail Safe settings, so make sure to read the full guide here to ensure your device is running the best it can. 
To get started, sign up for a free trial at ScreenCloud Signage today and begin showing powerful digital signage content using your IAdea signboard.
Header image credit with thanks to the IAdea website.