Looking to show the time on your digital signage screens? The ScreenCloud Digital Clock app is the easiest way to share the time, date and day of week to your audience. Choose a specific theme and have a beautiful display up and running on your screen in seconds. Helping attract more eyes to your screen and give your guests, customers or employees key information. 
With the ScreenCloud Digital Clock app you can:
Choose from three clock styles
Select how you want to display your clock, in 12 or 24-hour format, light or dark
Choose any time zone in the world 
Here's how it works:
1. Select and install ScreenCloud's Digital Clock app
1.1 - To begin, follow this link and select "Get App" in the left-hand corner. This will log you in to your ScreenCloud account, or prompt you to set up our free trial in order to use the Digital Clock app and others within our App Store.
1.2 - Once logged in select 'Add this app' from the top right hand corner.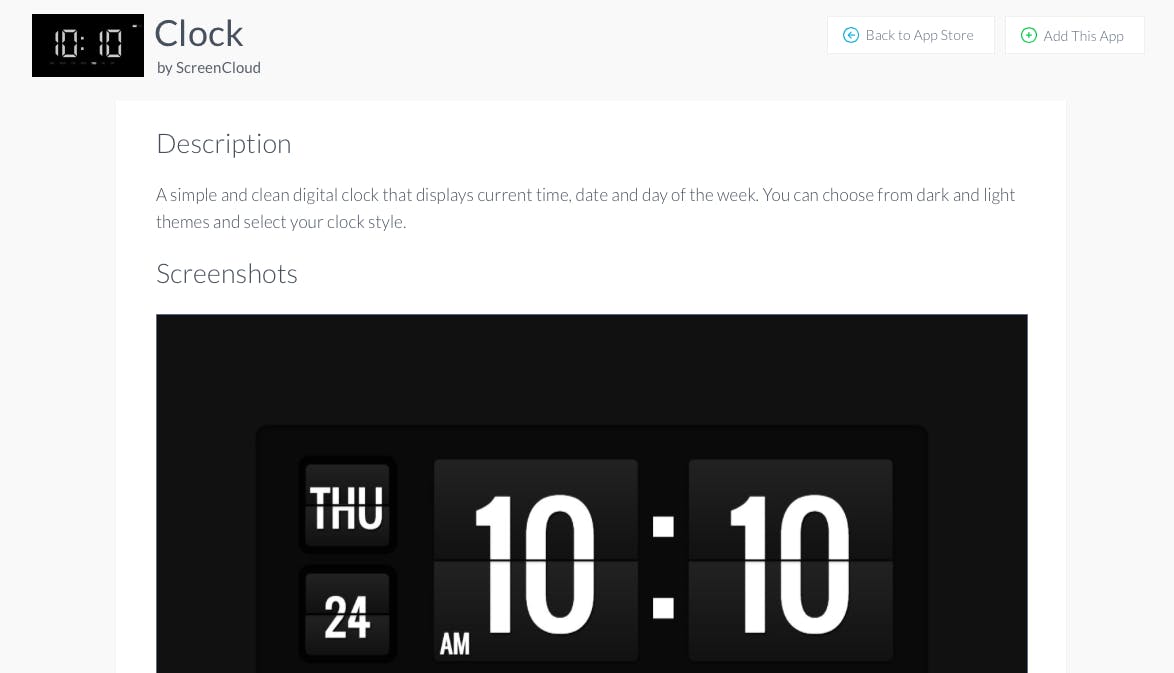 2. Choose your Digital Clock settings 
Once you have selected 'add app' you'll see a dropdown that offers you a series of options. These will determine how your clock looks when shown on your digital screen.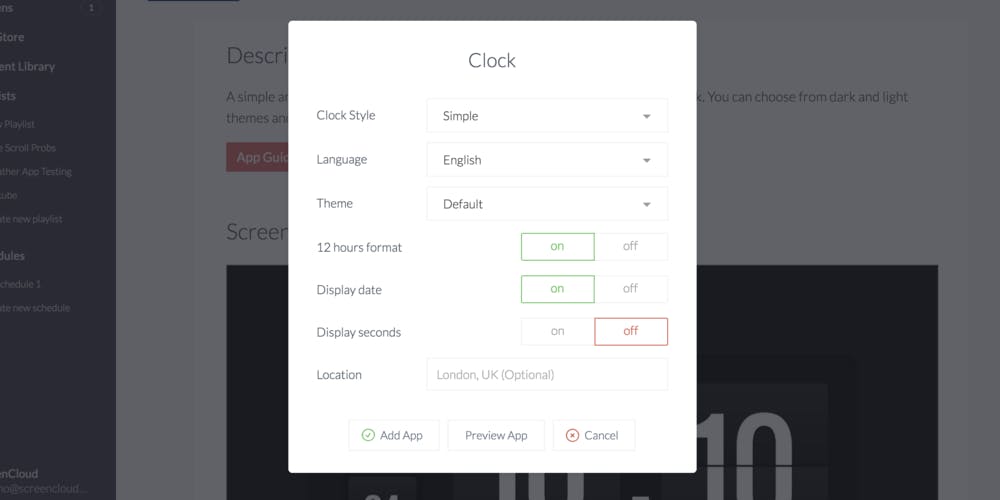 Clock style - choose from digital, flip or simple. Here's what those settings would look like:
Clock style: Digital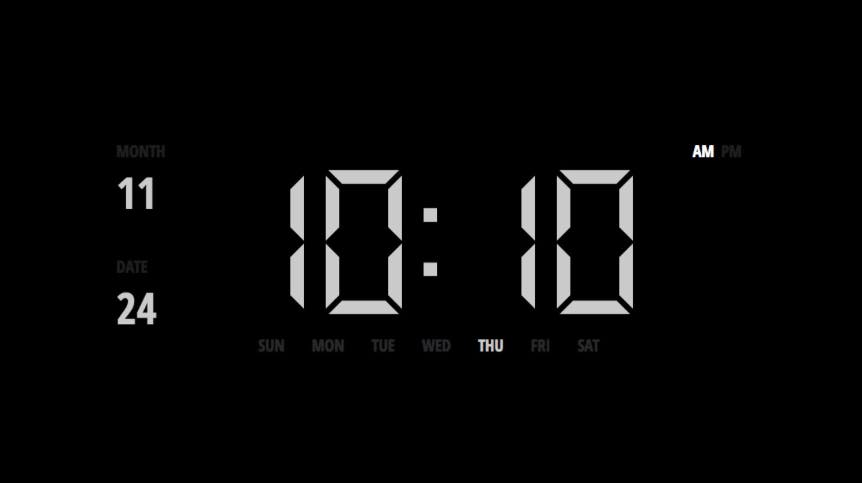 Clock style: Flip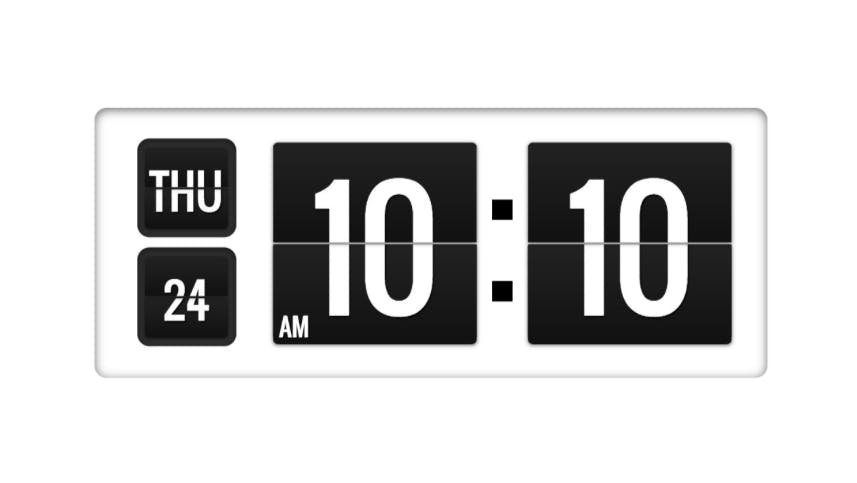 Clock style: Simple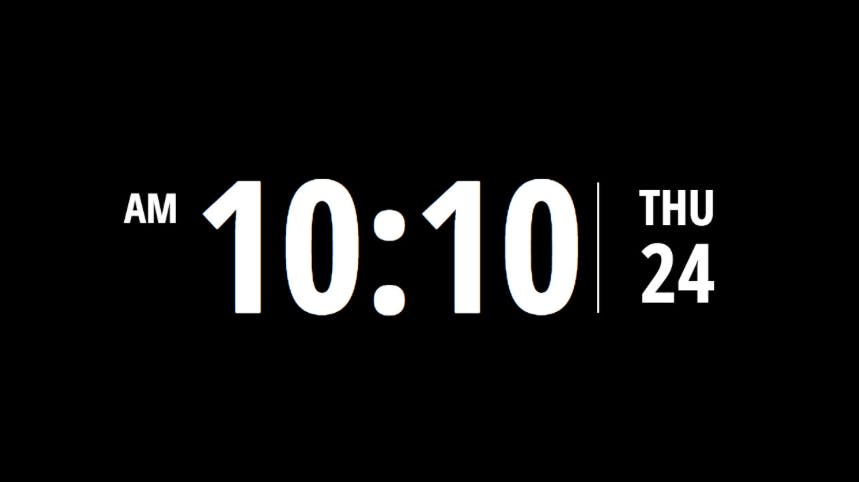 Language - here you can choose which language you would like the app to show. Currently we support English, Spanish, German, French and Dutch.
Theme - choose from light, dark, or a custom made theme. To create a custom theme, check out our guide on how to use the App Theme Editor. Once you've set up a custom theme you will see this in the theme dropdown box within the Digital Clock app theme settings.
12-hour format - choose between a 12-hour and 24-hour clock.
Display date (Digital & Flip only will show the month) - on or off.
Display seconds - on or off. 
Location - if you don't fill in a location the app will automatically select your predicted timezone. 
3. Preview your results
Once you've set your digital clock settings you can preview them to ensure the design looks correct. 
Click 'Preview App' and a small pop-up will play the Digital Clock format you have selected.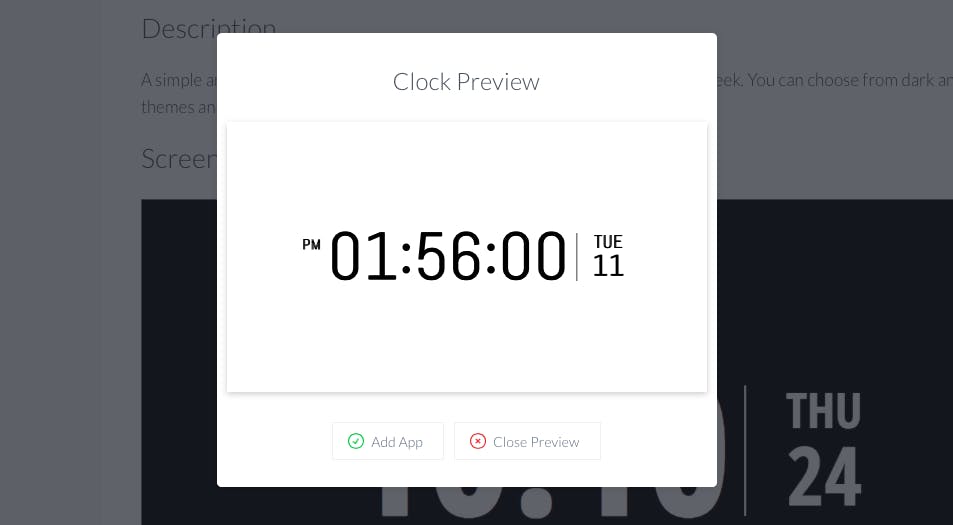 4. Add the Digital Clock app to a playlist
Once you're happy with your digital clock, you can add it to one of your digital signage playlists.
4.1 - Select 'Add App' and choose a name for the clock, for example 'London office'. This will help you to spot it later if you're adding more than one to your playlist.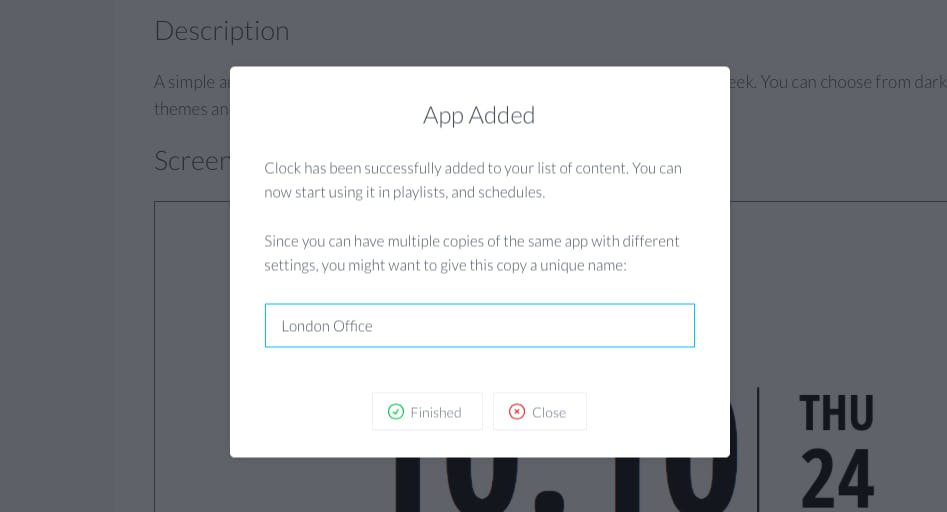 4.2 - Next, go to 'Playlists' and drag and drop your digital clock from the app selection bar on the right-hand side to the playlist of your choosing.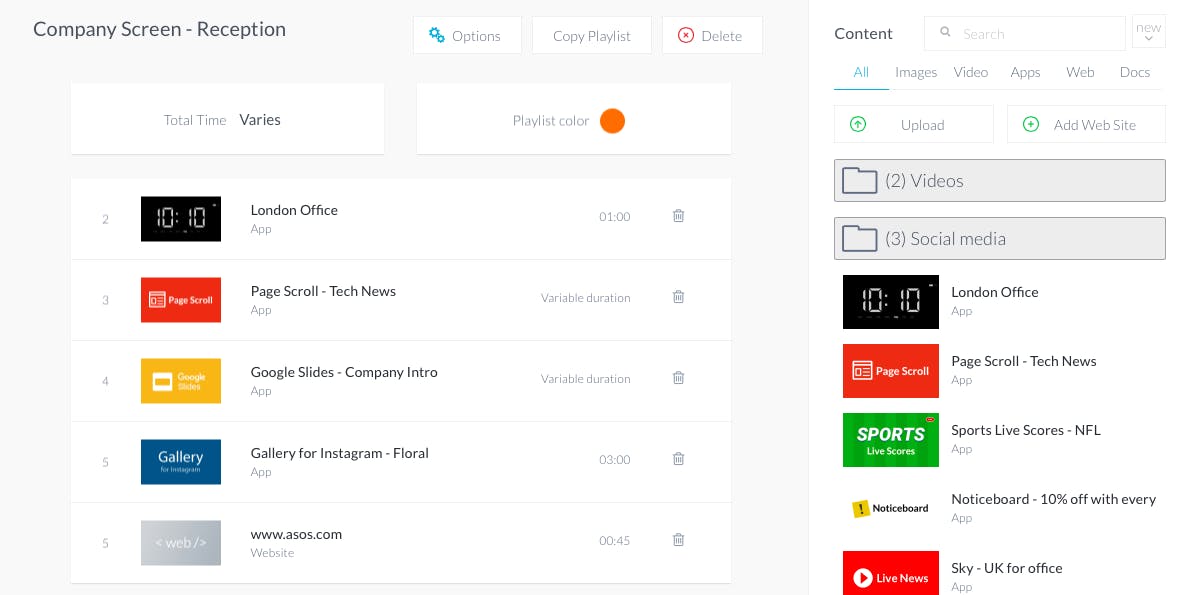 Once added to your playlist you will also see the option to set the duration (shown as 1.00 in the image above). This will determine how long the digital clock shows for on your screen. 
Frequently asked questions:
Will Digital Clock app continue to work if I go offline?
The Digital Clock app will be cached for ten minutes. 
How long will the Digital Clock show for?
This is determined by the duration you have set within the playlist. 
For further questions please contact support@screen.cloud with details.