ScreenCloud's Cyfe App is a powerful business dashboard tool with diverse integrations and metric solutions you can use to display dashboards on your TV screens, helping to keep you and your teams in touch with essential data, any public dashboard from Cyfe can be used directly in ScreenCloud.
With the ScreenCloud Cyfe app you can:
Create complex dashboards with a range of data to display on your digital screens
Choose from an extensive selection of business integrations, widgets, and apps for your dashboard
Copy and paste any public dashboard URL from Cyfe
Here's how it works:
1. Select and install ScreenCloud's Cyfe App
1.1. Get started by clicking here and selecting "Get App". This will prompt you to either log into your existing ScreenCloud account, or sign up for our 14-day free trial in order to use the Cyfe app and other available apps within our App Store.
1.2. Once you've logged in, you can select "Add this app" from the top right-hand corner.

2. Create your dashboard on Cyfe
Next, you'll need to copy and paste a dashboard URL from Cyfe while using the "Add Website" button in your "Content Library". Here's how to create and find your dashboard URL. Please note: Cyfe is separate from ScreenCloud and is a third-party service. This service may require a paid plan to use their dashboard service or share public dashboard URLs, you can learn more about their pricing here.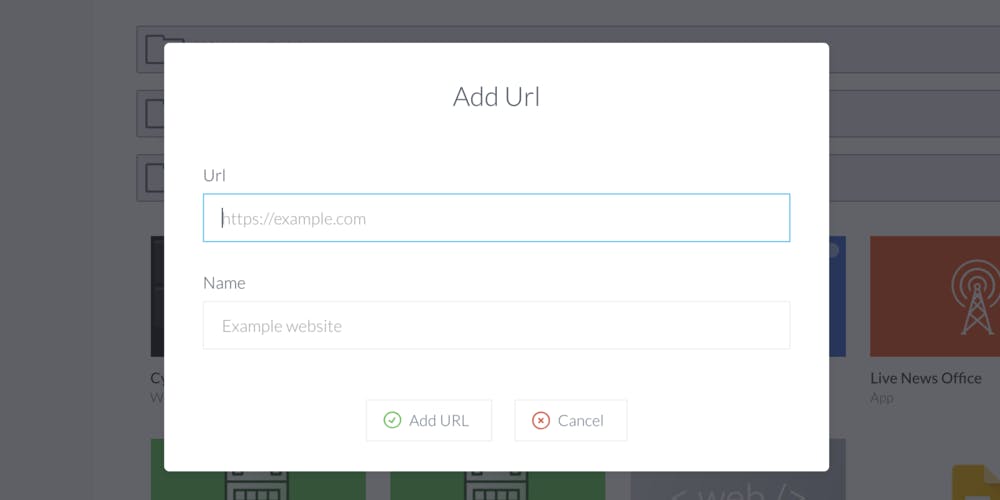 2.1. Log into your Cyfe account.
2.2. Once you're logged in, click on "New Dashboard".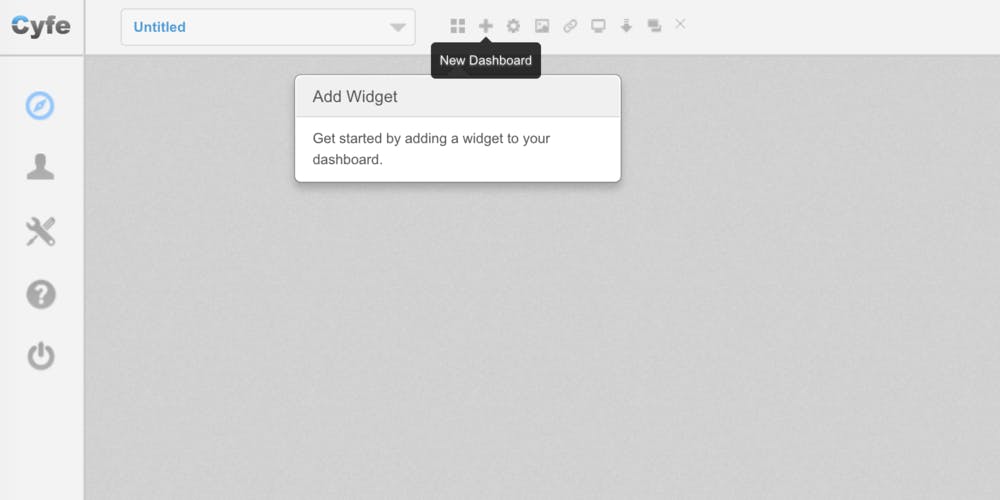 2.3. Name your dashboard and click "Add Dashboard" to get started.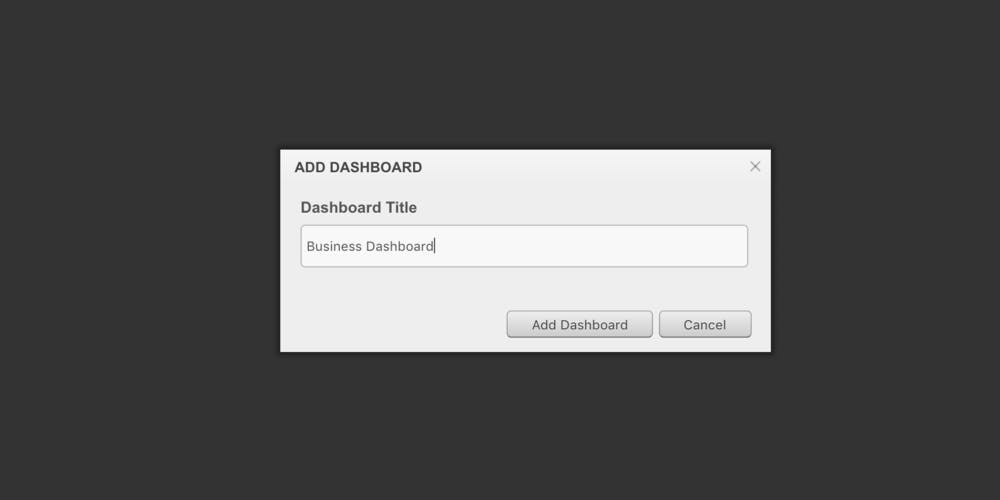 2.4. You can start creating and building your dashboard by clicking on the "+" button in the upper navigation bar. You have an extensive collection of customization tools, apps, widgets, and integration services to choose from.
For full support on creating a dashboard, please click here to visit Cyfe's knowledge base.
2.5. In the lower left-hand corner of your dashboard builder, you can toggle between a "Dark" or "Light" theme for your dashboard.
i) Dark theme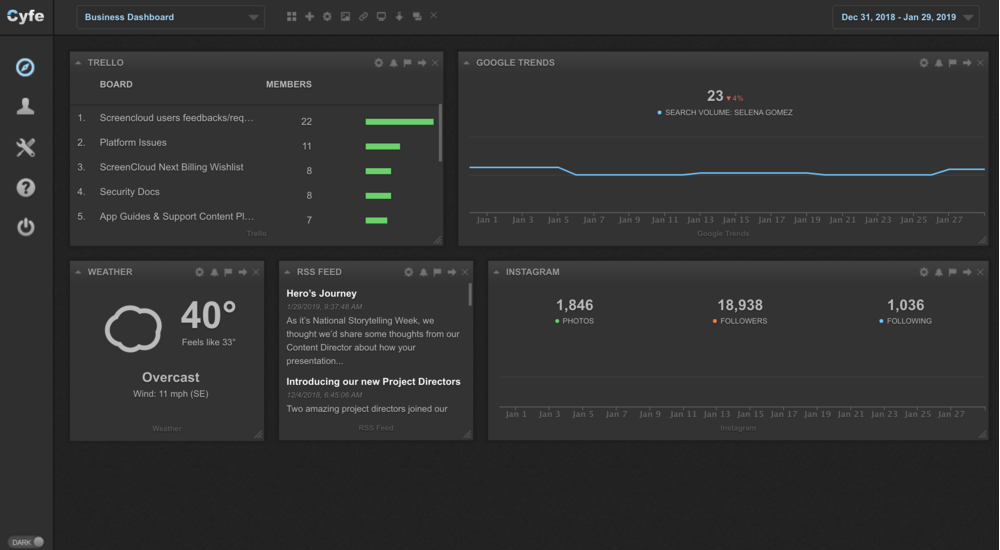 ii) Light theme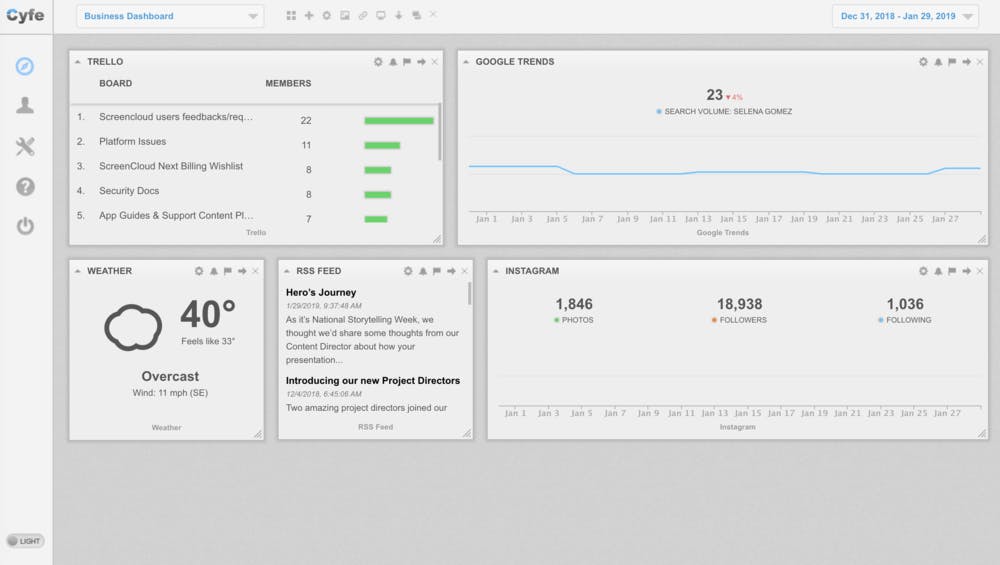 3. Create a public URL for your dashboard
3.1. Once you've finished customizing your dashboard, you need to create a public URL for it. Navigate to the top bar and click on "Public URLs".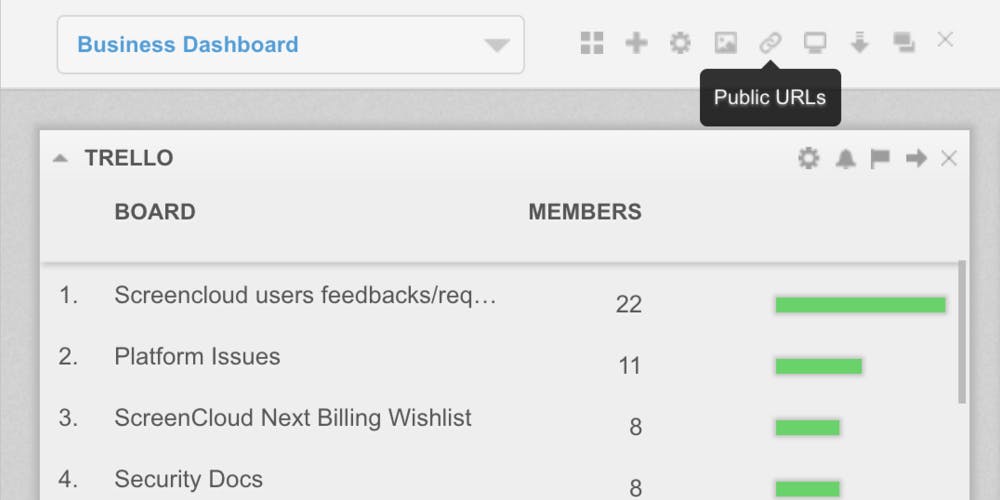 3.2. You're prompted to create a URL. You can type any name in the "Sharing With" section as you see fit, but do not create a password. If you do create a password, it will make the dashboard public and unable to work properly in ScreenCloud.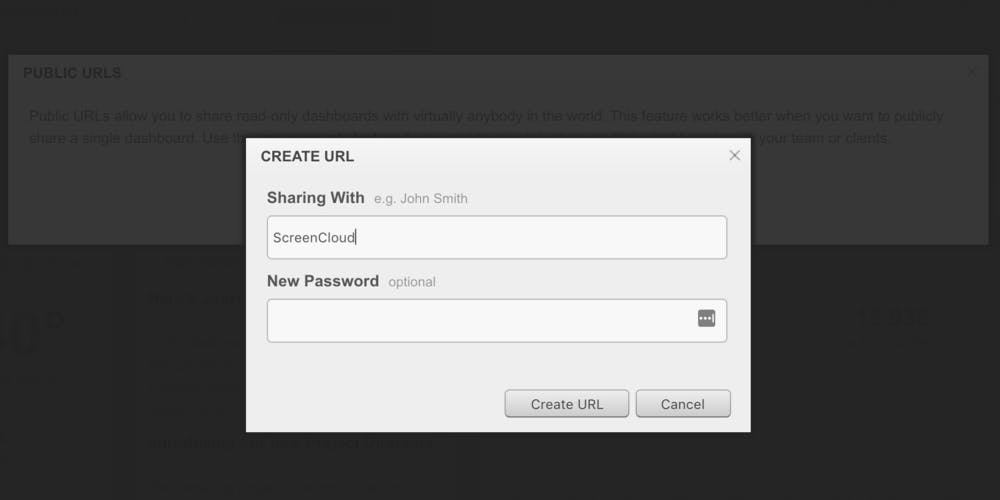 3.3. Click "Create URL", now highlight the entire public URL created, right-click and copy the link.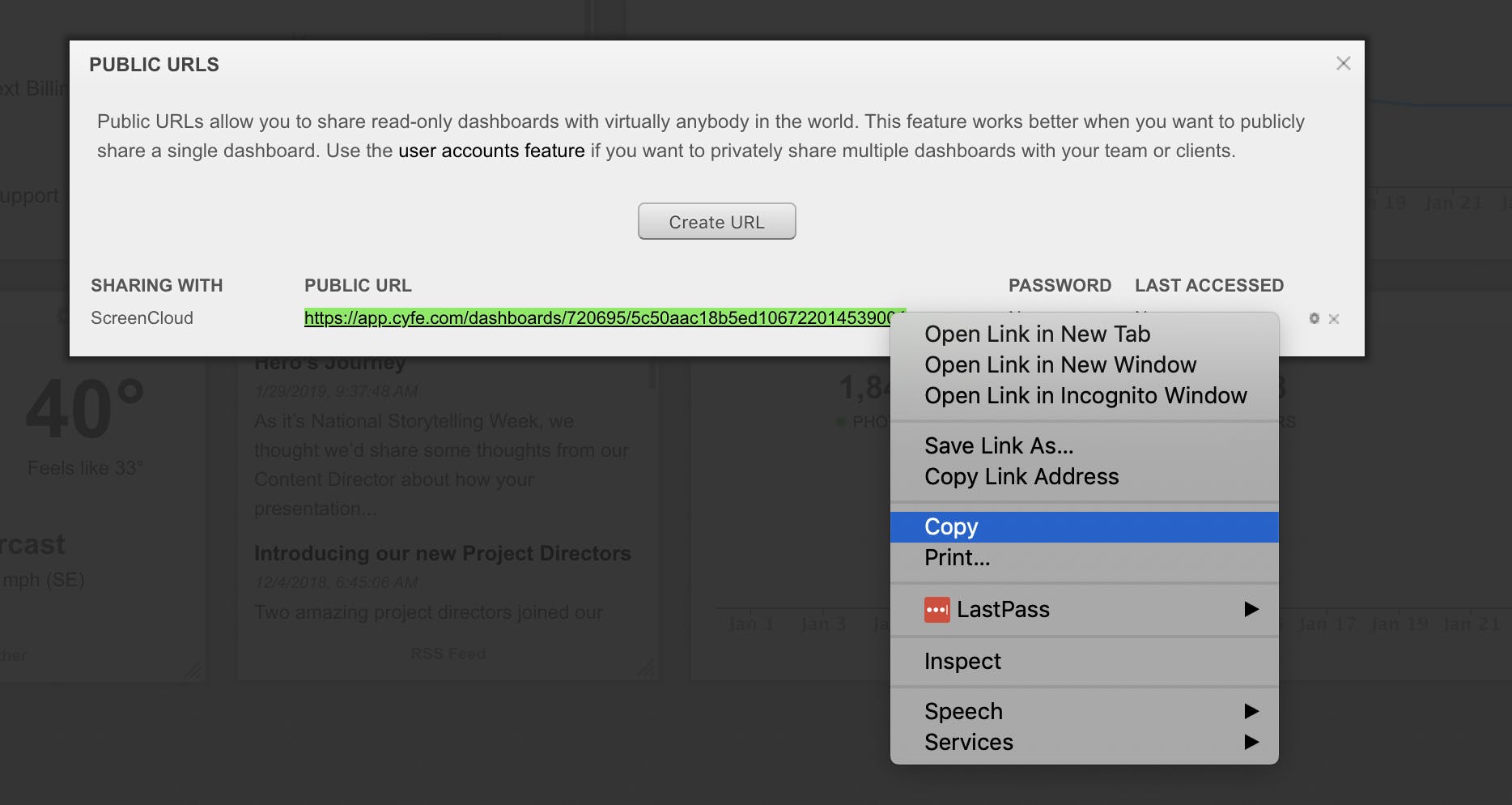 4. Add your dashboard URL into ScreenCloud
4.1. Visit your "Content Library" and click on "Add Website".
4.2. Paste the full dashboard URL into the "Add Website" configuration in ScreenCloud. You can also give your Cyfe dashboard a name. This will help you to spot it later in your content library, particularly if you're planning to use more than one Cyfe dashboard within your playlist.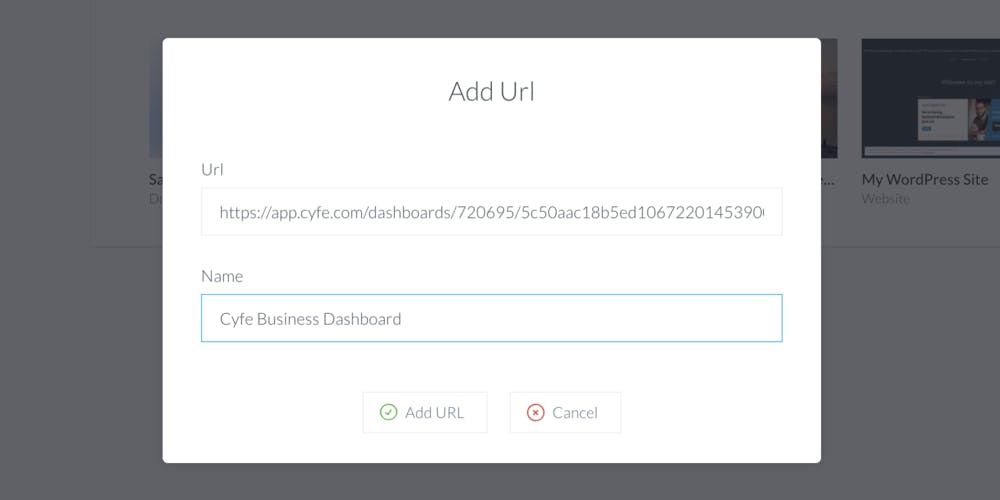 4.3. Click "Add URL", now the Cyfe dashboard is available in your Content Library.

5. Preview your Cyfe App
5.1. Visit your "Screens", and click on any of your screens.
5.2. Select any area of the screen to choose what to plan on your screen, click on "Content" and search for your Cyfe App.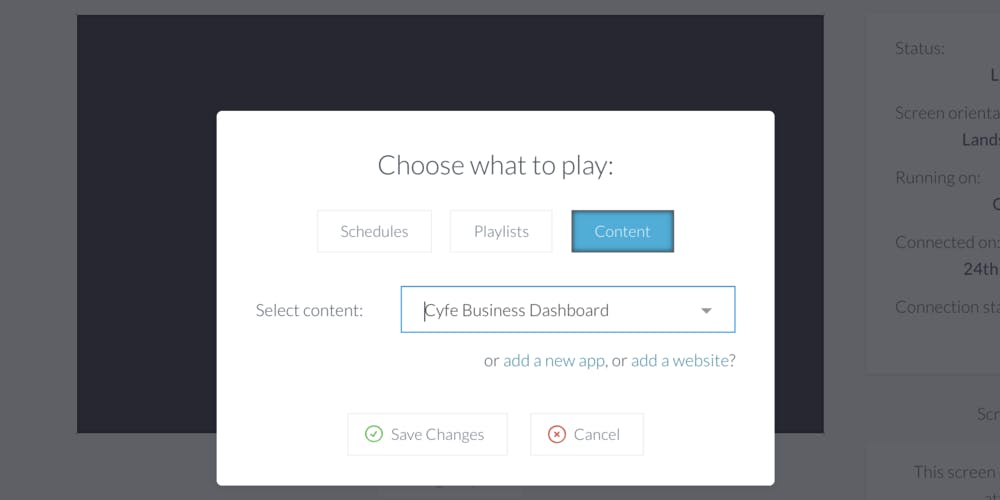 5.3. Select "Save Changes", and click on the "Preview Screen" button in the upper right-hand corner to view what it will look like on screen.

6. Add Cyfe app into your playlist
6.1. Select the playlist you wish to add the Cyfe app to and drag and drop the Cyfe app from the right-hand side to the playlist of your choosing.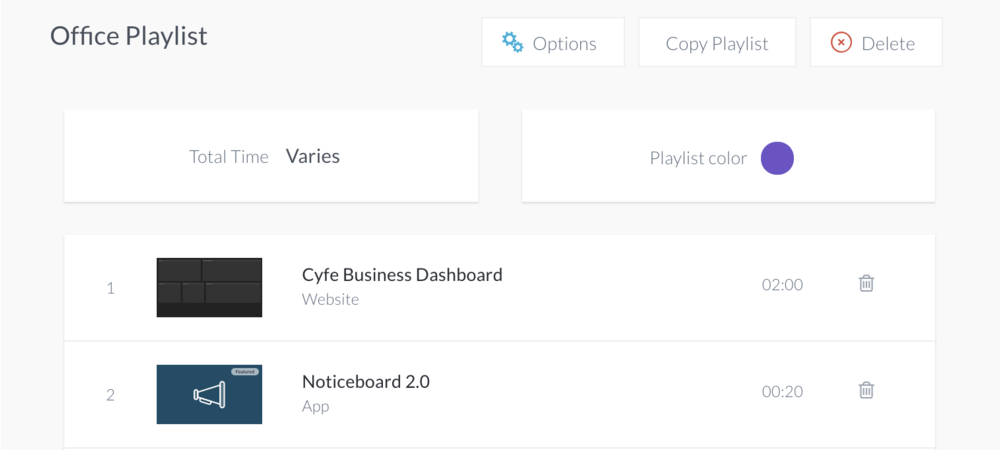 6.2. Here, you can also change the duration that your Cyfe app is shown for, currently set as 2:00 for two minutes.
Frequently asked questions:
Can I use a private dashboard?
The app is only designed to pull in data from dashboards that are made public. There is currently not a way for the app to request for login credentials to authenticate private dashboards.
There are some integrations that require me to log in while customizing my dashboard, why is this?
Cyfe is a third-party dashboard service that requires login authentication to certain apps, such as social media (e.g. Facebook, Twitter), reporting apps (e.g. Basecamp, ZenDesk) and so on in order to pull in the metrics/data from your respective accounts. If you have any questions about Cyfe authentication or security processes, please visit here and contact their support team.
Can I add different dashboards to display on screen?
You can add as many dashboards as you would like by using different URLs when using the "Add Website" function.
For further questions, please contact support@screen.cloud with details.