Do you have a special event or occasion coming up? A return of the boss, a school trip or a colleague's birthday? Then you need Countdown Timer app. Countdown Timer app is the easiest way to create a giant countdown on your digital signage screens to any kind of special event. Watch the countdown in minutes, days or hours and choose a celebration when you reach that all-important date.  
With the ScreenCloud Countdown Timer app you can:
Create a visible countdown to any special event
Custom-brand the app to your brand colors or style
Choose a celebration to show on screen using one of our predefined icons
Here's how it works:
1. Select and install ScreenCloud's Countdown Timer app
To begin, follow this link and select "Install this app" in the bottom right-hand corner. This will log you in to your ScreenCloud account, or prompt you to set up our free trial in order to use the Countdown Timer app and others within our App Store.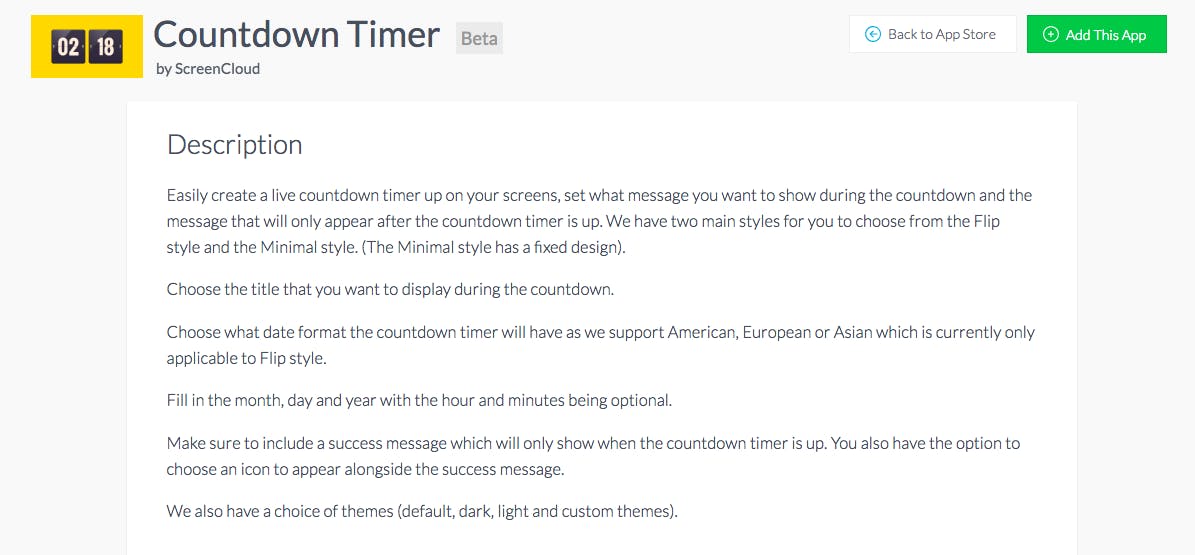 2. Choose your style
Once you have chosen to "Add app" you will need to choose between "Flip" or "Minimal" styles.
Flip style shows your date and time in a flipchart style: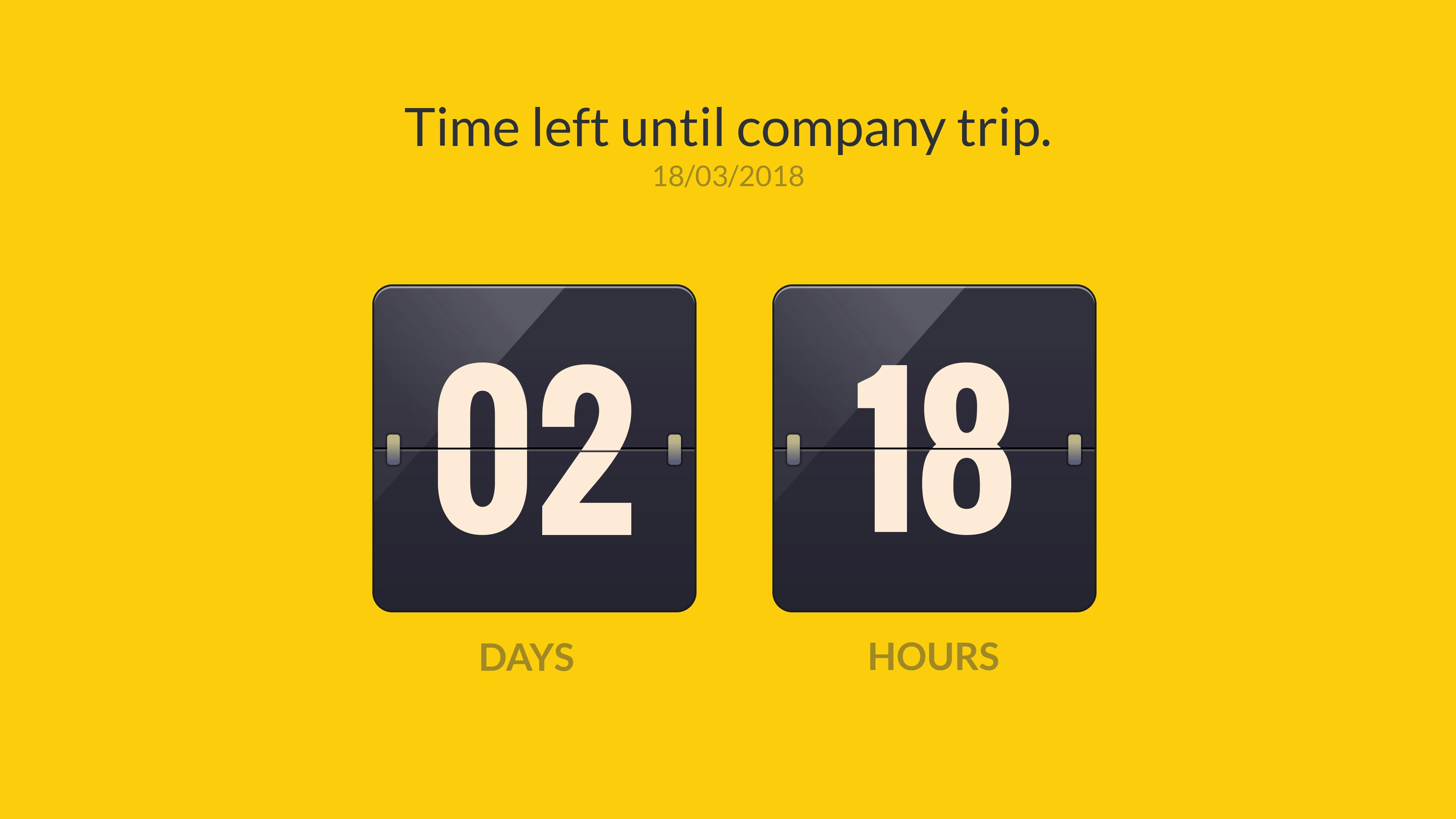 Whereas Minimal style uses just the number of days in a large, visual format: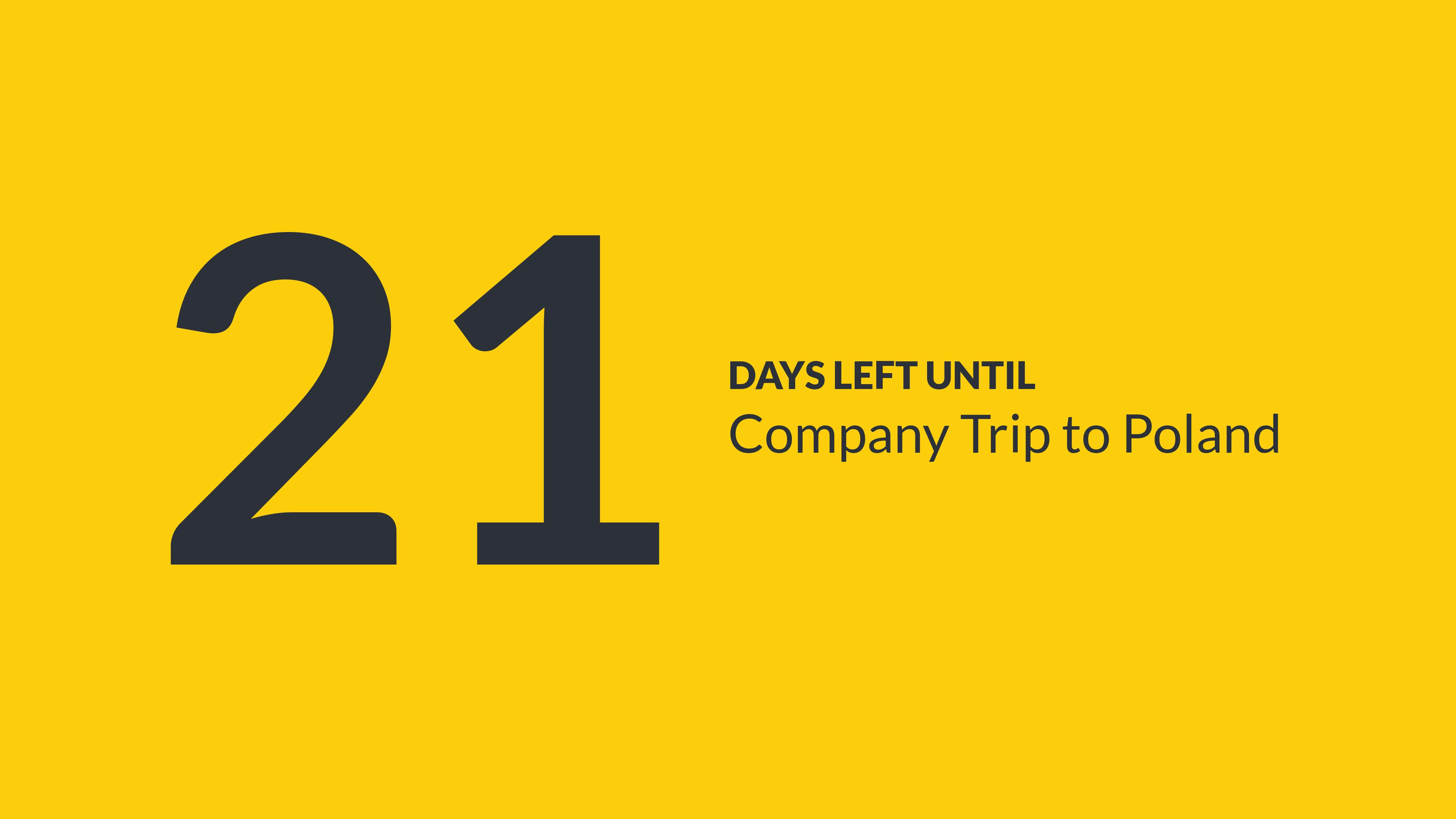 3. Choose your settings
Next, you will see a series of settings to choose from including:
Language: here you can choose which language you would like the app to show. Currently we support English, Spanish, German, French and Dutch.
Label: this is what you are counting down to! For example if you add the label as "Company Trip", the app will say "3 days left until Company Trip".
Month, day and year: this is where you add the date you are counting down to. Enter the month as a number, for example January is 1, February 2 and so on.
Time format: choose AM, PM or 24-hour clock.
Hour / Minute: this is optional and allows you to countdown to a specific hour and minute on that specific day (for example midday would be 12:00).
Date format (only available in the Flip style): here you can choose between American date format (e.g. the 1st of May would be 05/01/18), European format (01/05/18) and Asian format (2018/05/01).
Show on screen (Flip style only): this allows you to choose between showing just the number of days left, the number of days and hours, or days, hours and minutes.
Completion message: choose which message you want to display when your countdown is complete. For example, "The school trip is here!"
Completion icon: here you can choose an optional icon to show alongside your completion message when the countdown is complete. For example, this is what a thumbs up icon would look like: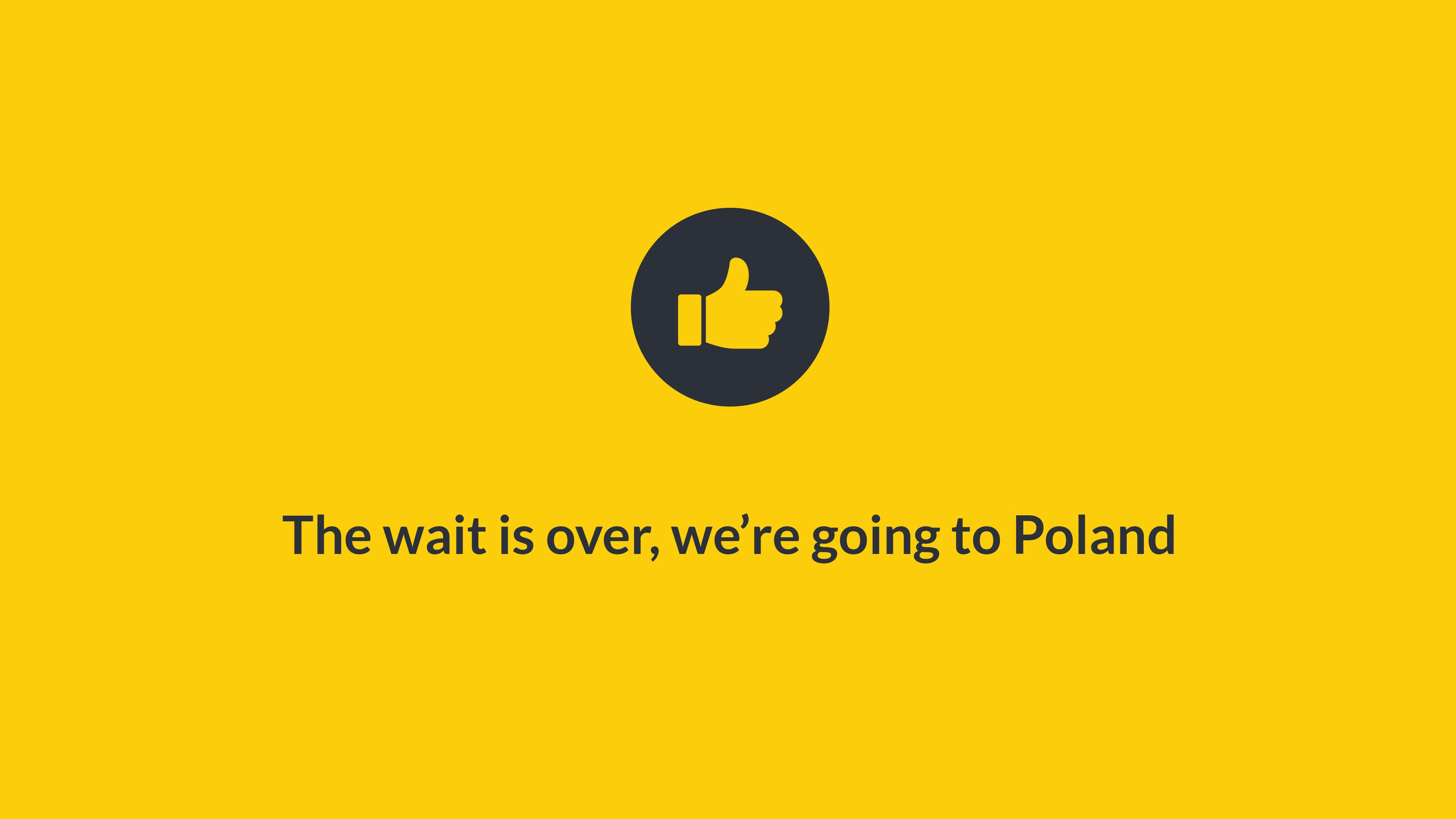 4. Choose your theme
The final setting in Countdown Timer app is to choose your theme.
The preset options include the default theme: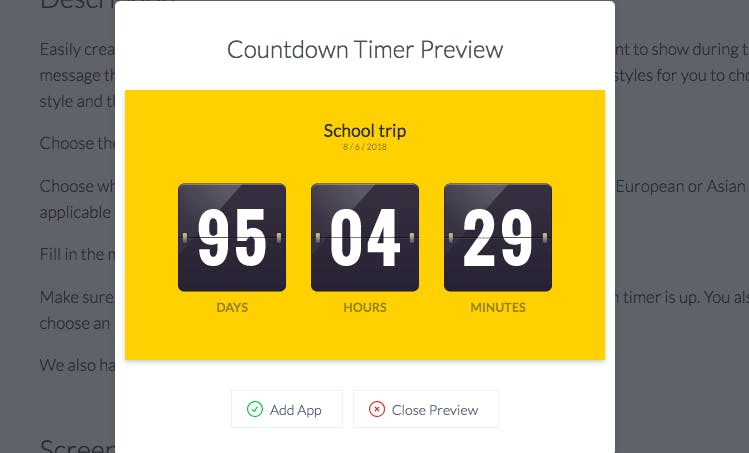 A light theme: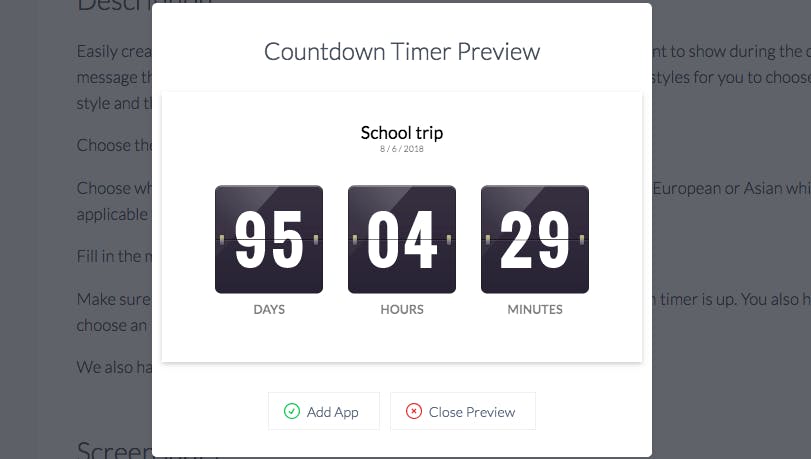 A dark theme: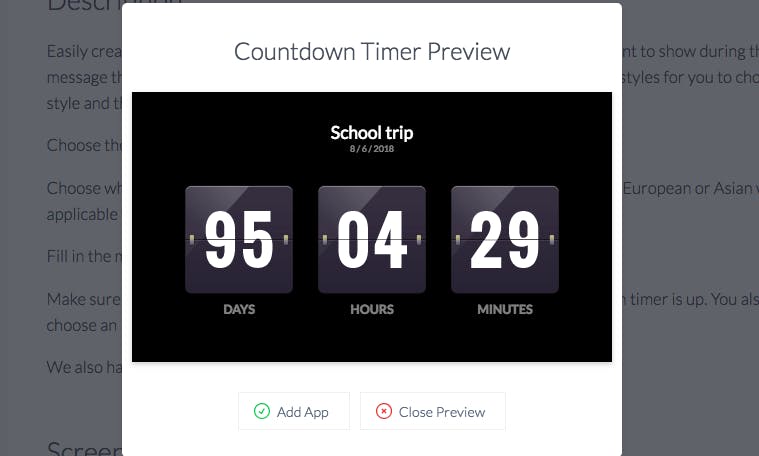 You can also create a custom theme made up entirely of your company branding or chosen colors. For example: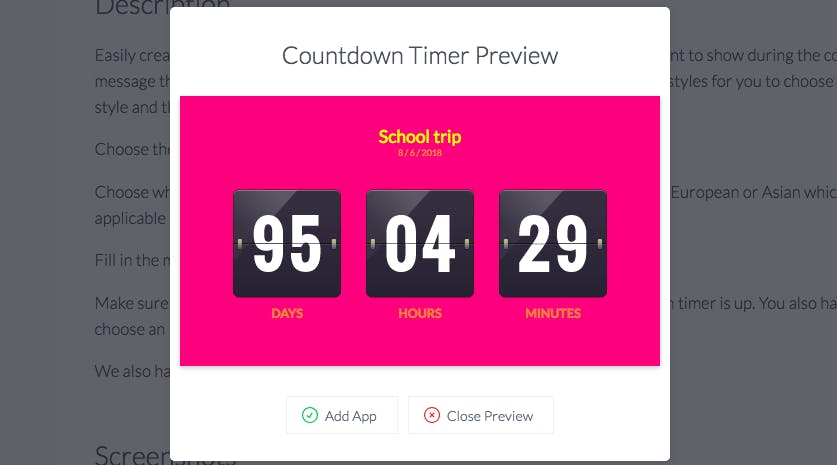 To create a custom theme, check out our guide on how to use the App Theme Editor. Once you've set up a custom theme you will see this in the theme dropdown within the Countdown Timer app settings.
5. Preview your results
Once you have chosen your settings check you're happy with your countdown by clicking "Preview App" and a small pop-up will show what your app will look like on your digital screen: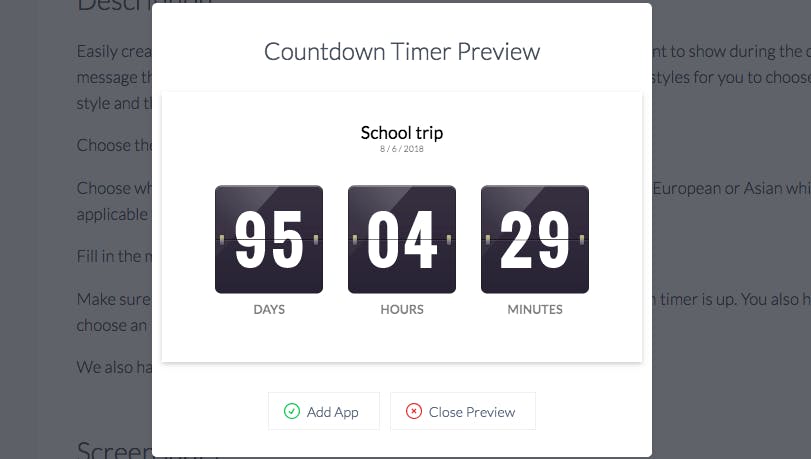 To make any further changes or to add more profiles you can simply click "Close Preview".
If you are happy with your preview, click "Add App."
6. Add Countdown Timer app to a playlist
Once you've chosen to "Add App," you can give your countdown a name. This will make it easier to find if you use more than one countdown within your account.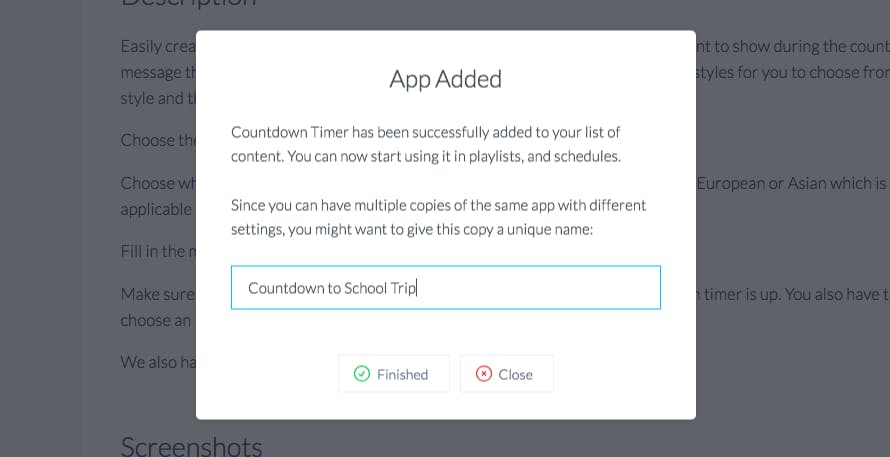 Next, go to "Playlists" and drag and drop the app from the selection bar on the right-hand side to the playlist of your choosing.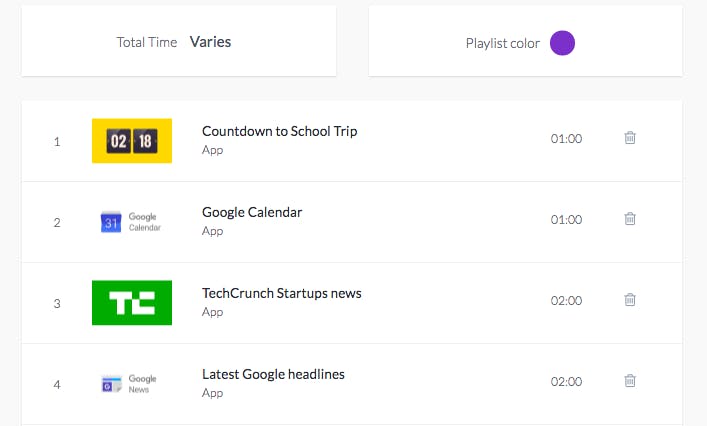 Frequently asked questions:
I can't see all of the title for my countdown timer?
As we want to make sure the countdown timer works across all screen sizes we have capped the character limit for the title to 50 characters.
Why can't I see the hours or minutes countdown?
If you are using the Minimal style you will only see one unit of time. If you wish to see hours and minutes as well as days, you can choose the Flip style instead.