The ScreenCloud BBC News app takes the latest headlines from BBC News and sends them to your digital screens in real time. A great way to ensure everyone around your screens is up to date with the latest headlines.
With the ScreenCloud BBC News app you can:
Encourage patrons to linger longer over your displays
Choose from a variety of BBC News verticals such as UK, Politics and Entertainment
Custom brand your news display using your business colors
Here's how it works:
1. Select and install ScreenCloud's BBC News app
To begin, follow this link and select "Install this app" in the bottom right-hand corner. This will log you in to your ScreenCloud account, or prompt you to set up our free trial in order to use the BBC news app and others within our App Store.
Once logged in, select "Add this app" from the top right-hand corner.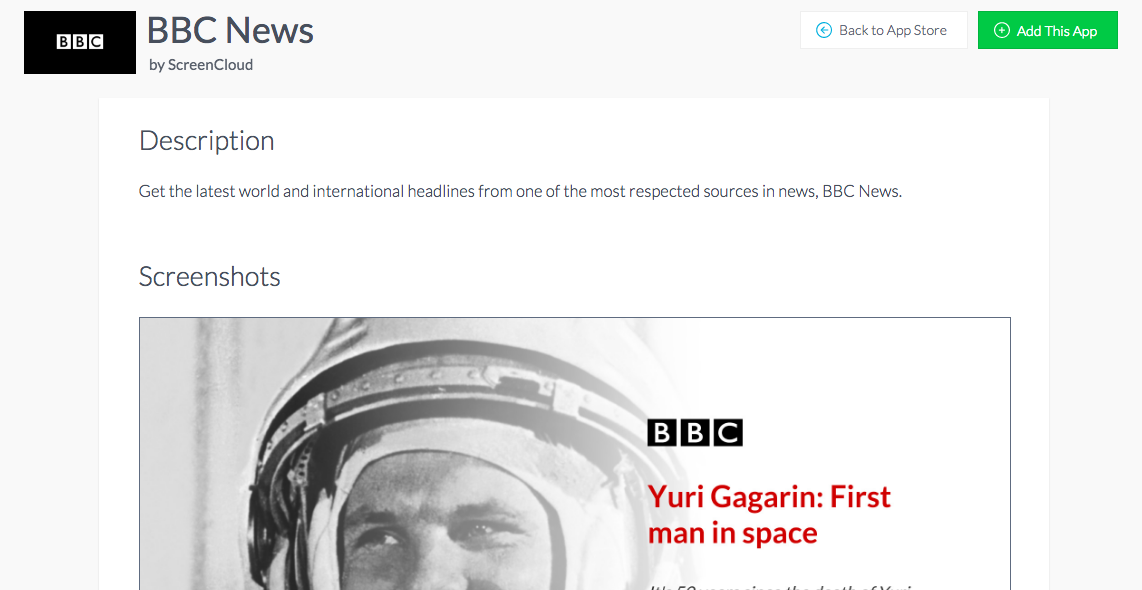 2. Choose your news type
Next, you'll need to choose which type of news headline you'd like to display. The options are:
World
News Front Page (i.e. the latest headlines)
UK
England
Northern Island
Scotland
Wales
Business
Politics
Health
Education
Science/Nature
Technology
Entertainment
Have Your Say
Magazine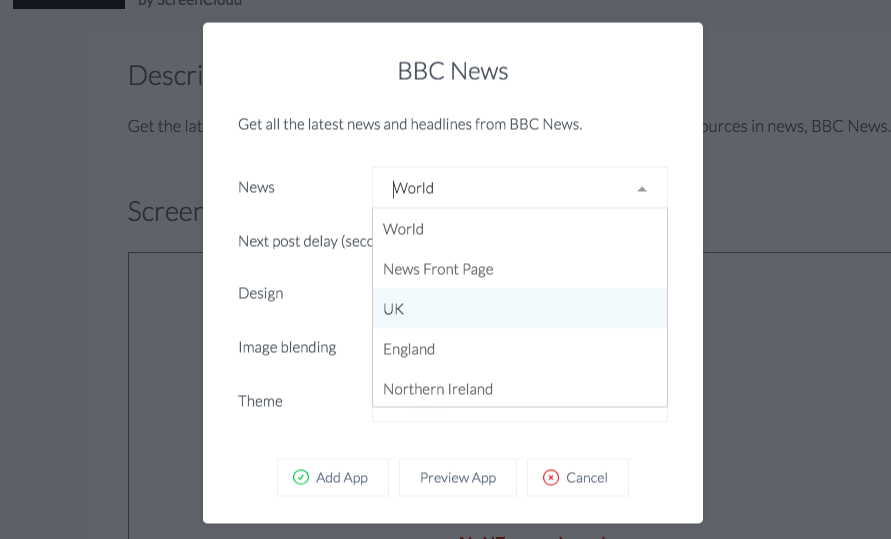 3. Choose your settings
In the settings panel you will need to choose your settings for the below options:
Next post delay (seconds) - this is how long you want to show each piece of news for
Enrich RSS data using Embedly - this gives you the option to enhance your updates with other images or media items available
Design - here you have the default option which is our latest design (as shown below) or the original option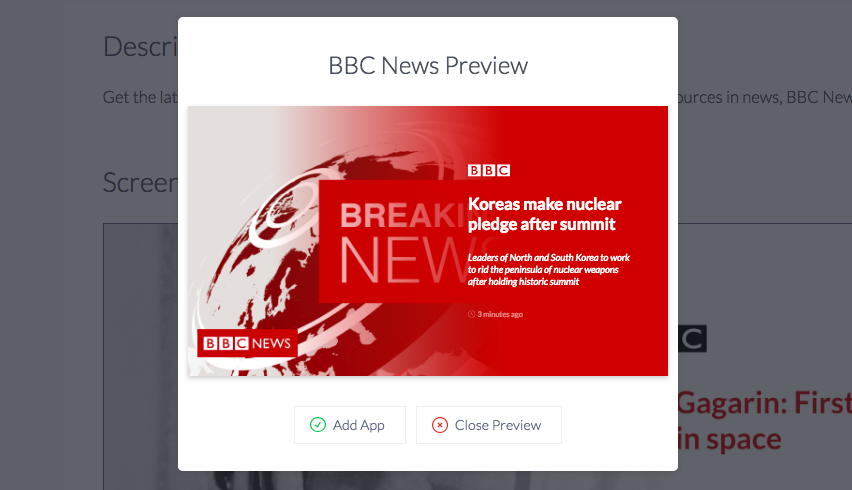 Image blending - here you can choose "full", "medium" or "none" to choose how far to blend the image with the headline
4. Choose your theme
With BBC News app you can choose which theme to use to display the headlines on your digital screens.
The preset options include the default or "light" theme which is BBC branded: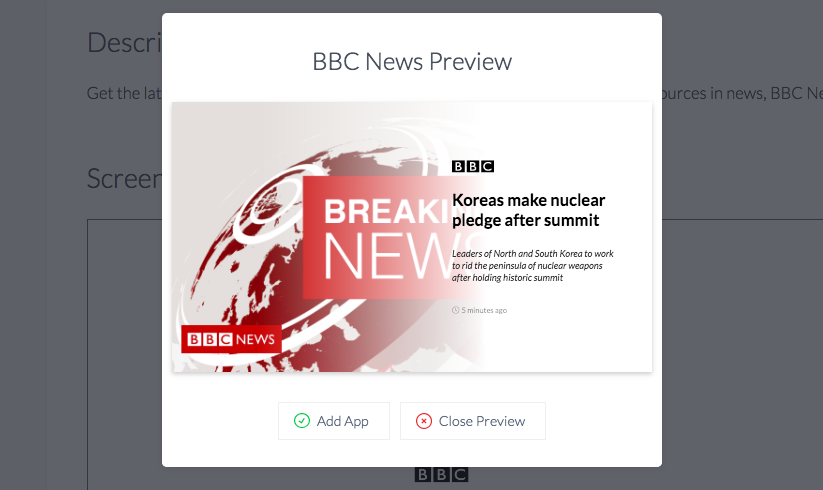 A dark theme: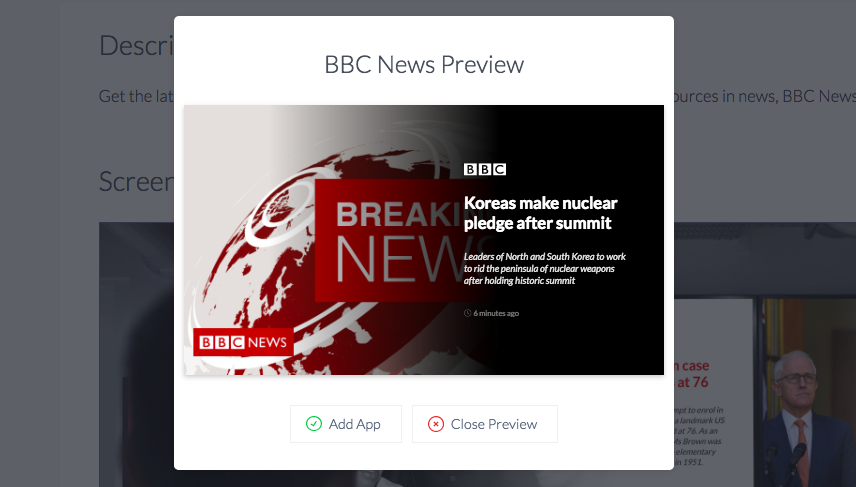 You can also create a custom theme made up of your company branding or chosen colors: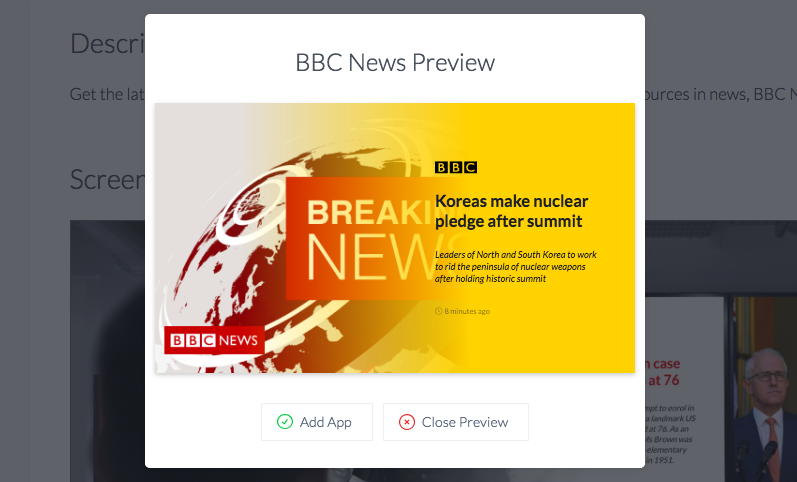 To create a custom theme check out our guide on how to use the App Theme Editor. Once you have set up a custom theme you will see this in the theme dropdown within the BBC News app settings.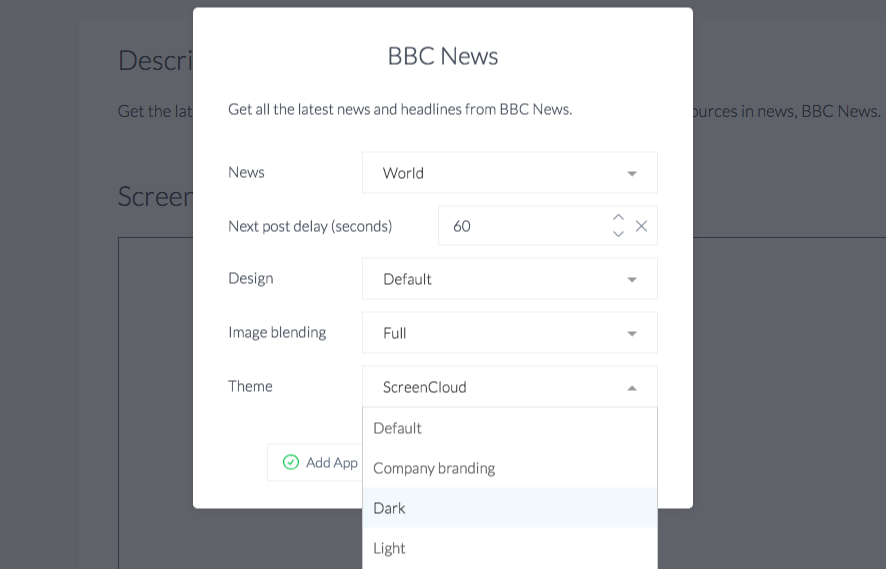 You can also set the duration of seconds that each headline will show for within your display before it moves onto the next one.
5. Preview your results
Once you have chosen your theme, you'll have the opportunity to preview what the headlines will look like before they get added to a playlist.
Click "Preview App" and a small pop-up will show you an example of what your selected theme and type of news will look like.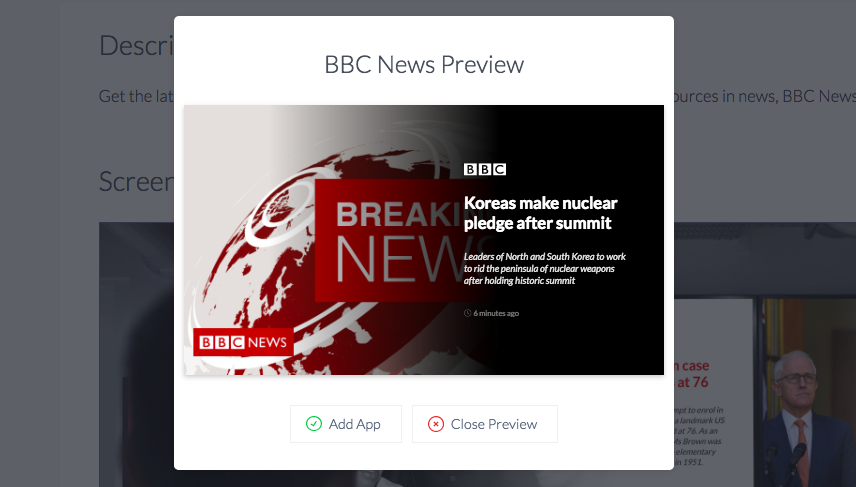 6. Add BBC News app to a playlist
Once you're happy with your how your headlines look you can add them to a playlist.
Select "Add App" and choose a name for it (for example, "BBC News - World - Office"). This will help you to spot it later if you're adding more than one news source to your content library.
Next, go to "Playlists" and drag and drop this from the app selection bar on the right-hand side to the playlist of your choosing.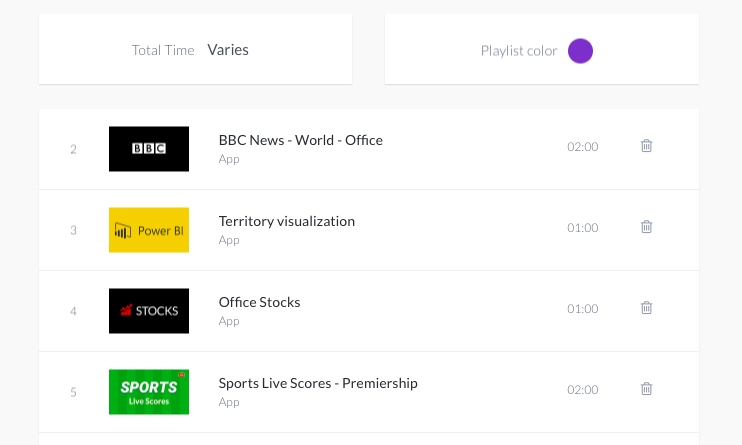 To change how long you want to show news headlines for, change the number in the duration column which will initially be set as 2.00 for two minutes.
Frequently asked questions:
Can I add more than one set of headlines to my display?
Yes, you can add as many sets of BBC News headlines to your playlists as you like. Simply repeat the process, choosing which headlines you would like for each. Just ensure that you name each set with something different so you can easily spot them in your content library later on.
How often does the app update with new headlines?
The BBC News app is syndicated by RSS so new headlines appear as they are added by the BBC.
Can I use BBC News app in portrait mode?
Yes, BBC News app is compatible with both portrait and landscape screens.
For further questions, please contact support@screen.cloud with details.