Note: This blogpost has been updated in May 2018 with the latest statistics from the past two years of digital signage studies.
Digital signage is a bit like what social media was seven or eight years ago. You know, when your boss would shout 'we need Snapchat!' and you'd quickly scrabble for your phone to download this new and mysterious thing. 
Well digital signage is part of a new digital transformation for nearly all industries. We don't say that lightly, but it's there in cold, hard statistics for anyone who's brave enough to look.
A study from Russell Reynolds Associates found that at least 30% (and often more) executives from all industries are anticipating moderate or massive digital disruption in the next 12 months.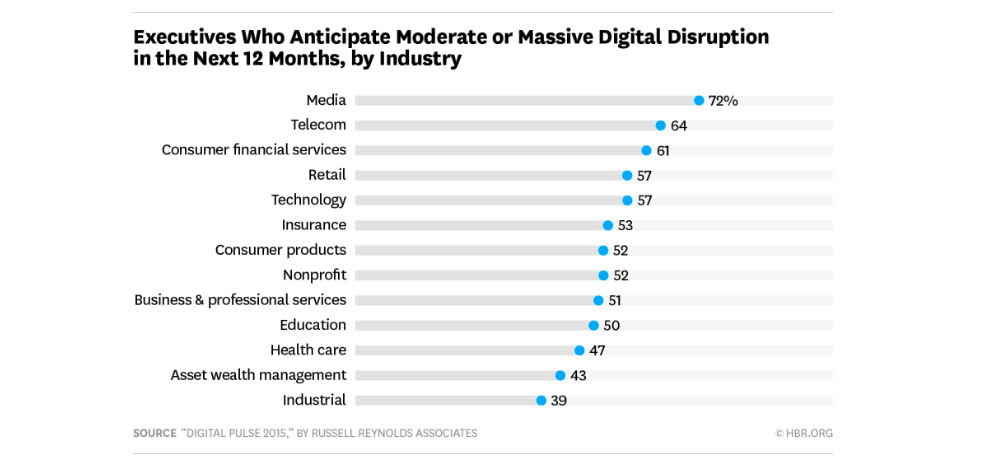 What this doesn't tell you is that digital signage is a tool every one of these industries is beginning to adopt. Healthcare, retail, technology, nonprofit, education, corporate offices - how many other digital means are out there that can encompass all things for such a variety of industries? It's an exciting place to be.
Digital signage is also incredibly simple to setup. Which is game-changing for companies who were once reliant on expensive consumer-grade hardware and impossibly difficult content management systems.
So here we dig deep into some of the supporting evidence that digital signage is the next game-changer in digital technologies - across all industries.
Digital signage trends and statistics
Retail
1. Over 40% of shoppers say that digital displays can change what they buy because relevant information is served close to the point of purchase.
This makes sense - as savvy shoppers we expect more from our shopping experience. The physical product is great, but information to support and serve close to where we're shopping? That's even better.
2. 44% of shoppers admit to social media increasing purchasing decisions.
Social media is a huge part of the retail experience and it suits digital signage down to the ground! It's why we have so many awesome social media apps and dashboards in our App Store.
3. 8/10 customers have entered a store because of a digital sign catching their interest.
That's much higher than a static display or shop window design. We're programmed to react and respond to digital visuals and retailers are choosing digital signage for its high-impact, low-cost approach.
4. According to studies, retail is the fastest growing area of digital signage networks.
Retail is often ahead when it comes to embracing digital technologies. Burberry was one of the first global retail brands to embrace social media. Now they're one of the first retail stores to embrace digital signage. Their flagship London store features mirrors that double as video digital signage displays, staff armed with iPads and even RFID-enabled screens that trigger related catwalk footage when products are taken into a fitting room, or near a screen.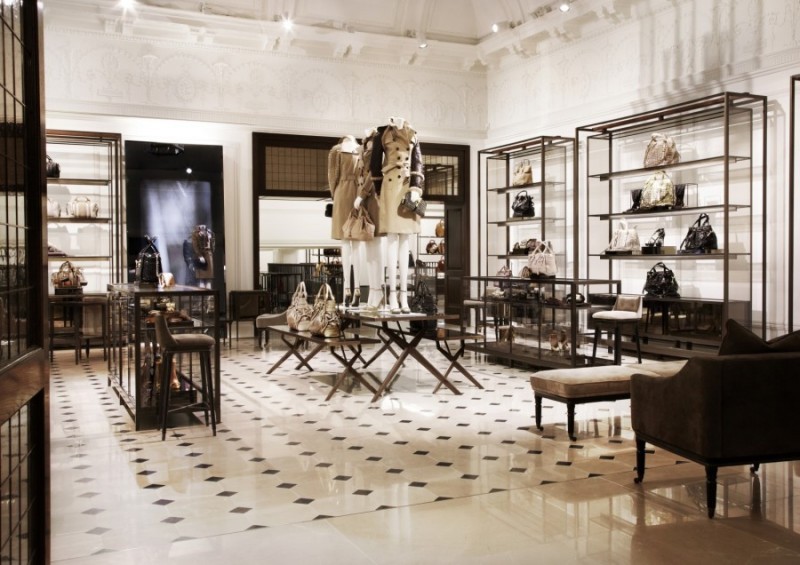 5. Customers that engage with companies through a variety of channels drive three times the volume of sales.
Multiple touchpoints with your audience are of huge benefit when it comes to the storing and retaining of information. As well as the importance of giving a great first impression, digital signage also serves as a channel that can drive sales, awareness and brand love!
Advertising
6. Digital media in public venues reaches more customers than videos on the Internet or Facebook.
According to a 2010 study by Arbitron, digital signs reach a huge number of Americans and are better remembered than advertising shown through other digital sources. 
7. 68% agreed that digital advertising would influence their decision to buy advertised products in the future.
Helping customers to think more positively about products not only affects their current experience but their future ones too.
8. 71 percent of people said they felt advertising on digital billboards stood out more than online ads, and 46 percent said they were more prominent than even television ads.
Not only that, but the participants were also impressed with digital signage and felt it was a cool way to share and learn information. In an age of online ad-blockers this could be a case for turning away from the handheld devices and onto the larger screens all around us.
9. Digital signage has a recall rate of 83%.
10. 20% of people will read the text on a page, but 80% of people will watch a video.
This shows the power of video and digital campaigns to engage audiences when all else fails.
Hospitality
11. A guest's impression of a hotel is formed in the first 10 minutes of arrival.
Walking into a hotel is often a cause of joy - an escape from the real world and a chance to relax and unwind. Digital signage is one of the easiest ways to invest once and then serve a variety of important welcome messages, useful information and entertainment to guests within that crucial 10 minutes.
12. Digital media helps minimize wait time — or at least helps customers perceive that their wait is shorter.
Not only does digital signage lead to a better experience but it can also help the visitor experience to run more smoothly. In 2012, when Hurricane Sandy hit New York, many hotels that had digital signage used it to keep guests updated as events unfolded. In times of need, this is critical for providing emergency updates and information on the areas affected.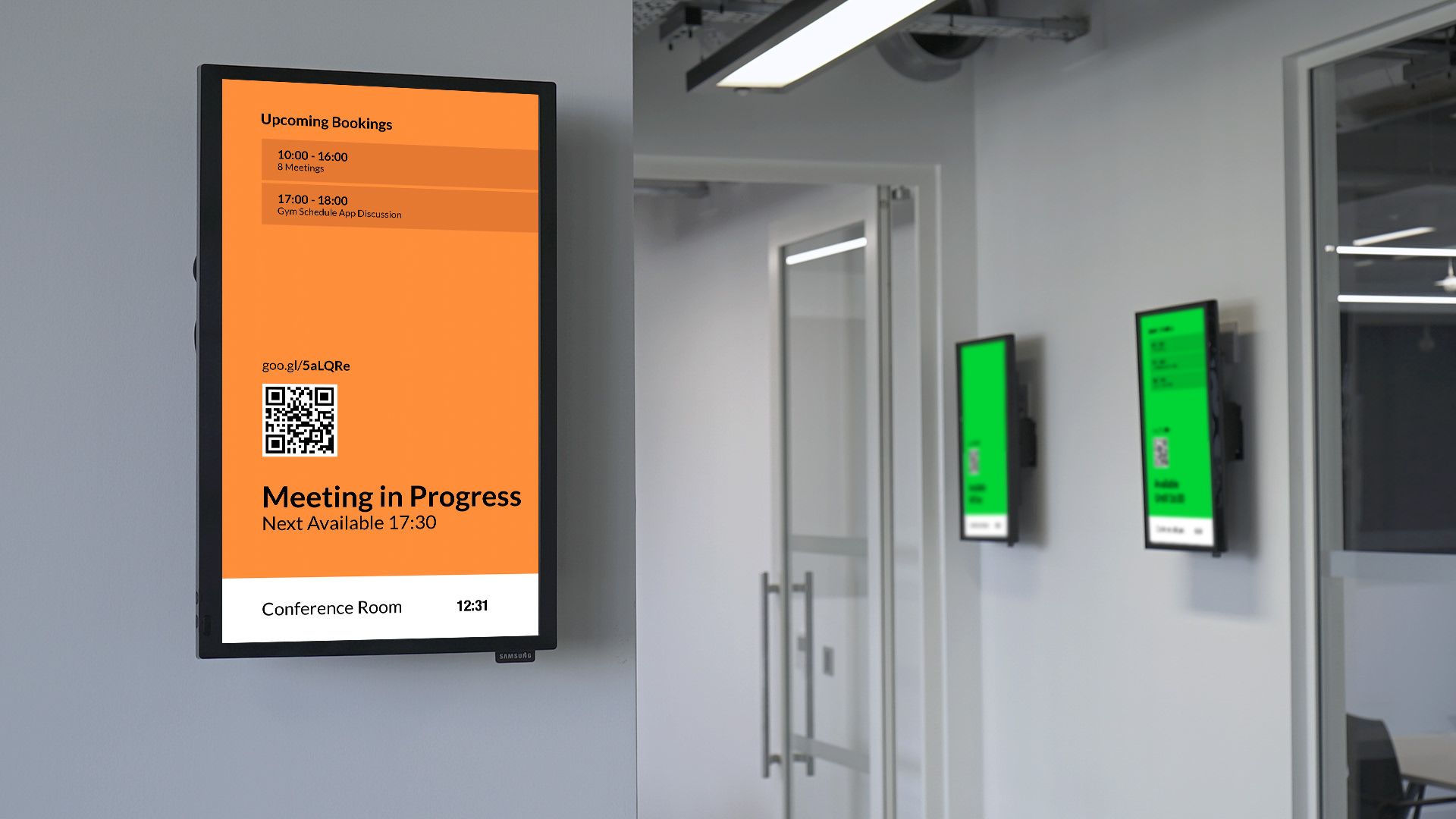 13. 55% of travelers indicated they would be more likely to visit a hotel that offered self check-in kiosks.
51% of hotels already offer kiosks or are planning to add them to their digital repertoire. Hotels are one of the latest industries who are quickly recognizing the power of digital signage as a tool for improving guest experience.
Education
14. 73% of educational institutions see digital signage as crucial for the future of communication.
Many of the schools and universities we talk to are excited about the possibility of digital signage to serve their students more relevant information. From world news and information that supports lesson plans to social media feeds that keeps students up to date with the latest classes.
15. 65% of school children use a smartphone and 47% use a tablet on a daily basis.
This may come as no surprise to you but children are interacting with technology every day. Channeling this in the right way, through interesting, relevant digital displays gives schools a chance to tap into the trend.
16. 96% of students say that video increases the learning experience.
Video is one of the easiest forms of media to add to digital signage displays - and most of us have some video knocking around already that we can use.
17. Applying technology to education helps students to reduce stress (45%), improve confidence (46%) and efficiency (57%), while also helping students to better prepare for class (67%).
Need a reason to incorporate digital signage displays into your school or college? You just got it.
Corporate
18. Good internal communications drives 25% higher employee productivity.
We all want our workers to be more productive but good internal comms can slip by the wayside when we get busy with other stuff. Digital screens are a quick and easy way to keep everyone in the office informed of what's going on - without clogging up the inbox.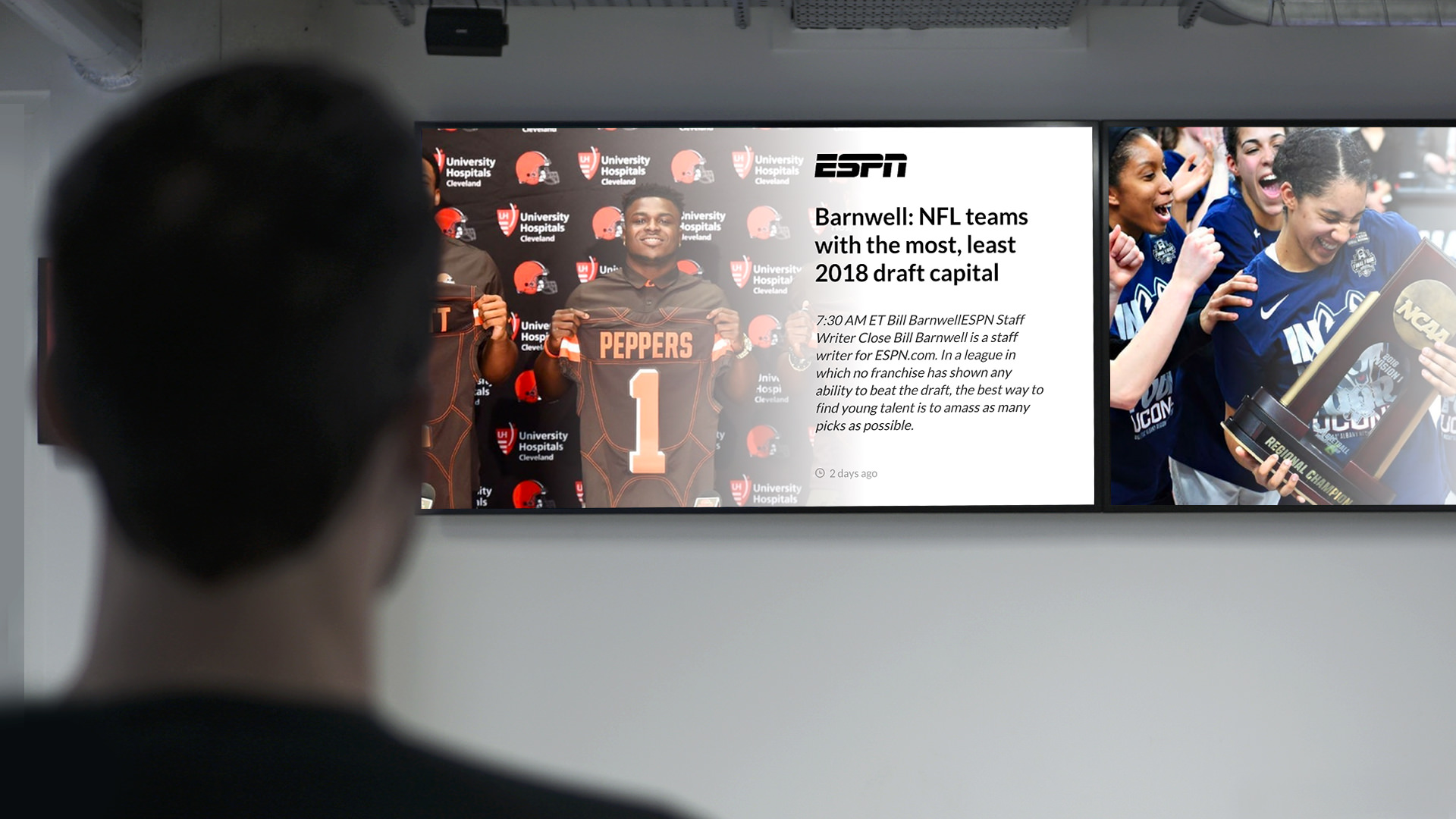 19. 50% of communication pros use digital signage as a channel in their organizations.
Not only are they using digital communications but they're also seeing huge benefit- when Novartis Pharmaceuticals implemented a digital signage system across its 200-acre campus it reported a 90% reduction in communication costs.
20. Digital Signage has a 47.7% effectiveness for brand awareness.
In all the work we do to entice customers to love our brand we often forget about our staff members! Digital signage helps to thread your company mission throughout your office - the most important place of all.
Restaurants
21. 74% of customers say an easy to read menu is their top priority.
Because digital signs can be updated so easily, menus never have to go out of date and you can play around with font size and displays until you get the optimal setup.
Don't underestimate the significance of this either - 7-Eleven convenience stores in Denmark saw sales of coffee rise by 30% when advertised on their digital signs.  
22. 80% of adults have seen digital signage in the past month and 70% subsequently made an unplanned purchase.
Digital signage can make your restaurant more awesome. Not only does it help customers get overs the hangries more quickly, it also helps them to make better decisions and more quickly.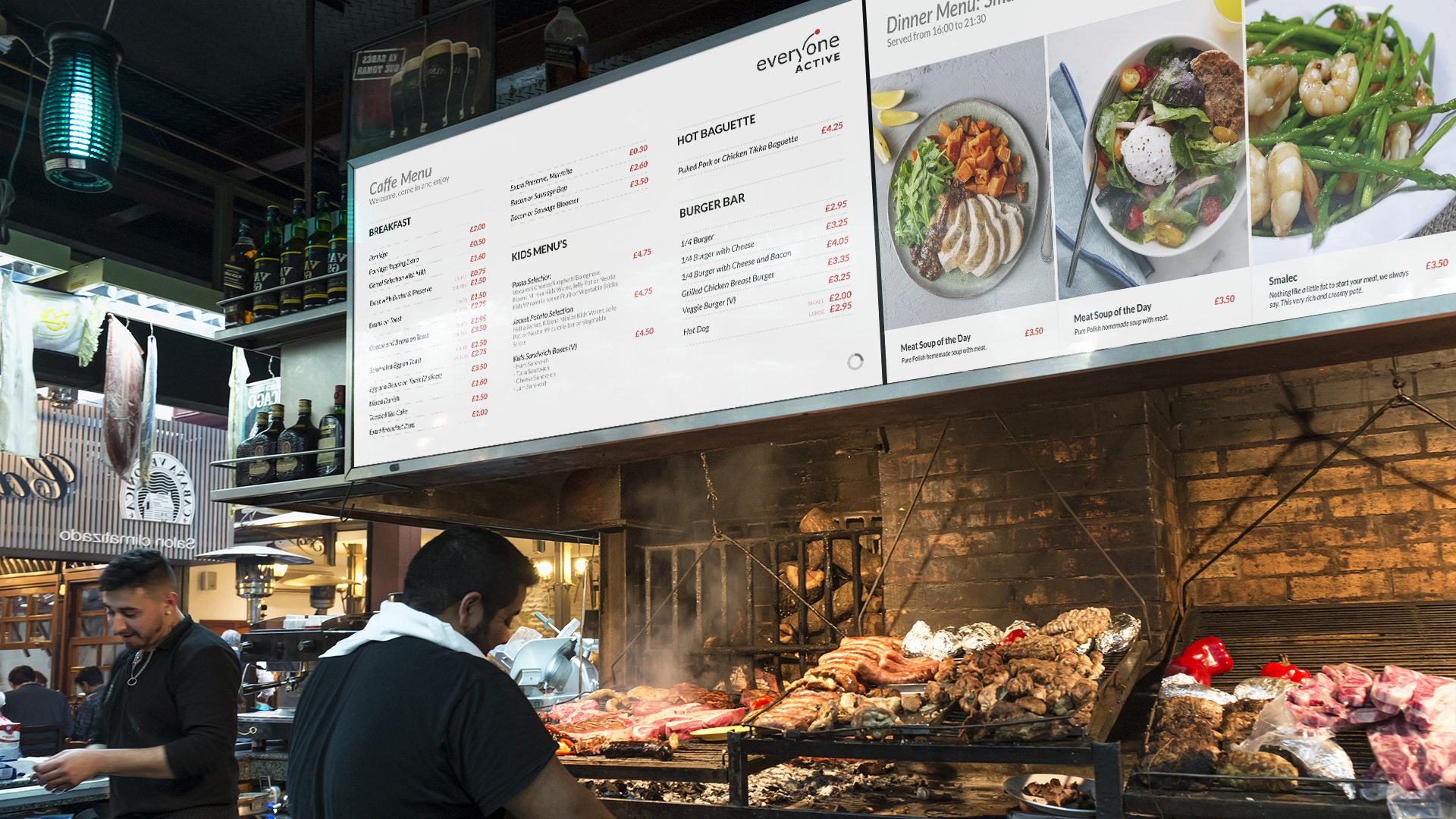 23. 29.5% of customers find digital menus influential for purchase of product.
This is backed by real life uses too. Just take Prime Burger, a fast-food chain that sits in one of the UK's biggest trade show centers. They increased sales by 50% like-for-like by replacing their static signs for digital ones.
Tradeshows
24. 93% of consumers find UGC to be helpful when making a purchasing decision.
At tradeshows, while surrounded by competitors, you often have just minutes to make an impression and persuade your buyer to move into the customer area. User-generated content such as social media, social proof or testimonials could help them to get there much faster - and digital signage is the easiest way to showcase this!
25. 1 in 4 event professionals already use tablets for registration and 60% of event planners rank on-site technology as important as a good internet connection.
Tradeshow attendees love good technology and are well-versed in using it. Digital signage can double up for both informational and transactional purposes - for half of the cost of registration staff, expensive systems and masses of printed collateral.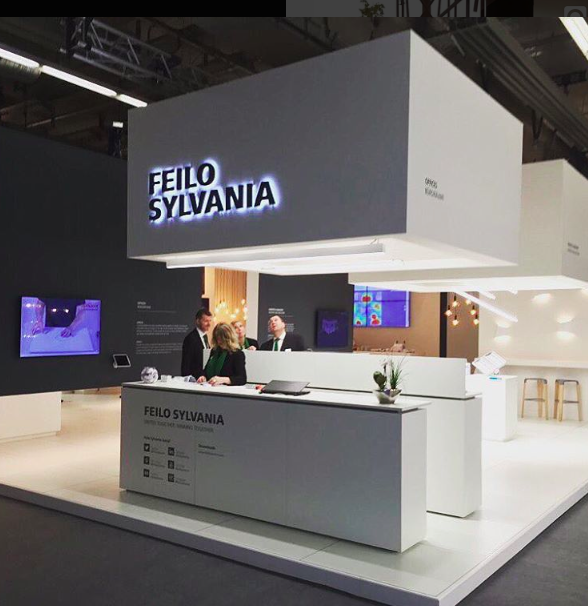 26. 58% of US marketers use social media to engage their target audience during timely events as part of their real-time marketing engagement strategy. 
Digital signage is a powerful way to use social media within any type of environment and bring it into the present moment. 
27. Event technology can help increase event attendance 20%, increase productivity 27%, and decrease costs 20-30%. 
That's a whole lot of proof that digital signage at your tradeshow or event is worth the investment.
Healthcare
28. According to surveys, 75 percent of those viewing a digital sign in hospital could recall at least one message.
That's a super high amount and could be put to use in order to help patients recall better healthcare information and advice for self-treatment and support.  
29. Digital signage can cut perceived wait time by up to 35 percent.
In a hospital situation, wait times only add to stress and anxiety. Using digital technology to reduce this, will help patients to have a better long-term experience. 

30. Using distraction in clinical environments has been shown to reduce perceptions of pain, lower anxiety and stress and benefit clinicians.
As we mentioned in a recent article for TechCrunch, research shows that digital screens benefit healthcare. This effect will become more widespread with the adoption of digital signage rollouts within healthcare environments.
31. 83% of patients spend a significant amount of time interacting with a hospital's digital content.
32. 78% of patients actively seek out digital health solutions when they are available.
This rise in adoption hints towards healthcare patients who want to use SMS services, apps and even wearables to connect with their doctor and healthcare centre more easily.
33. 7/10 hospitals now provide digital messaging systems.
Which means if you aren't, you're in the minority.
34. Digital signage reduces workplace injury by 20%.
This is relevant to all industries but particularly one where a fall or accident from a healthcare professional could affect not just themselves but also those around them.
Gym & spa
35. Digital signs keep customers in your establishment longer.
When it comes to the gym, keeping customers for longer not only helps boosts sales and community but it also allows them to become healthier and more active. A win-win all round!
36. Studying while moderately exercising may help individuals retain information better.
Studies have shown multiple times that learning and exercise pair together nicely. Digital screens are a smart way to help students, professionals and general go-getters to learn more while they work out by providing relevant and useful information through affordable digital screens. 
37. Social media motivates people to exercise
The gym and the spa are often a great place for a digital detox - ever noticed how rarely you get signal in those places? But used in the right context, social media is also a huge motivator! This ties into the idea of using great user generated content in order to cement your audience with both their exercise regime and other likeminded individuals. 
So there you have it - more than 30 digital signage trends and statistics that can help power your next digital strategy. It's a noisy world out there and you need to cut through. Digital signage could be the way to do just that, for those ready to embrace it.
For help setting up an easy-to-use, affordable digital signage system start our 14-day free trial at screen.cloud/signage. 
Sources:
1. http://www.cisco.com/c/dam/en_us/solutions/industries/retail/downloads/dms_brochure_0709.pdf
2. http://www.emarketer.com/Article/How-Social-Media-Influences-Shopping-Behavior/1013718
3. http://www.smallbusinessbonfire.com/why-use-retail-signs/
4. https://signagelive.com/blog/2015/11/12/top-3-digital-signage-market-trends-and-why-creative-media-agencies-should-care/
5. https://www.accenture.com/us-en/insight-digital-disconnect-customer-engagement
6. http://www.arbitron.com/downloads/2010_digital_video_display_study.pdf
7. http://northerndigitalmedia.com/index.cfm?fuseaction=content&menuid=5&pageid=1002
8. https://www.oaaa.org/NewsEvents/PressReleases/tabid/327/id/4244/Default.aspx
9. https://mysmn.com/28-fun-facts-about-digital-marketing/
10. https://mysmn.com/28-fun-facts-about-digital-marketing/
11. http://www.digitalsignagetoday.com/articles/digital-signage-checking-into-hotels-to-stay/
12. http://cdn-docs.av-iq.com/brochure/Digital%20Signage%20Application%20Guide%20-%20Hospitality.pdf
13. http://cdn-docs.av-iq.com/brochure/Digital%20Signage%20Application%20Guide%20-%20Hospitality.pdf
14. http://www.avinteractive.com/features/analysis/simple-signage-15-02-2015/
15. http://www.signstix.com/insights/education/digital-signage-for-education/
16. http://www.allsee-tech.com/digital-signage-solutions/education-school-college-university-training-learning-interactive-smart-touch-digital-signage-solutions.html
17. https://www.mheducation.com/news-media/press-releases/learning-analytics-new-likes-college-better-access-personalized-data-new-research.html
18. http://www.mckinsey.com/industries/high-tech/our-insights/the-social-economy
19. http://www.viewsonic.com/us/downloads/dl/file/id/550/product/0/dynamic_vs_static_signage_the_advantages_of_digital.pdf
20. http://vcaglobal.com/news-blogs/4-emerging-trends-digital-signage/
21. http://www.intel.co.uk/content/dam/www/public/us/en/documents/solution-briefs/digital-signage-choosing-right-content-management-system-brief.pdf
22. http://www.digitalsignagetoday.com/companies/media/panasonic/whitepapers/
23. https://www.eclipsedigitalmedia.co.uk/wp-content/uploads/2014/08/Eclipse-Digital-EMBED-Digital-Menu-Boards-Guide-2014-WEB.pdf
24. http://www.adweek.com/socialtimes/why-consumers-share-user-generated-content-infographic/639636
25. http://www.losberger.co.uk/event-technology-will-define-success-2016/
26. http://www.emarketer.com/Article/Real-Time-Marketing-ROI-Increases-Spending-Follows/1012622?ecid=NL1001
27. http://www.cvent.com/en/pdf/5-strategies-for-increasing-roi-whitepaper.pdf
28. http://www.digitalsignagetoday.com/news/study-hospital-patients-prefer-digital-signage/  
29. http://www.digitalsignagetoday.com/blogs/how-digital-signage-reduces-perceived-wait-times/
30. https://techcrunch.com/2016/07/18/using-digital-screens-to-inspire-better-health/
31. https://getreferralmd.com/2015/08/mobile-healthcare-technology-statistics/
32. http://ansonalex.com/infographics/healthcare-and-technology-statistics-2012-infographic/
33. https://icxa.org/2018/02/14-healthcare-digital-signage-statistics/
34. https://icxa.org/2018/02/14-healthcare-digital-signage-statistics/
35. http://getmediapanel.com/keeping-customers-around-longer-5-media-panel-tactics-for-digital-signs/
36. http://www.care2.com/greenliving/want-to-learn-more-study-while-you-work-out.html
37. http://www.techtimes.com/articles/93496/20151010/social-media-can-motivate-people-to-exercise-more-heres-how.htm