Social media walls are big news in events and tradeshows. But guess what, you can put one up anywhere. That's right, your restaurant, your office, your reception - all prime locations for a social media wall to appear.
Social media has many strings to its bow, so it makes sense to capitalize on that. Want to make your employees bond better? Set up a private Instagram account and allow them to share what they're up to on the big screen. Wish more people would order your delicious desserts? Get your insta-worthy snaps up onto your digital signage display and it'll be impossible for them to say no! Even in colleges, educators are finding that department-specific Twitter feeds are a great way to share news, lessons plans and even information that can help rent out their gym hall at the weekend. Extremely savvy and even easier to implement.
To make your social media graft earn its keep, we've put together some top tips of things to consider when setting up your wall. Making it even easier for you to find the right social media software, set it up and get your social media feeds rolling, without any specialist support.
1. Select your hardware and digital signage platform
The first hurdle. Or is it? Many shy away from the idea of social media walls because they fear they'll be difficult to setup or manage. The truth is, anyone could set up a social media wall themselves, without any expert help or commercial-grade hardware or software.
To set up a social media wall, all you need on the hardware side is an Android TV or a regular TV that's connected to a cheap media device such as an Amazon Fire TV Stick or Chromebit (use our hardware selector to find out which is best). These devices help your TV to become 'smart' which means you can check in to the device's App Store and that's where ScreenCloud comes in. By downloading ScreenCloud from the appropriate App Store, you get access to a multitude of social media apps that you can play on your digital screen.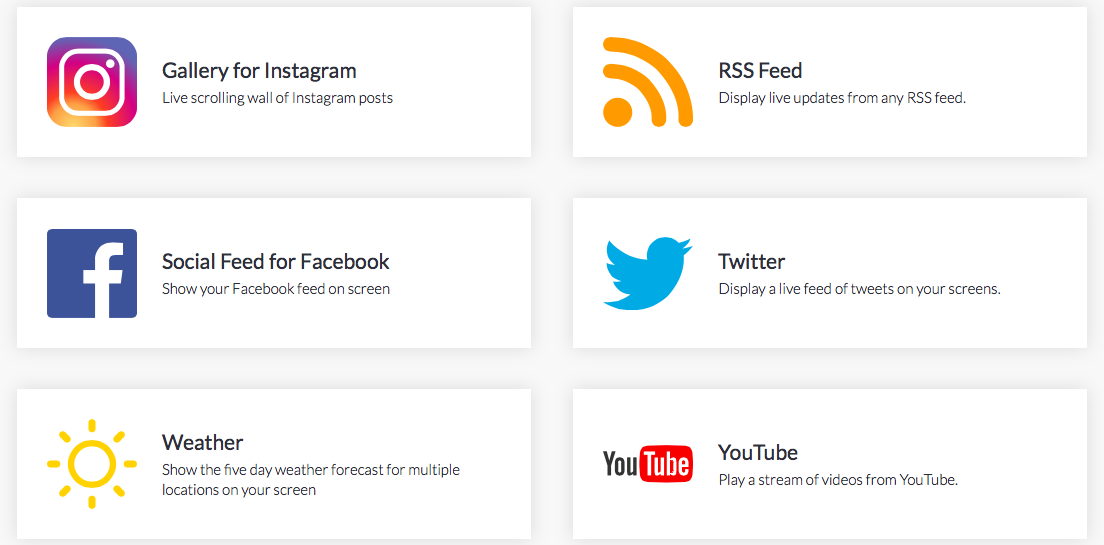 Some of the social media wall apps we offer include: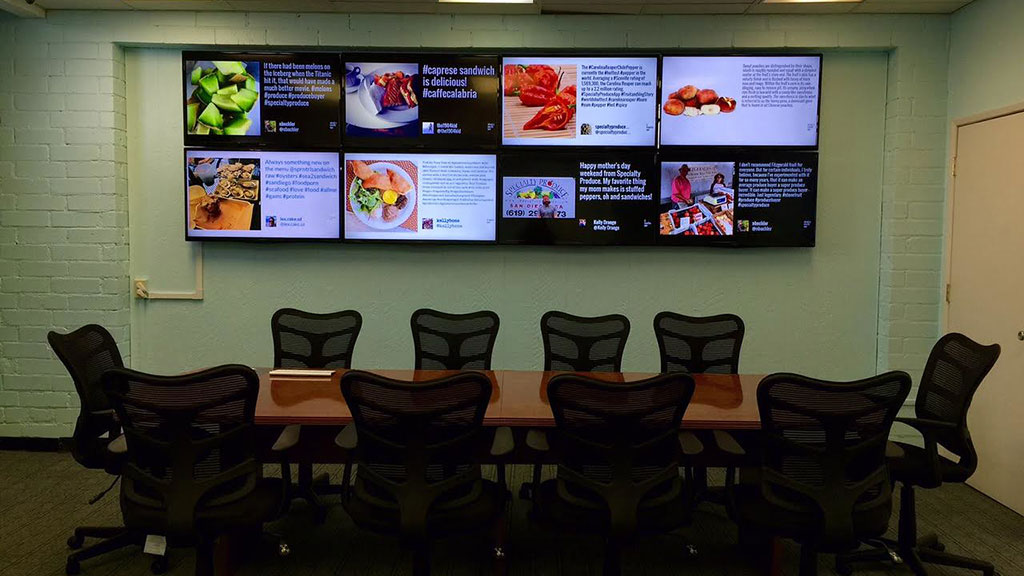 A great example of a digital signage menu board in action using TINT
2. Define your social media wall's purpose
It's so easy to think 'hey, let's do a social media wall!' without really thinking about the purpose behind it. Social media walls without direction appear a bit well, directionless.
Once upon a time social media was just used to chat with people but today, it has a reservoir of functions. From customer service, to fact-finding, providing updates and sharing curated content.
Are you looking to increase the reach of your social media? Alert existing customers to its presence? Provide useful information a bit like an always up-to-date noticeboard?
Some key things to think about are:
Who is looking at this display?
What state of mind are they in when they're looking at it?
Why do you want them to look at it - what action do you want them to take?
When are they looking at it?
Where is my display positioned and how far away from the customer or reader is it?
These age old 'Ws' are still just as useful today for thinking about your audience and how your social media wall can best serve them. Our comprehensive guide to a digital signage content strategy could also help.
3. Select your channels
How you use your social media channels online could help determine what you show on your physical screen. For example, if you mainly curate content on Twitter this won't translate as well in a physical environment when your audience can't click-through on the link.
On the flip side, Instagram displays often work well in digital signage as their very nature is to be visual!
An Instagram social media wall created with SocialHub
The great thing about social media dashboards is that you can collate content from multiple channels. If you're holding an event or tradeshow, this is a great way to pull together insights from across the entire digital landscape.
You may also want to use playlist and scheduling functions so that you can adapt the social media feeds depending on who is looking at them and by time of day. For example, in a restaurant lunchtime setting you may want to draw attention to your Facebook feed full of family content, then transition to your Spotify playlists later in the evening.
4. Moderate the environment
One of the biggest concerns with social media wall setup is moderation. Social media is a floodgate of content and can be risky when sharing in an open environment.
Luckily with some social media wall apps there are moderation tools built in. These will range from allowing you to exclude hashtags and 'NSFW' keywords, to a 'safe filter' like the one used on our Twitter app and even the ability to approve all content before it gets passed to the wall.
Depending on the chance of risk and what content terms you're using, it's best to test this in a safe, non-public environment before putting it live. Remember also that just because you're using or promoting a hashtag doesn't mean that no one else can use it either.
There are also tricks you can use such as setting up a specific Twitter handle or Instagram feed where you only share 'safe' content, so as that you can publish and promote on the go and the screen will automatically update. No need to be anywhere in the vicinity to be sharing great, real time content.
5. Engage your audience
The true beauty of showing social media on your digital signage walls as opposed to content such as image galleries and presentations, is that the content updates itself. Once you've set up the parameters, any content shared within those terms will appear up on your wall, updating in real time.
However, a little engagement strategy will go a long way to making the most of your displays. There are plenty of ways to engage your audience and get them thinking about how and why to share.
Building community around a specific topic or hobby (for example, sports) will ensure that people want to add their voice to the conversation and see their update live on the big screen.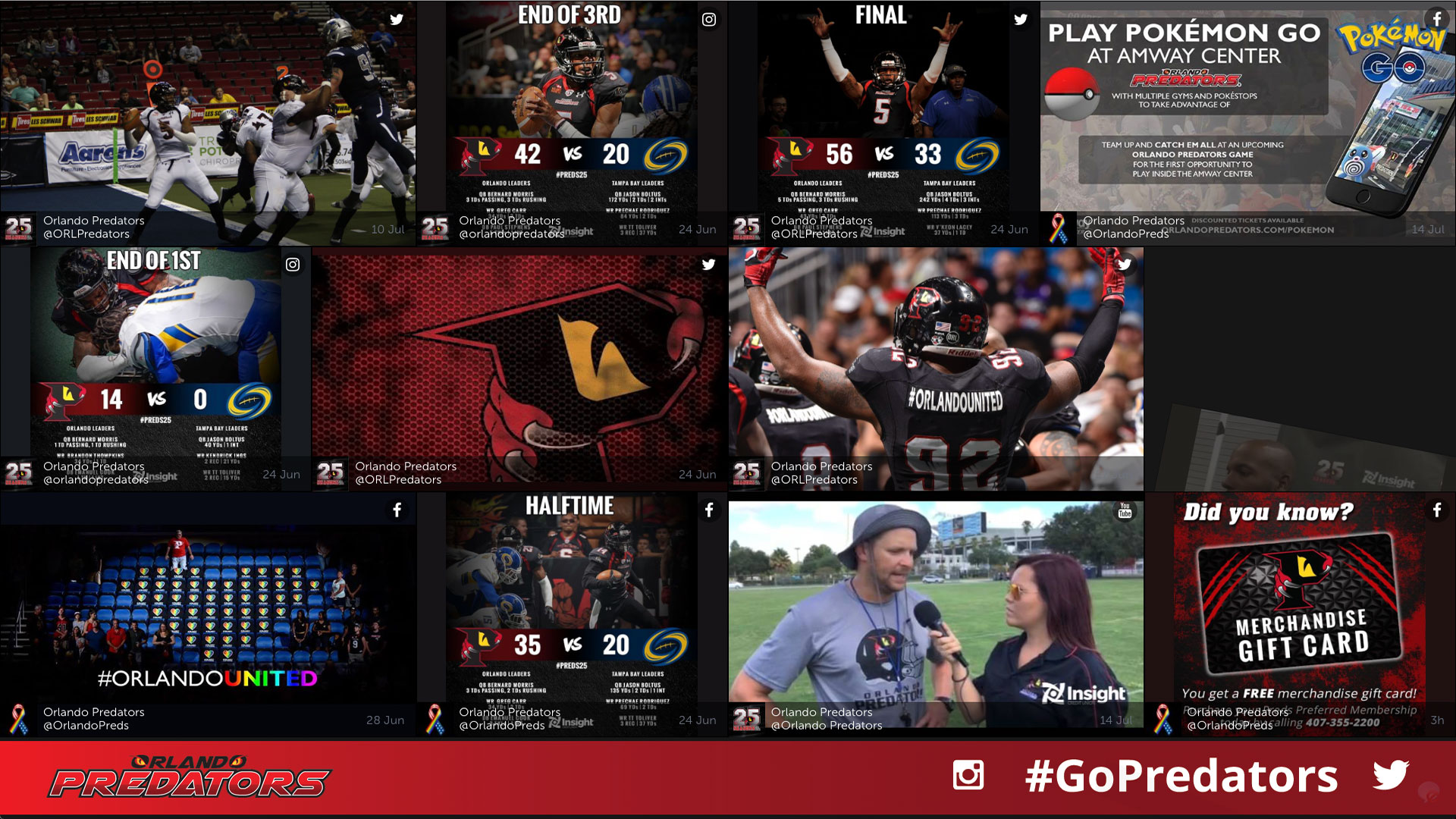 The Orlando Predators' social media wall by SocialHUB
You could also create competitions, sharing incentives such as free products or discounts and referral incentives between your patrons. In business, perhaps you can encourage sharing between employees with a 'most social' monthly award. You'll also find, like many of our clients, that digital signage serves as a physical reminder for company culture and incentives, encouraging staff members to get involved and be more social.
Setting up your social media wall
It's never been more accessible to setup a social media wall, whether it's in your office, restaurant or store, for Facebook, Instagram or Twitter. Get started today at ScreenCloud.