Within the restaurant space, and particularly for quick service restaurants (QSRs), cutting through and finding new levels of engagement can be hard. Not only are you competing with the social aspect of a meal, getting in the way of conversations between diners, you're also fighting against the smartphone sitting in the customer's hand.
It's far too easy for customers to be focused on their own agenda (emails, social media, meetings), than for them to see the amazing offers and services right in front of them!
We know that digital signage can help.
Digital signage (which is a fancy way of saying the digital screens up on walls showing content) is big business in the world of QSR. In fact, we're pretty surprised when we see a restaurant without it. Here, we explain why.
1. Easily adaptable digital signs and menu boards
One of the fundamentals of a QSR is its ability to adapt and change as rapidly as its menus. Take McDonalds, one of the kings of QSR, as an example. How many times do you see the same products on display, or the same menu boards for that matter? Even if you visit fairly frequently, say once per week, you're still going to see a different visual each time.
Products change quickly in QSR and your menu boards should be able to do the same. When you have digital menu boards, this becomes a no brainer. Products can be changed by anyone, not just your design team. On a busy day, boards can be adapted to show product volume, even when patrons are already in the restaurant. Designs can be made seasonal or adjusted in the moment to show product shortages. Our Digital Menu Board app makes that really simple. Edit, copy and repeat menus or create as many new ones as you like. Suddenly, Christmas, Thanksgiving, Summer and Winter menus are all easy to create and throw up.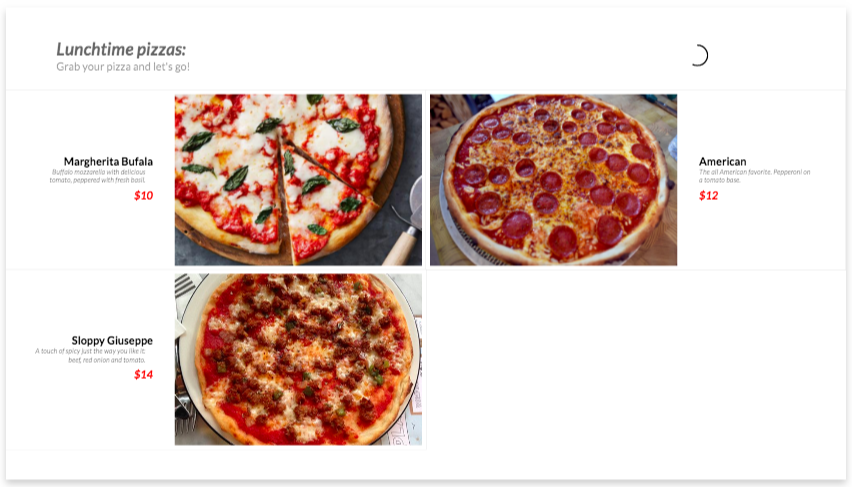 When your menu boards are hyper targeted to time of day, product on offer and time of year, you're guaranteed to make more sales.
In fact, 29.5% of customers find digital menus influential for purchase of product.
2. Automation and updates
Digital menu boards can also tie into point of sale (POS) software, to activate instant updates and alterations. When this is automated, it makes the job of your staff much easier.
Digital signage can also be used for wayfinding and to tell customers how many seats are still available in each area, when paired with a simple foot tracking or sensor system.
Smaller, portable digital displays such as iPads and tablets, served at the point of purchase, can upsell based on buyer behavior. Showing information such as, 'go large for just $2' or even 'have you tried our new side salad?' can all be great incentives to upsell more products.
Digital signage displays can also be used to share allergy and calorie information to patrons. If a customer has a specific allergy, they can view the allergy information without holding up the queue which can cause embarrassment for both parties. Instead of hastily trying to push the sales counter for information (which they may not have) digital screens give in-depth information long before point of purchase.
Digital displays can also update calorie information by the minute, helping customers to make more informed decisions based on live data and not an out of date paper chart.
3. Customer perception and experience
What's the biggest annoyance in a QSR? Waiting for your food. The idea of a QSR is exactly that - quick service, quick food.
Digital signage knocks down a few of those hurdles in one. Firstly, it makes the ordering process quicker and gives information to customers as soon as they walk in, from digital menus positioned anywhere in the store.
Secondly, digital signage can actually reduce perceived wait time by up to 35%. Handy, eh?
Lastly, digital signage doesn't just have to share digital menu boards and information on food. Using the playlist method, it's easy to switch between a ton of different content sources. From social media dashboards, to train times, weather reports, live news, sports scores and images or videos.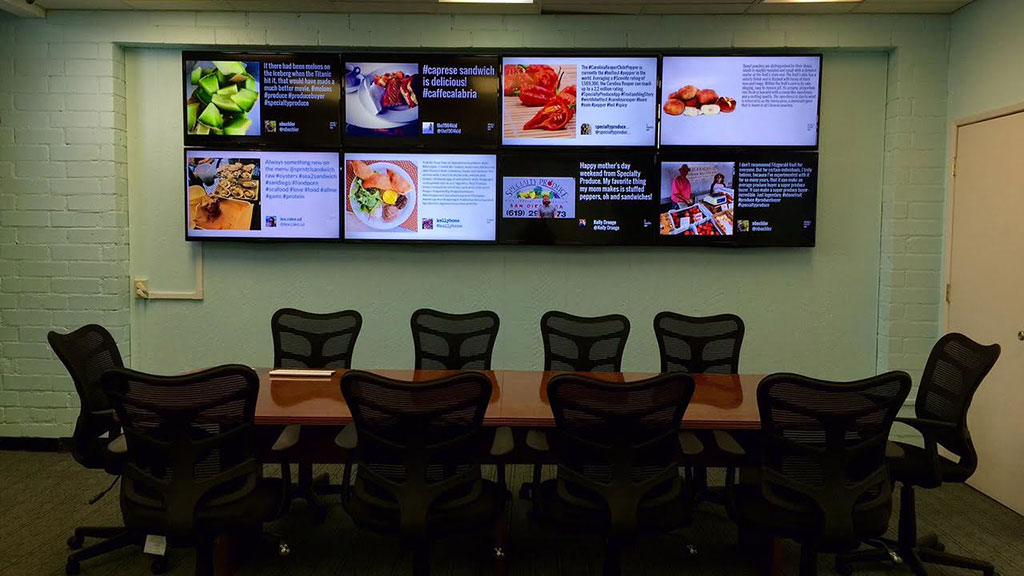 A social media restaurant dashboard from our friends at TINT.
This provides a rich canvas, on which you can get customers to play games, share experiences on social media, watch videos and see real time sources of content that will make their wait pass in a flash.
Then you have perception. So many restaurants now use digital signage that it almost becomes an expectation. When you aren't utilizing any digital technology, you're sending out a message to customers that you're out of date. In the current climate, there are so many QSR choices! Many of which, are healthier and/or fresher than the QSR market we once knew and loved.
If you're looking to engage customers with a new or existing perception, digital technology will help. As well as sharing information, you signpost that you're serious about the food you offer and the customer experience.
4. Building community and rewards
In QSR, a little customer loyalty can go a long way. Yet due to the transient nature of quick service restaurants, this is often overlooked, or difficult to obtain. Say a new Go Fresh, Tossed and Pret all pop up on your row one day. How are you going to entice your customers to come and eat at your burger joint?
First, you tell them all their friends are doing it (social proof shown on your digital signage social media walls). Then, perhaps you give them an offer they just can't refuse (a simple PPT slide or image thrown up on screen). Once they've been in, you give them a showreel of your new rewards system and use video content to hover all of those delicious perks that are just in reach. Then you follow this up with rich customer testimonials, feedback, social love and testimonial proof that your restaurant is just as good, healthy and delicious as those around it - if not more.
As they leave, you reinforce the message with a personalized goodbye and a reminder to come back on X day for a specific reward, perk or event.
5. Planning for the future of QSR - IoT
In our Connected Spaces series we've discussed in depth, the effect of internet enabled devices on traditional hospitality, including restaurants and QSRs. Truth is, this technology is coming to retail and restaurants and will make a big difference to those who dominate the market over the next 5-10 years.
Digital signage is one of the easiest ways to plan and adapt your QSR to the internet of things (IoT) and plan for future campaigns where customers will be talking to objects and systems within your stores.
Digital signage ties in with beacons, which are able to communicate special offers, news and updates to a customer's smartphone. They are also adaptable and can be triggered by events in-store. Advertising panels can change depending on how many products a freezer has in stock (running low = shift the ads to product II). Smart fridges and shelving can count stock, automate ordering processes and reduce food waste.
Socially-activated drinks and vending machines can release products or prizes when activated by a tweet or Facebook post.
Interactive screens can be used to order food, play games and collate customer feedback.
Setting up digital signage displays now, is the first step towards owning a sophisticated, internet-enabled restaurant that tailors its food, products and staff timetables to what the customer actually wants and needs, based on real data.
Digital signage for QSR
In nature, advertising is used to show the invisible. Digital signage is a powerful form of advertising and it can sell all of the benefits of your QSR that your audience can't see - the speed, the quality, the service and the customer experience that underpins your brand. In quick service restaurants, time is scarce so you need to communicate as quickly and effectively as possible. By implementing a digital signage strategy, you get a ton of benefits in one that will lead to higher engagement, more repeat custom and happier visitors.
Get started today - our free trial is waiting and ready for you to check out.