What students look for in a university or college has changed a lot since many of us went hunting. For a start, it's no longer just about the education but also the experience. Students arrive digital-ready, equipped with as many as four smart devices (smartphone, tablet, laptop, TV screen). How do they play into the journey? Do staff know what they should be looking at in terms of digital communication, collaboration and education?
In our journey of educational digital signage, we've spoken to many teachers, IT leaders and marketing professionals who are keen to exert change on their schools and colleges. From Nigel Price at Merchant Taylors' Schools who had been trying to implement digital signage for eight years before finding a system that worked, to Leslee Hussin at North Valley Baptist Schools who wasted months attempting to set up a "plug and play" digital system and who was instead met with lengthy consultation calls and sales pitches.
Truth is, in schools, colleges and universities everywhere there are individuals attempting to create digital change. Who want their environments to become "digital-first" and able to meet the needs of a growing digital population. The question is not why, but how?
In this guide we look at three ways universities can adopt a digital-first mindset from the inside out.
Digital signposting
Becoming digital-first means changing how you see, use and think about digital technology. Many schools have digital whiteboards and online submission processes. They communicate with students on social media and are open to digital collaboration tools like Google Docs, as well as file-storing and sharing systems like Dropbox.
What this doesn't do is take the digital mindset and place it in front of students, teachers and potential students who are in that environment.
Here's where digital signage comes in. Digital signage has become cheap and easy to deploy with cloud-based tools that allow you to grab any old screen and get a rich content feed running in minutes.
Screens are natural attractors. Place them in a school corridor or outside a classroom and you're guaranteed to gain eyeball space.
"The screen at the Boys' Sixth Form uses ScreenCloud apps to show current exchange rates, weather and news from the Financial Times, CNN and BBC. When the students are doing A Levels, real time events happening around the world are discussed in lessons and used to illustrate principles. We also show the Sixth Form Twitter feeds - for example if there's a PSHE slot or morning briefing they will be told about it by the screens." Source.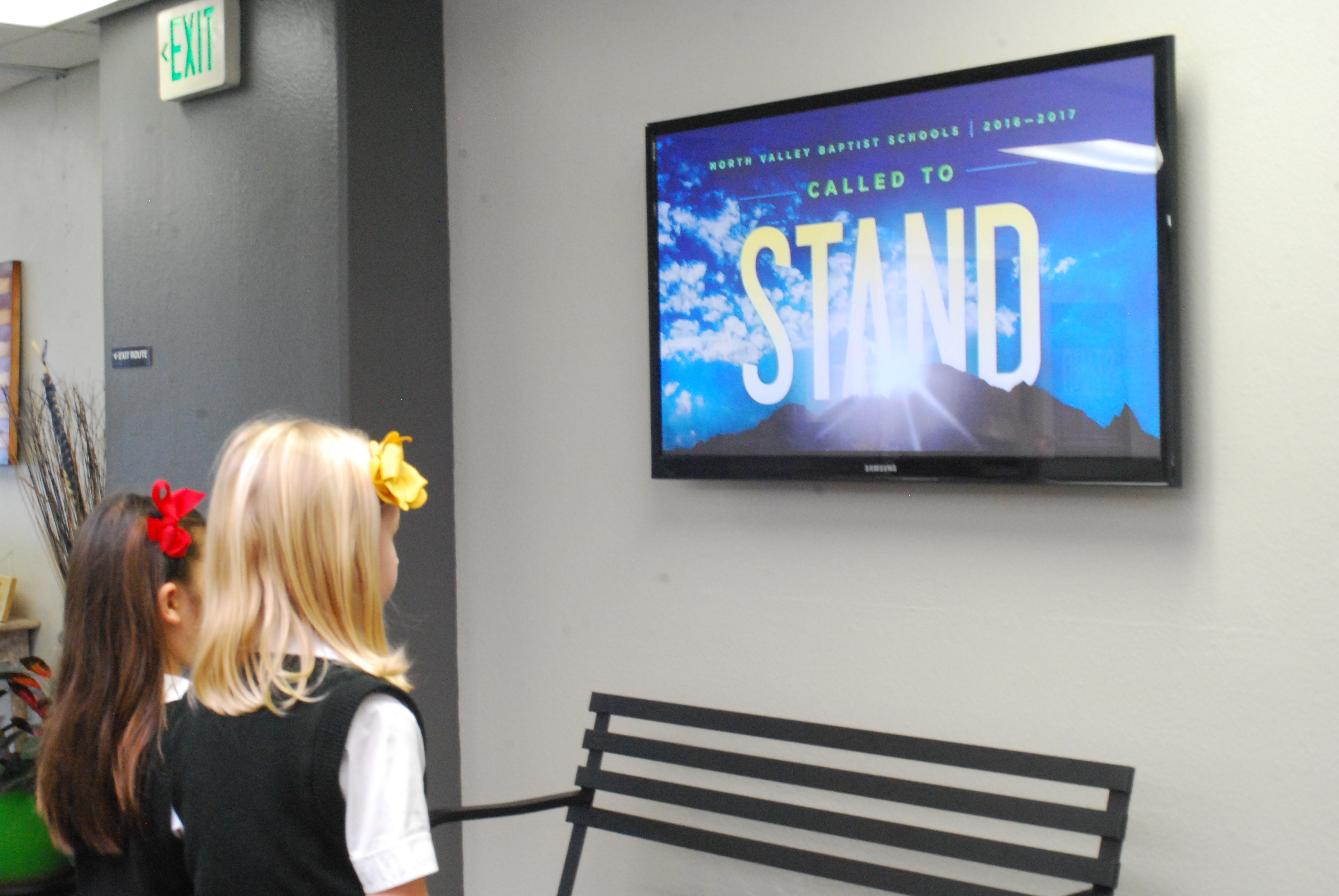 Digital signage at North Valley Baptist Schools in Silicon Valley
Some of the ways this can be used to facilitate digital interactions include:
Inform both staff and students on campus of daily, weekly and upcoming events
Share announcements and reminders in a more visual way
Recognize student achievement
Share students' digital projects
Celebrate school and individual milestones
Promote departmental social media feeds
Share travel information - bus and train timetables - around the school area
Rent out space within the school to increase revenue
Share information that can promote discussion in class (currency rates, world news etc.)
Digital signage for schools has become easy to implement. This almost makes it a no brainer for finding ways to create a digital-first educational environment. Unlike other marketing methods it doesn't date either. Pull out a slide, upload a new one or add a piece of content to the screen and you can change the entire environment. It won't be long before these digital signposts become as second place as printed display boards and notices.
Digital communication
A printed prospectus is nice but is this really how students want to communicate with their potential university? So many other key connections are now made online - from happy birthday messages on Facebook to reviews and ratings and even the emails and text messages that replace phonecalls and meetups. Some questions to ask to consider the digital interactions between you and your students are: What is your communication machine and does it involve digital methods? How personalized and frequent are the touchpoints? How are you helping students to build the trio of digital relationships: university-student, teacher-student and student-student?
Institutions such as the University of Edinburgh are already providing online magazines that detail in depth, their digital strategy and the ongoing steps to becoming a "digital first" organization.
Some of the ways you can include digital communication at every level include:
Sharing digital ebooks and whitepapers with students instead of paper versions (which, extra bonus, are trackable)
Creating online networks, forums and marketplaces where students can connect with the university, other students and teachers
Introducing paperless submission processes
A digitized library of collections that can be accessible to multiple students simultaneously
Websites or mobile apps that allow for "library mapping" - helping students to locate resources more easily
Allowing students to lead on digital projects to learn skills and help with the digitization of the university
"Digital signage has been a terrific way for my media students to learn graphic design skills and then be able to show off their handiwork in real-time. Their assignments are for the "real world," and I've enjoyed seeing each student take careful, diligent ownership of our screens on campus." Source.
Digital campuses
New and emerging technologies in IoT are big business in the future connected education space. These individual pieces of technology speak to each other in a connected way, to link up individual parts of what is in its whole, a digital campus. These technologies present new ways to improve and redefine the education experience. Whether it's by improving communication between teachers and students, helping classrooms to adapt more effectively to the needs of students or learning aids which help students through complex projects.
When campuses become digital they begin to speak the same language as the digital-first students. It eases processes and makes physical buildings and centres more adaptable to changing needs. The way we learn and consume information has changed hugely even in the last five years. Why shouldn't the physical environments we learn in be doing the same?
Some of the ways digital campuses can be created include:
Sensors deployed across doorways which monitor student movement - finding out which areas are busy and which are free to inform study sessions
Wearables that help students and teachers to keep an eye on their fitness, tied into a reward or tracking system across the entire campus
Analysis of data and student movement to ensure that learning areas are optimized. Using sensors and smartphones to be able to change the temperature, lighting and sound of a room for optimal effect
Wireless door-locking and tracking systems for increased safety
Corridor displays that can be interacted with and changed, at the flick of a smartwatch or smartphone
Cloud-based systems for storing and sharing information across every department and area
Not all universities are or want to become digitally-led. Education is an age-old ecosystem where change can be slow to spread and even more difficult to implement. But for those who do think the future is digital, now is the time to implement. Universities who do adopt digital streams of communication, signposting and information sharing will all stick out a mile and benefit from their digital initiatives.
Digital affects all parts of the future university - not just IT. For it to be implemented and implemented well, every area must be considered and ready to adopt a digital-first mindset.
To get started with your digital signage as the first step towards a more digital culture, check out our 14-day free trial of ScreenCloud. We also offer a 25% discount to all educational institutions, so setting up screens is not only easy but also cheap! Get started.