Digital signage is everywhere. Without realizing it, you've probably seen a huge amount of digital signage just today. It's on the subway, used in bus stops, in store windows and increasingly, in other communication settings within offices, schools and hospitals.
In this guide we'll show you what digital signage is, different types and how to create it yourself.
What is digital signage?
Digital signage relates to content being shown on digital TV screens, often updated in real time and used for marketing, advertising or internal communication purposes. Most commonly digital signage is on a TV screen, monitor or large billboard but it can also relate to a small screen like a tablet, iPad or kiosk. Digital signage was historically used for advertising, but now it is used for sharing information in places like schools and restaurants, for examples as a student digital bulletin board or a digital menu board.
What is an example of digital signage?
The most well-known digital signage example is perhaps Times Square in New York. Anyone who has ever visited Manhattan will recognize the huge blinding lights, where brands such as Dell, Audi, Mini and Forever 21 advertise on large LED billboards.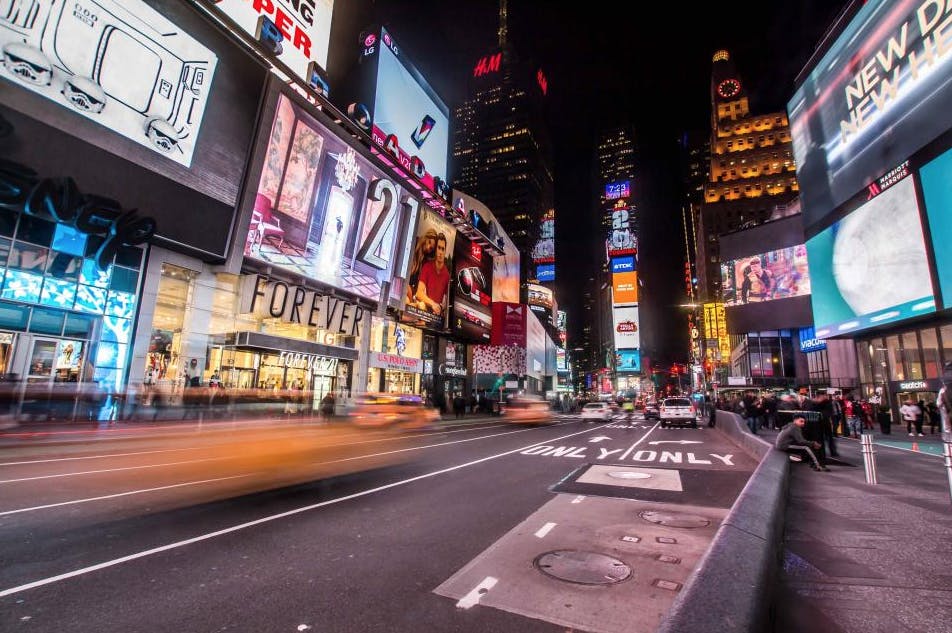 This is why when we think of "digital signage" we often think of screens that show digital adverts, videos and images for advertising purposes. However, digital signage also applies to screens which are informational. Other digital signage examples include: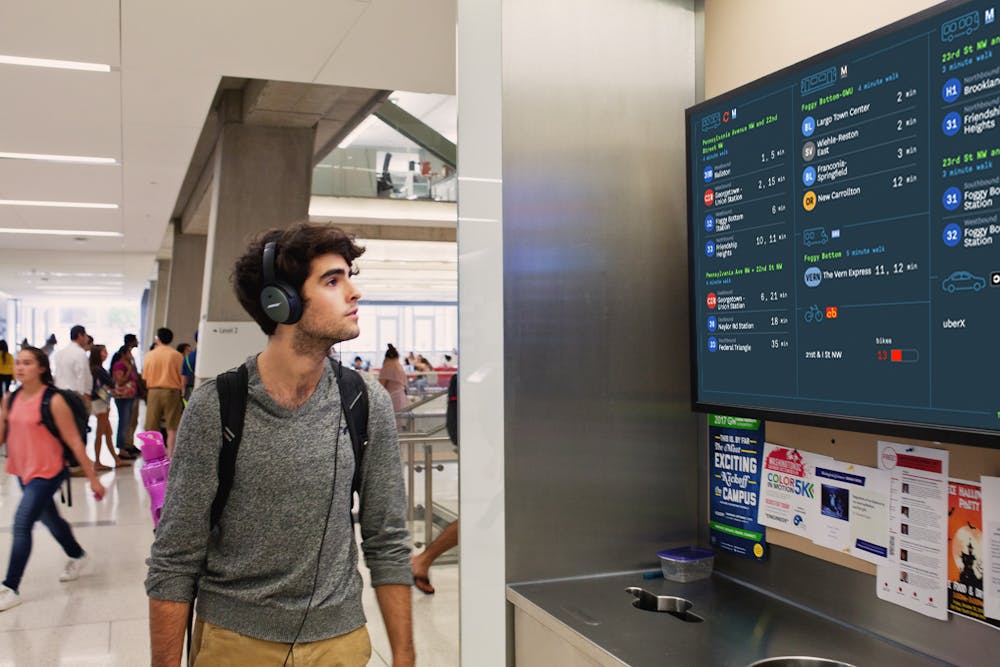 Digital signage is just the name, the use cases are widely varied.
What do you need to set up digital signage?
In order to set up digital signage you need a few different elements. They are:
1. Hardware
Some type of screen to show your content on. In some digital signage cases, hardware also relates to a media player or signage device.
2. Digital signage software
This could be in-built software that you get with a smart TV or cloud-based software that can be managed from a PC or laptop.
3. A Content management system (CMS)
This is the system you use to store and organize your content, often making use of playlists or schedules.
4. Connectivity
At least initially, you'll need to connect the screen to your software via WiFi, or physically connect it to something like a USB stick.
5. Content
This is the videos, images or text files you put up on your digital screen. This might be a poster, an advert, a social media feed or a YouTube video, for example.
Different types of digital signage
There are lots of different ways to skin a cat, as the saying goes, but here are a few of the most common ways to set up digital signage.
1. Traditional screen + USB, laptop or DVD player digital signage
Traditionally and in its most primal sense, digital signage involves a screen and something to power it from - usually a DVD player or USB stick. You load the USB up with images and videos, or burn them to your DVD, step round the back of the screen, plug it in and configure using your remote (and a lot of swearing). Then you're ready to go!
Fortunately, this is old hat and we go into more detail why in this article.
For those more sophisticated there's a regular old laptop or PC. These are configured with content, plugged into the screen and then hidden behind a wall or desk, powering the screen with content. But they're often bulky and difficult to hide.
2. Digital signage media players
Digital signage media players or "signage" players, are often used to give the screen the connectivity it needs to show content. For example, a regular TV monitor which isn't connected to the internet, can use a media player like an Amazon Fire TV Stick or a Google Chromebit to make it "smart". These media players are consumer-led hardware, which means they can be bought on Amazon or in most hardware stores. They're also small and light, which makes them easier to hide behind a screen than a DVD player or laptop.
There are also specialist media players that signage companies will custom build, but these are often more expensive and can be bulkier. Native digital signage is sometimes used for security reasons. This is where all of the content is stored inside the media player (custom media players have more memory than consumer-bought ones). Some media players will need physically removing from the screen in order to update the content held inside.
3. Cloud-based digital signage
Cloud-based digital signage is a system that provides digital signage without the need of any physical hardware. This means that on any screen connected to the internet, content can be accessed via the cloud and played on screen without a DVD player, laptop or any other media device being plugged in. This is becoming a popular choice at it saves on cost and can be managed remotely, without any hardware needing to be removed.
With a cloud-based system the only consideration is that your screen needs to be smart. Not Stephen Hawking smart, just smart enough so that you can connect to the internet and get it paired with an app such as ScreenCloud. Now if you're already lacing up your sneakers to run out and purchase a new Smart TV screen hold fire!
As mentioned above, if your screen wasn't born smart then there are many devices you can use to make it so (use our Hardware Selector if you need some help).
Along with one of those devices, your regular TV becomes "smart" and you can power it with cloud-based digital signage. This usually means logging onto a website from your desktop or PC, setting up your content, pairing your screen and the two connecting.
The main benefit of cloud-based digital signage is that you don't have to be anywhere near the screen in question to change its content. This makes updating pricing, images or presentations much easier.
How to set up digital signage
In the guide below, we'll explain how you could set up digital signage using any screen you own and ScreenCloud.
1. Choose your hardware
As mentioned, there are two main ways to power cloud-based digital signage. You require either:
An Android TV + the ScreenCloud app
If you already have a smart Android TV, you can use the ScreenCloud Android Player app which you can download from the Google Play Store. That's it! All of the hardware you need and you're ready to go.
A standard (non-smart) TV screen + cheap media device + the ScreenCloud app
If you don't have a smart Android TV, then you can use any screen you have (even non-smart ones), adding a $40 Amazon Fire TV Stick or an $80 Google Chromebit to help make the screen smart. Once installed, you can download the ScreenCloud app from the Amazon App Store (if using the Fire TV Stick) or the Chrome store (if using the Chromebit). Again, we don't want to make it sound too simple but that's it! You're setup with all of the hardware you need and ready to go.
This means that you can make use of screens you've already got hanging around, or you can buy smart ones that have everything you need already included.
2. Pair your screen(s)
Once you've downloaded your ScreenCloud app of choice, you'll see a pairing code that looks like the below.
To use this, head to signage.screen.cloud from any laptop or PC and set up your free account. You get 14 days for free following which, you'll only pay $20 per month, per screen. No contract or commitment.
Once signed up, you'll see a page that asks you to 'add screen'. Hit that, enter your pairing code and that's it! For multiple screens you can simply repeat the process, adding all of your screens to the same account to be managed anytime, from anywhere.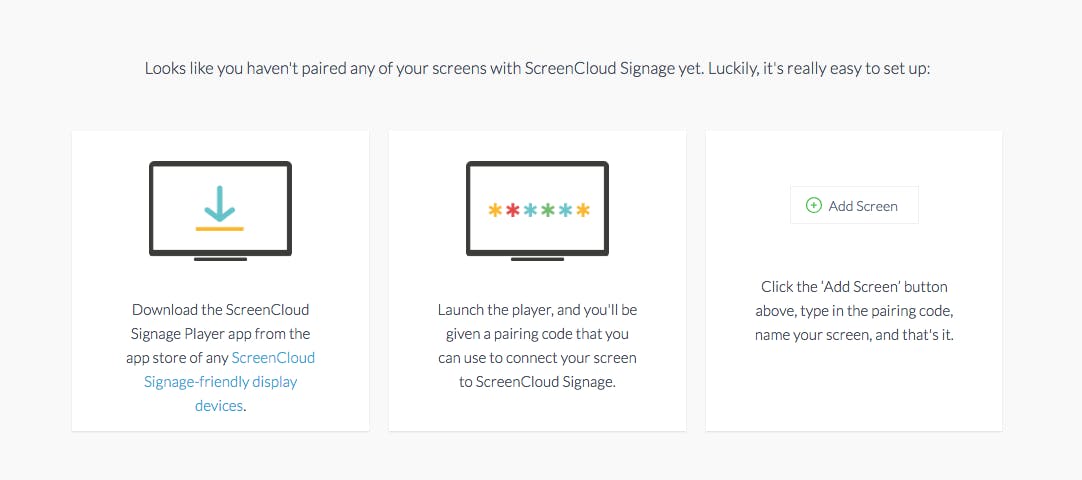 3. Choose your content
ScreenCloud allows you to upload your files from wherever they're saved - your computer, Dropbox, Google Drive, OneDrive and so on, so it's easy to manage your brand content. ScreenCloud also supports the majority of file types including jpeg, gif, png, and svg, PDFs, powerpoints and Office/iWorks formats to make uploading your content easier.
The App Store
In our App Store we have more than 60 apps that will help you to get different content onto your digital screens.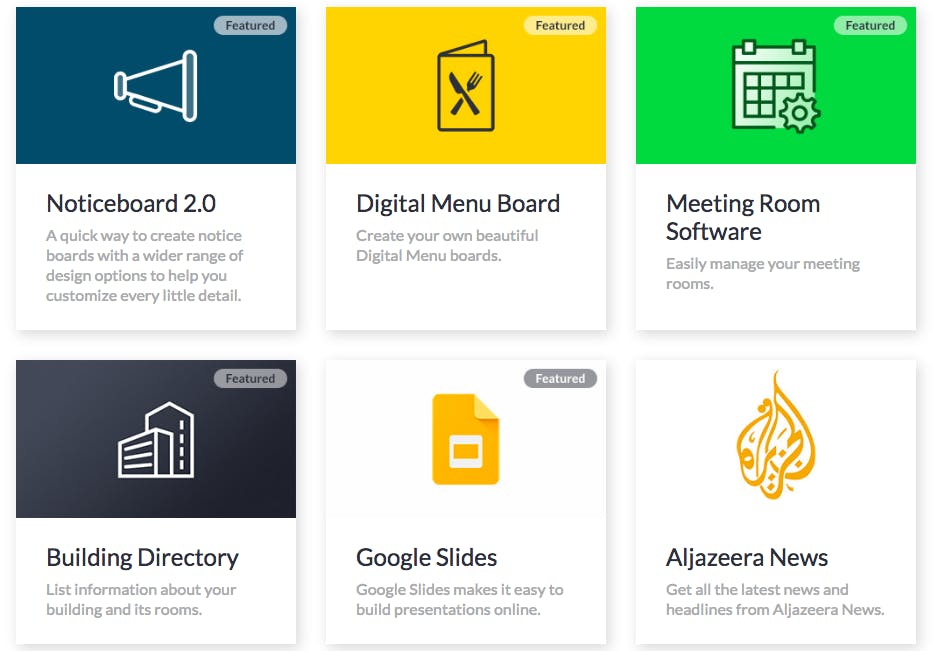 Different types of content includes:
With ScreenCloud, you can also change this content any time you like. Simply change the content and re-upload into your playlist and schedule. You don't even have to anywhere near the screen to do it! Just visit signage.screen.cloud from your laptop or PC, sign in and you have access to all of the content showing from wherever you are. Simples!
4. Schedule the right content for the right time
Playlists help you to organize what shows when. If you need a guide to creating the perfect playlist, head here. Once your content is uploaded, you can add it to a playlist and set the order in which it shows and how long it shows for.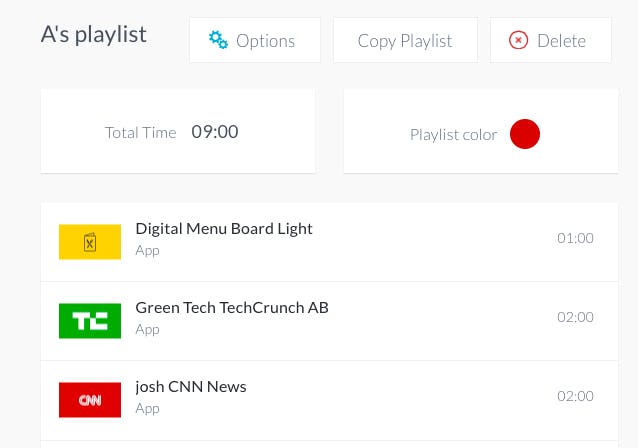 Once you've decided on the best playlist for each of your screens, it's time to create a customized schedule for when it will show.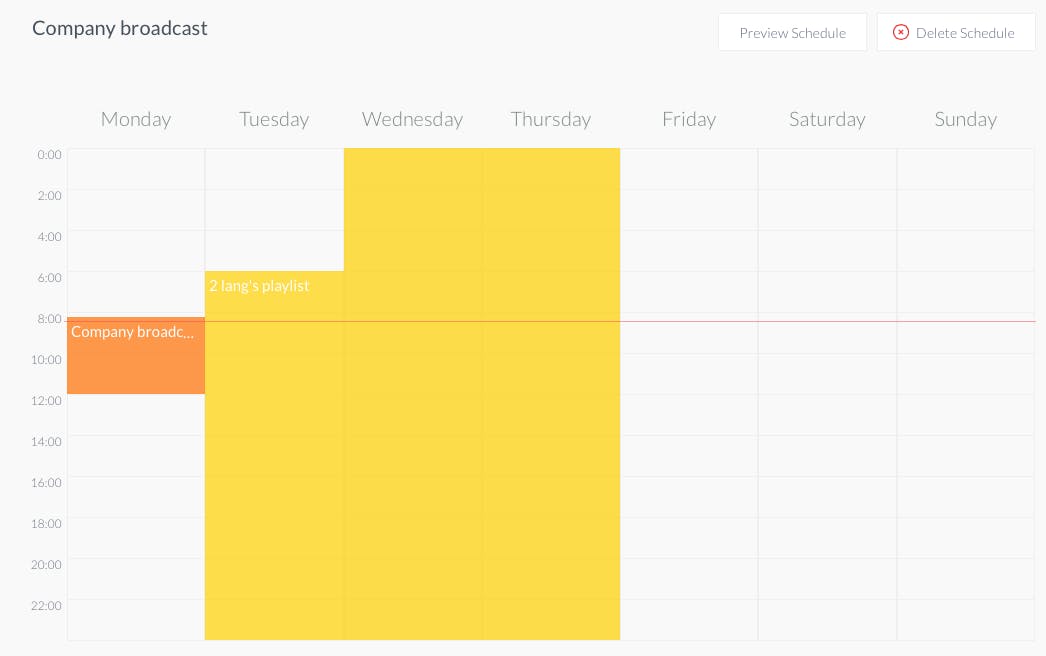 ScreenCloud's scheduling feature allows you to select specific playlists to play on specific days and at specific times. So perhaps you show important information and notices each morning, then images and videos for lunchtimes and reminders for late in the afternoon.
To get started with your own digital signage solution give our free trial a go - no credit card required.
Digital signage FAQs
What is a digital signage content management system (CMS)?
A content management system (CMS) in digital signage is an organisational tool that helps you to manage all of your content. This could be a place to store images, videos and PDFs, as well as organize them into playlists or schedules, to show on your digital screens.
What is "digital signage Software as a Service"?
Software as a Service, often referred to as "SaaS", is a type of model where the software and data are hosted online and available through a web browser or app. This type of software is offered for free or for purchase by a vendor or brand, but remains the property of that company, for use or lease by the customer. Popular SaaS tools are used in digital signage (ScreenCloud is a SaaS tool!) as a way of managing content and putting it onto a screen.
What is a Smart TV?
Sometimes called "connected TVs", a Smart TV denotes any television that can be connected to the Internet. Smart TV's (a phrase coined by manufacturers such as LG and Samsung) have become popular within the home as they allow you access to streaming services such as Netflix and movie rental services as well as internet music stations, YouTube and web browsers.
What is a tickertape?
This is a type of text-based content that usually runs in a specific area of your screen - for example along the bottom. The content scrolls, sometimes on a loop and can deliver text-based information such as news and headlines, or perhaps a Twitter feed.