The great thing about TV Channels (we're talking pre-Netflix) is that they gave us a way to segment different themes, topics or areas of interest. Like say Sport, Entertainment or Comedy.
When it comes to creating digital signage content, we like to think of Channels in the same way, as a means by which to separate content. Except that rather than organizing your content by genre, you might instead look at an area of the business like HR, or Marketing, or you might look at location, theme or even campaign type.
At ScreenCloud, we introduced the Channels feature earlier this year to give you a way to organize your digital signage content more easily. In this guide we'll show you how it works, and how you can begin thinking about your own content design when using Channels.
What are Channels?
Channels in ScreenCloud help you to organize all of your digital signage content by theme, department, user or content type. You might have a Channel that centralizes your "Corporate" messaging, then individual Channels for Sales, Marketing or HR.
In retail, you might have Channels for different campaigns, or for different audiences depending on where they're located. 
So you may be wondering, why not just use playlists to organize said content?
It's a good question but we have a good answer.
With Playlists, every single piece of content gets shown and anyone with editing access can change anything in the list. This means that if you have 50 screens playing your Corporate playlist, and someone makes a change, that goes out everywhere. Period.
With Channels you get the option to nest content which creates far greater control, both in terms of who can edit what but also in terms of what type of content you show where.
Let's give you an example.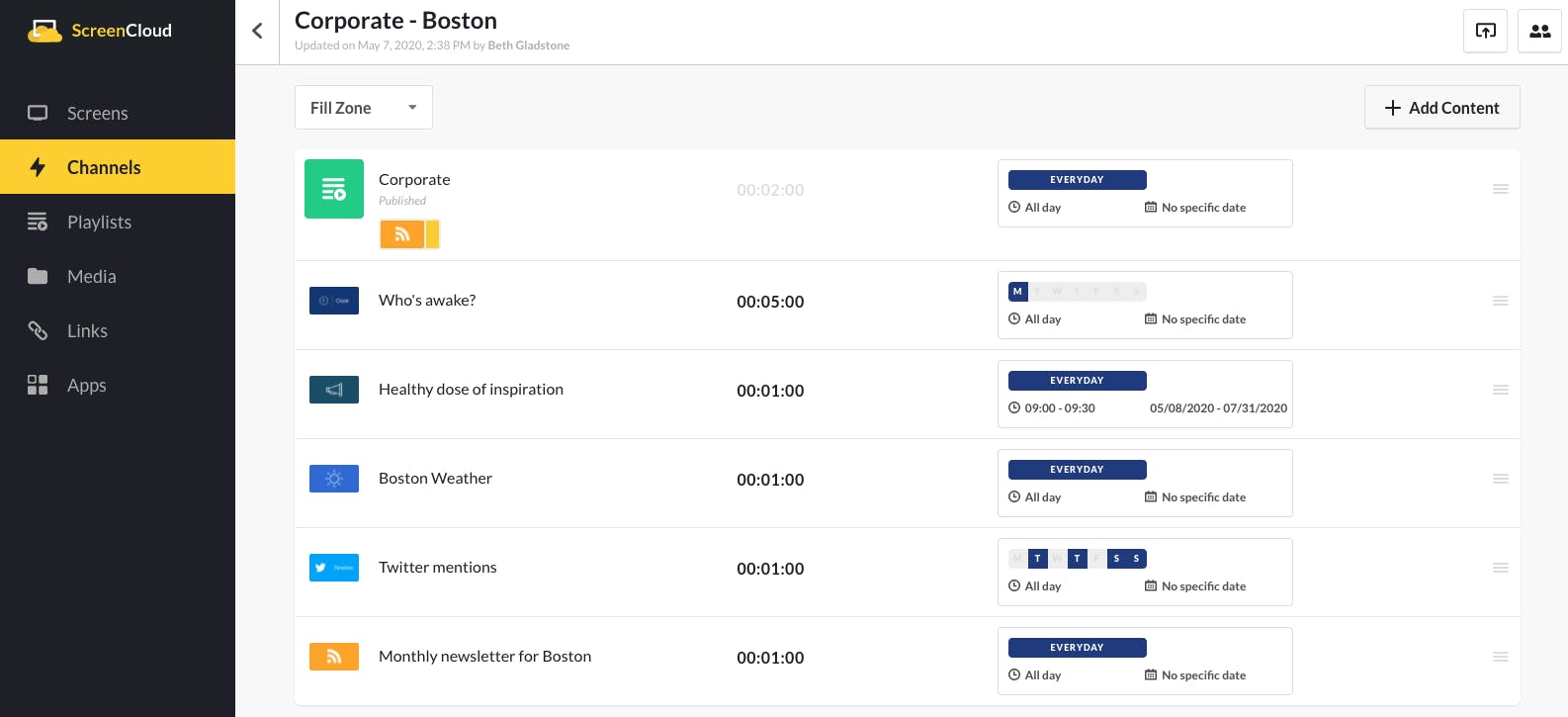 In your organization you might have one "Corporate" playlist which gets collated by your People team and needs to be shared with every employee, regardless of their location or job role. This is a great way to ensure that important announcements, reminders and training tools get disseminated to all employees, regardless of where they are.
But say you have a bunch of screens in your Boston office. As well as showing the Corporate playlist, you might also want to create some localized content that's just for the Boston team. Like a playlist that contains details of the Boston social events, the weather in Boston, or travel updates for the area surrounding the office.
With a Playlist, everyone would end up seeing that Boston content and it just wouldn't be relevant.
With Channels, your Boston team can create their own Boston Channel and they can nest both the Corporate playlist, and their own playlist, media files or apps, within the same list.
There are some other benefits of using channels too.
Target your content to the right people, at the right time
The more targeted content is, the more likely it is to retain attention. Imagine working as a Software Developer and having to watch a marketing message every time you go to make a coffee. Now imagine that message was giving you a real time status update of your business-critical performance systems, or a countdown to how many days you have left until your security audit.
Wouldn't that make the screen worth watching? Channels help you to get more targeted in what you're showing, and where.
In consumer-facing settings, like coffee shops or stores, this is even more important. You might have general promotional messaging that gets played all year round, but with Channels, you can combine this with your Fall-specific campaign, or a special offer that ties in with National Coffee Week.
This makes more of your digital signage network, and shows customers that the content they're consuming is timely and relevant. 
Make incremental changes
Channels can also play on multiple screens at once, which means if you need to make a sudden change, or add something really important, you only need to update the Channel for the screens to follow suit.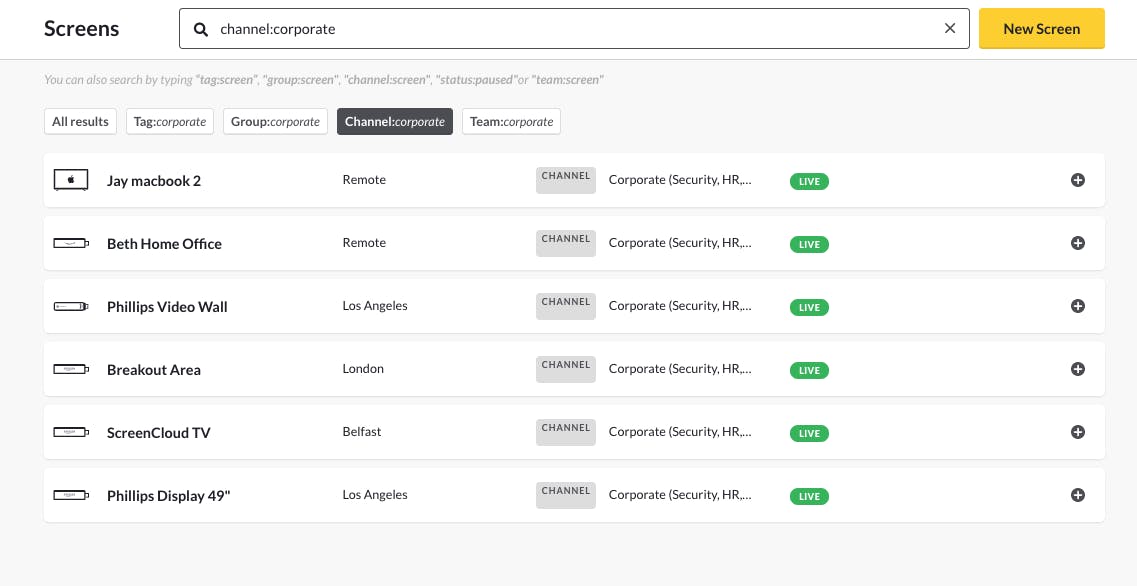 This means that you can change content, without needing to change the structure of your screens. For example, swapping out a playlist, or an element within a playlist, won't affect everyone using that Channel the way it might if you had to change the entire list of content.
Channels also give you the ability to change how your screen looks, preview the content that's playing right now, and add custom themes all from one location.
You can try out using Channels yourself by starting a free trial today at screencloud.com/freetrial.
How to use digital signage channels to reach remote workforces
Since COVID-19 more employees than ever are working remotely and from home. Without those in-office screens keeping everyone updated and with more communications happening across online mediums like Slack, email and MS Teams, the amount of noise employees are exposed to is at an all time high.
Which made us question: how can you keep remote employees connected and on top of what's most important in an ambient way?
Enter Embeddable Channels, a new feature in Channels we developed so that you can share real time updates in a company TV channel or playlist while employees work from home.
With Embeddable Channels it's really easy to share any type of Channel you create in a few clicks. Employees don't need any special hardware to be able to view the updates. Channels can be viewed in a browser, simply by entering a URL, on a second screen or even embedded in an intranet such as Confluence.
Any time you make an update to your Channel, this gets published instantly, so employees can always view the latest news, announcements and data.
This is a great way to keep remote employees feeling connected and on top of what's most important, without having to constantly be checking different locations.
Head here to see more examples of using Embeddable Channels to reach remote workforces and to request access within your ScreenCloud account.