Do you remember those paper TV guides you used to get just before Christmas, where you'd circle all the shows you want to watch?
The great thing about those guides, is that you had a rough idea of where you needed to look, to get access to your favorite type of content. Certain channels would be more likely to show Disney movies, whereas others would showing documentaries regularly, or sports shows.
Well at ScreenCloud, we thought wouldn't it be a great way to organize your digital signage content using Channels?
Enter: digital signage Channels
What are Channels?
Channels help you to organize all of your digital signage content by theme, department, user or content type. You might have a Channel that centralizes your "Corporate" messages, then individual Channels for Sales, Marketing or HR.
In retail, you might have Channels for different months, or for different audiences, like weekday vs weekend.
So why not just use playlists?
The difference between Channels and Playlists, is that Channels let you nest different playlists (or any type of media file) within. This means that whereas before, anything you added to a playlist would have to show to anyone using that playlist, now you can create a Channel that has a playlist, plus other media types, or even other playlists, contained within.
One way we use that at ScreenCloud for our internal communications is that we have a central playlist called "Corporate" in which we contain all of the important messages that everyone in the company will need to see.
Then, each department or office hub has its own Channel. Within the London Channel, we can have the corporate playlist, but we can also add stuff like reminders for our team night out, travel and weather for London and other content that's specific to our London team.
The Bangkok Channel also uses the corporate playlist, but adds other content which is more relevant to the Development team working there.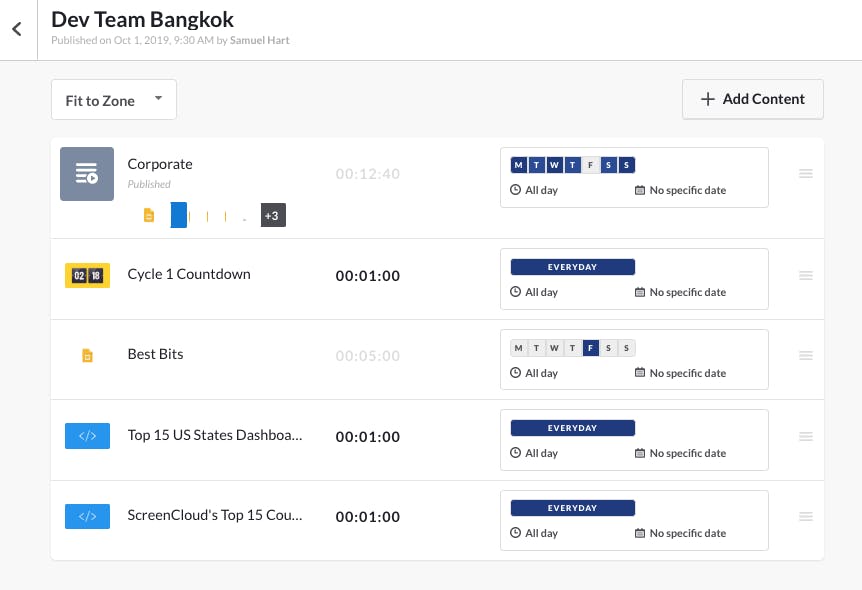 Even within those different offices, we can create Channels for specific areas. Like a Channel to show on the screen that's in our Marketing department. That way, Marketing can geek out over conversion rates and website analytics, without everyone else having to consume that content as well. 
The benefit of using digital signage channels
So why are Channels so effective?
1. Get granular control for teams
Say you also have a Corporate Communications team that sends out messages to the company via digital signage. This can leave the people on the receiving end of the digital signage networks feeling like the content is not relevant, or targeted, towards them and their needs (the "us and them" affect). 
Channels are a great way to stop that happening as you can give every team, or user, a voice. For any team, they get a Corporate playlist, that has to be added to their screens, but outside of that, they get to choose what information is most relevant.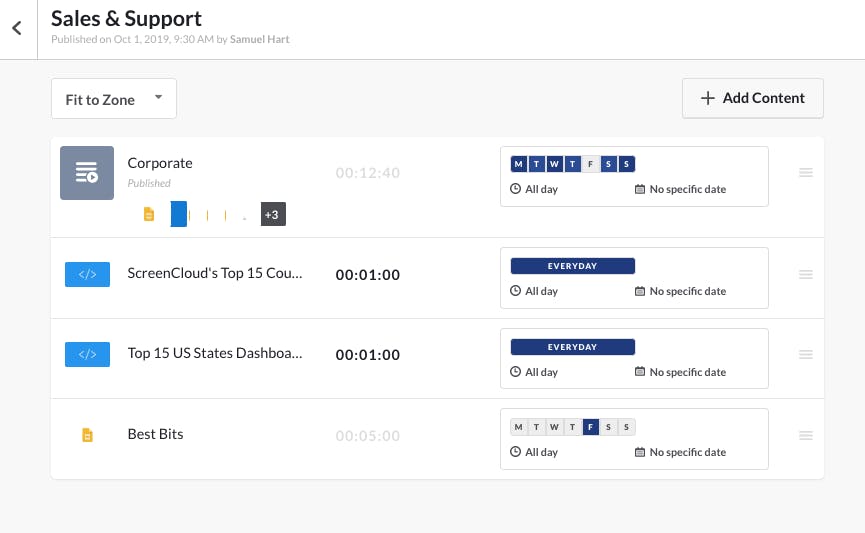 Sales & Support get Corporate, plus their own stuff too.
This means that not only will teams feel more included, but that you'll likely get more information surfaced from those teams, helping to raise voices within your organization. 
2. Target your content to the right people, at the right time
The more targeted content is, the more likely it is to retain attention. Imagine working as a Software Developer and having to watch a marketing message every time you go to make a coffee. Now imagine that message was giving you a real time status update of your business-critical performance systems, or a countdown to how many days you have left until your security audit.
Wouldn't that make the screen worth watching? Channels help you to get more targeted in what you're showing, and where.
In consumer-facing settings, like coffee shops or stores, this is even more important. You might have general promotional messaging that gets played all year round, but with Channels, you can combine this with your Fall-specific campaign, or a special offer that ties in with National Coffee Week.
This makes more of your digital signage network, and shows customers that the content they're consuming is timely and relevant. 
3. Make incremental changes
Channels can also play on multiple screens at once, which means if you need to make a sudden change, or add something really important, you only need to update the Channel for the screens to follow suit.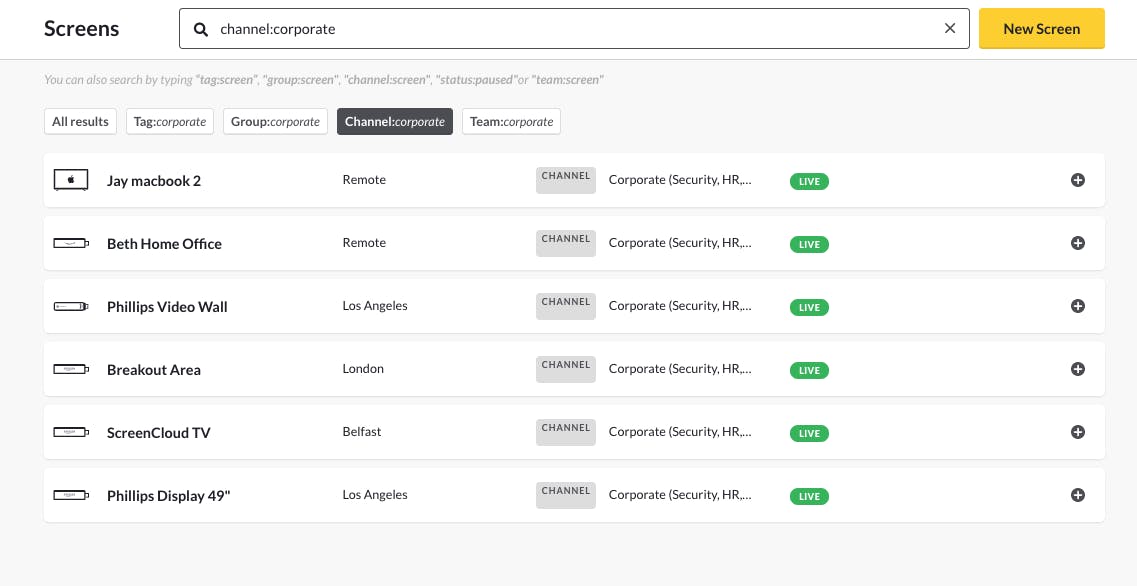 A list of the Screens currently playing the Channel "Corporate"
It also gives you the ability to change content, without needing to change the structure of your screens. For example, swapping out a playlist, or an element within a playlist, won't affect everyone using that Channel the way it might if you had to change the entire list of content.
Channels also give you the ability to change how your screen looks, preview the content that's playing right now, and add custom themes.
Find out more about how to use Channels and the different features available, in our full Knowledge Base guide. You can also try out using Channels yourself by starting a free trial today at screencloud.com/freetrial.