At ScreenCloud we've always had a distributed workforce. Some of us work from home, some in the office, and most do a combination of both. Oh, and we're also spread across three countries. Keeping our remote employees engaged, motivated and included has always been front of mind.
How to keep remote workers engaged
1. Create a remote-first accountability framework
How do you motivate remote employees? Without the accountability of being together in an office there's always a risk that employees won't feel engaged enough with the company - and team mates – to produce their best work.
It's a balancing act. According to some studies, working from home has seen employees logging more hours than less. If you don't need to waste two hours commuting... But, that doesn't indicate whether or not they feel engaged.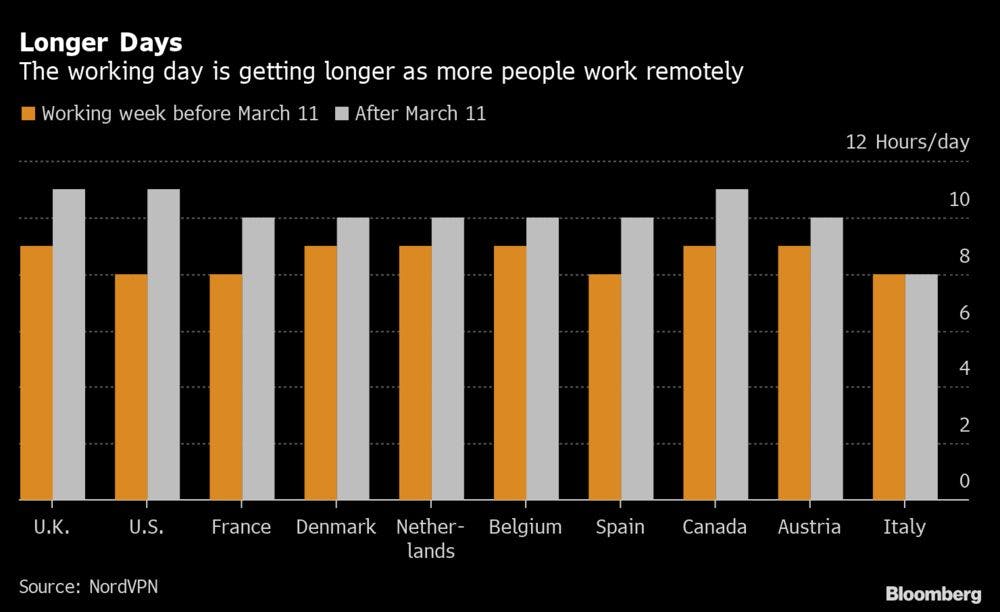 A study by NordVPN looks at hours worked before and after the COVID-19 outbreak.
One way you can help to maintain motivation is to switch to a ROWE virtual work environment.
ROWE stands for "Results Only Work Environment" and is a HR strategy co-created by Jody Thompson and Cali Ressler. This practice is used by companies such as GAP and Best Buy. It champions the theory that by delegating work to employees and helping them to take on the responsibility of delivering that work, it removes the need to police strict working hours. There's no point being sat at a laptop for the sake of it.
When employees are remote working, it's near impossible for an organization to track when they're clocking in and out – and nor should they. Rather than trying to enforce strict "online" hours, companies should focus more on engaging employees and helping them to achieve milestones and goals.
For ROWE to work, there are five key principles but it is perhaps the first two which are most important in this current climate:
1. Employees must understand what they are responsible for.
2. Employees must understand what the measurement for success is.
2. Help remote workers to stay connected
Remote working can be extremely isolating for some employees.
A study by Buffer found that some of the biggest challenges of working remotely are loneliness (21%), communication (21%) and staying motivated (14%). Not exactly a happy trio.
Combating loneliness can be hard, especially for large remote workforces.
Consider your one-to-one relationships: could you implement a daily check-in with your employees? If you're unable to schedule catch-ups with everyone software tools like 15Five lets employees rank how they're feeling out of five on a weekly basis. Those ranking poorly can then be prioritized.
At ScreenCloud we've also introduced lots of remote employee engagement activities to help our remote team members to feel connected. These are easier to manage as they work on a one-to-many basis and employees can choose the activity that suits them.
This includes fun, fully-remote, activities such as:
Virtual lunches
We encourage our team to spend time having virtual lunches with their colleagues to enjoy general conversation which isn't just work-orientated. On recent virtual lunches we've been talking about books we're reading, or Netflix shows we've been enjoying. Some of the team have also extended this to virtual Friday drinks (novelty Zoom background optional).
Exercise classes
Another fun activity while we're all working remotely, is weekly "corona-fit" sessions where people in our team lead a Yoga or Circuits class over Zoom. This is great for helping the team to stay fit, and to keep them connected.
Share day-to-day moments
One thing missing from virtual offices is insight into people's lives outside of work. We've been using Engage app which lets our team submit photos with captions to a screen stream. This is then viewable on our company TV channel (more on this later) and we've also synched it so that the photos people share go into our #team-random channel on Slack.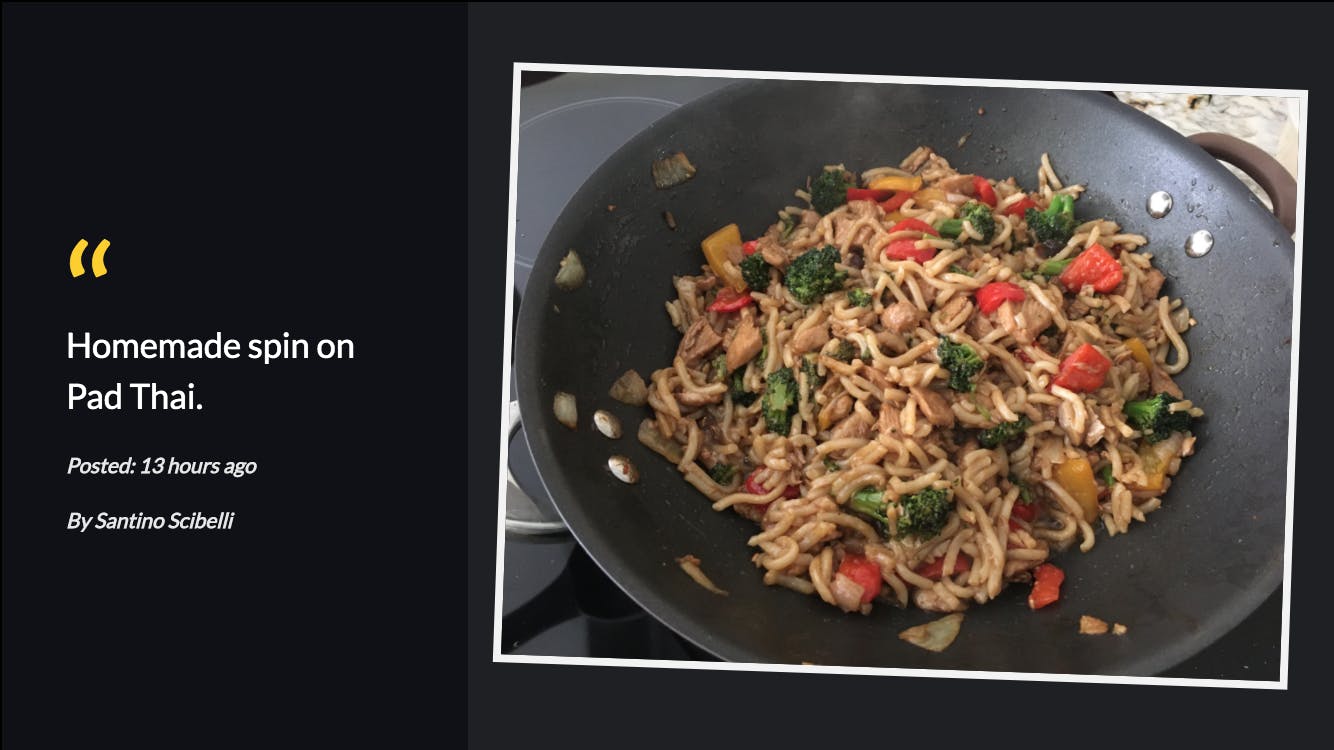 This helps everyone to feel connected, sharing photos from their day, without this taking up real estate in other communication channels. Photos we love to share are moments from our daily walks, special meals we've cooked and of course, pets of ScreenCloud.
3. Enable your workforce with the tools they need to stay connected
It's important to give remote workers all of the tools they need to be productive and to feel connected. Unlike in the office, employees aren't able to shout if they have a technical issue.
As well as your regular infrastructure systems, like tools for HR or Payroll, you'll also need to consider ones that replace in-person forms of communication.
For many companies, this will include finding digital tools to replace different meeting variations, some of which might include:
In-person meetings, usually 1-2-1s or as a small group
Larger meetings, like brainstorming or cross-department meetings
All-company meetings, like All Hands 
As well as formal meetings, there's also micro-meetings that usually take place within offices such as:
The ability to quickly ask a coworker a question or where a file is located
Water-cooler chat
In-office phone networks that allow you to dial an extension quickly
Lastly, many organizations will need to replace on-premise systems with cloud-based tools to cover areas like:
Where files are stored and located
How employees can collaborate on documents or in meetings
Check out our full guide to tools for effective internal communication to see how you can use digital tools in order to replace some of these in-person activities and setups. 
4. Reduce the "noise" of online communication channels
One of the biggest problems with remote work is that employees can often feel torn between missing out on what's going on, or that there's so much information they feel overwhelmed by it. 
This is a key time to consider how you share information effectively throughout the company and how you use tools or guidelines, to ensure information doesn't become siloed between teams or departments.
Some of the methods you might use to reduce the amount of noise employees are exposed to include:
Supply quick recorded or written meeting summaries
If, like us at ScreenCloud, you've resorted to Zoom meetings to replace in-person ones, you'll likely have noticed the "Record" feature that lets you record a live session so that others can catch up on it later. Unfortunately there are only so many hours in a day and probably not enough to "catch up" on every Zoom recording sent.
One way we've been combating this is by recording a very short meeting summary at the end (under two minutes) to send to absent colleagues, rather than the full back and forth of the meeting. This makes it much easier for employees to catch up on what they might have missed, without drowning in recordings.
You might also nominate someone to provide a quick written summary instead. 
Empower remote workers to switch off
In a usual scenario, working from home means quiet time to focus away from office distractions and coworkers. This is usually one of the true benefits of working remotely, but we should remember that right now we aren't just "working remotely", we're working within enforced remote work settings. 
Following the shift, employees might spend all day reading Slack, email and intranet messages without actually having any time to create or get into deep work.
At this point it's important that employees are given permission to "switch off" when they need to focus, or to take a break.
This might mean muting specific channels, setting a Slack status to "Do Not Disturb" or creating periods where meetings can't be scheduled, so that everyone can get on.
Basecamp, who have always worked fully remote, have some great tips on why "Always online" statuses don't work for teams who need to be able to focus.
Create one source of truth
Of course, one of the methods we fully recommend for engaging remote workers is setting up a remote company TV channel with "one source of truth" for important news and updates. Even with the best intentions, a lot of information that remote workers could benefit from is siloed in systems and requires effort to consume. 
At ScreenCloud, we use our own digital signage tool to create "ScreenCloud TV". This is one channel, with carefully curated content designed to keep every employee on the pulse of what's happening in the company.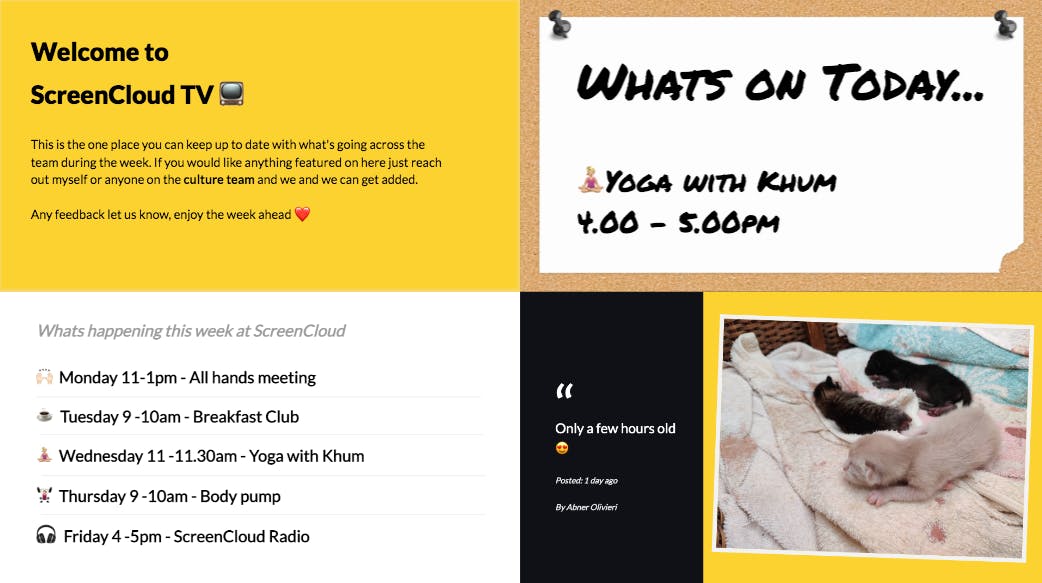 So how do we set this up?
The benefit of ScreenCloud is that it works on pretty much any TV. This means that an employee who already has a TV in their home, can plug in a cheap Amazon Fire TV Stick 4K and be running ScreenCloud in minutes. You could also use an iPad, old desktop computer or tablet to run the channel.
Recently, we developed an Embeddable Channels feature so that employees could open the company TV channel in their browser, or so that it could be embedded within an intranet. 
For example, here are the home office setups of four of our remote workers and their screens playing the company TV channel: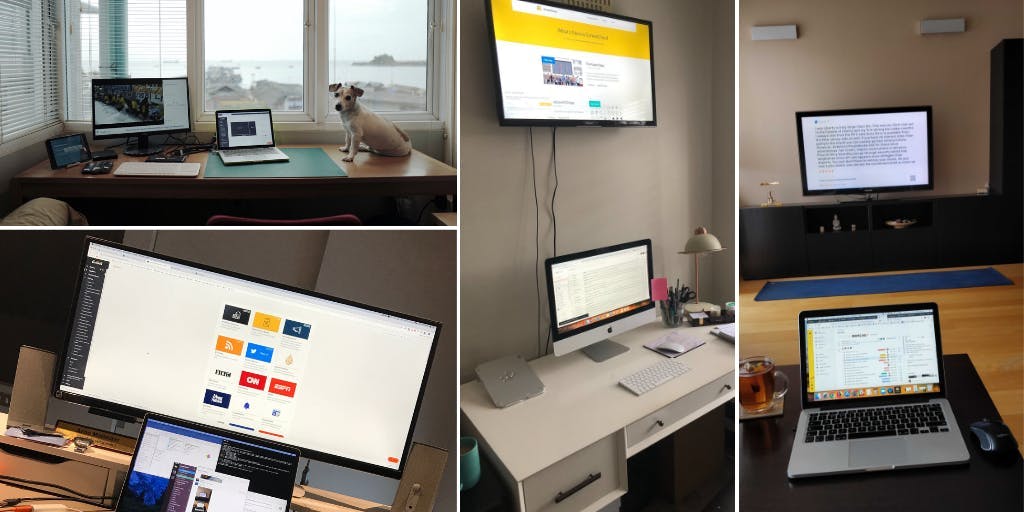 As you can see, some remote workers are set up in their living area, using their regular TV screen, others have a separate screen in their home office or are using an old PC screen to help them view the same live feed. 
Time to focus on engaging the remote workforce
Now more than ever, it's key to put in place a toolkit for keeping your remote workforce engaged, connected and motivated. We hope this blog has given you some ideas to get started. Let us know how you get on - you can email hello@screencloud.com with any questions or feedback.