Not so many years ago it would have been hard to imagine people searching for jobs amongst holiday photos and engagement announcements. Nor that work would happen away from work, like in a coffee shop or at home with your dog or cat. With "purpose" being the most coveted job factor, higher than salary, perks or even work life balance for some generations.
Work has changed a lot in the past decade and you know who has to keep up? The person in charge of human resources or people management.
At a recent HR event we sent our troops out to speak to some of the leading HR professionals to ask them what their challenges are in 2019 are and how they're overcoming them.
Here's a summary of the four main themes we found:
1. Connecting the larger organization
Any organization that has increased in size will have felt the growing pains of going from 10 employees in one room, to hundreds, or even thousands, of employees spread out across the world. One of the main challenges we heard from HR personnel was the difficulty of connecting with the entire organization, as it grows in size.
This is extrapolated when you have not just a large workforce, but one that extends globally, across various timezones and locations. In this situation, it's important to have a global workforce communications strategy so that those in specific teams or locations don't have more access to information or company knowledge, just because they happen to be in the same location as say, the CEO.
This is corroborated by an internal communications study conducted by Newsweaver, analyzing the practices of 400 blue-chip and FTSE 100 companies. According to the study, the biggest challenge internal communications teams face is information overload.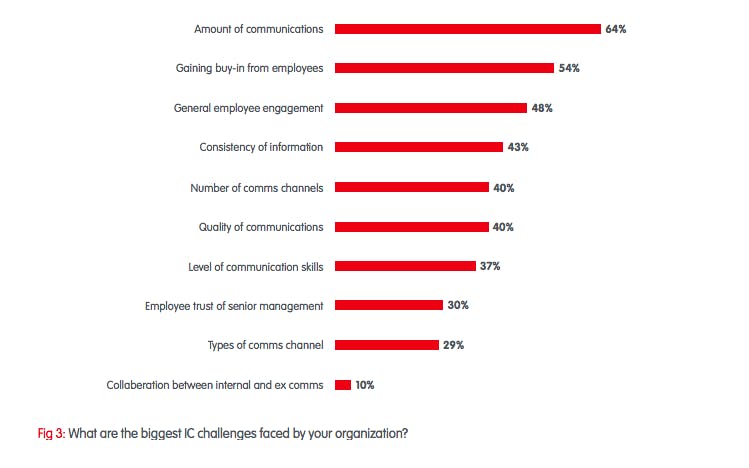 The same study suggests that email and intranet are the highest used channels for communicating within larger companies, but that internal social networking tools like Yammer, are fast on the rise.
2. Communication silos
As well as struggling to communicate within a large workforce, organizations are also struggling with communication silos. The HR teams we spoke to explained how they use many different applications and how these all leave a trail of data and information behind in different places.
This reduces the ability to have one "go to" destination to look for anything you might need.
Want to know something surprising? Despite studies suggesting that email is still the number one source of internal communication for FTSE 100 companies, nearly all of the HR people we spoke to reported that their teams hate email. They also reported that email silos is a big problem.
In terms of tools, social messaging channels like Slack have been criticized for not being able to scale within the growing organization. That when you go past the 100 people mark, asynchronous communication that happens across rooms, channels and in DMs, makes for a lot of noise. Employees are struggling to keep track of their mentions and can miss key messages, or announcements, simply because they got lost in the noise. Slack even released this guide to some of the methods to use when you're in a larger organization, including not being afraid to have hundreds, or even thousands, of channels to dilute tasks or projects into sub-groups.
Despite good internal communication practices, employees are overwhelmed by the sheer amount of information available. Not to mention the number of tools used to deploy it.
It's one of the reasons why organizations such as 3M are using digital screens to deploy key information to digital screens across their organization.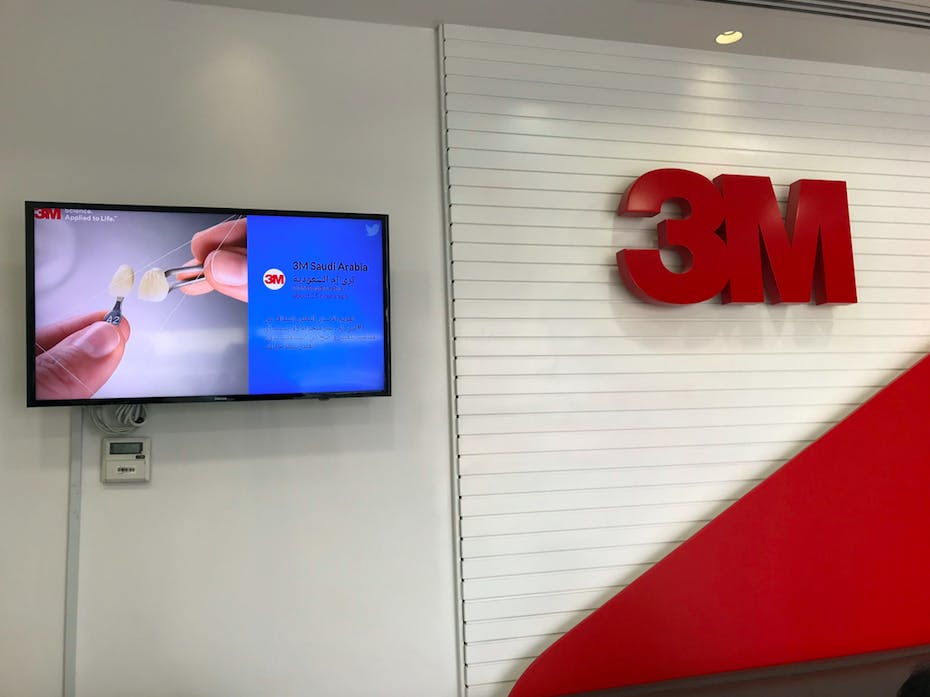 With such a high workload, it's impossible for 3Mers to keep on top of their inboxes and messages. For those announcements that can't be missed, showing them in person is the way to go.
Other companies use tactics like ensuring meetings are no longer than the duration of a TED talk - many of which, are less than 20 minutes. For others, it's about having less conversations, but more dialogue and cultivating good communication practices, from the top down.
3. Creating a strong culture
Another big HR challenge was the ability to develop a company culture and improve the employee experience. It's well-known that focusing on culture can improve the cost and rate of staff employment, but many HR professionals are struggling to know where to start, and how to get staff buy-in on initiatives.
Some of the culture ideas that could help are hosting all-company events, like WeWork's "Summer Camp", cross-team projects and improving the employee onboarding experience, so that this sets the scene for a highly engaged work life.
"Radical honesty" is also a trend that many CEOs are employing, to encourage employees that they can bring their "whole" selves to work.
An example, is the highly personal blog that Moz's CEO Rand Fishkin writes, broaching topics like the state of his personal finances and even how he proposed to his wife, Geraldine.
Buffer also tries to infuse a company culture of transparency, which includes using an "energy check" traffic light system to encourage employees to share how they're mentally feeling at the start of every standup meeting.
Every culture will require a different approach based on the company's own values. Discovering how to not just set the company culture, but to actually live, is a challenge every human resources team must face.
4. Understanding employee behavior
Of course human resources is really human behavior. Like finding out what makes people tick, what might offend or upset them and how different types of people, teams and even cultures, like to be managed.
One of ScreenCloud's CoFounders Luke, recently mentioned what happened when he relocated to Thailand. He found that some staff found it distressing to have direct feedback given in view of their colleagues and would much prefer to have it given to them one-on-one.
In Western culture, a "one size fits all" approach is usually taken to feedback, whether it's praise or suggestions, and this is just one example of how behaviors need to be adopted across teams and cultures.
Many of the HR people we spoke to suggested that identifying patterns can really help you improve the employee experience. This is one of the reasons why HR data is such a hot topic, with employee tools now offering data on retention, hiring and employee happiness scores to help departments make more informed decisions about where they need to improve.
16Personalities is just one of the many tests that can be introduced as part of the onboarding experience to help companies get to grips with who is in their team and how best they like to work. Buffer is another example of a company that looks to determine whether it's staff members are extroverts, ambiverts or introverts, so that it can adjust its company away trips and perks, to make way for all different types of employees.
It's unlikely these challenges will be solved in the next 12 months, but one thing is clear: HR professionals are ready to learn fast and break things in order to make people, not profit, the focus of the organization of the future.
Do you resonate with these HR challenges? If you would like to see more of a round-up of internal communication stories and tips, we share a bi-weekly newsletter called "From Corporate" which you can sign up for here.
Thanks to Clark Tibbs for the photo we used above, sourced via Unsplash