When you hear "employee communications" what do you think of first? Some of the answers we crowdsourced from the ScreenCloud team room were: HR, Slack, too many meetings, passive aggressive email chains, newsletters and company intranets. 
Of course an obvious answer for us would be digital signage and how digital screens can improve, engage and make internal communication much easier. However for most organizations right now, this just isn't the case.
To date, there hasn't been much investment into improving the employee experience but, with the rise of employee engagement as a focus point, this is changing.
Good communications matter and employees are now the core of the organization. There's study after study to support how company culture is influenced hugely by how aligned staff feel with company goals and how much they know about them. 
The trouble with email is, nobody has time to read it. Slack is almost too fleeting for big announcements and news. Intranets and Wikis feel slightly forced - are your employees truly engaged with the content there?
So what about those big screens sitting up on the wall?
Digital signage for internal communication
The benefit of using digital signage for internal communication is that digital TV screens are hugely visible. More than half of offices claim to use digital signage in their communications strategy to communicate to employees, share notices, provide data and give feedback from customers. So why is that?

Some of the employee-facing screens in our new home at R/GA in London.
Screens grab attention
You can't miss a huge display that's on the wall, playing content every day. Digital signage is said to have a recall rate of 83%. When you think about today's fleeting attention spans, that's really high. Our eyeline is naturally drawn to motion and movement (blame those pesky predators) and as a digital generation who mostly grew up on a diet of TV, we've learned to be transfixed by the screen itself. 
Screens communicate important information easily
Digital signage content is ambient. It's not popping up in your inbox when you're trying to get some work done and you don't have to choose to open or read it. It's just there, hanging out on the wall, providing useful information which you can take in as you grab a sandwich or take a break from your spreadsheet. 
This makes it the best vehicle for ensuring that your employee communication strategy actually connects with your employees. You can have the best comms in the world but if no one's reading them, what's the point?
Help employees understand "why"
David Grossman, a communications expert, sums this up perfectly when he says: "Employees don't need to know everything, but they do need to know the "WHAT" and the "WHY."
Without these two crucial pieces of information your employees are set adrift.
Good communications anchor them in, helping them to see the company mission and to live it.
Of course, internal communication strategies are only worth the effort if your employees are actually seeing them. Digital signage benefits internal communication as it takes information out of silos and makes point of entry (looking up at a screen) really low. This type of digital internal communication can also be extended to remote employees easily.
Share information one to many
Unlike an internal communication tool where you have to pay per user, digital signage is a one-to-many approach. A screen in your office can be shown to dozens of employees. Whereas tools like Slack and email send information to a few select people, digital signage opens up the communication and increases transparency.
6 examples of digital signage for better internal communication
Using digital signage to infuse your internal communication strategy really depends on what you're trying to achieve. Here are six examples of internal communication digital signage displays:
1. Improve meeting room booking systems
Setting up digital screens to showcase meeting room bookings will ease internal communications with small screens located outside meeting rooms, that let people book rooms and see who's using a room at anyone time.
2. Share company dashboards
At ScreenCloud we've built our own internal data dashboard that focuses on just the important numbers for our business. It's updated automatically each day and generates graphs which track our progress against our forecast.
This is a key piece of content for our team. How can they care about the numbers if they can't see them?
It also helps us celebrate each time that MRR creeps up and what better way to stay focused then having this up in the office for everyone to see?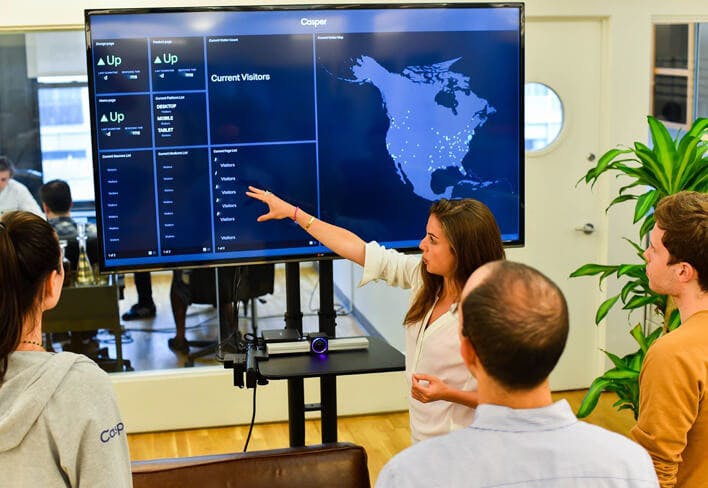 These types of wins should be celebrated often and a digital signage dashboard could be the quickest way to do this. If you need help setting one up you can use an app like Geckoboard or Microsoft Power Bi in our App Store to do the heavy lifting.
A dashboard doesn't have to be boring statistics either. You can create a dashboard of anything you like. From who's top of the baked goods chart, to gamified sales targets or even a goods deed dashboard where employees can anonymously submit acts of goodness completed by colleagues.
3. Create social media feeds
Company updates are all very well, but remember to mix up your content and take advantage of how exciting and personalized digital signage can be. They say social media managers are the people closest to your customers. Well why not help everyone get that close?
Use Twitter Search app and enter your company handle. This will show exactly what people are tweeting to your company. Add in Yelp reviews and TripAdvisor ratings. Create a Slack channel for customer feedback and have this playing on screen. Pop up that month's customer testimonials by creating a quick digital sign or image.

4. Increase employee engagement
Digital screens are great campfires, around which, your employees can form close bonds and share personal stories and experiences. Add collateral from the latest company events, congratulate promotions and celebrate birthdays! Use radical transparency and announce company updates, figures and visions for the future. Google Slides is a quick, and easy, way to do this.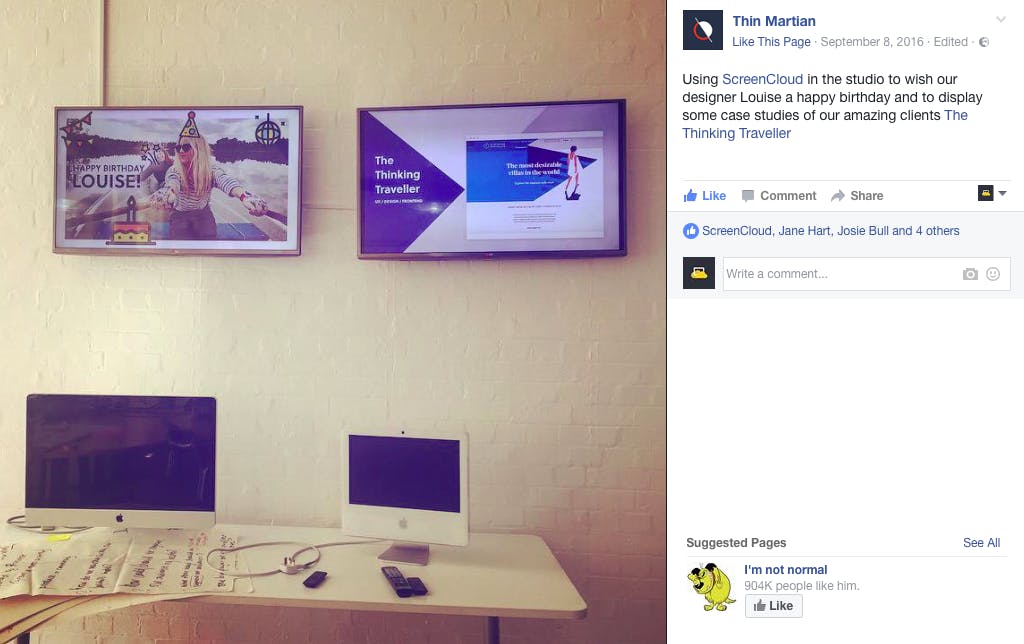 5. Share digital noticeboards
A study from McKinsey Global Institute discovered that productivity improves by 20-25% in organizations where employees feel connected. That's huge.
One of the way employees can feel more connected is through their input. How can you do this, you may ask. Asking an employee to submit a newsletter or blogpost might be too much - but a simple notice? That's going to take seconds.
In the ScreenCloud App Store our noticeboard app does just that. Simply add text, choose the theme and within seconds, you have a digital noticeboard that you can add to your playlist.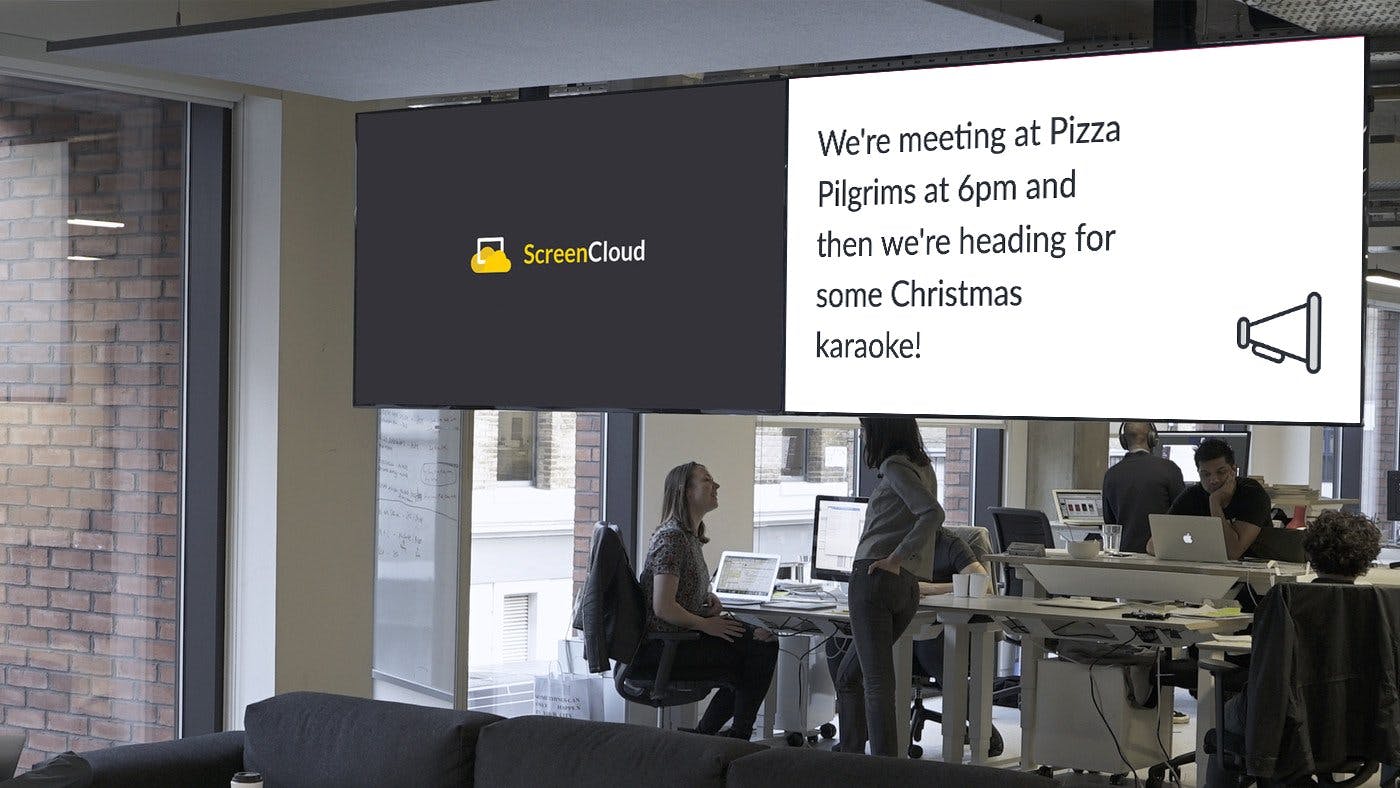 This works really, really well for happy birthdays, invites out to lunch, celebrations, quirky anecdotes and even gentle reminders.
You could even set up an "ideas board" and allow employees to send in their ideas, a nice way to let everyone have their say and build more conversation within your office space.
6. Communicate across all internal offices
Have more than one office? Well you won't need more than one strategy. One of ScreenCloud's endearing attributes is that it allows you to setup screens from any location into the same account and schedule them within playlists and schedules, from wherever you are.
This allows you to have different content for different offices, all joined up under one network.
So perhaps the sales figures and social feeds will differ, but the central themes and notices can remain the same. Making the communications you show, personalized to your employee audience, wherever they might be working.
Best practices for employee digital signage
When it comes to creating an internal communications plan and rolling it out onto a screen there are a few best practice tips that can help.
Change content regularly 
Read the full breakdown of a perfect playlist here, but remember that in internal communications your employees may see the same screens a lot. This calls for a much faster content turnover period than say, in a store or restaurant. One of the ways around this is to create multiple playlists containing different snapshots of content (one for meetings, another for company updates and so on), or to use content that updates itself such as social media and automated dashboards.
At ScreenCloud for example, we have three core playlists for our company TV channel. One contains customer-facing metrics, another staff and team updates and a third is information that helps us to get to know the team better. Like photo galleries, team facts and Meet the team profiles.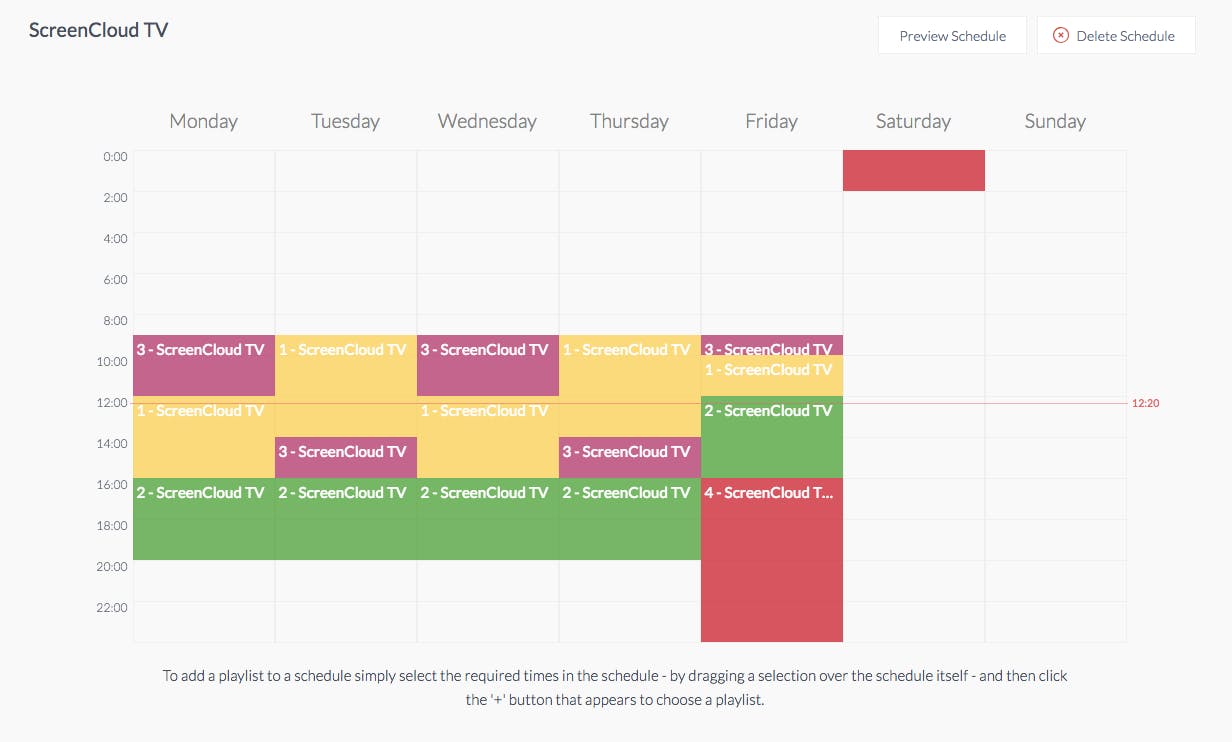 Gage feedback
One of the questions we get asked a lot is, how much should I infuse company content with generic content in order to keep my employees interested? On one hand, blending company figures with live news or YouTube videos, could ensure your employees don't get bored with the screens at hand. On the other hand, perhaps this detracts from the communication strategy and makes it easier for employees to zone in on the content they want to see, rather than the stuff they need to see.
This is something to get feedback on. How engaged are your employees with the screens - are they using them regularly? Do they notice when new content is added? Do they like using them as a reference point for metrics and company communications? A few quick questions could help you plan the divide between what content you show. 
Use the screens regularly
To make employees buy in to your digital screens as a method of communication make them a part of your brand DNA. Holding a meeting? Use the screen to illustrate your examples. Talking about sales figures? Get them up on the screen for everyone to see.
The more you use your screens and draw attention to them, the more your employees will adopt them too. 
Digital signage in internal communication - Get started
To set up your digital signage for employee communications we have all of the tools you need. Sign up at screencloud.com/getstarted and begin changing the way your company communicates in minutes.