They say that data is the new world currency and most of us are swimming in it. Digital signage dashboards help organizations to sift through data, package it nicely and showcase the parts that are meaningful. Effective digital signage dashboards keep audiences up to date with the latest numbers, like your company MRR or turnover, or departmental information, like your social media followers or website statistics.
In this guide we'll walk you through how to create a real-time digital signage dashboard for use cases such as offices, lobbies, marketing floors and sales back offices. Using ScreenCloud's digital signage software and integrations like Google Data Studio, Geckoboard and Cyfe. 
3 benefits of business digital signage dashboards
1. Dashboards keep everything in one place
Dashboards keep all of your data in one place – something that can be difficult when companies grow and process overrides logic. In the ScreenCloud office we have a dashboard which pulls in snippets of the most important information for our team. It updates automatically each day and generates graphs that track our progress against our forecasts, and it's right up there on the wall for everyone to see.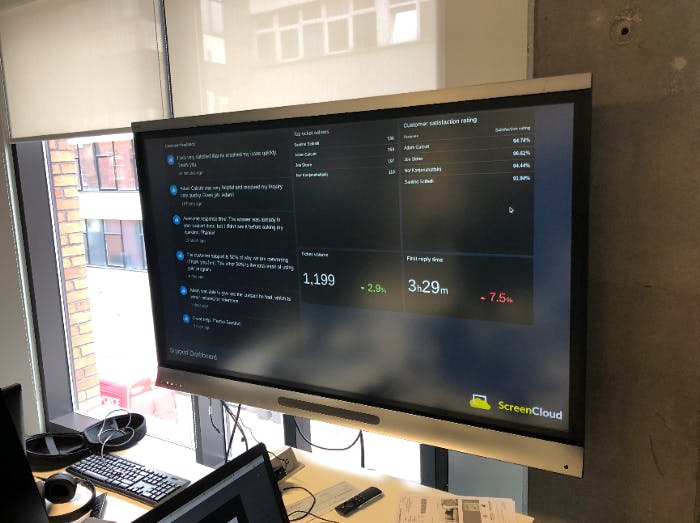 2. Dashboards let you customize data from the most important sources
The beauty of digital signage dashboards is that they pull in multiple sources of information. Many of the dashboard tools ScreenCloud integrates with are able to pull in data from sources such as social media feeds, email software management, app analytics platforms, web analytics, and ecommerce platforms. The options are endless! When we first implemented our company TV channel, we had dashboards for everything. Then we realized that our teams were only really interested in a few key KPIs: MRR, audience growth and churn. This let us clear away all the unnecessary data and leave it where those who are really interested can go seek it out.
3. Dashboards update in real-time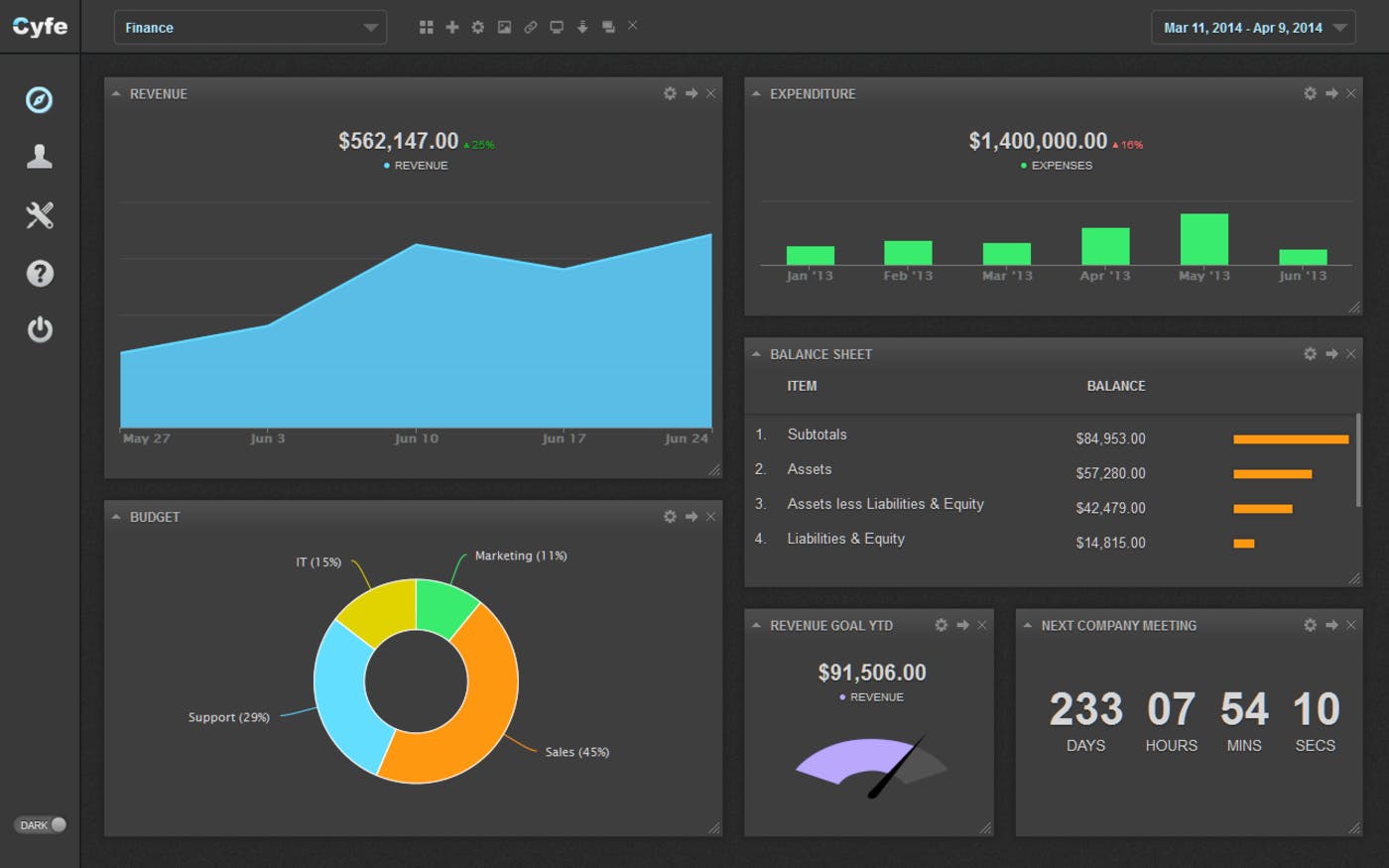 Dashboards are great as an ultimate source of truth as they are usually automated to pull in the very latest datasets. This means that, at any moment, an employee can glance up at the screens around them, see a dashboard and know instantly whether the company is on target or not. This also makes the sharing of information passive, with dashboards becoming an information radiator, that pulsates out real-time, relevant information. 
How to set up a real-time digital signage dashboard
Here are the steps for setting up a real-time digital signage dashboard using ScreenCloud.
1. Create or log in to your ScreenCloud account
Unless you already have a ScreenCloud account, you can sign-up for the 14-day free trial at screencloud.com/getstarted. This gives you immediate access to our dashboard creation tools, and lets you get something sent to your TV screen instantly.
2. Create your dashboard
There are a lot of ways to swing a cat, but many more to create a dashboard. Here are a few of our favorites: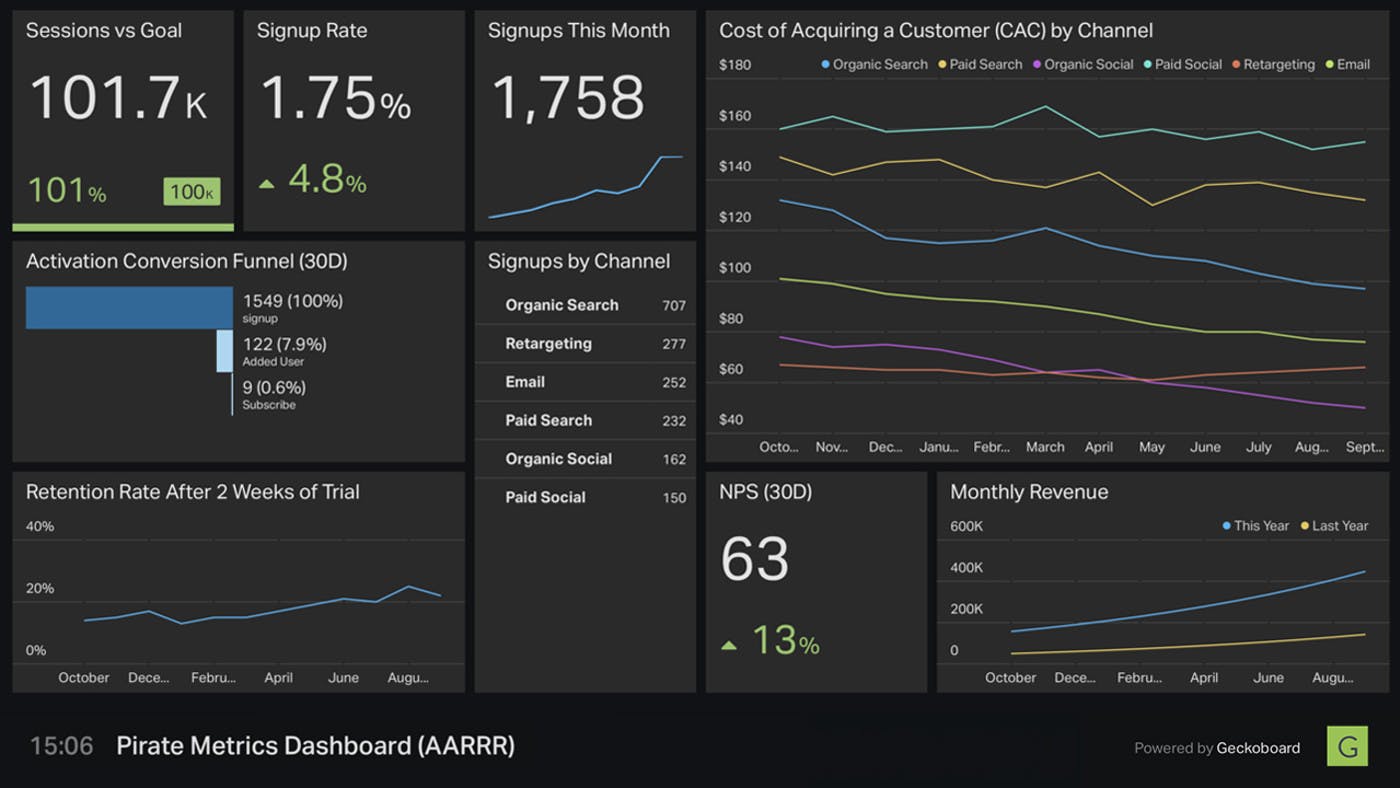 A metrics dashboard created using Geckoboard.
If you're using another dashboard tool, you might also be able to add it to ScreenCloud using either the embed option or the option to add via web link. If your dashboard's private, you'll need to use one of the apps listed above to be able to share it securely. Otherwise, you'll be able to do this very soon with our secure links feature coming in the new version of ScreenCloud (watch this space!).
3. Pair your screen to your account
Now that you have your ScreenCloud account and your dashboard, it's time to put the two together by pairing a screen. Download the ScreenCloud app on your screen, use this guide to "Add a Screen", and set your dashboard to play.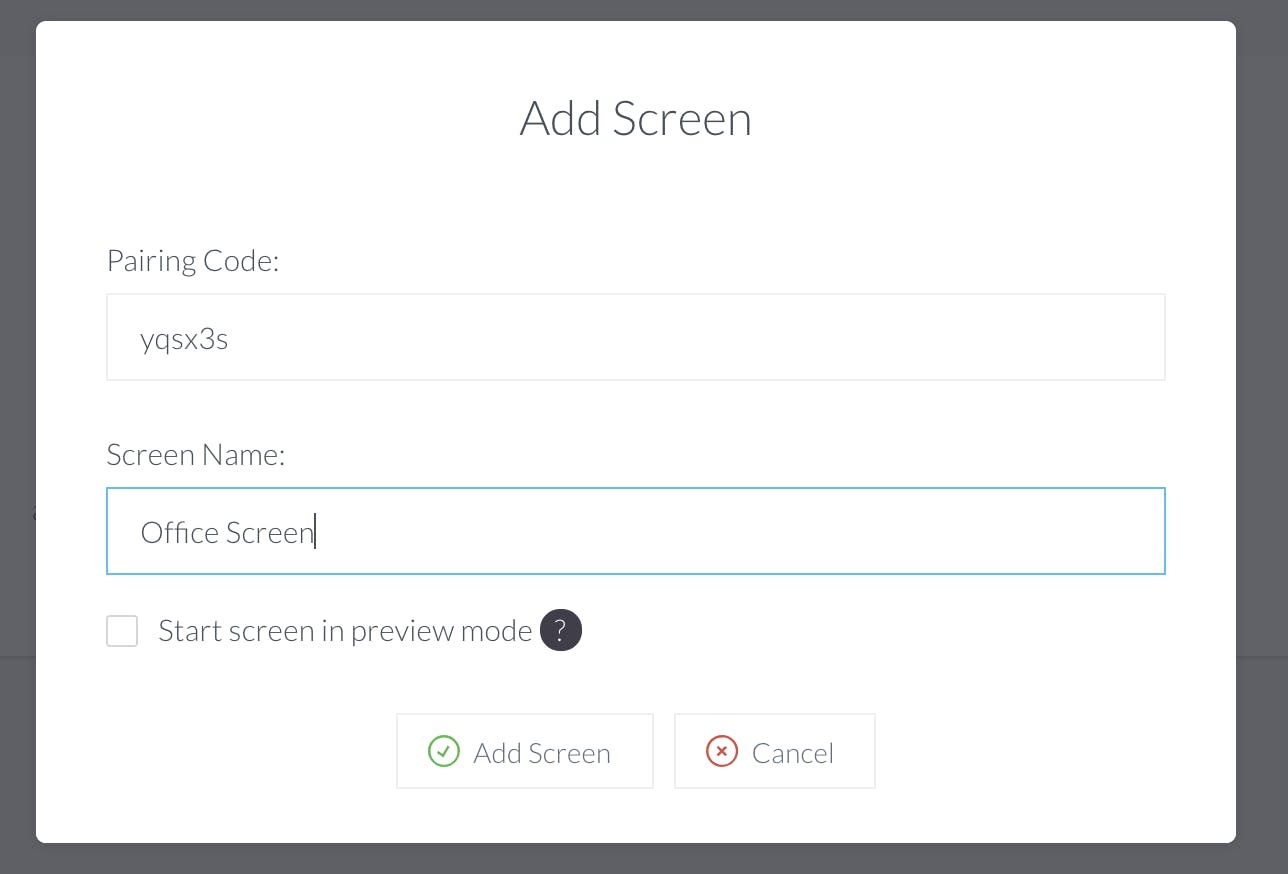 ScreenCloud updates in real time and, depending on the app used to display your dashboard, looks for new data between one and 24 hours, helping to keep your team, and dashboard, always up to date.
Now that you're familiar with the fundamentals of creating your digital signage dashboard, let's review some of our favorite dashboard tools in more detail. 
Google Data Studio
Google Data Studio is a FREE tool that we use here at ScreenCloud, with 77 different community data connectors to give you lots of options for displaying your data. This is great for pulling in popular metrics from applications like Google Analytics, Google Sheets, customer service information, and so on. It is however missing native support for data from Salesforce or sites like Shopify. So if you're looking for any deep real-time sales stats that are going to impact your team, you may have to pay for a tool.
One of our favorite use cases of Google Data Studio is using emojis to illustrate KPIs on a range of "Awesome", "Good", and "Needs Improvement". Why use emojis? Well, it turns a dashboard from something that must be read close up into a tool that can be understood by anyone at a glance and from a distance.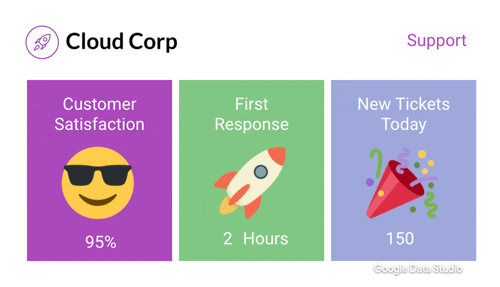 In a nutshell, there's no cost to using Google Data Studio, it has strong community support, and you can expect some great results as a beginner.
Cyfe
Cyfe calls itself the ultimate all-in-one online business dashboard tool and, with over 90 data integrations listed in a free account, there's a good chance it'll have everything you need. One of its standout features is a tool under the Custom Widgets called Mashup. This allows you to create multiple widgets but display all of the data in one chart. If you are using apps like Shopify or Salesforce, Cyfe is a great "plug and play" solution to share this data to your digital screens. However, it does seem to have been created for dashboards on computer monitors, so you'll need to be careful to ensure your information can still be read from a distance.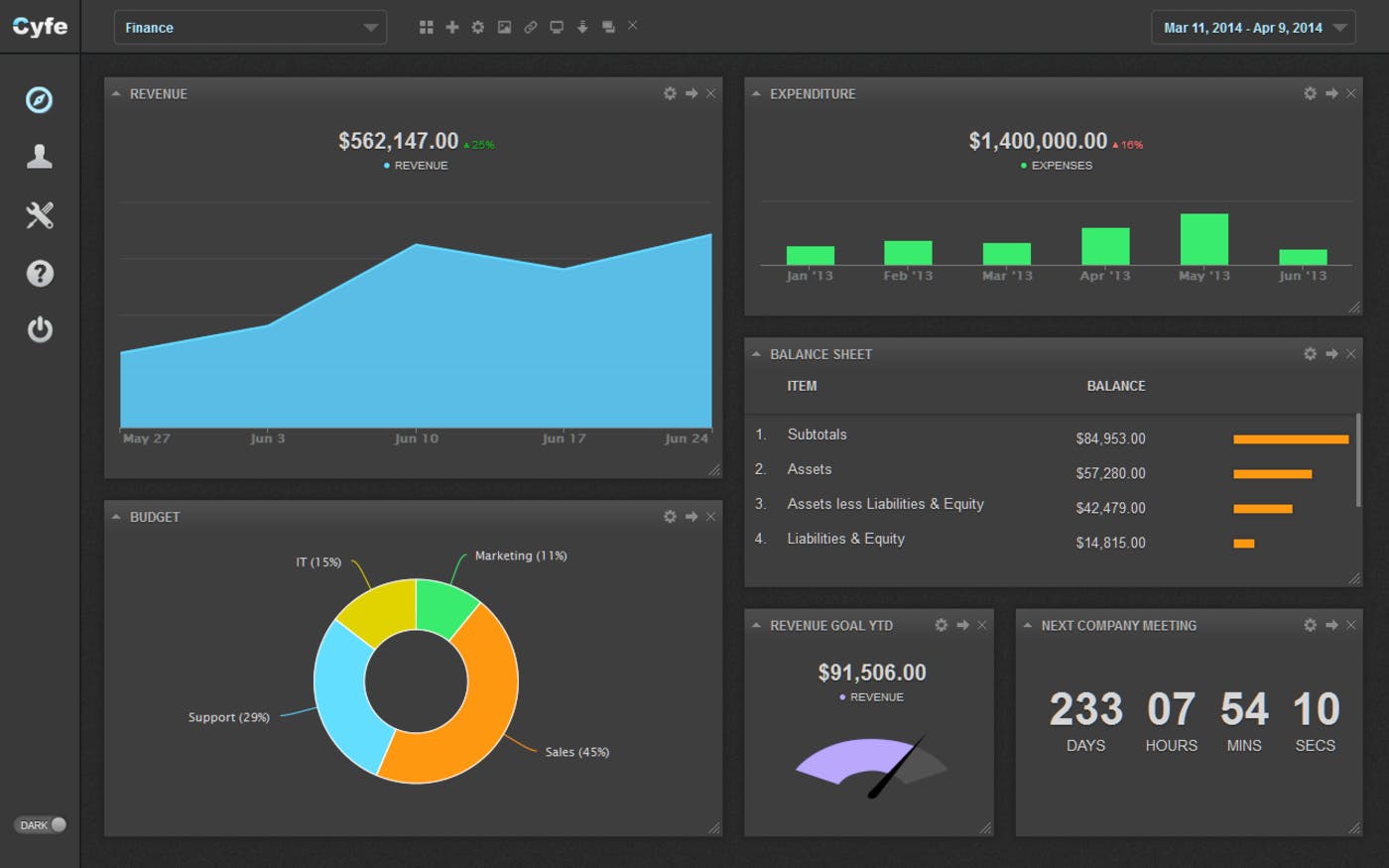 With Cyfe you have a limited free option, and premium starts at $29 per user per month. Just note that this tool is aimed for the intermediate to advanced, so if you've never created a dashboard before, it may be a challenge to get your head around it. But there's a big community, and Cyfe does have the most data connectors we've seen in a while.
Geckoboard
The last tool we want to share with you is Geckoboard. When it comes to tools that anyone can use to build a dashboard, this is what a tool should look like. Geckoboard contains a huge sample library of example dashboards that show off some amazing samples of readable dashboards for big screens. One of the only downsides to this tool is that it doesn't have as much flexibility when it comes to styling as some other options out there.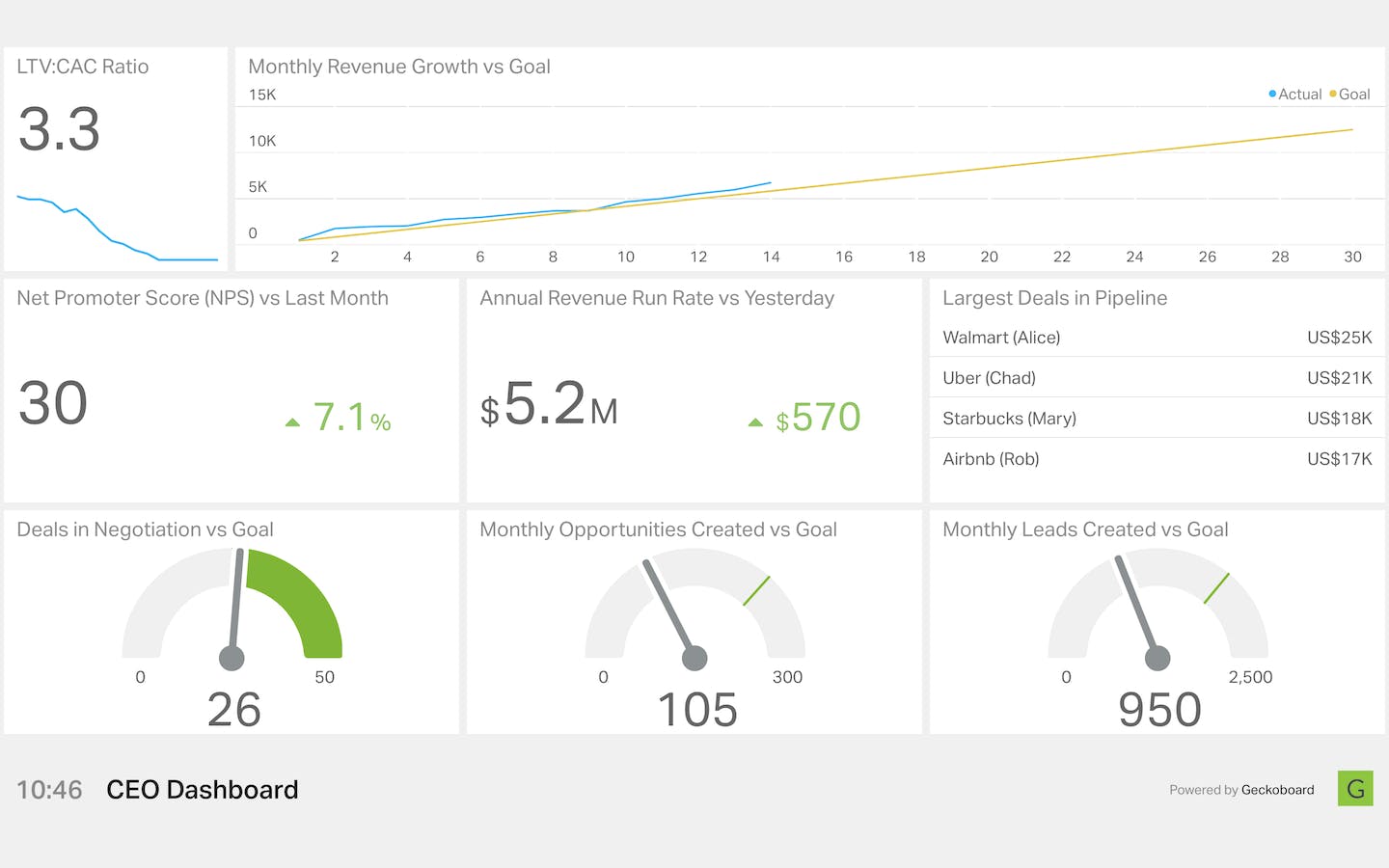 With Geckoboard you do have the option of a free 30-day trial but not a free account. Once the trial expires, you're looking at a $49 per month price tag.The main difference between Geckoboard and other tools is that the data connectors are pre-built and don't need development on your side to get them up and running.
To recap, here's a comparison of the three main dashboard tools we've discussed: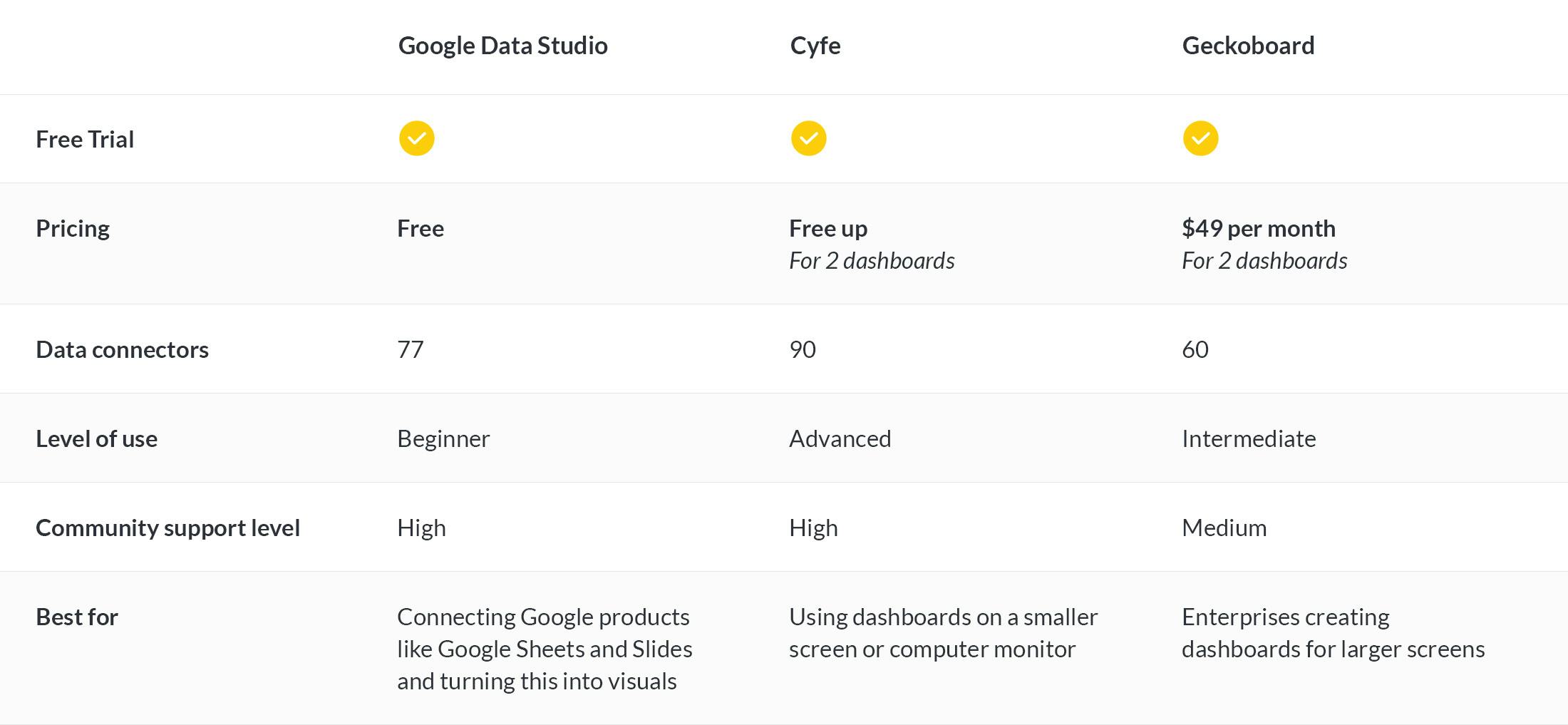 Digital signage best practices for designing dashboards
1. Understand Your Audience
Before you design anything, you need to know who you're designing it for. Jumping into a design tool without knowing who the dashboard is for runs the risk of many iterations and more work for you in the long run. Understanding your audience and the goals they are trying to achieve through this content will go a long way and lead to huge wins.
First ask: What's the level of experience of the person viewing your dashboard? An entry level employee is new to your business but still shouldn't be patronized. A generalist will want to be aware of what's going on around them and may want information broken down into the key themes. Then you have your management and executives who want to see in-depth data which will lead to action. These kinds of users need less storytelling and more detail so they can formulate conclusions quickly.
Not only do you need to understand your audience's needs and goals, you also need to understand what changes for them throughout the day and over the span of a week. Items like shift changes, outside factors, and breaking news that could affect your market should be addressed here too.
2. Review your dashboard position
The content on your screen is important but so is where that dashboard is positioned. A simple way to ensure your dashboard will be seen and understood is to do the 10 Foot Test. This is where you test your design from literally 10 feet away. Most manufacturers agree that the optimum distance range from a 55" display (the most common display size for digital signage) is between six and 12 feet away. If your expected audience is more than 10 feet away from the dashboard, you may want to consider getting a display closer to them.  
3. Check your at-a-glance readability
Digital signage in an office setting should augment the viewer's ability to get work done faster. That means that information on the screen should be simple and concise enough to be absorbed at a glance. The size of your font and how you display the key performance indicator (KPI) are both considerations to check your at-a-glance readability. If you aren't sure which font size to use, check out the 10/20/30 rule according to Guy Kawasaki, who claims that you should never display a font less than 30 points. Read our guide on digital signage design to see which fonts work best.
4. Test, brake, rebuild & repeat!
Putting out a viable product that addresses the needs of your viewer is the first step, but don't stop there. Two metrics that can help you to determine the success of your digital signage dashboards are:
1) Check how the displayed KPIs have changed since you published the dashboard – have they improved?
2) Survey your audience – are they engaged with the displays and finding them useful?  
When you conduct qualitative research with your audience, it's important to verify not just what they thought but also how it impacted them and their work. Hopefully you made it easier for them to do their job!
Dashboards can have a huge impact on how we take on tasks in our roles, the things we focus on when something urgent needs to be addressed, and overall help us feel more connected to where we work.  
Ideas for digital signage dashboards
KPI dashboard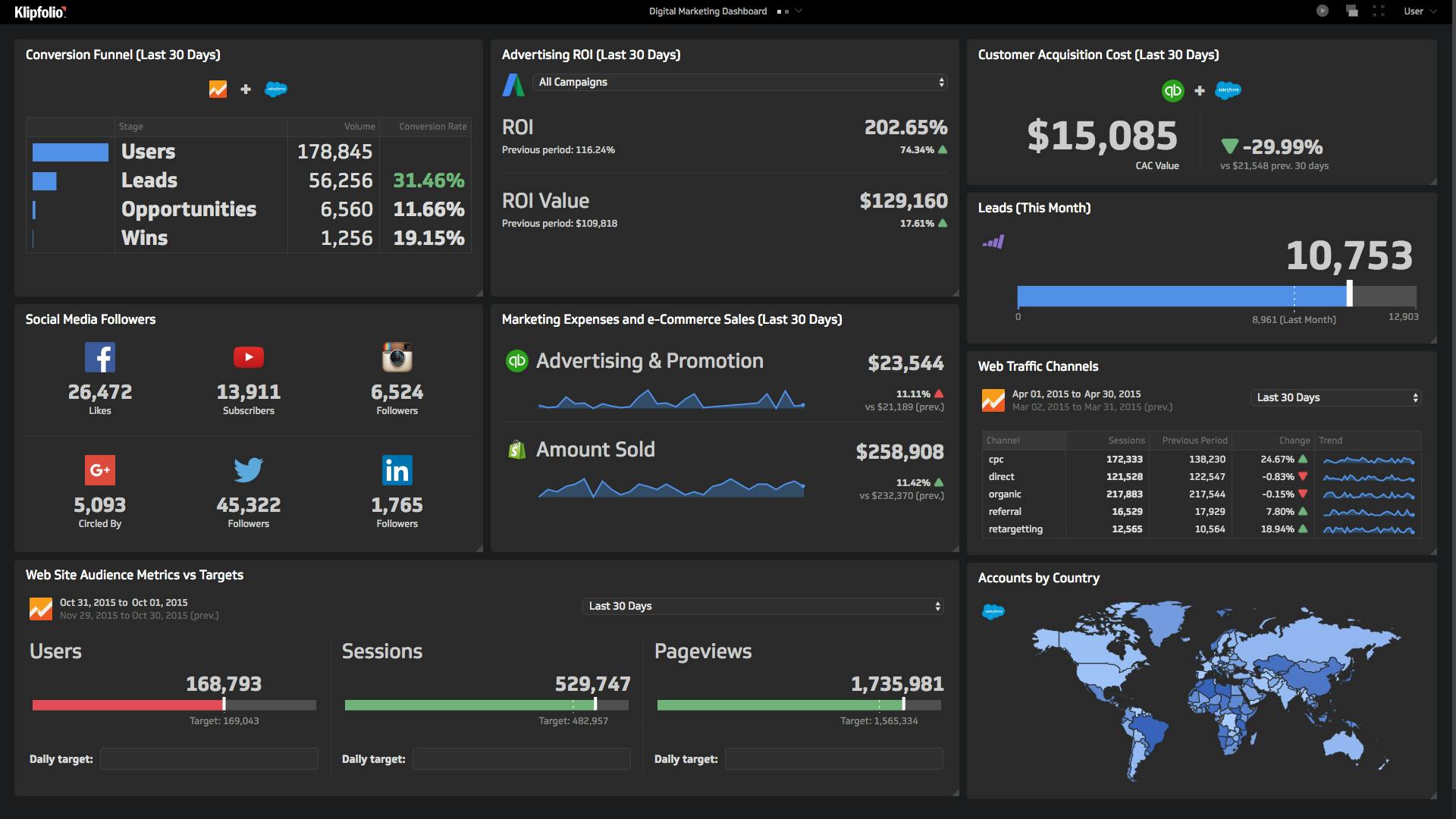 KPIs hold a lot of weight in boardroom meetings but seem to disappear into the ether as soon as we go back to regular office life. To create a KPI dashboard, upload data you already have from Excel spreadsheets, Google Drive, Dropbox, and more or use one of the many app integrations from the tools mentioned above to pull in data from project management or social media tools. Craft what KPIs you want to see and once ready, simply add the URL to ScreenCloud and have it live on your screen in minutes.
Customer feedback dashboard
Your digital signage dashboards aren't all about the numbers. Collating and sharing team or customer feedback is a great way to make employees feel part of the journey and buy into the brand story. Sharing customer feedback or rating scores as a data visualization will boost customer service teams and encourage them to hit those target scores. Sharing employee data, whether it's something fun like rating the cafeteria food that day or something more serious like feedback on the latest company targets, will all work towards shared culture and higher transparency. 
Website analytics dashboard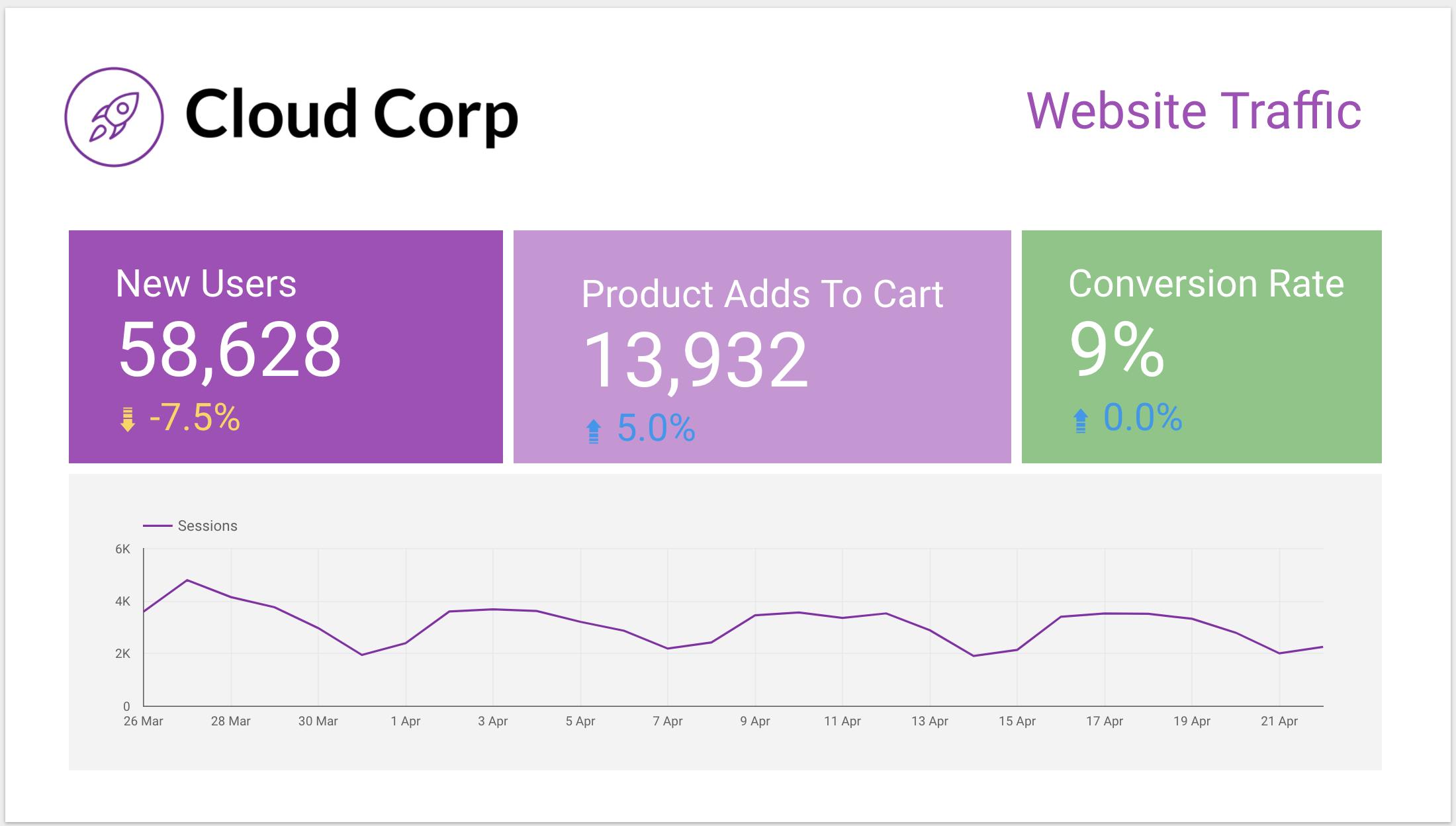 You can see how we created this and various other dashboards in this guide to Google Data Studio.
Sales performance dashboard
Keeping your sales teams motivated isn't always an easy task. Data visualizations of your targets could help. Easily merge key data from your incoming systems as well as CRM systems such as Salesforce and Pipedrive and from customer service tools such as Zendesk. Create a leaderboard of sales targets, conversations had or meetings booked. All are super simple metrics that can be converted into visual displays and added to your digital signage at the click of a button.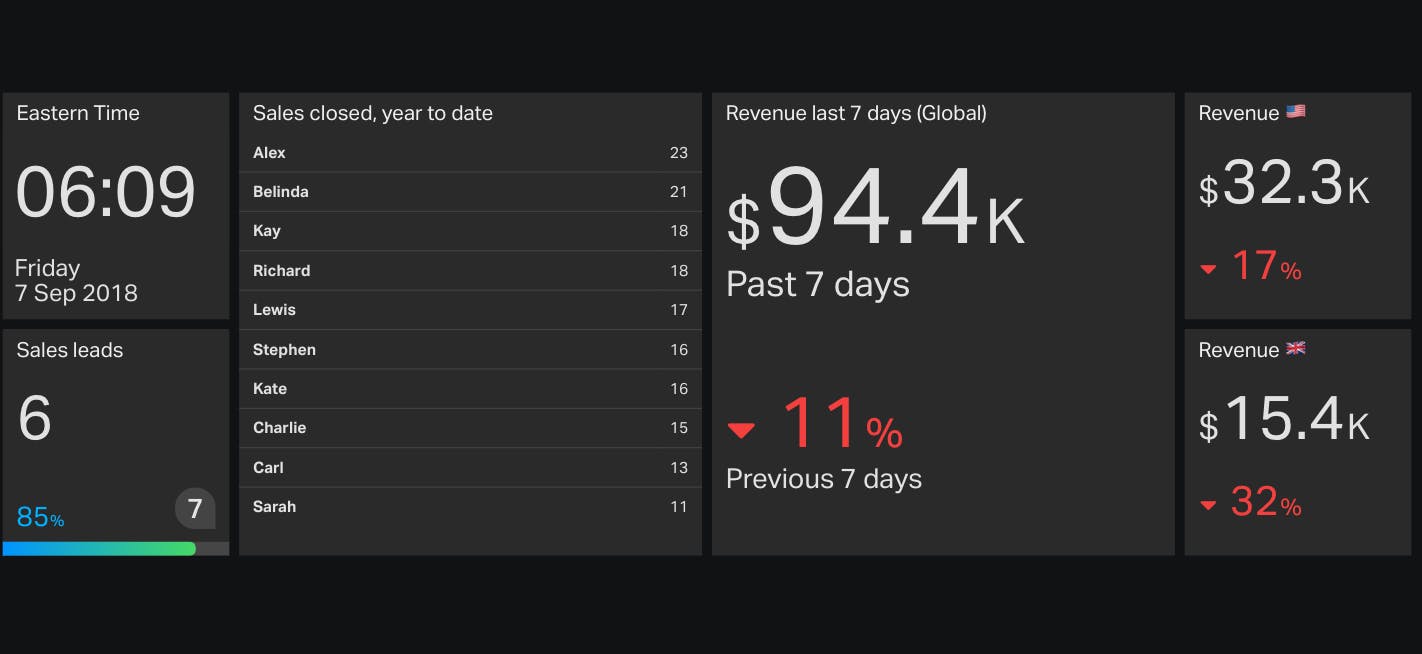 More dashboard examples from Geckoboard here.
A final note
Your digital dashboard is going to live on the wall, and chances are it's going to be viewed a lot. This gives you a powerful digital method to make your employees and customers feel really good. Even when the figures might not be going in the direction you hoped for, digital dashboards show statistics, and it's hard to argue with objective data.
With great dashboard partners in our App Store and the simplest signage system right here at ScreenCloud, it's never been more simple to become a pro at the management and display of data.
Start your free trial today at screencloud.com/getstarted.