They say that data is the new world currency and most of us are swimming in it. We know that we need to capture data, but knowing how to understand this data and crucially, use it, can be more difficult.
In our experience, every company has data silos and one of the ways to reduce this is by creating secure digital signage dashboards to display in offices, store rooms, warehouse environments and sales offices.
Digital dashboards have lots of benefits:
They keep everything in one place
Dashboards keep all of your data in one place – something that can be difficult when companies grow and process overrides logic. In the ScreenCloud office we have a dashboard which pulls in snippets of the most important information like MRR, customer account value, churn and NPS score for the entire team to see.
Surface business critical information
Dashboards help different teams, whether Sales, Marketing, Finance, IT or Operations, to view the most important parts that are usually hidden beneath systems and silos. This keeps the data front of mind, even for those who may not have a login to the tool that collates all of the data, which can become expensive and difficult to distribute.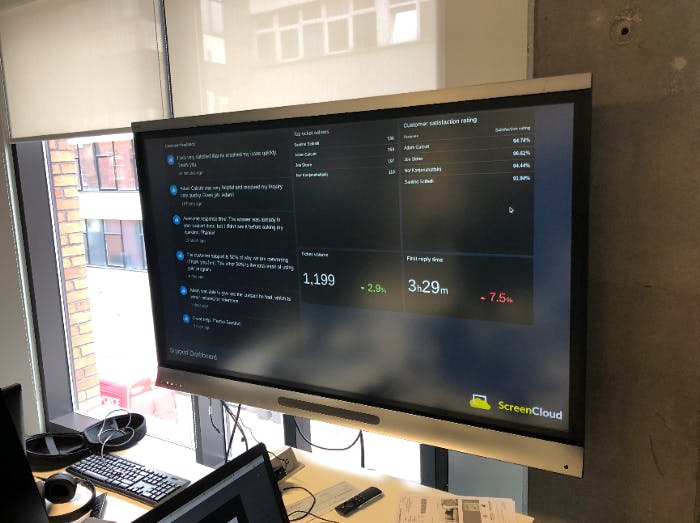 Share real-time information
Dashboards are great as an ultimate source of truth as they're automated to pull in the very latest datasets. This means that, at any moment, an employee can glance up at the screens around them, see a dashboard and know instantly whether the company is on target or not. We see this used in warehouse environments, allowing on-the-ground teams to make real-time decisions that affect productivity and fulfillment rates.
The difficulty with creating digital signage dashboards that are secure
At ScreenCloud we already integrate with tools such as Geckoboard and Google Data Studio, which allow organizations to show combinations of data on their digital signage screens.
While these tools work for many, the downside is that you have to make the data URL public in order to share it to your signage screens. For some organizations, this just isn't feasible as while it's unlikely the URL can be found by an outside party, it's not impossible.
This often leaves only one alternative, which involves someone having to log in every day, which then limits the data to just the person with a login, which defeats the object of being able to share your dashboard publicly. 
That's where we come in.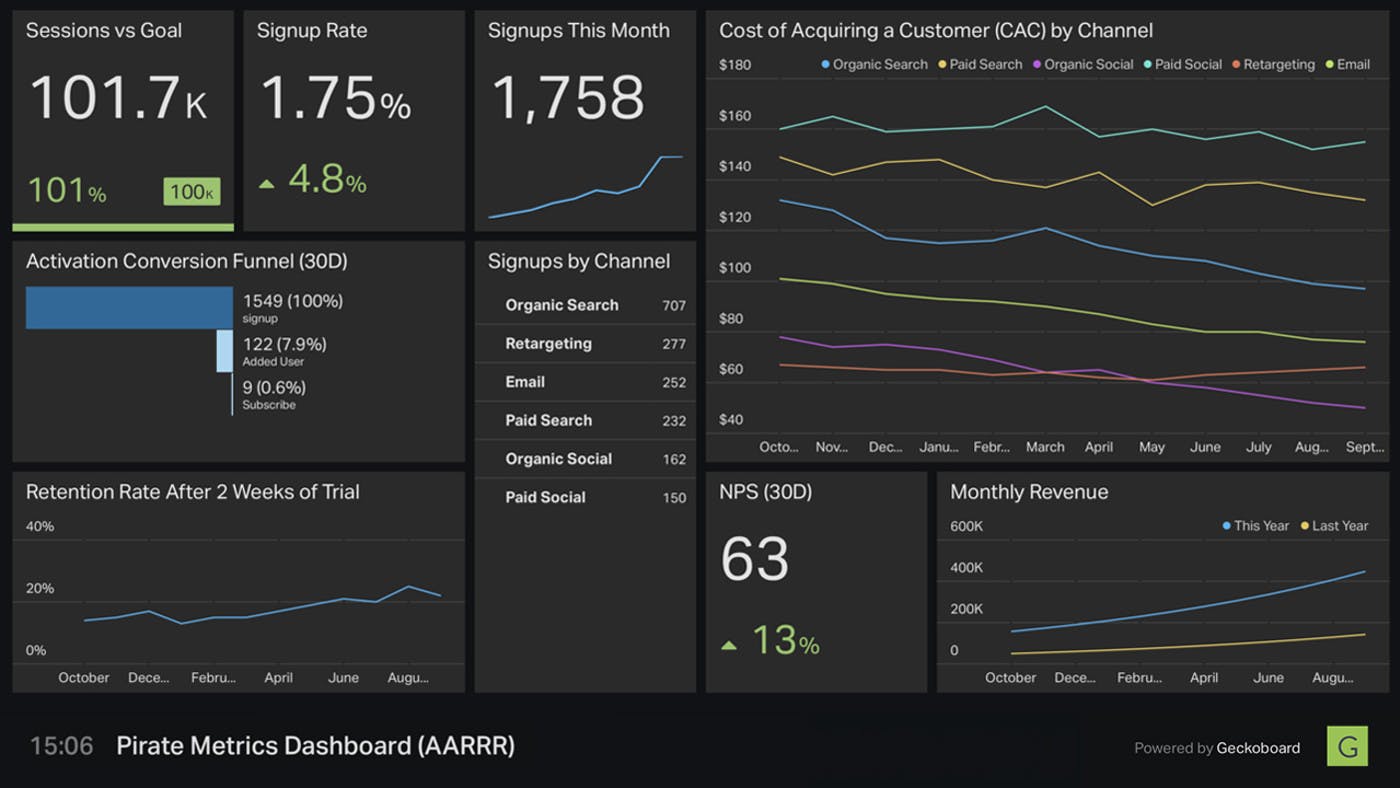 How to create secure digital signage dashboards
We've experienced this gap ourselves and have been frustrated by it. Using several tools like Trello, Github and Power BI that have dashboards, but with no way of getting them on-screen to share information with all associates. 
Our new Secure Dashboards feature directly fills this gap in the market ensuring that our customers don't have to make dashboards public or share logins to be able to view their data securely. 
Some of the dashboards we're working with include:
SignalFx
SignalFx is an ideal tool for monitoring your systems and processes and always having one eye on what's going on. Many of our customers are able to replace, or at least complement, alert systems by having the data from SignalFx visible in control rooms and offices, able to tell them when there's a critical issue that needs addressing. 
Tableau
Tableau allows for sophisticated data visualization, which means you can easily transfer stacks of data to digital signage dashboards, which helps make more sense than reams of spreadsheets. 
Microsoft Power BI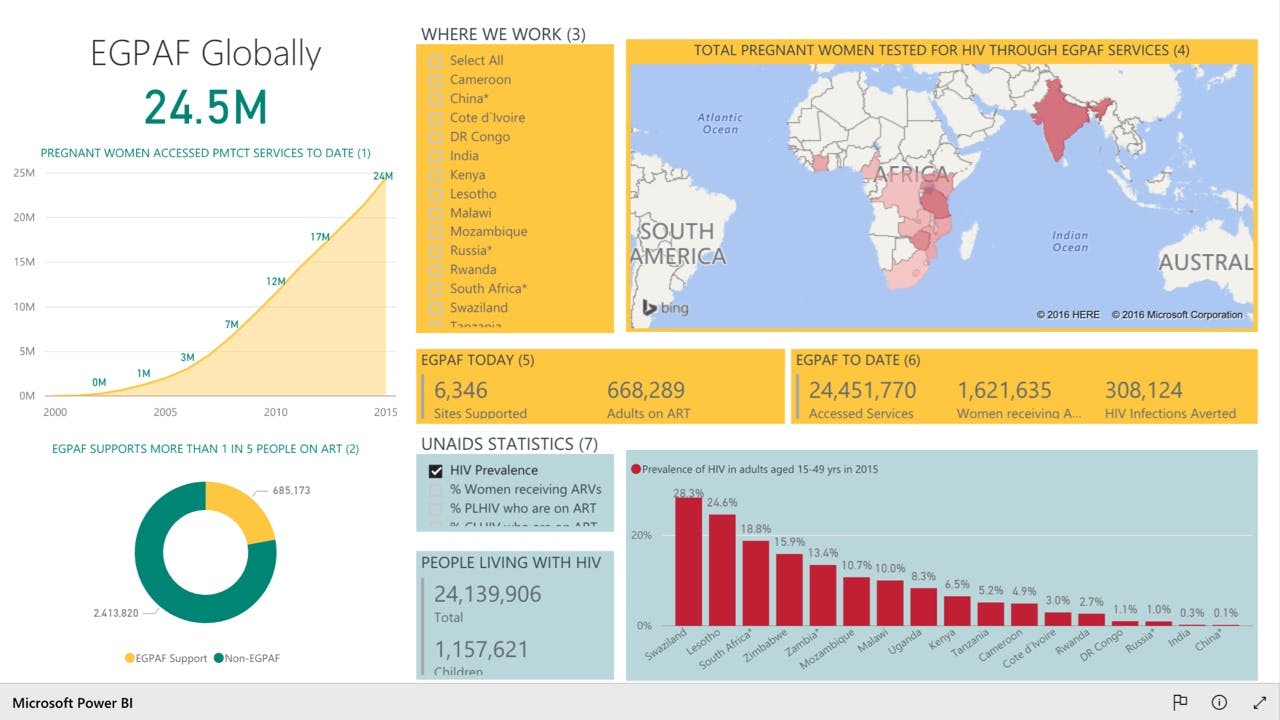 You may remember that ScreenCloud previously offered a Microsoft Power BI app that allowed users to share public Power BI boards to their digital signage screens. For many, this option wasn't secure enough. Instead, we have created a secure dashboards option that allows you to showcase Power BI data visualizations, through stored and encrypted credentials. 
This means that you no longer have to make your Power BI dashboards public in order to show them on your digital signage screens as many other tools demand.
Grafana
Grafana is another data visualization tool that can be used for systems monitoring, or to alert viewers to an issue. When placed on a digital signage screen, this can be incredibly important for organizations looking to be alerted to the health of their systems. 
DataDog
Datadog is a specific monitoring service that integrates data from SaaS and Cloud providers for bug tracking, monitoring and infrastructure control. 
These are just some of the tools we're either looking to support at ScreenCloud, or are already supporting for customers. If you're interested in finding out more, contact our team.
Types of digital signage dashboards
At ScreenCloud we have several screens around our hubs, dedicated to dashboards that monitor our system health. We've also seen customers creating innovative ways of sharing data to achieve real business results. Here are some good examples of dashboards we've seen in use:
Associate performance display dashboards
Associate performance displays are often used in manufacturing settings, like warehouses and factories. Taking real time metrics that track associate performance, and visualizing them against other associates, departments or locations. This highlights goals and targets and the visual nature of sharing this data on digital signage dashboards, means tasks become gamified. Associates are able to challenge each other or work to rise in rankings. Visual dashboards can also highlight to floor managers employees that might be struggling and needing additional support. 
Sales data dashboards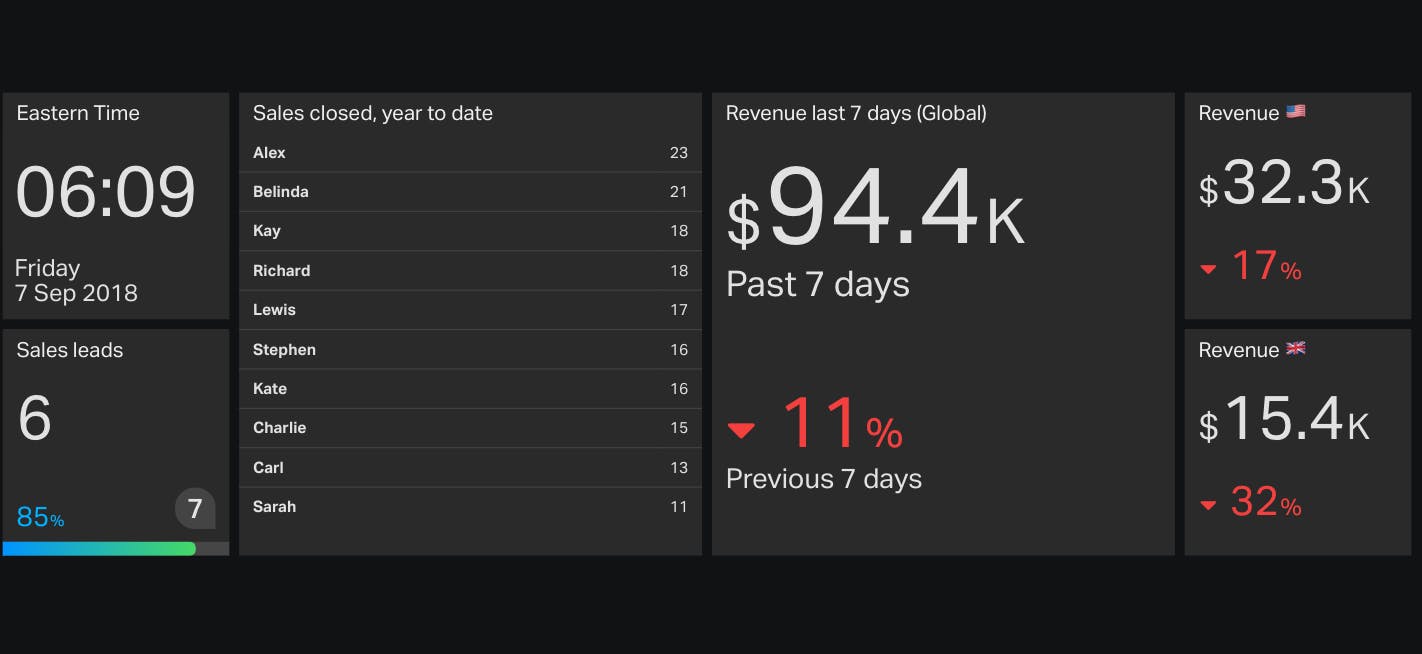 We've seen many organizations go from being reliant on printed, out of date sales figures, to digital dashboards showing the very latest metrics. Having the latest information available enables sales teams to sell more efficiently, and to see their sales figures against expected targets or other locations. The benefit of digital sales data dashboards means that metrics can be largely automated, and always remain up to date. 
Some organizations even merge data from CRM systems like Salesfore, Pipedrive and Marketo to drive more sales by showing leaderboards of sales targets, conversations and meetings booked. 
KPI dashboards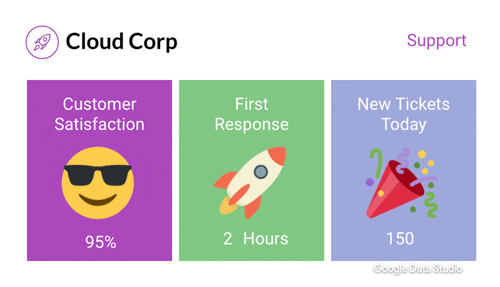 KPIs hold a lot of weight in boardroom meetings but seem to disappear into the ether as soon as we go back to regular office life. Secure dashboards provide an easy way to draw in information from datasets, or tools like Chartio (which is what we use at ScreenCloud) for accurate, real time data visualization that can be seen throughout the entire organization. 
Customer feedback dashboard
One of our favorites at ScreenCloud and firmly proving that your digital signage dashboards don't just have to be about the numbers. Collating and sharing team or customer feedback is a great way to make employees feel part of the journey and buy into the brand story. Sharing customer feedback or rating scores as a data visualization will boost customer service teams and encourage them to hit those target scores. 
You can see how we created this and various other dashboards in this guide to Google Data Studio.
Website analytics dashboard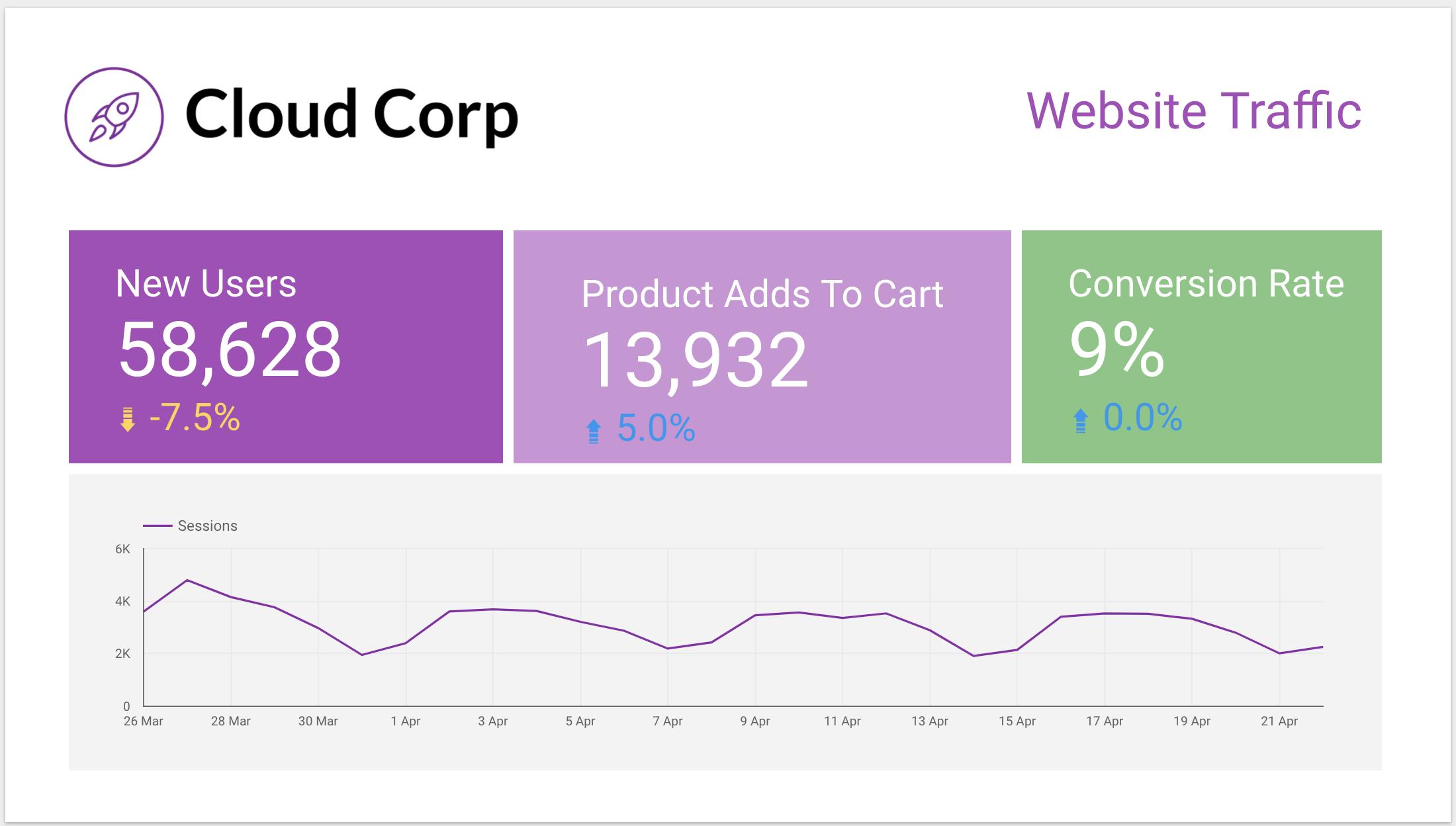 Another digital signage dashboard idea is to share your website analytics. It's really easy to integrate data from an analytics platform like Google Analytics, add it to Data Studio (or another visualization tool) and share it on your signage screens. This helps Marketing teams to stay up to date and shows the wider organization how many visitors, sessions and conversions your website is having at any one time.
Create your secure digital signage dashboard today
Today, you don't have to choose between sharing data and keeping your data secure. Digital signage dashboards, accessed through encrypted credentials is a secure way to showcase your important data, in the place where it's most likely to be seen. To discuss adding secure dashboards to your ScreenCloud digital signage account today, get in touch with our team using the contact form here.