We like Twitter's blue bird. We really do. Perfect shade of cerulean blue.
But when it comes to showing tweets on our digital signage screens, we'd much rather have our own vibrant, yet serious, yellow.
Which, of course, is an example of custom branding.
The difficulty to date, is that designing for digital screens has been hard. Today, there are much easier ways to ensure your digital signage content is on brand. In this guide, we'll walk you through the ways.
Why custom-branding your digital signage is important
Ever played the logo game? "The Logo Board Game of Brands and Products You Know and Love" gives you an image and asks you to recognize which brand it belongs to. The reason why this is fun is because most of us can recognize a brand based solely on its icon, product or packaging.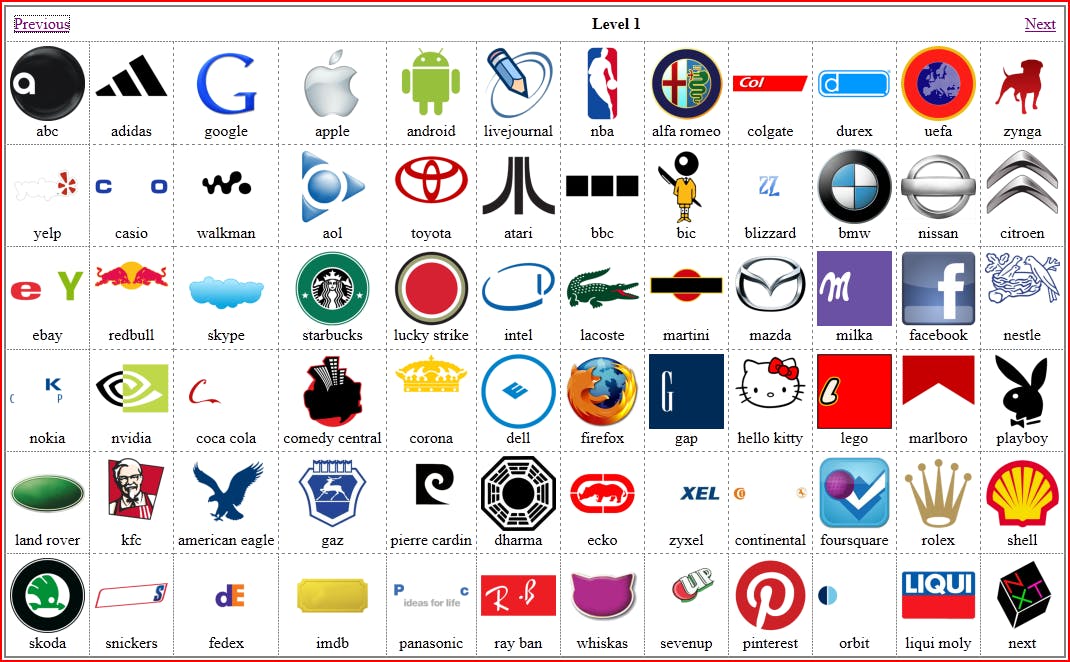 These are all of the elements that constitute a brand and the more someone sees your brand, the more likely they are to remember it. So that the more someone is exposed, the more likely they are to cement your brand, message or product in their mind.
When you pair this with the medium of digital signage, the importance of custom-branding increases:
71 percent of people said they felt advertising on digital billboards stood out more than online ads, and 46 percent said they were more prominent than even television ads. Source.
Digital signage has a recall rate of 83%. Source.
So with that in mind, how can you make sure that you're maximizing your branding through your digital signage design?
How to Custom-Brand your Digital Signage Content
1. Create a theme
On our digital signage platform ScreenCloud one of the features is custom branded themes.
This is a tool that allows you to transfer what's in your company brand book and fix it in your digital signage CMS, to use as many times as you like.
The benefit of creating a custom theme is that you can apply it to multiple apps without having to constantly re-add colors, or choose fonts.
Just set up your brand theme in your Theme Settings. Once set, you can apply this at a Channel level, so that any apps with custom branding capabilities are automatically transferred into your brand colors.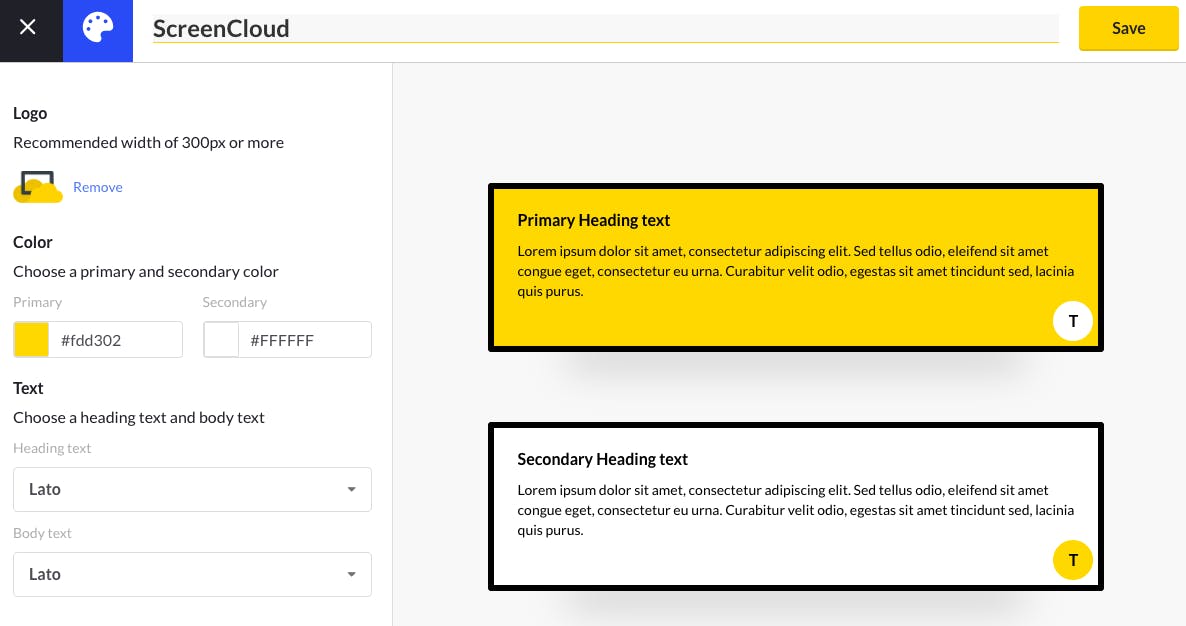 Here are some additional tips to help you pull out your branding elements if you don't have access to a company brand book:
i) How to easily find your brand colors
To brand up your displays it's a good idea if you know the HEX code of the colors you want to use. One quick method you can use to find this is to upload your logo to the Image Color Picker. This will help you pick out the different HEX codes (those that start with #) in your logo or branding.
ii) Find your font
To find out what font you're using, head to your website and open the source code. To do this on Google Chrome, you can enter cmd option + u.
In a new tab you should see the weird looking source file full of code, as shown below. Search for the word "font" and you should see a URL or name for your font.

If you look really closely on ours you'll see the URL https://fonts.googleapis.com/css?family=Lato:300,300i,400,400i,700,700i|Material+Icons which tells us that the font family used is Lato. This means we can choose Lato in the Custom Brand Themes editor to ensure that the text on our signage will match our branding.
iii) Create contrasting themes
When it comes to using custom branded themes you'll want to consider two contrasting colors you can use. This is particularly important for digital signage, where you want your messaging to stand out and catch attention.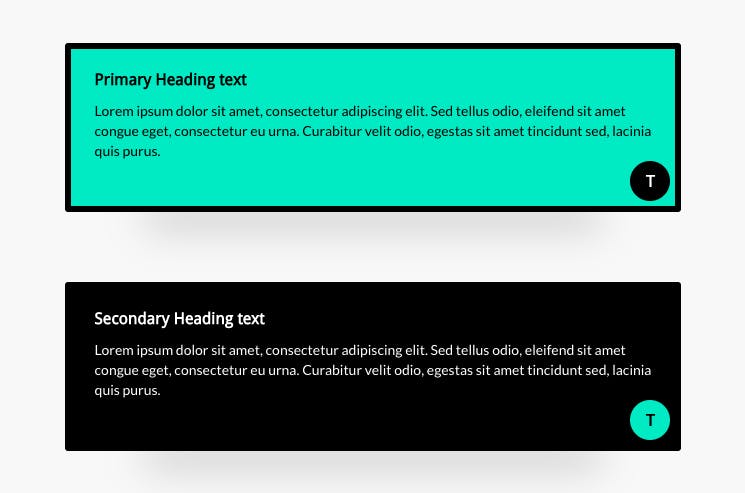 2. Use Canvas app to design branded signage templates
New from ScreenCloud is our inbuilt Canvas app. Canvas is a free tool inside ScreenCloud that lets you easily design eye-catching posters, signs and graphics that are optimized for displaying on your digital signage screens. Think of it like an easier Photoshop, that's already made in the right size for your digital signage displays.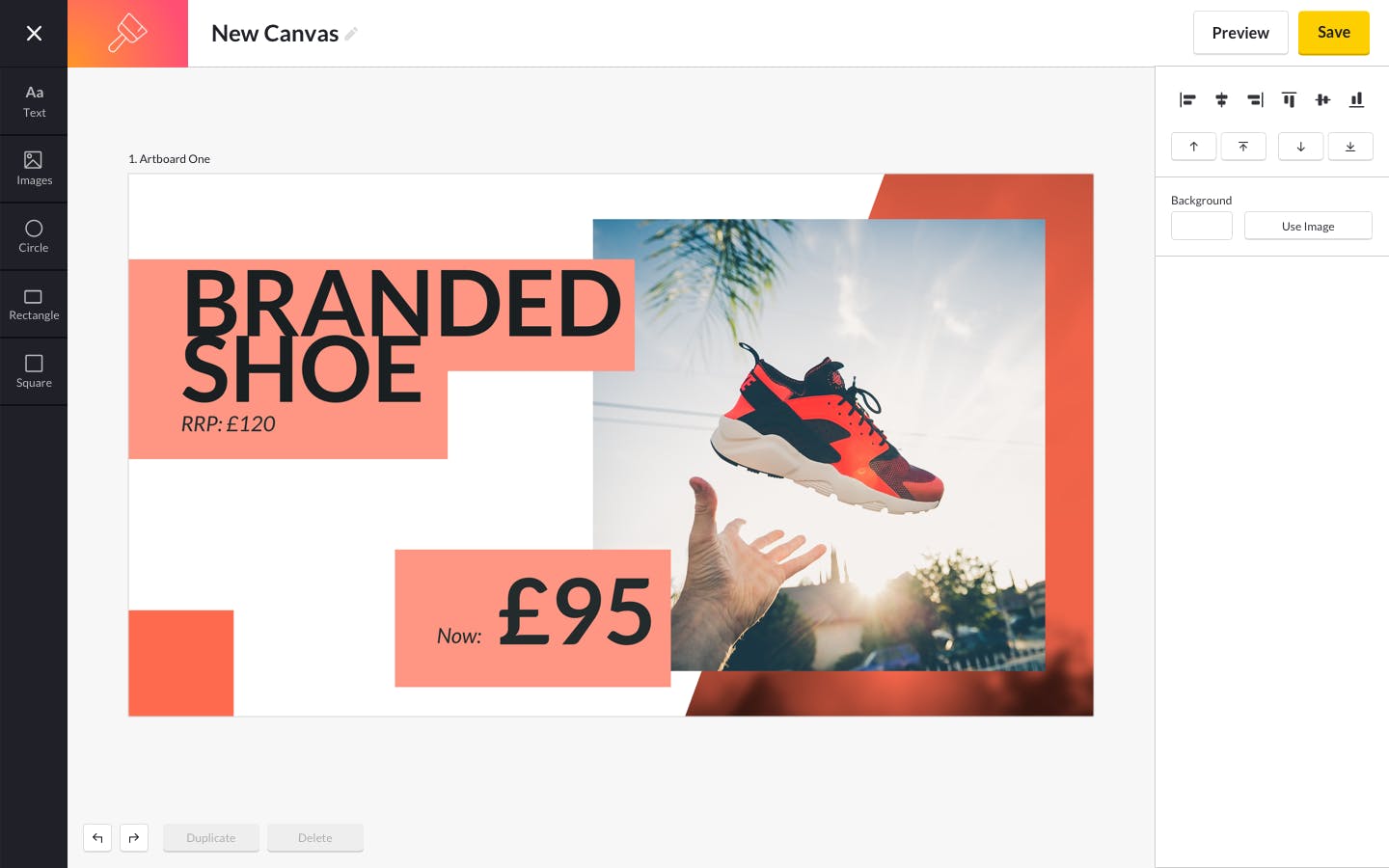 With Canvas it's easy to add your own brand elements including:
Custom images
Brand logos
Background colors
Here's how it works:
With Canvas app, you can go back and edit the same content at any time without having to start from scratch. This makes it easy for your design or marketing team to create posters or signs, that can later be updated or changed by anyone.
3. Add your logo to your digital signage content
For some content you might not want to brand it in your colors, but you may want to add your own logo as an overlay. Heck, you may want to do both!
In this guide we explain a quick hack for adding a logo to your screen content.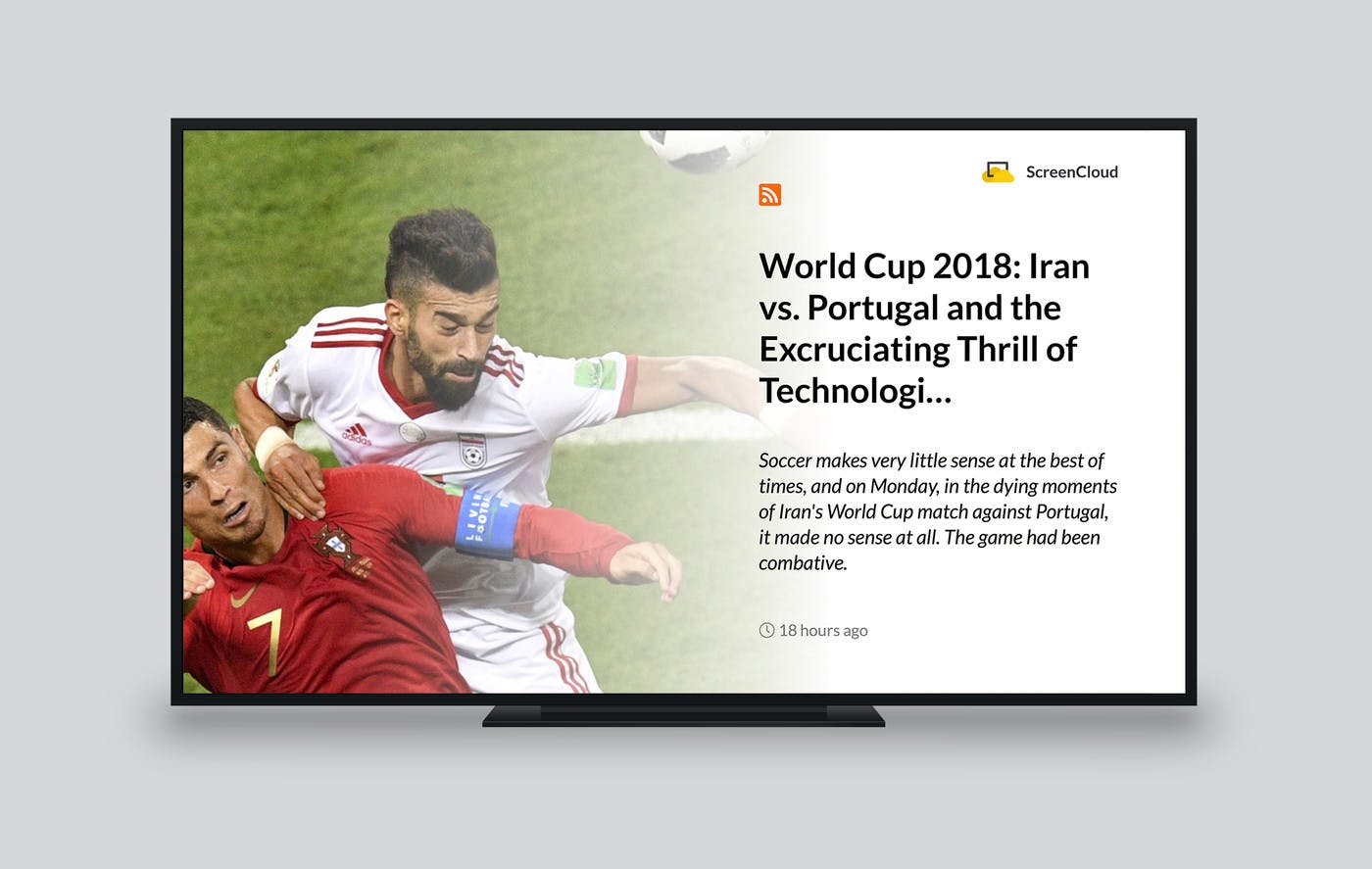 One thing to bear in mind is what your logo will look like on top of different pieces of content. You may want to save a light and a dark logo (in JPEG format) to your desktop and test to see what looks best.
You may also want to give it a transparent background. This means that only the logo will show, you won't get a big ugly white or black box around the edges. If you don't have a logo with a transparent background, a free tool I like to use is LunaPic.
Here you can upload a logo, click the background you want to remove and LunaPic will create you the same logo, just with a transparent background. If you do have Photoshop, and the skills to use it, this tutorial will also show you how to successfully remove the background.  
4. Use digital signage templates
It's all very well custom branding content like Twitter feeds and YouTube playlists, where someone else has done the design work for you. What about when you need to show something custom?
Having a consistent style is really important. Creating a consistent style when you're not a designer can be really hard.
That's why we love templates. At the most basic level, a tool like Google Slides has some great templates you can grab, tweak the colors and have your own semi-custom templates for displaying information like digital menu boards, or team profiles.
We actually created 30+ Google Slides templates that you can use for free which are a great way to get started.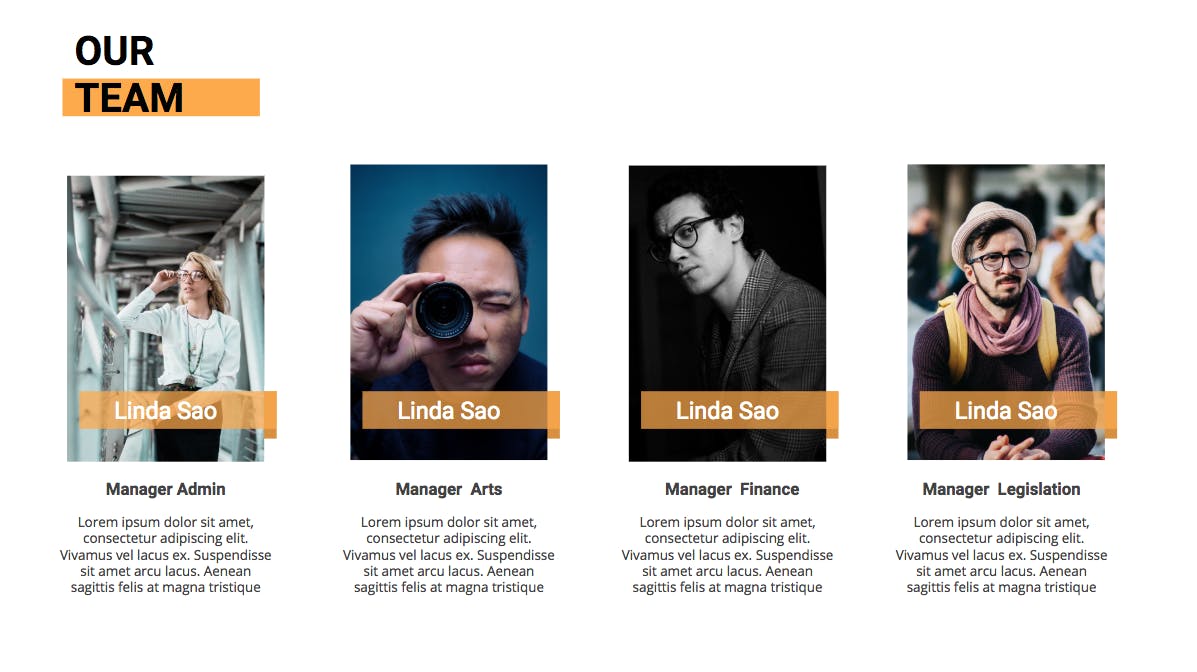 These templates focus on design and layout, ensuring all of the information will look great on screen. But you should also dip in and change the colors to your custom brand (remember when you pulled out the HEX code? That'll come in handy here!). You can also change the font type and images so that all of the information is personalized to your company.

One handy tip when replacing images, that'll ensure you don't change the design too much, is to select the image and choose "Replace image".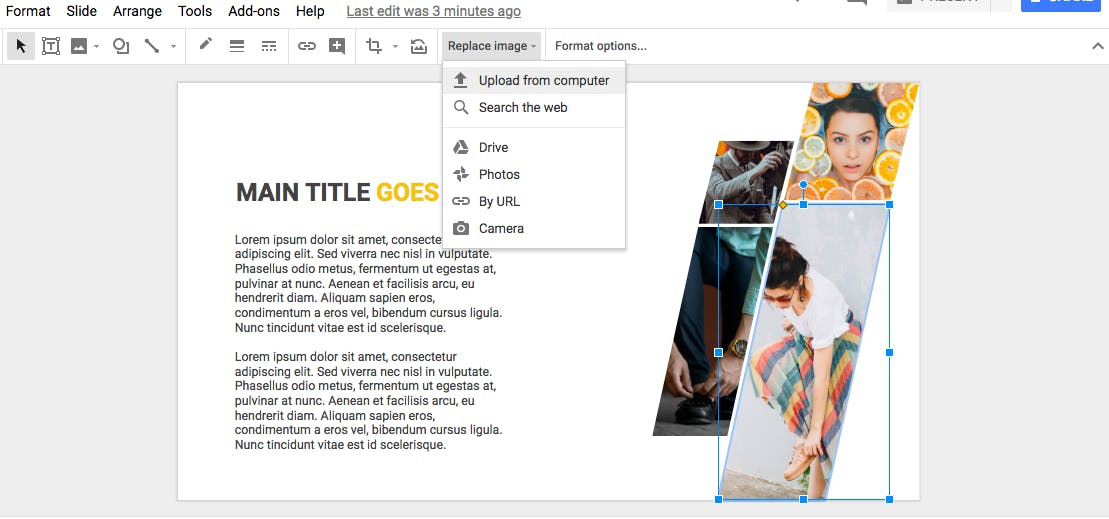 Rather than you trying to fit a new image into the same dimensions, this clever hack will do it for you.
5. Personalize your digital signage content
Now onto the big boy part: personalizing information.
Truth is, custom content goes far beyond just colors and fonts. Reinforcing your branding is about reapplying your messaging, speaking to the people who matter most and trying to create moments of surprise and delight that make you stand out.
As our CEO Mark mentions, using automation is a sure fire way to impress customers. One of the best tools for pulling the brands of your customers, is the Clearbit API. In its most basic sense, their free logo tool lets you find and embed logos.
This could be applying the logo of the company coming into a meeting to a welcome screen or adding logos of your customers to ambient content, so that your team get to know them better.
Making your digital signage information meaningful is finding what matters most to your audience; whether that's your customers, your employees or passers-by in the street. Usually, if there's something you want to show and it lives in an online system, there will be some way to show it.
Start by asking: where does this information currently live? Once you know which system it sits in, you can look at how that information can be extracted. If it can be pulled into a Google spreadsheet, or even a CSV file, you can usually do something with it.
Next, look at how it needs to talk to a different system, for example to be designed or made more accessible. Zapier comes in handy here. Connecting all of the dots can take a little brain work, but once you have those systems connected, the potential of having personalized, real time information showing is huge.
Plus, if you have an idea and you aren't sure how to implement it, you can reach out to us and we'll put our heads together to see what you could do.
Custom Branding Digital Signage Checklist
Now you know how to custom brand your content, use this checklist to make sure you have all of the areas covered:
Ensure the HEX codes for your main brand colors are saved and added to ScreenCloud
Choose brand fonts
Create a logo with a transparent background
Set up a custom theme
Use Canvas app to create custom branded content
Upload your logo as a zone
Personalize a Google Slides template
Create custom information for your audience
Get started by logging in or signing up to our 14 day free trial of ScreenCloud and begin playing with the tools you need to custom-brand your digital signage communications.