What's the number one excuse for businesses not using digital signage? Surprisingly, it's not understanding what digital signage is, or failing to get set up because of expensive hardware (no longer required with cloud-based digital signage systems).
It's finding content itself. This is something we hear time and time again. Businesses are desperate to embrace digital signage, they want monitors to show off their social media work, digital menu boards and customer stories.
But they're stuck at the first hurdle - how to create digital signage content that actually looks good and engages customers or staff members.
If you're wondering what goes into good digital signage content creation, chances are, you've seen lots of bad examples. Screens stuck on the same news loop, out of date images which are too low res, or worse - the blue screen of death.
Like any other marketing medium, the screen is only the vehicle. If you don't have good content to show on it well, you might as well leave it turned off. It's the same as putting a post on Facebook full of spelling mistakes and broken links; it's not Facebook's fault if the content doesn't work.
In this guide we'll show you how to create your own digital signage content easily.
How to create your own digital signage content
1. Digital signage apps to repurpose content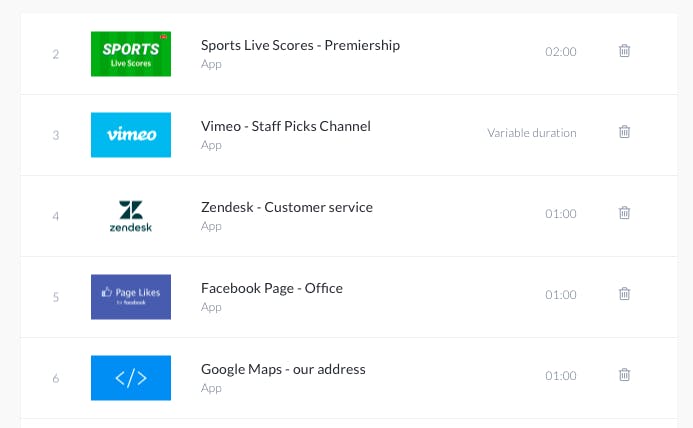 When it comes to designing for digital signage screens one of the easiest ways to create awesome content is to use digital signage apps that suck up content from where it already lives and repurpose it, ready for screens.
The benefit of digital signage apps is that:
Content is created "screen ready", so you don't have to worry about dimensions or resolution.
Apps take content from places where it already lives, like Twitter or Dropbox, so you don't have to create content twice.
Apps are created to pull updates, rather than waiting for you to "push" them to the screens.
In the ScreenCloud App Store there are currently 70+ free apps to use with ScreenCloud, like news feeds, Twitter, Gallery for Instagram, Google Slides and more for super easy content creation.
Here's an example of how you can use just one of our apps, in this case Meet the Team app, in three cool ways to create digital signage content really easily:
2. Creating digital signage content using free tools
If you already have a piece of perfect digital signage content in your mind's eye, you may want to create it yourself from scratch.
Enter free content creation tools. Gone are the days of needing Photoshop or Indesign to mock up a great looking visual. There are so many tools out there that allow you to do this yourself and for free, no design skills needed.
One of our favorites is Canva. The reason? Canva acts as a safety net for content creation by giving you ready-made templates and designs that you can use.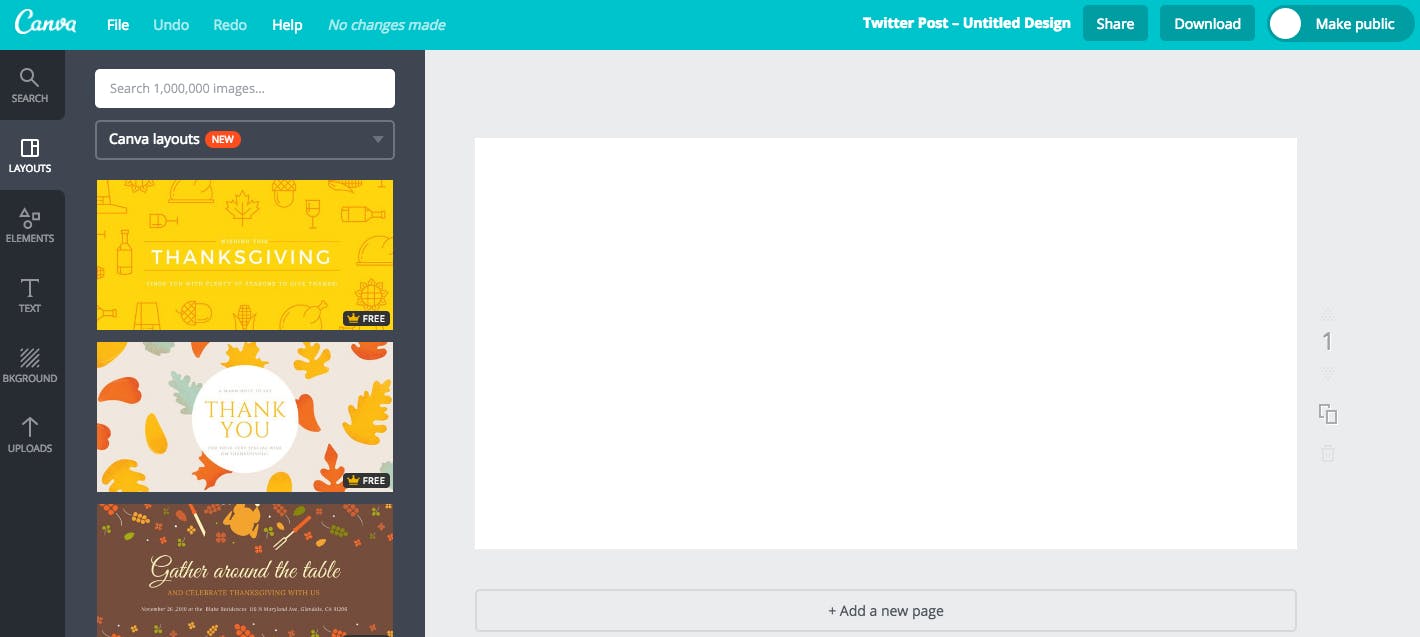 As we mention in our design rules, Canva lets you size your design at 1920 x 1080, making it perfectly screen ready and high-resolution.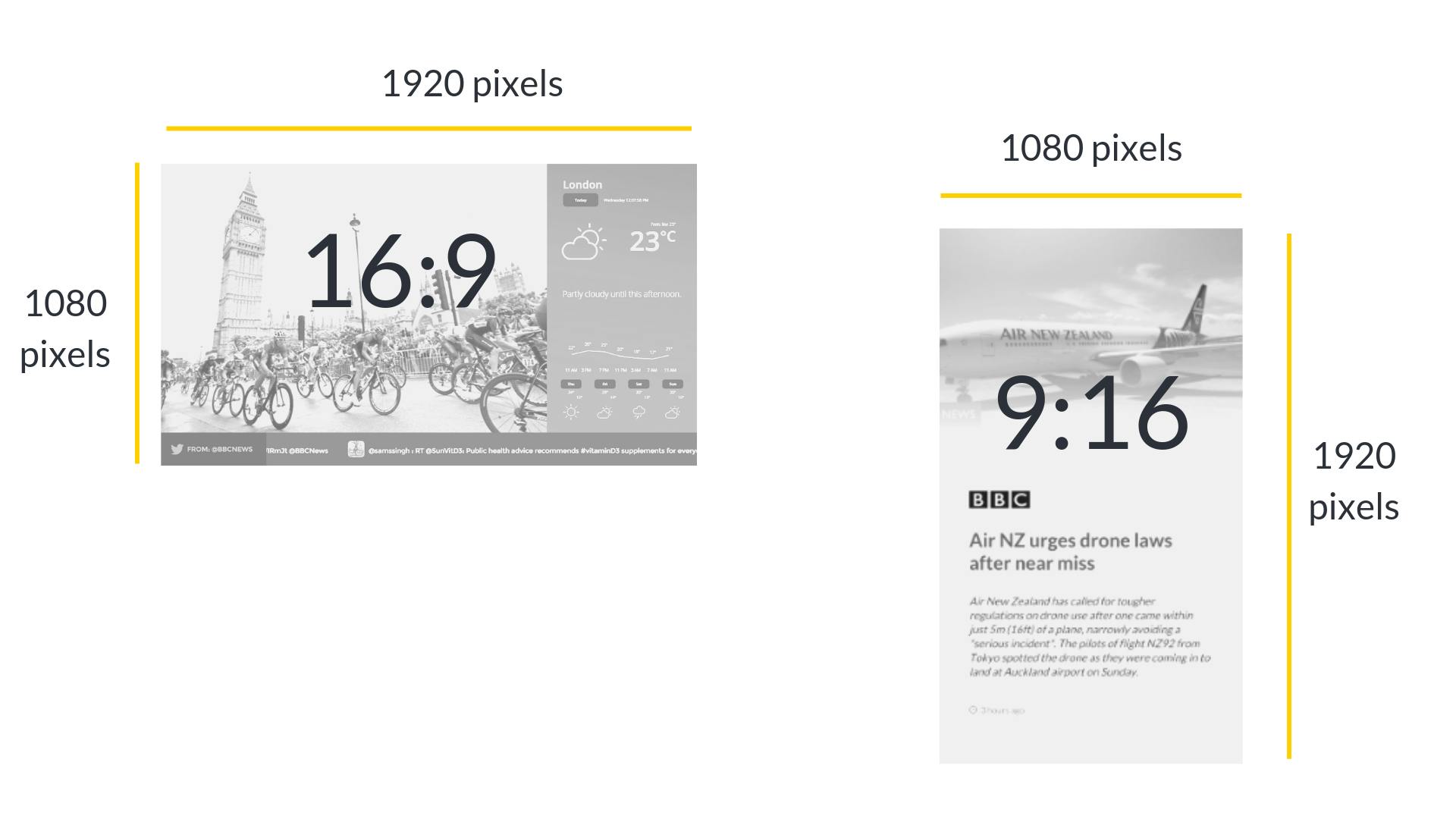 Once you've played around with fonts, colors and background (and hey, their brand kit means you can add your own logos, fonts and brand color palettes too) you simply export as an image and upload to ScreenCloud (or your digital signage CMS). Job done!
There are a ton of other great and free content creation tools out there and it's really easy to make a piece of content that can be uploaded as an image or PDF.
3. Using content you already own
So how about it; when it comes to digital signage you may not even need to create new content. Perhaps you already have a whole host of content you can use, that can simply be repurposed.
Some of the content you can add to your digital signage display using ScreenCloud includes:
An endless page scroll of your website and web content
Documents and images you own (jpeg, gif, png, svg, PDFs and Office/iWorks formats all supported)
Social media feeds (more on this below)
HTML content
When you add images and graphics to ScreenCloud signage, we'll resize them to make sure they look great on screen.
4. Stock content
You probably already know about photo stock libraries but did you know there are other versions too? When you're on a content budget, sites that allow you to use royalty-free videos, images and music are like gold dust!
When it comes to free video content (which by the way, looks awesome up on screen) there's a great site we love called Coverr.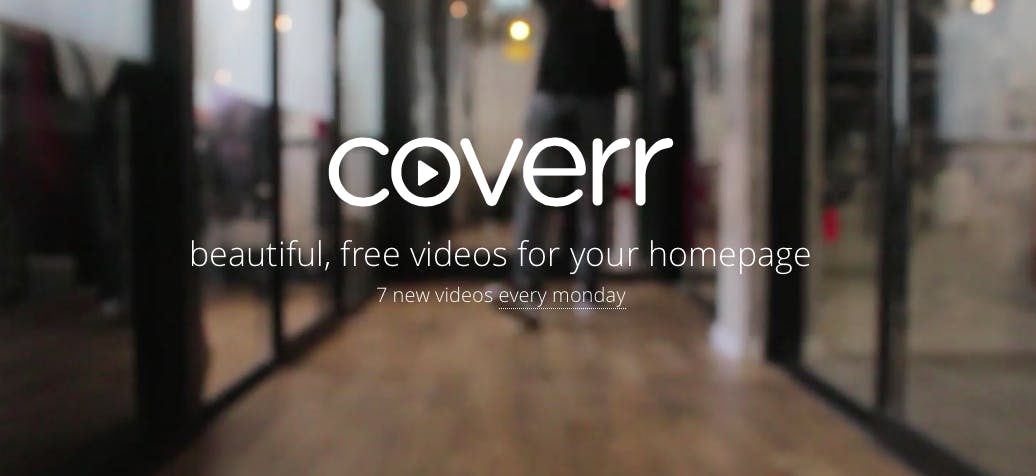 Coverr makes beautiful "background" videos which, when paired with text overlays, makes creating video content easy and intuitive. Movement is a great way to catch the eye from a digital signage display and can be used as the base for instructional videos, customer testimonials, how to guides and more!
Adding music to content also helps to make it more emotive. Free Stock Music boasts hundreds of files that are equipped with "100% royalty free licenses that allow you to use the music in all types of productions, for worldwide distribution, forever. There are never any licensing fees."
5. User generated media
Word of mouth is the new advertising right? There is no one we trust more than our friends and family and often, even strangers. How many times have you googled a hotel or restaurant to check what other people thought first? There are plenty of apps that can help you to take user generated media and add it as content to your digital signage screens. For example, Google Reviews, TripAdvisor and Yelp all create a powerful picture of your business's ethos and service.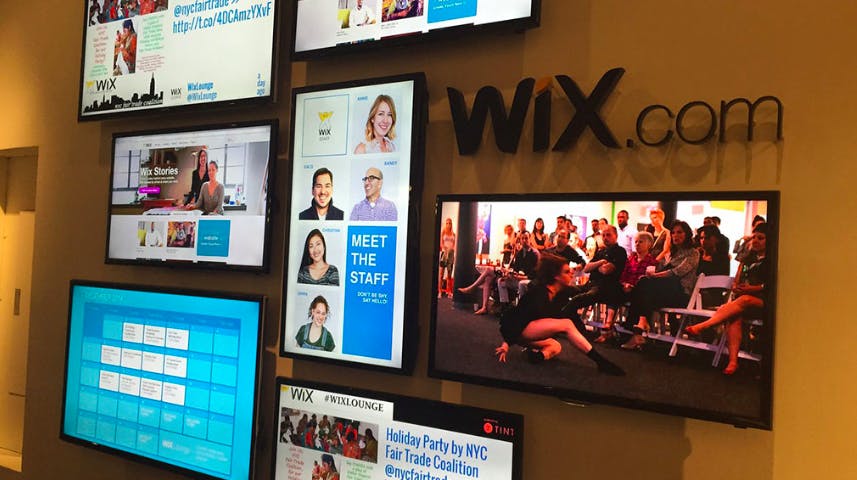 6. Digital signage content templates  
When it comes to designing for digital signage, it can be hard to create content that is going to stand out. That's why digital signage content templates come in super handy. One of the easiest ways you can find free templates is in Google Slides.
Google Slides, like all good content creation tools, offers a series of free templates that you can use to create screen-sized content. Then there are sites like Slide Carnival which also provide templates for the 16:9 ratio needed for digital signage content.  
Lastly, what kind of digital signage company would we be if we didn't have our own pack of free templates to bestow upon you?
Here, you can find our 30+ free digital signage templates created in Google Slides for ease. Think real estate graphics, digital menu board templates, punchy notices and more, yours to do with as you please.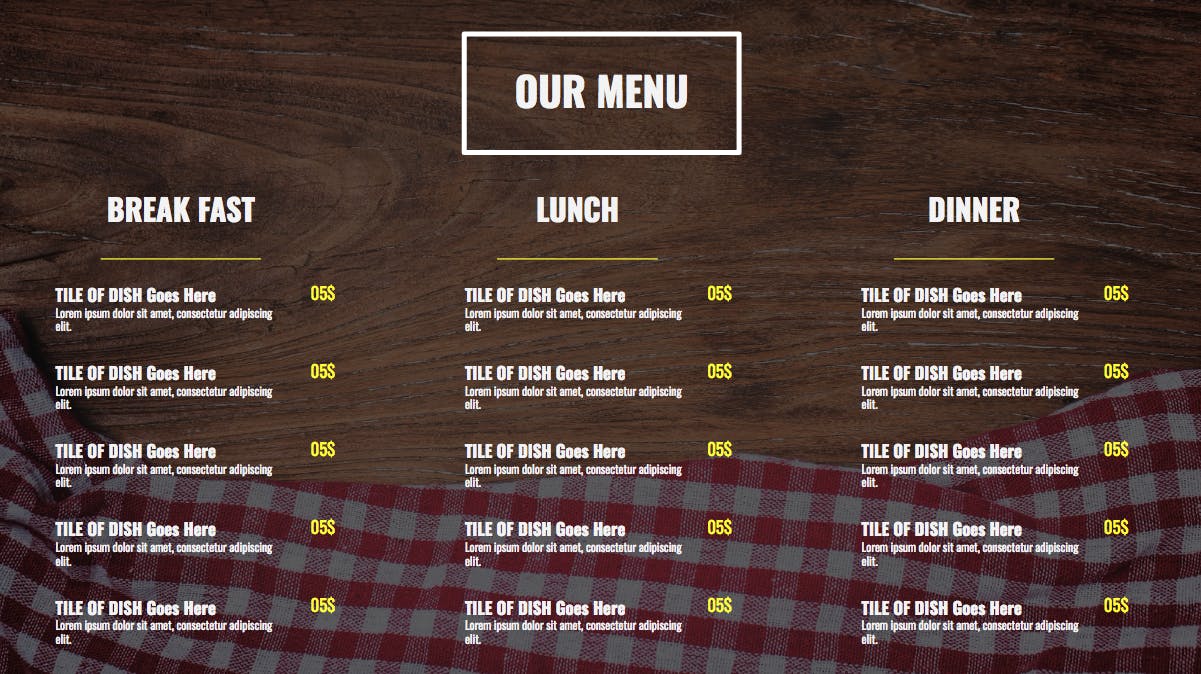 Digital signage content strategies
The content you choose all depends on the type of audience problem you are trying to solve. You can view lots of examples of digital signage content here but often, it's how those examples work together, to create a digital signage content strategy, that makes all of the difference.  
1. Increase positive brand awareness
If you want people to share more brand love, some of the content sources you could look at include:
Social media feeds
Customer testimonial graphics
Dashboards of sales or customer happiness statistics
Images of charity works
Company videos
Messages for social good (for example, helping support a local missing persons or foodbank cause asking for public support)
2. Improve internal communication
If you want to make your employees buy into what you do, you could include:
Company dashboards
Trello boards
Slack communications
Company images
Health & safety videos
Announcements
Intranets or company wikis
3. Upsell items
For a store or restaurant that wants to sell more and raise awareness of products with customers, try:
Digital menu boards
Signs close to the point of purchase which upsell items
Special offers
Images of products in use
Price reductions or comparisons with other stores (or online)
Happy customer images
Testimonials and reviews of products or menu items
4. Make customers linger longer
To get everyone wanting to visit, and staying for longer, you could use:
News feeds and world events
Blogs and RSS
Ambient video content
Live travel information
Social media feeds
Competitions and gamification
5. Have fun with your content
If your mission is to get customers or employees engaged through fun, dynamic content, here's what you could play with:
Social media dashboards
"Fun" company announcements
Staff news and updates
YouTube video playlists - organized in relevance to time of day and day of week
Specific news sites
Images and video content
Good digital signage content: a sensecheck
Read these bullet points to ensure your digital signage content is fit for purpose at all times:
Does your content abide by the fundamental digital signage design rules?
Is your content optimized for portrait vs landscape formatting?
Will your audience be interested in this content?
How does the timing of your playlist work - is there enough time to be engaged but not bored?
How long has your content been showing? Is it time for a change?
Is the content shown relevant to this audience, at this specific time and day?
Is your content "on brand" using the correct colors, fonts and formats?
Can you add content that updates automatically and will always be relevant?
Are you using high-quality images and videos which don't pixelate?
Does this content make sense in the context it sits?
The medium may not be the message, but great digital signage content is the focus of lots of small, moving parts. Choosing great content sources, setting them up, selecting the branding and getting it all live in a timely, relevant manner. Follow the guide above and you'll be in a great place to start, as digital signage becomes more common across the world's screens. Begin today at screencloud.com/getstarted.