Have you ever wondered why marathons are 26.2 miles exactly? According to Greek history, the distance commemorates how far the Greek soldier Pheidippides ran from the town Marathon in Greece to his fellow Athenians to tell them that the Persians had been defeated. Luckily, we don't have to run 26 and a quarter miles every time we need to give our co-worker a message today. Heck, we don't even have to be on the same continent as them. With the aid of communication tools like Slack, Zoom, Google Docs and so on it's easier than ever to communicate, even within a global workforce.
However, just because you can send a simple Slack message to your colleague on the other side of the world doesn't always mean it's the best way to communicate. For many organizations, bridging the gap between offices is one of the many challenges faced in their internal communication strategy. From engaging remote workers to sending out a message to all offices at the same time, global communication can be tricky.
In this guide we're going to walk you through the politics surrounding a global workforce, and the communication strategies we believe can help solve them.
What is global workforce communication?
Most workforces today are global, which means one organization can have offices in multiple locations. When this happens, interoffice communication is required to allow different members of different teams to share ideas, pass on information and manage projects or tasks across the company. Interoffice communication occurs for staff members in the same office, and for staff members located in different offices. This could be via messaging tools, video calls, email or in-person meet ups that happen less frequently, such as once a year.
Problems associated with global workforce communication
IBM, a pioneer of remote working before many companies even knew what remote working was, made headlines in 2017 when it axed remote working policies for 2600 marketing employees. The reason why? According to IBM's chief marketing officer at the time Michelle Peluso, getting marketing employees back into core hubs, working shoulder-to-shoulder, would increase collaboration and allow the company to work more agile.
In the past, internal communication was mainly face-to-face, often across email and occasionally on conference calls, or systems where employees were not physically together. Today, even co-located employees may be more likely to send a Slack message than to communicate face-to-face.
This has led to some experts calling out the distracting nature of online global workforce communication tools. In a post titled "Slack, I'm breaking up with you"; onboarding expert Samuel Hulick outlines how he believes Slack is more distracting and actually increases the number of messages, than his pre-Slack email inbox. Calling Slack:
"A conversational melting pot that is neither fully real time, nor fully asynchronous".
This leads to a lot of pressure on employees to stay on top of all means of communication from within their various offices. From email, to messaging tools, company intranets and video-conferencing, posing the question: just how many communication tools are too many?
How to improve global workforce communication
In our guide to corporate communication tools we talk about tools which improve communication, but also the tools that you may not need after all. One of the biggest issues with internal communication is that there are way too many tools and systems.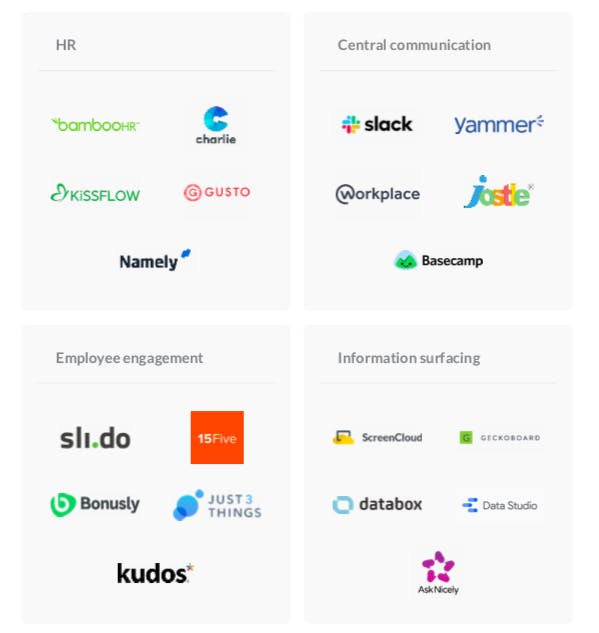 Just some of the corporate communication tools we looked at in our ebook.
In order to improve interoffice communication you need to look at minimizing all areas rather than adding more layers. Asking your organization:
What are the least amount of tools we can employ to support communication?
What is our communication etiquette and what should people not do? (Buffer's guide to its internal use of Slack is a great example of this).
Can you make everyone into Slack power users? Our very own performance marketing manager, Verca is a champion of this concept and readily enforces adherence to the code of slack conduct. Read more about turning your teams into power users.
How can we reduce the distraction of communication during deep work, but make communicating during collaborative periods more effective?
What's the most effective way of broadcasting messages one-to-many?
Benefits of digital signage for global communication
When it comes to employee communications, we believe digital signage is key to engaging employees and helping to get important messages seen. Digital signage is a system you can use to broadcast and schedule content to TV screens located within your offices. The benefit for distributed teams, is that all screens can be managed from anywhere and from a central location, if you only want to provide access to certain administrators. This is particularly effective for global workforces where some, or most, of the communication happens between offices.
Some of the ways digital signage benefits interoffice communication specifically include:
High visibility of updates
You only have to look at digital signage statistics to see that when it comes to digital screens, information gets seen. Digital signage has a recall rate of 83%. It widely increases your team's chances of seeing updates because they get exposed not once, when the email hits their inbox, but multiple times throughout the day or week.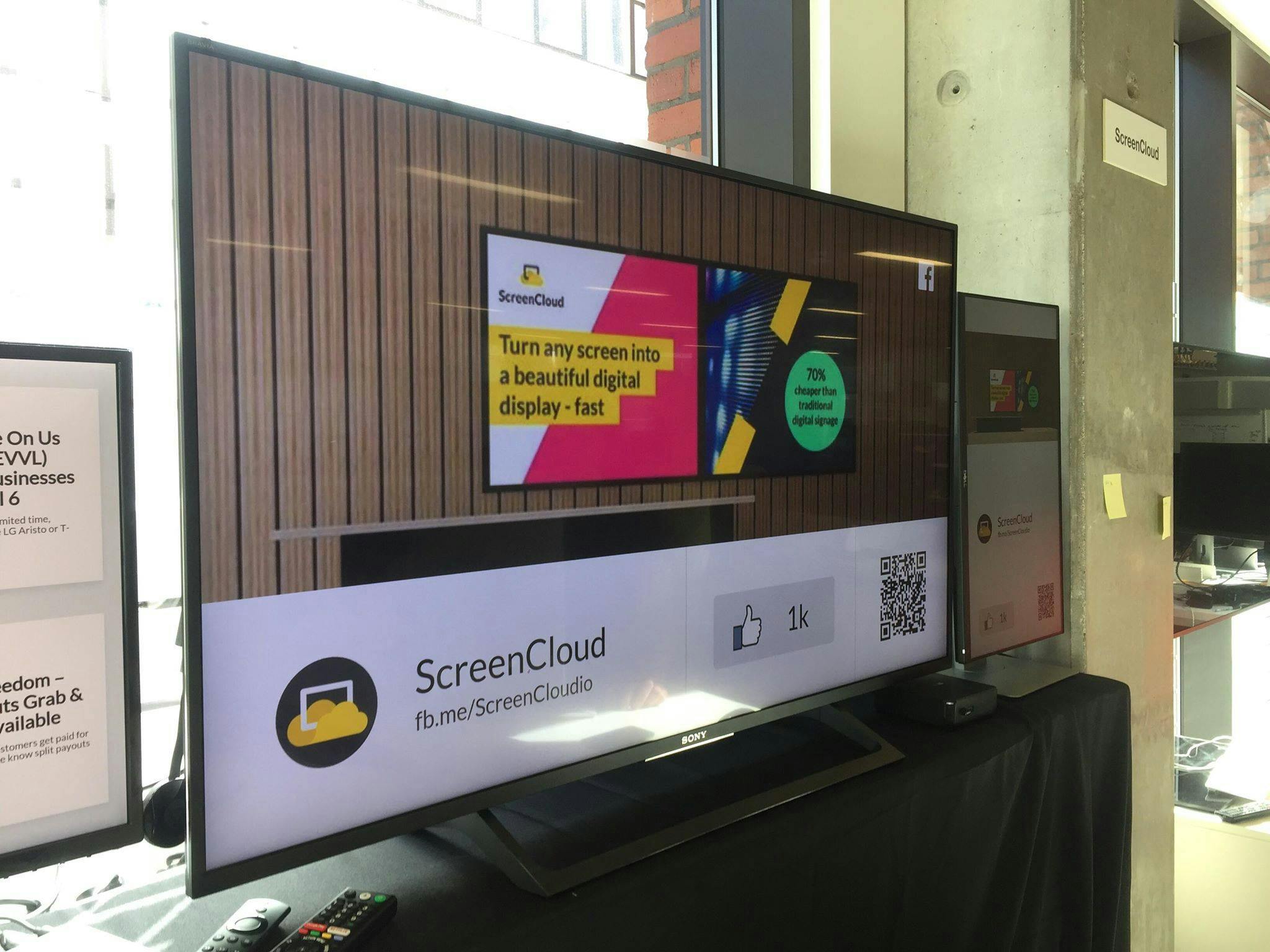 Ability to make company announcements in the moment
Whenever we send out an email marketing blast at ScreenCloud I'm always super interested in how the recipients responded to that email. Who clicked the link? Who opened it? When it comes to the email broadcasts that go out to employees, we rarely check back to see who actually read the email. According to this email report employees receive an average of 112 business emails per day. Given that this was logged in 2015, it's likely the number has reduced, but only because the amount of internal communication tool messages we get, like those from Slack or Yammer, have greatly increased. So the likelihood is, employees are missing emails. If you had a way to surface the two or three really key emails, that actually contain crucial information, on large digital signage screens throughout offices, how many more of those messages would actually get through?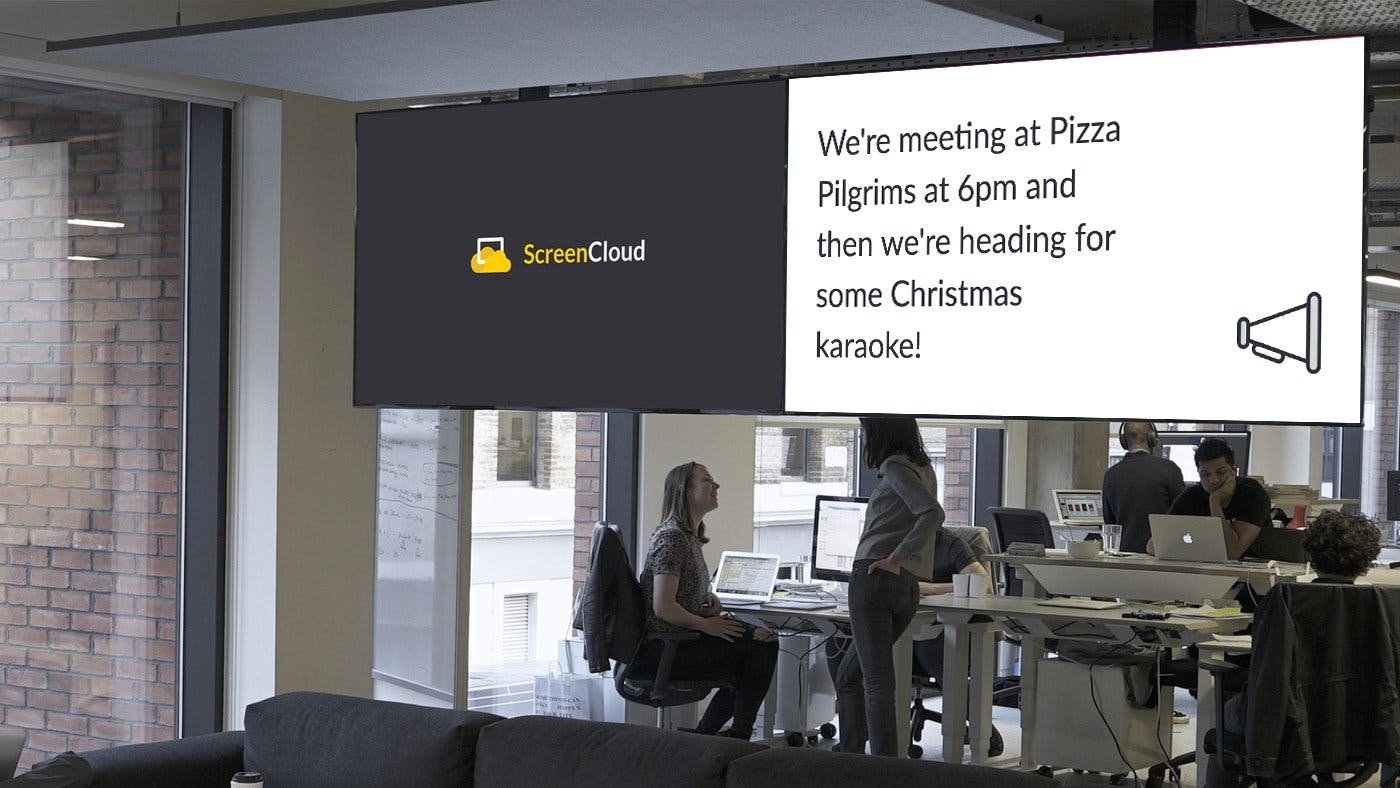 Live broadcasting of company events
We all know the awkward moment during a company conference, or All Hands, where you're trying to share what's happening with remote workers or employees who couldn't be there and it just isn't working. Companies that already have digital signage deployed make easy work of sharing company events to all offices. With a quick "Cast to screens" command, every screen, in every office, can be showing a live feed of what's happening. Even if it's only being shot on an iPhone. Neat huh?
More unity within a global workforce
Imagine if you knew that John from Head Office's son had recently graduated college, or that the team located in Beijing practice yoga together every morning. Wouldn't that help you to connect with them on a more personal level? Often, global workforces struggle to build empathy with their interoffice colleagues because they don't know anything about them, other than their email addresses. When we sit next to colleagues every day, we learn the idiosyncrasies that make them tick. We hear about their families, their hopes and their dreams. Digital signage is an open canvas where teams can paint a picture of who they are behind the avatars. Helping to create long-lasting unity between the workforce, regardless of where they're located.
3 global workforce communication case studies
Seeing examples of digital signage in use for internal communication helps to spark new ideas about how you can use digital screen networks to challenge and improve your traditional interoffice communication flow. Here are a couple of examples:
1. ScreenCloud's plan to "Meet the Team"
When I first started planning out our company digital signage channel one piece of feedback came up time and time again: we want to know the rest of the team. With four key hubs, across three continents and around 15 team members working remotely, our team didn't feel like they were getting to know everyone in the team.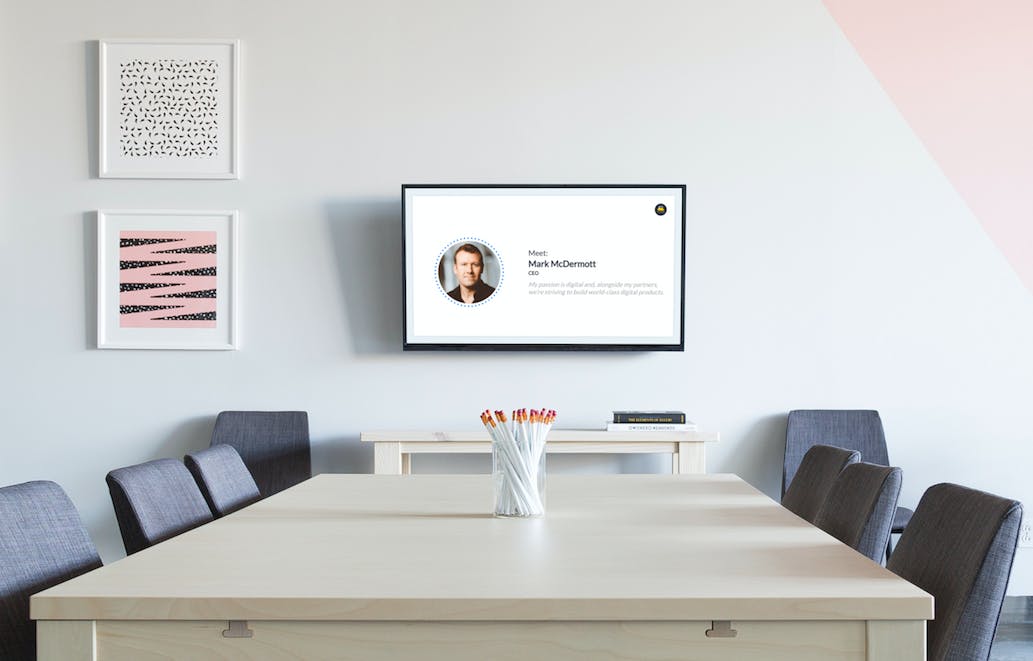 They wanted to know what the team in Bangkok were working on, the details of life in LA, who our new marketing people were. Basically, more about the people behind the avatars. So we came up with a few different strategies. Using Meet the Team app we dedicated a portion of our digital signage to surfacing photos and job titles of every person in the team.
We also created a deck in Google Slides that introduced our development team in Bangkok and their specific relation to a big product update we were tackling.
A Dropbox Gallery folder of images then contributed to a more fun view of who are team are. People doing yoga in the office, team pets, our Head of Finance swimming with sharks… you get the picture.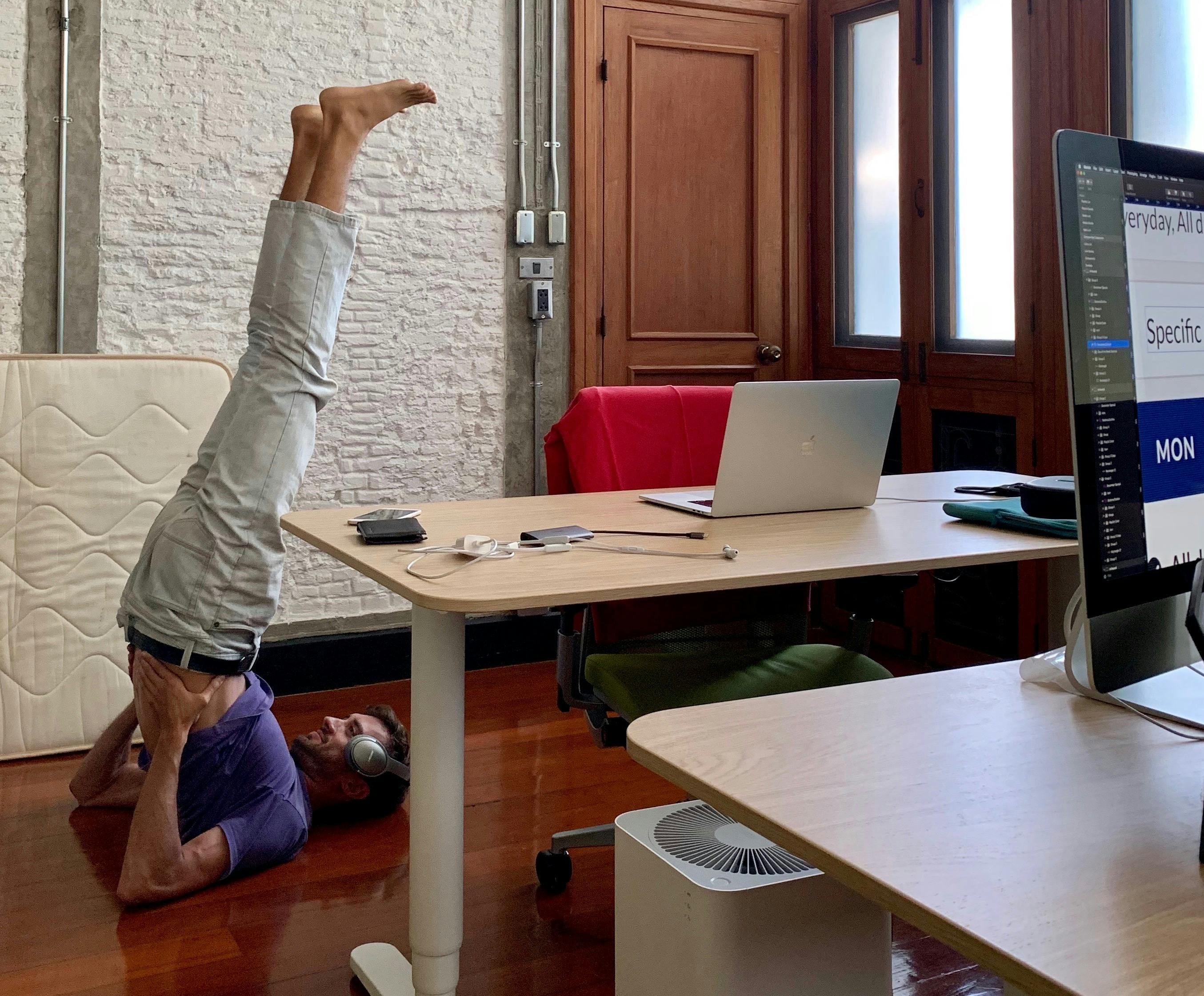 Morning yoga in Bangkok!
If this sounds like a simple solution to a big problem, it's because it is! Sharing regular photos, information cards and bios of our team helps our worldwide offices to feel just that little bit closer together.
2. Communicating training information to various locations
For Granger Waste Services, communicating well to its employees is a key consideration, given that it has four different locations and that some of the associates are only onsite for around 10 minutes each morning, before they head out to serve customers.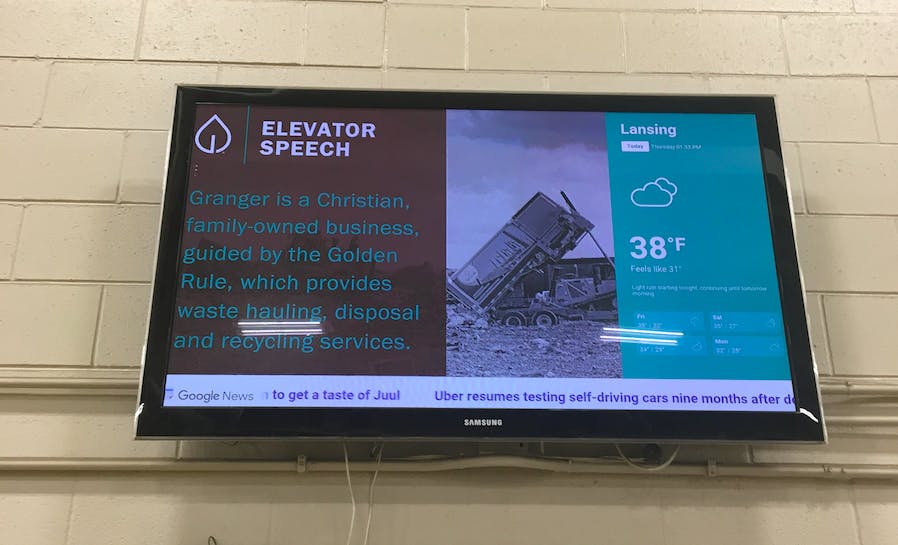 By putting up digital screens in break rooms and throughout each of its four locations, Granger makes use of the key times its employees are in the office. Sharing training videos, company announcements and customer feedback through scheduled content.
3. Surfacing information when inboxes are too full
For 3M, recognizing that employees already had an abundance of communication methods, but that the key announcements weren't cutting through, was what led to their digital signage journey. With internal updates happening all of the time, they began using digital screens, located throughout their 150 offices, to surface the stuff that was most important.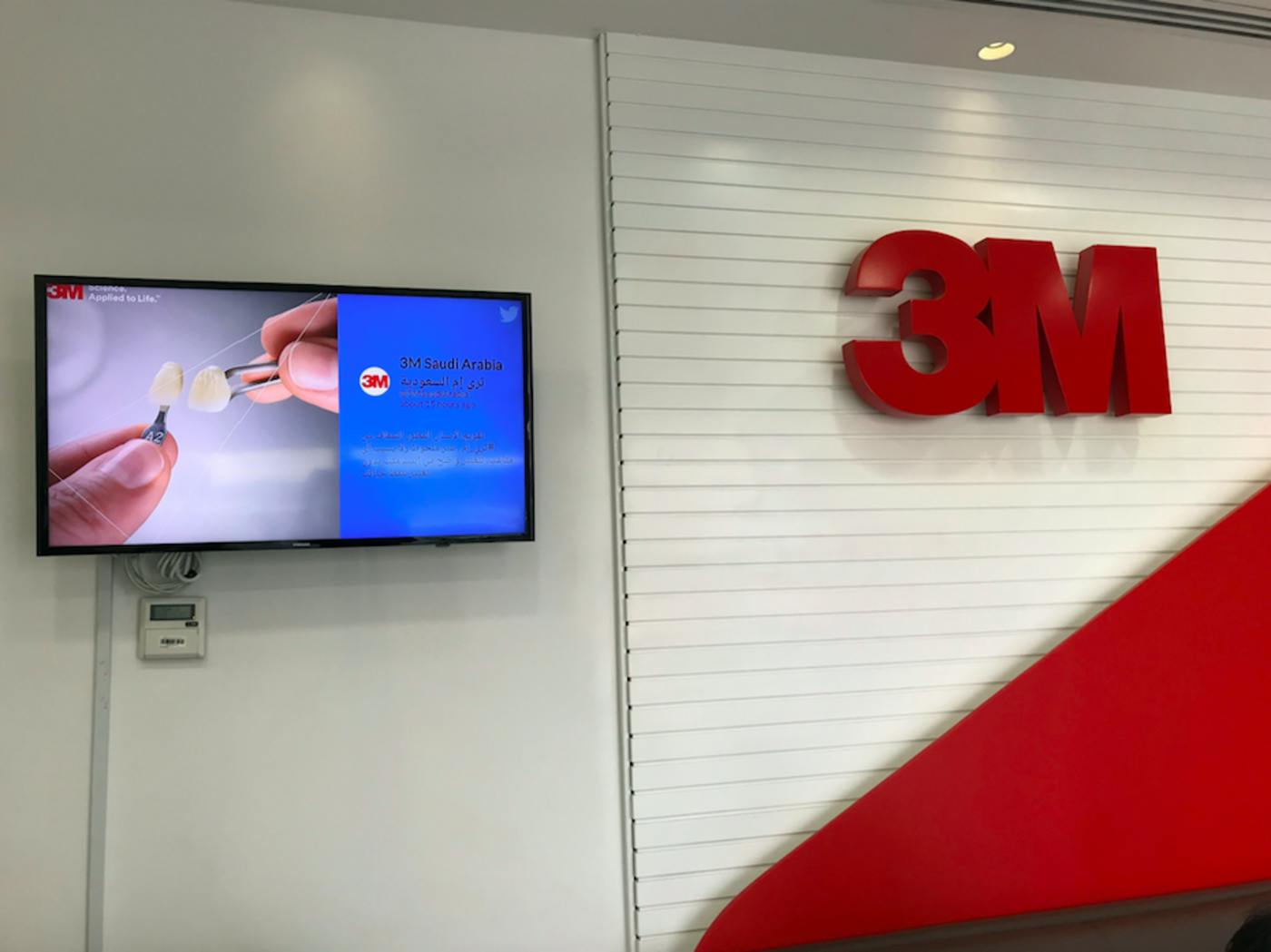 This allowed all employees to see messages at the same time, without having to wait for them to open emails. 3M also pioneers using the digital network to share photos and snapshots of its team and events that are happening locally, and reports that its team loves seeing this type of personal content.
Start communicating with your global workforce today
If you liked these ideas check out our 14-day free trial of ScreenCloud. It's a breeze to setup and it makes communicating between offices easy.