College campuses across the world are building key information hubs that service their staff and students. The medium? Digital signage.
Digital signage, the art of adding content to screens fixed in college corridors and classrooms, isn't anything new. The difference, as one of our customers discussed recently, is that digital signage is finally affordable for educational facilities. With consumer-grade hardware, cheap media devices that you can buy on Amazon and a digital signage cloud-based solution like ScreenCloud that can be managed from anywhere, you're all set. 
Now for the real beauty of digital signage: the ease and speed in which you can setup content. Long-gone are the days of decrepit noticeboards (that no one reads) and static signs which age before the semester is out. With digital signage, content can be updated from anywhere, at any time. Providing a wealth of options on what to show and how to show it.
If you need help with the technical setup of your digital signage display follow our guide on digital signage for schools otherwise, let's get down to the content you could be showing.
Departmental social media feeds
Students now attending college are part of the digital generation meaning they've grown up with social media like most grew up understanding television. Digital signage and social media are a great match as once your social media apps are added to your screen the content updates itself. 
With faculty-specific social media feeds, the department heads and professors can create new content, provide last minute updates and lesson plans and students can check the walls as they walk to class to see what's new.
With moderation and 'safe' filters like the one on our Twitter app, you can ensure that any content shown is suitable for school too. 

When you're already creating powerful social media feeds online you don't need to reinvent your signage content as it can be fed by the tweets and content happening elsewhere. Leaving your staff members in full control and your students up-to-date on what's happening in their college.
News and world events
As a student, staying up to date with news and world events outside of the college 'bubble' isn't always easy. With digital signage, you have the opportunity to add news feeds that automatically update with the latest headlines to campus corridors. Suddenly walking to class, waiting out a study period or entering a lesson all become opportunities for students to brush up on the latest headlines. 
Some of the news and world event apps you could add to your digital signage screen using ScreenCloud include:
Dashboards
As well as apps that import information that's already created such as social media and news feeds, it's also easy to create your own. Dashboards provided by our partner apps like Dash give you the tools and templates to create dashboards of information. Combine different verticals such as weather, news or add widgets like charts, tables and gauges. This would be great for keeping track of college soccer games, house tables, different sorority memberships and anything else you like really! 
Room bookings
One thing that can be managed more efficiently using digital signage is room bookings. Okay so you know who's in which classroom at which time, but what about who's booked into the sports gym or library for a session? Digital signage screens (or tablets for that matter) can easily be installed outside of rooms to give a clear view of who's using what, when. This saves time and confusion as well as making sure that all of the space on campus is being used more efficiently.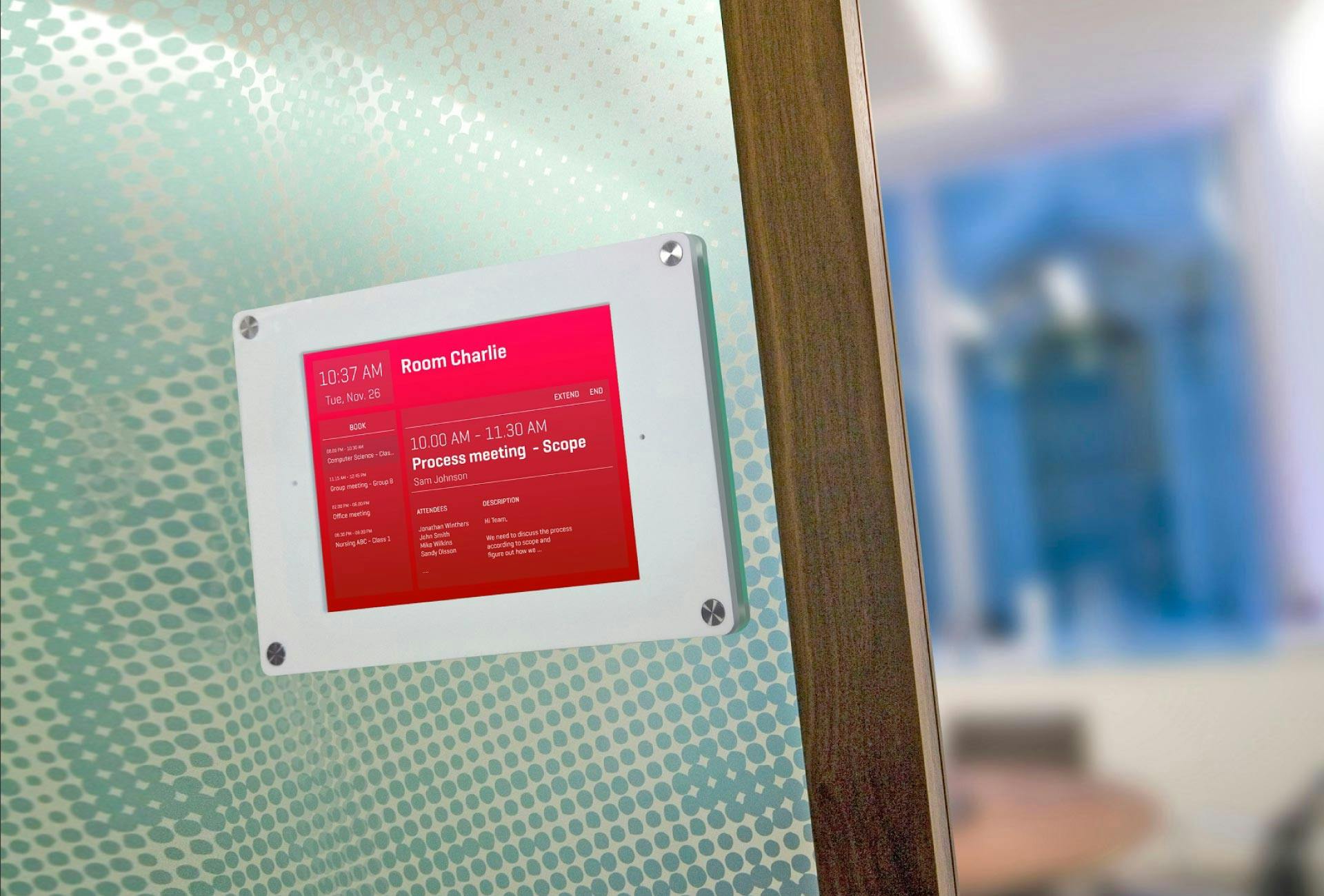 Empty space rental
Here's a great idea that one of our education customers told us about. They cleverly recognized that their school gym was only used around college hours, sitting empty and unused at the weekend. Using digital signage, they set up a Twitter feed and a display that showed the empty slots when the gym wasn't being used. This was seen by the public and students, so it became easy to rent out the space. When the space is full it pays for itself and maybe even a few extra digital signage screens too!
Digital menu boards
For the cafes and bars on campus a digital menu board could help you sell more products and provide special or seasonal offers. Digital menu boards can be updated instantly to show specials, menu changes and even allergen information.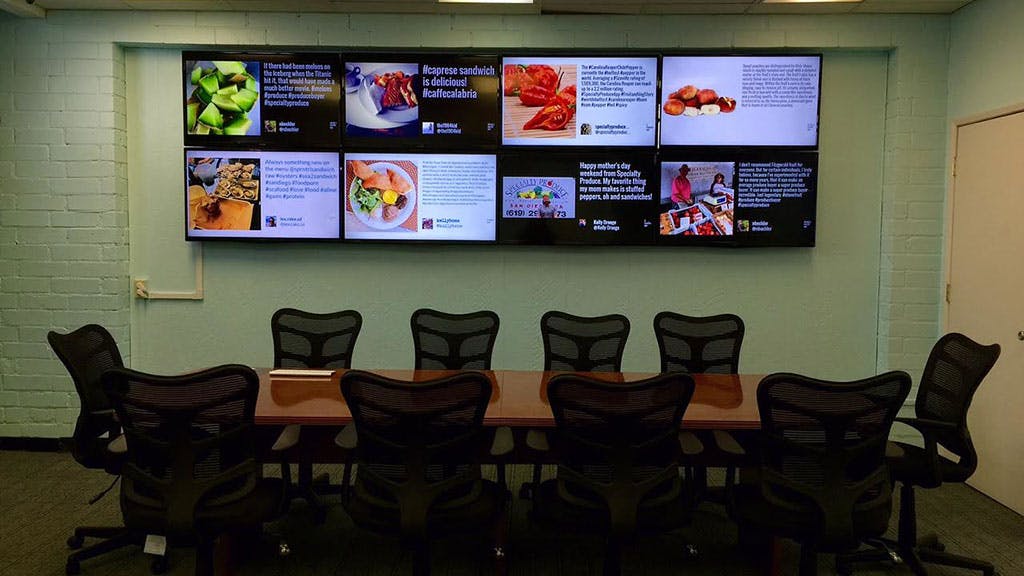 A digital menu board using our app partner TINT
Your school website
Another great source of digital signage content is using your own website. This is likely to contain all of the key college information including extra curricular activities, the school history and its key selling points. For open days or inductions this is an easy source of information to upload, using our 'add Web Site' URL drop-in feature. 
Video and image galleries 
Visuals and video in particular, help draw in the eye as well as building community as classmates laugh together over the latest photo galleries. From sporting events, through to dances and work in the community, image galleries are easy to add to your content repertoire. 
You can link up your college Dropbox or Google Drive account, import one by one or from a channel such as Facebook or Instagram. You can then use our content folder tool to organise content, playlists and scheduling to decide what plays when.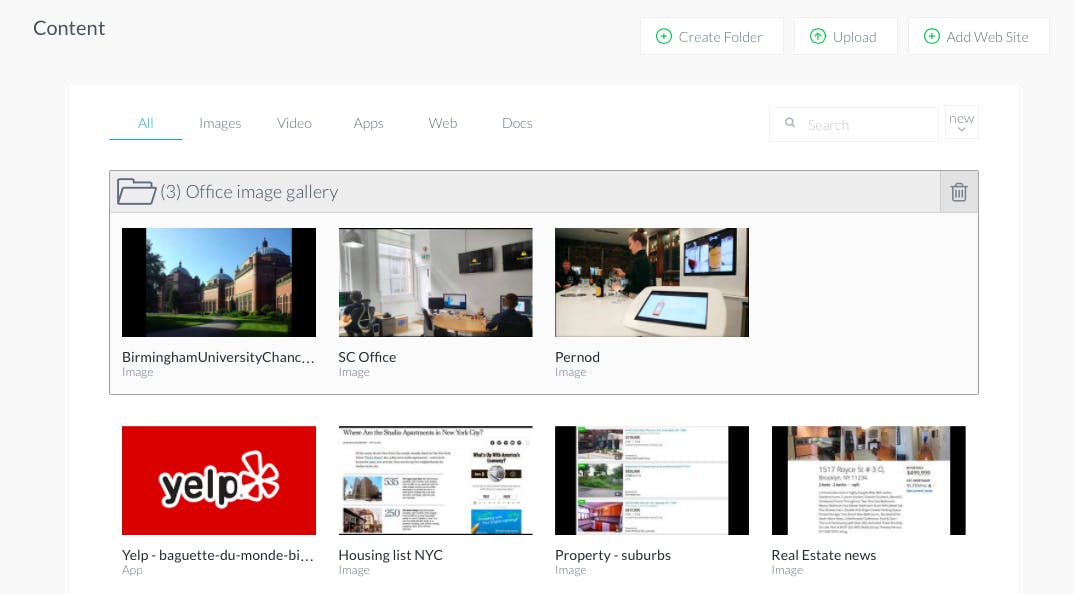 Digital noticeboards
It's great to think about your content strategy in advance, planning your different feeds and playlists. But what about those times when you just need to get something up on to the screen quick? Our Noticeboard app could help you out.
Directly in the ScreenCloud dashboard you can create cool, humorous or useful noticeboards that impart information, wisdom or inspiration to your college!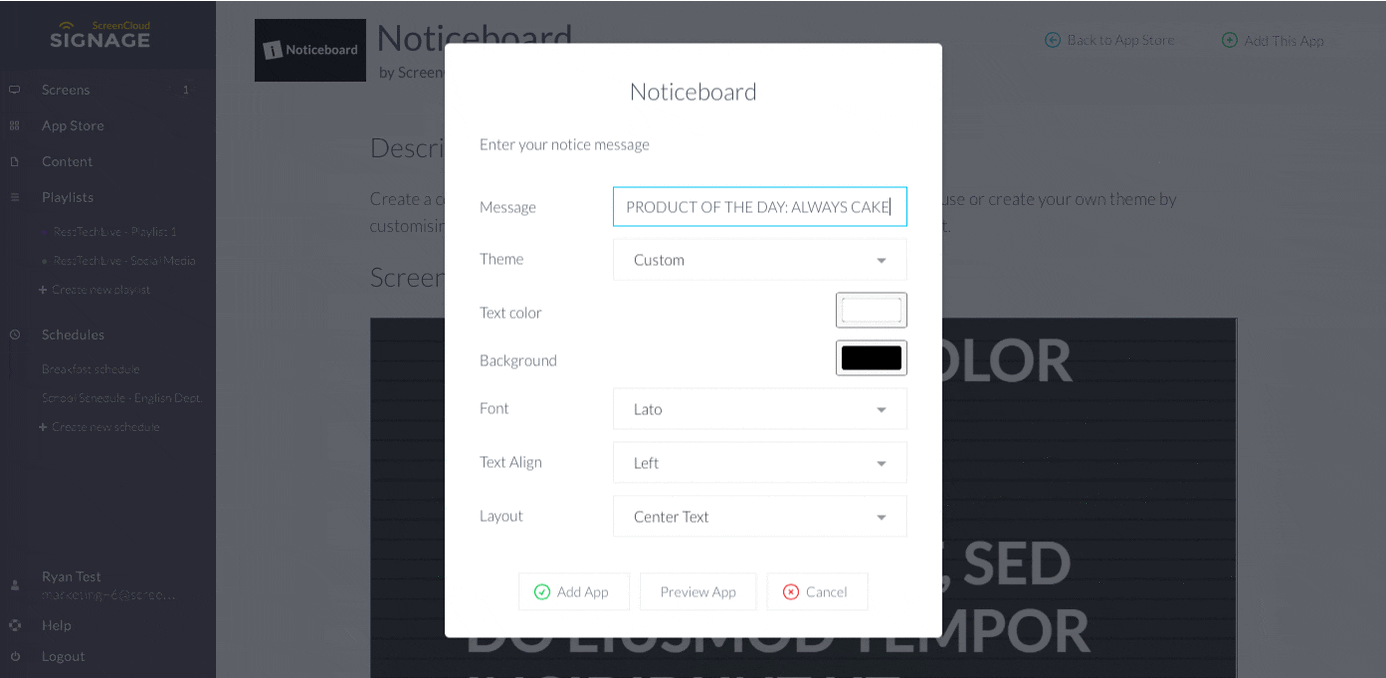 Presentations
A great presentation never goes out of fashion. With easy access to Google Slides you can create presentations online or upload ones you already have, ready to share on your digital screens.
No need to let content run out of date either - it's simple to add a slide, take one out or quickly add in an image from anywhere you have internet access. 
If you're ready to get started on great content for your digital signage strategy head to https://screen.cloud - oh and did we mention we offer a 25% discount for all educational organizations too? Just email us at hello@screen.cloud to ask us to apply it.